Daily post &SpornFilms 02 Aug 2008 08:08 am
- It's time to plug a couple of new dvds I have in stores.
If you'd ask me which are the favorites of all the films I did, three of these four being released would be among my choices. Other than The Hunting of the Snark, I'd have to name The Marzipan Pig as a great film. I also love Abel's Island and The Story of the Dancing Frog. The fourth film, Jazztime Tale was for me a daring experiment. I tried for a musical climax since the film was about Fats Waller. It's a purposefully soft movie that comes together during a performance by Fats. It's not my favorite film, but it's one that sure has become popular and successful.
You can find these dvd's on Amazon for $12.99.
They're $9.72 direct from the distributor, First Run Features.
I found this good review here.
Mike Barrier had nice things to say here. I'm proud of his comments: "The Marzipan Pig is the kind of book that would scare the pants off most Hollywood animators, skating as it does along the very edge of preciosity—and Michael uses every word of the book—but the Sporn version is mysterious and touching, and often beautifully animated."
I also love all 9 reviews that appear on Amazon for the vhs tape of The Marzipan Pig.
From my blog:
Here's a piece on Bridget Thorne's great backgrounds for Abel's Island.
Here's a sample of some of the storyboards for The Marzipan Pig that appear on the dvd.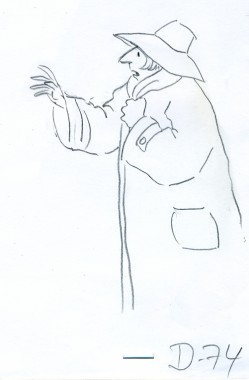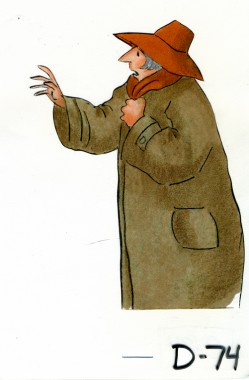 Here's a character from The Marzipan Pig. Tissa David animated the entire film, herself, and did a caricature of herself with this woman whose purse is stolen by an owl.
Stephan MacQuignon colored the drawing and Robert Marianetti added shading. Christine O'Neill did the cut and paste on the drawing to cel operation.
_____________
The followup to this pair of dvd's will be a boxed set of six dvd's to be released in October. You can see what all six dvd's contain here.
The box set packaging appears below.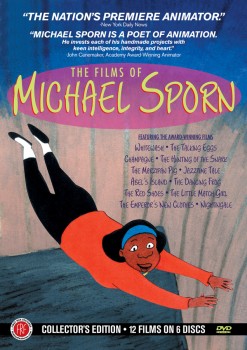 The boxed set will include these titles:
The Hunting of the Snark, The Marzipan Pig, Abel's Island
Whitewash, Champagne, The Talking Eggs, The Red Shoes,
The Little Match Girl, The Story of the Dancing Frog,
Jazztime Tale, The Emperor's New Clothes, Nightingale
8 Responses to "Time for a Plug"
Leave a Reply