Animation Artifacts &Disney &Story & Storyboards 29 Sep 2008 12:22 pm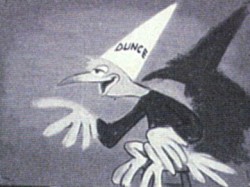 - John Canemaker has loaned me two storyboards for the Disney film, Melody: Adventures in Music. The second is a very different version of the first. I don't know who did the drawings for this board, but the images are very finished looking. There's also not much to hint that this version was to be done in 3D.
John also gave me a lot of color sketches and models from this board. Some of those will follow later this week.
As in the past, I've posted these by showing the full board, then by breaking it up into columns. This allows me to show off the boards at the largest I can get it. So here are the first two of four boards from the first version of the storyboard:
And here are these two boards broken down:

11a

11b

12a

12b

13a

13b

14a

14b

21a

21b

22a

22b

23a

23b

24a

24b
The remainder of the storyboards for this short will be posted next Monday.
.
4 Responses to "Melody Board 1 – pt.1"
Leave a Reply