Photos 28 Dec 2008 09:06 am

- The other day, to escape the rain, I found myself in the 8th Street subway station heading downtown. It was a BMT station which features a number of artist images done in tiles. Called Broadway Diary some 40 mosaics are featured on this subway platform's walls. The art was created by Tim Snell who specializes in mosaics and murals.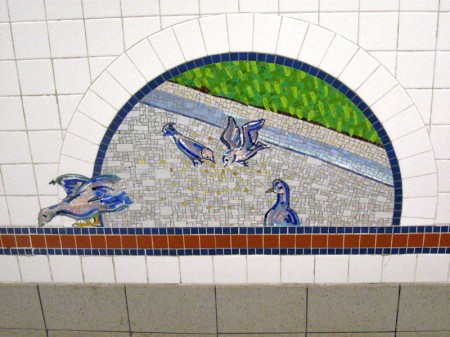 (Click any image to enlarge.)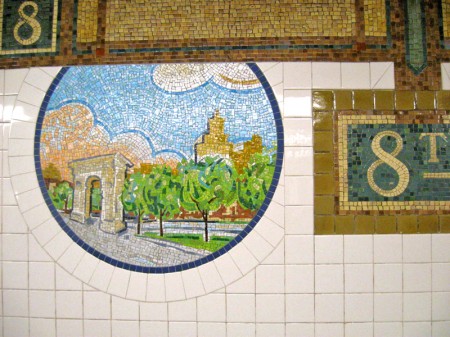 A number of themes appear in the grouped images. NYU is part of the
neighborhood, so it's prominantly featured in many of the pictures.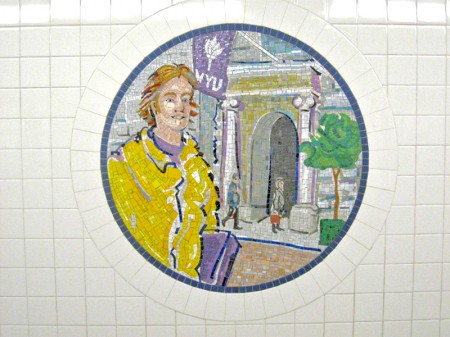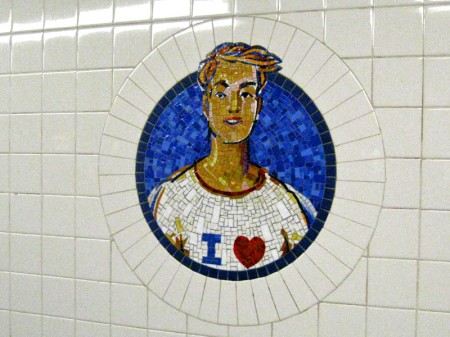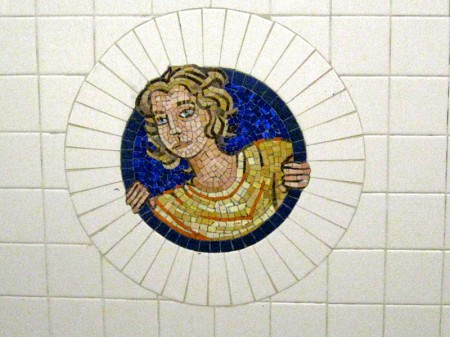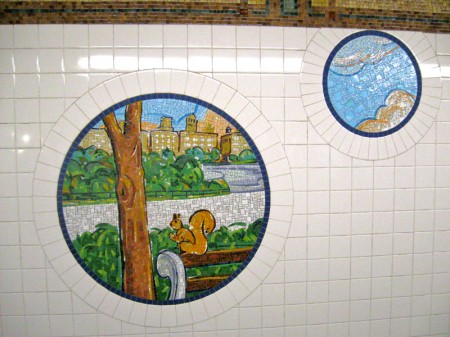 A lot of the animal life of the area also appears prominently.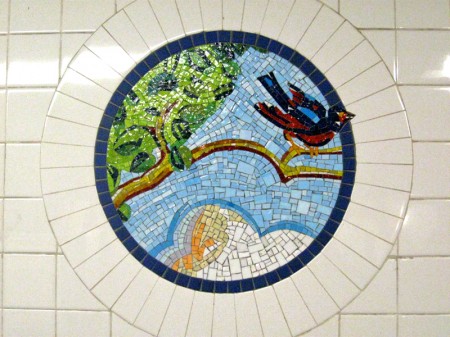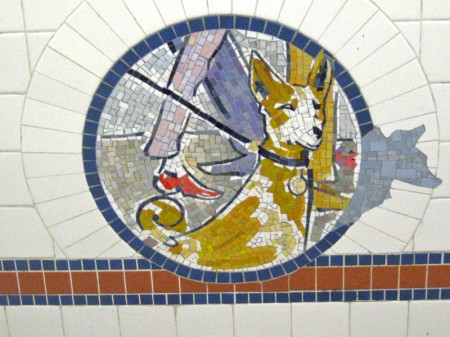 Some of the animals appear on a leash.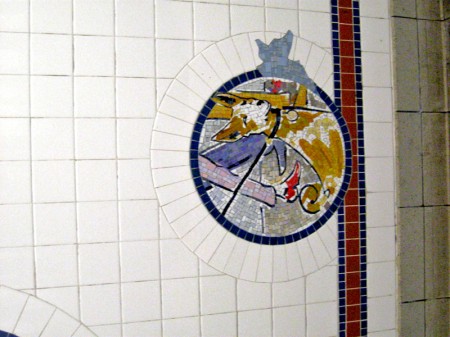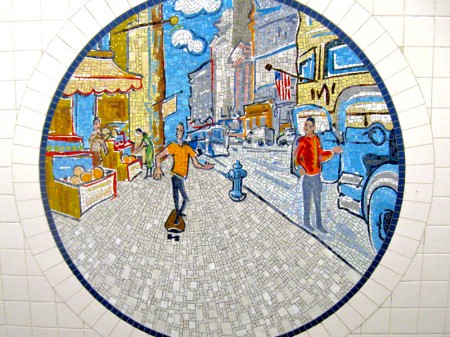 The busy shopping area of 8th Street is prominent.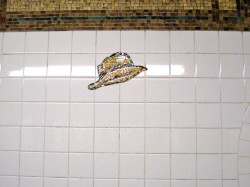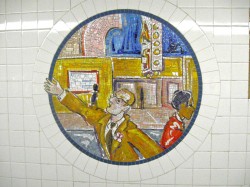 The free flying hat makes me think of the 23rd St. station
and its murals by Keith Godard of free flying hats.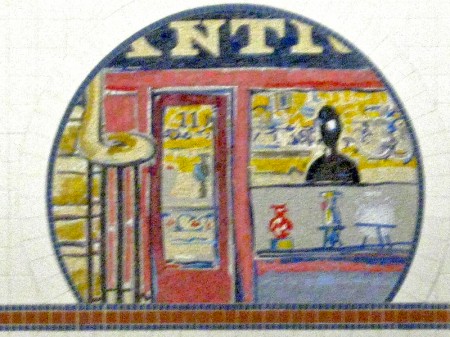 Many of the local shops are also featured.
This one was on the other side of the station.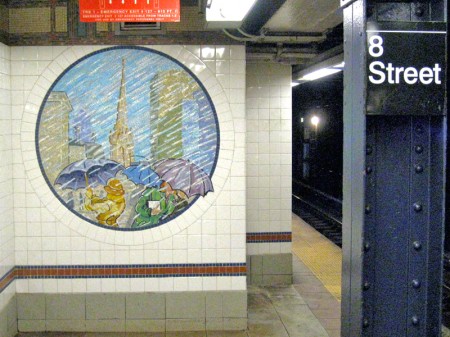 Rain seems to play a part in a number of the pictures.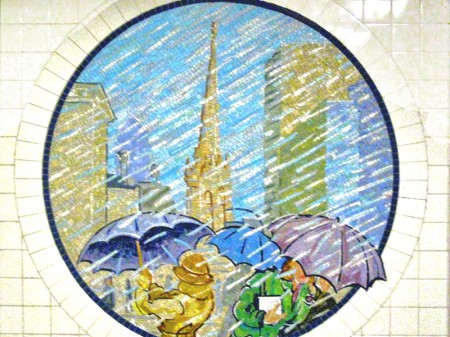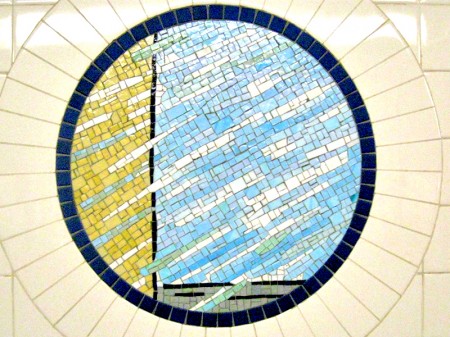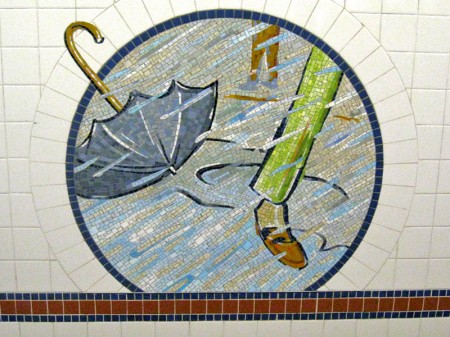 It's a delight to be able to see this work while waiting for a train. (I was able to snap all these pictures before the next train arrived.) It's a bit like the 20th century's answer to WPA art. (These were all done before 2000.)
Let's hope Obama initiates art projects to keep some artists alive while giving us some positive artwork.
3 Responses to "8th Street Tiles – SundayPhotos"
on 29 Dec 2008 at 8:18 am 1.Stephen Macquignon said …

Michael,
You may enjoy this site from the MTA it show all the different station art work:
http://www.mta.info/mta/aft/permanentart

on 29 Dec 2008 at 5:48 pm 2.Jenny said …

MY subway stop. Though it sure didn't have this decoration when I was there. : )
sigh

on 30 Dec 2008 at 1:33 am 3.John said …

The MTA has made a pretty concerted effort to improve the look of its subway stations from both a structural and aesthetic standpoint over the past 15 years. Beats the heck out of the cinder block-sized tiles they put in those same stations back in the late 1960s (though if you ever need inspiration for some sort of nightmarish dungeon scene, I recommend the BMT Chambers Street station, located about 100 yards from City Hall. I can guarantee Mayor Bloomberg does not use this station.
Leave a Reply