Photos &Richard Williams &Rowland B. Wilson 05 Feb 2009 08:51 am
- Here's a mystery that hasn't been solved since 1975. It was posed to me by Tim Hodge. 1975 is the year Donald Heraldson's book, Creators of Life was published. In the book, there's a team photo of Richard Williams' staff sitting in front of the Soho Square studio.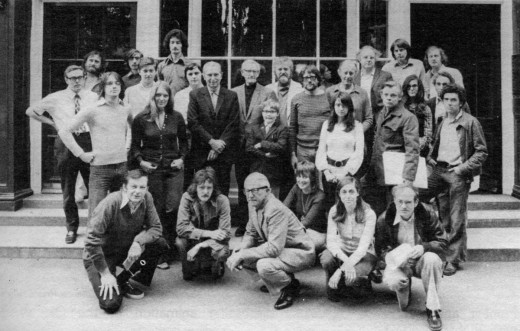 (Click any image to enlarge.)
There in the center of the photo is a boy, arms crossed, standing in front of Grim Natwick, Ken Harris and (I think) Rowland Wilson, behind Art Babbitt kneeling. The caption beneath the photo reads: "Yes, the 10 year old boy is part of the staff – Williams considers him a prodigy."
I know that Williams had taken Errol Le Cain under his tutelage in the 60′s and pushed him to animate the short, The Sailor and the Devil, on his own. However, Le Cain was born in 1941 and wasn't 10 in 1975.
Perhaps Williams was high on this kid at the time of the photo, but soon grew tired of him and moved on after a couple of months. Or maybe the boy, who'd be in his 40′s now, became one of our top animators.
Or maybe the book, which is filled to the brim with errors, actually misunderstood the role of the child in the studio. (He may just have been someone's child.)
Well, the question is: who was that "10 year old boy"?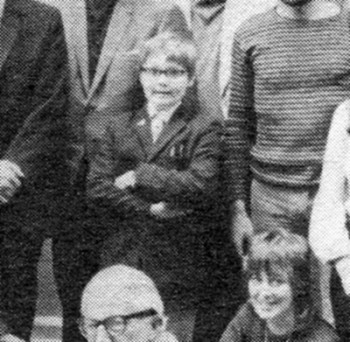 If you have any idea, please leave a comment.
Actually, if you can identify others in the photo, please don't hesitate to share the info.
_______________
35 Responses to "Mystery Man"
Leave a Reply