Animation &Animation Artifacts &Disney 10 Jun 2009 07:34 am
This note arrived from Borge Ring after my first post Bill Tytla's scene featuring Stromboli's mood swing:
The Arch devotees of Milt Kahl have tearfull misgivings about Wladimir Tytla's magnificent language of distortions. '"Yes, he IS good. But he has made SO many ugly drawings"

Musicologists will know that Beethoven abhorred the music of Johan Sebastian Bach.

yukyuk
Børge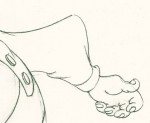 My first post spoke a bit about the distortion Tytla would use to his advantage to get an emotional gesture across. It's part of the "animating forces instead of forms" method that Tytla used. This is found in Stromboli's face in the first post. In this one look for this arm in drawing #50. It barely registers but gives strength to the arm move before it as his blouse follows through in extreme.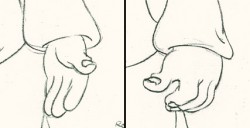 There's also some beautiful and simple drawing throughout this piece. Stromboli is, basically, a cartoon character that caricatures reality beautifully. A predecessor to Cruella de Vil. In drawings 76 to 80 there's a simple turn of the hand that is nicely done by some assistant. A little thing among so much bravura animation.
Many people don't like the exaggerated motion of Stromboli. However, I think it's perfectly right for the character. He's Italian – prone to big movements. He's a performer who, like many actors in real life, goes for the big gesture. In short his character is all there – garlic breath and all. It's not cliched and it's well felt and thought out. Think of the Devil in "Night on Bald Mountain" that would follow, then the simply wonderful and understated Dumbo who would follow that. Tytla was a versatile master.
Here's part 2 of the scene: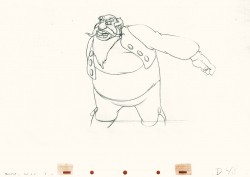 48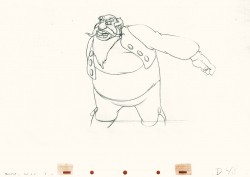 49
(Click any image to enlarge.)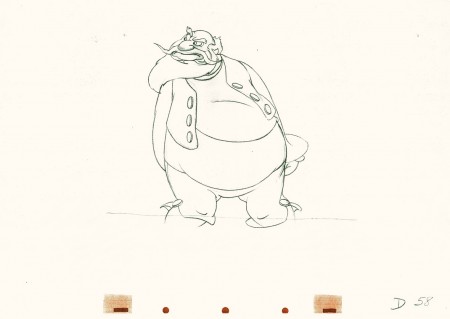 58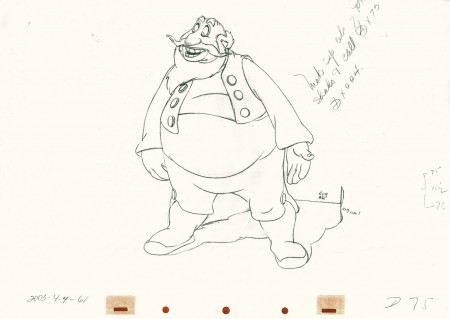 75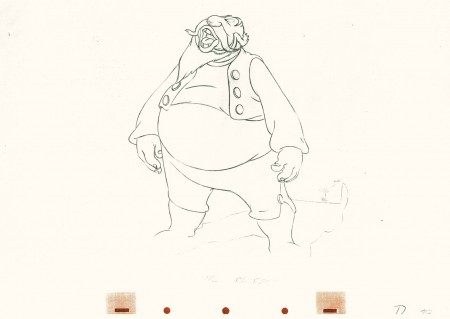 79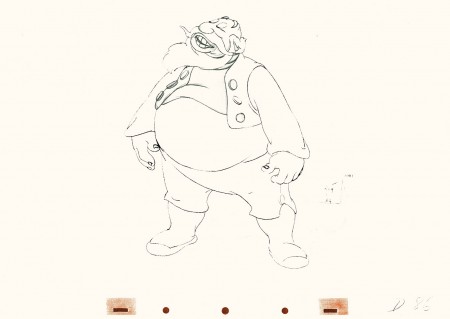 The full scene with all drawings.
Click left side of the black bar to play.
Right side to watch single frame.

8 Responses to "Tytla's Stromboli 2"
Leave a Reply