Daily post 27 Jun 2009 08:16 am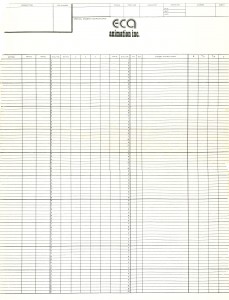 - Back in March, I posted some thoughts about exposure sheets and the seeming loss of this tool in animation production. I posted a letter from Kayvon Darabi-Fard in England and tried to respond with some information about the X-sheets and their purpose. The post brought a lot of attention and many comments, and I was pleased with myself for writing about what was becoming a disappearing artifact in animation production.
Then this weekend I'd received another letter from Kayvon:
After your initial post, my lecturer began reminiscing with the dope sheet's he'd experienced during his time at the Don Bluth Studios in Ireland. Soon after, he then ran an extended class for the first year students of the degree to re-establish and emphasize the ________ECA Prods had probably the
importance of the dope sheet, even in such an _________biggest sheets I've seen.
educative environment. ______________________ECA was George Cannata's company.

So under the over head projector he went,
going from keys, to timing charts, to a fully doped and annotated X-sheet, complimented by a lifting exercise!

Contrary to a tutors reaction to the letter I sent to you;- "You cannot 'make' a student use a dope sheet."

Only now our course leader insists that the Dope sheet is mandatory within the production process' expected of us as directors during our final year before graduating.
Needless to say, my ego's gone our of whack with such a pleasant letter to receive. It's great to see that some small tool of our industry is being taught even to this small sample. I'm delighted, naturally, to have had a small part in it.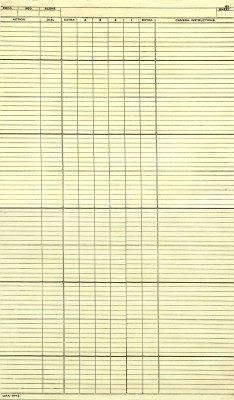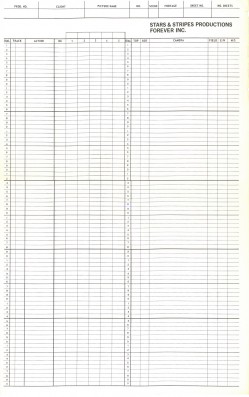 exposure sheets from:
(L) UPA NY in the 50′s
(No dial numbers! Extra work for the cameraman)
(R) Stars & Stripes Productions Forever Inc.
a high profile company headed by Vincent Cafferelli in the 60-70′s.

10 Responses to "Return of the Dope Sheets"
Leave a Reply