Commentary 25 Aug 2009 07:30 am
First the positive:
- There are a couple of good comments about Ponyo on a number of those blogs I often frequent, and I'd like to call attention to a couple of them. Mark Mayerson, as usual, articulates some of the finest insight into the story of the film. David Levy has some fine comments worth checking out on his blog. As expected Daniel Thomas MacInnes'The Ghibli Blog offers many views and comments over many posts about the film.
This is a film that has remained very much alive in my mind since seeing it two weeks ago. Any animator or anyone interested in animation should see it.
_______________
Then the dumb: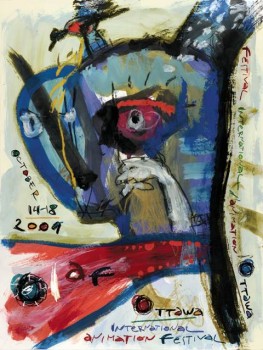 - There seems to be some nasty commentary brewing on some blogs about the current poster for the 09 Ottawa Animation Festival.
I'm made to think back to the world of the forties. Some animation artists wanted to move the world of the cartoon out of the Nineteenth Century and into the Twentieth. When these artists did break from the tradition, creating UPA, ultimately dragging the medium into the art world of the present, there was a backlash by those who didn't seem to understand what was going on.
Picasso, Matisse and Klee (not to mention Pollock, Kline and Dubuffet) had successfully brought the artworld around, but the cartoon world was stuck on Arthur Rackham and Walter Crane. The new wouldn't do for these animators, and they rebelled against the different. The public loved the new shorts.
The world's not too different today. Some people are denying Obama's naturalized birth, and others are denying modern art. (Even though it isn't all that modern.)
When I first saw the OIAF 09 poster I liked it but didn't think much beyond that initial response. Now I see all these absurd comments attacking the artwork on the poster, and I wonder what the fuss is all about. Pete Emslie, on his blog The Cartoon Cave (indeed), in a post childishly labelled "Blecchh!", veers from his usual presentation of celebrity caricature to rail against this artwork. ". . .it's not to my more discerning tastes, art wise. Rather than be on a poster for an international event, I'd suggest the proper place for this image would be taped to a fridge door by some loving mom." The comment looks down its nose with a childish and ludicrous tone; as if Pete Emslie had decided his taste in art was "more discerning" and better educated. And he doesn't just have to tell you he doesn't like the poster, he has to try to find the nastiest invective: "My best guess is that it's supposed to be a cat vomiting. Yes, a vomiting cat, I'm almost sure of it."
Naturally, others comment trying to outdo the viciousness on this blog attacking the Festival poster. It's disturbing that this "better-than-thou" attitude exists. I find it odd to have to defend abstraction or modern art at all.
This poster is a fine work, and it deserves a little respect from those who'd like to call themselves artists. Perhaps it's time to revisit your art history books and art galleries; you might find that this doesn't work as a gag cartoon because it isn't one. It isn't very comfortable, and it's not supposed to be.
Kudos to Chris Robinson for selecting such a poster to represent this Festival and for selecting more daring films (that would never find the way into super-commercial Fests like Annecy) within the programming, itself.
Richard O'Connor has similar musings on the Asterisk blogsite.
45 Responses to "Notes"
Leave a Reply