Animation &Disney 12 Oct 2009 07:31 am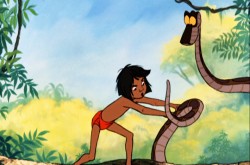 – We continue with Frank Thomas' scene from the Jungle Book.
His animation is certainly a piece with the work he did on Sword in the Stone. I assume he did a large part of this show, as
he did with S in the St. These were very productive and fruitful years for Frank. It's a shame the films didn't have more depth.
This part of the scene starts on ones and soon goes to twos. Watching the QT movie, it all moves so fluidly that it all becomes solidly one.
To view the first Part of this scene go here.
I start off this scene with the last drawing from Part 1.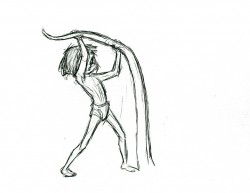 27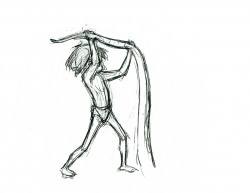 29
(Click any image to enlarge to see the full animation page.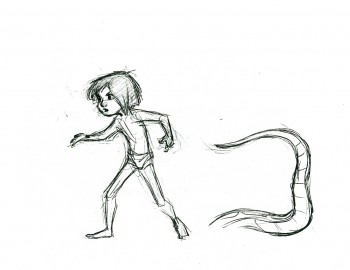 51

The QT movie below includes all drawings of this scene.

Mowgli & Kaa
Click left side of the black bar to play.
Right side to watch single frame.

The remainder of this scene will be posted next Monday, and the full QT will be made.
2 Responses to "Frank Thomas' Jungle Book 2"
on 12 Oct 2009 at 11:26 am 1.Swinton Scott said …

Are these drawings before or after Milt Kahl re-drew them?
Just kidding…. This a great set of drawings and movement and life not found in too many pieces of animation today. Thanks for posting them Michael.

on 13 Oct 2009 at 9:30 am 2.David Nethery said …

Thank you (and John Canemaker) for sharing these beautiful drawings. Looking forward to the whole series. I've seen some of Frank Thomas's original roughs from the collection of Dale Oliver (Frank's key assistant). These are pretty typical of Frank's animation drawings from what I've seen. From what I've read (and heard from people who knew him, like Dale Oliver) he tended to be a little bit self-deprecating concerning his own drawing ability (not his animation, but his actual draftsmanship) but I think these are a really fine example of superior animation roughs. (but who among us wouldn't be a bit intimidated about our draftsmanship working around someone like Kahl ? )
Leave a Reply