Festivals 01 Dec 2009 09:43 am

- Last reminders for those in the New York area that tonight at 6pm there will be a celebration of the first animated Christmas Special on tv – Mr. Magoo's Christmas Carol. The film will be screened at 6pm and will be followed by a panel that includes Marie Matthews, the voice of "young Scrooge," the director's daughters, Roberta and Judy Levitow, as well as animator Darrell Van Citters, who recently wrote and published the extraordinary book Mr. Magoo's Christmas Carol, The Making of . . ..
The event will be held at the Paley Center. (Follow that last link for further information.)
DVDs of the show will be given free to anyone who attends.
________________
.
- Back in 1972 I entered the NY animation industry. I'd been out of the Navy for a year and had worked for six or seven months at Hal Seeger's company, Channel Films, as a messenger who'd worked his way up to Film Editor on Wide World of Sports segments for ABC. The day I was offered the official raise to that position was the day I quit. I wanted animation and didn't want to go down any alluring wrong roads.
The Hubley Studio had hired me for two days to help finish a commercial, and that had extended to several months of steady employment. I was totally green about the animation industry, though I thought I knew a lot – learned from books. (Unfortunately, they don't teach you how to punch paper in books – nor do they properly train in most places.)
I was a sponge and tried to soak up anything I could learn about animation. I saw all the films I could and listened to anything any professional told me.
One day John Hubley, in passing, asked me if I was going to the NY Animation Festival. I didn't know what that was, but found out immediately and went to every show I could – around my work schedule.
I once posted an article from Backstage Magazine that wrote about the 1st USA International Film Festival. This was a Festival founded by on Fred Mintz. I don't quite know what his history was, but he had put together a Festival which ran at the New York Hilton Hotel on 54th Street.
Ultimately, there were three annual Festivals hosted by Mintz, and they were all a bit different from each other. I attended 1 & 2 and missed the tiny third (and last) edition which had moved to NYU.
I just recently found the programs for these, so here's the one for the original, first "USA" International Film Festival.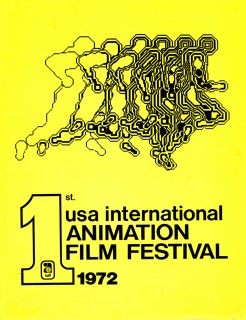 1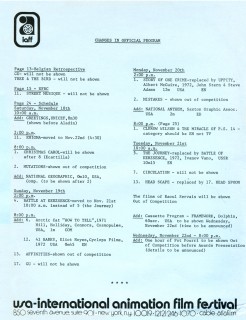 2
(Click any image to enlarge and read.)

When you opened the yellow cover of the magazine,
a blue hand out fell out. This corrected changes in the program.
An auspicious start.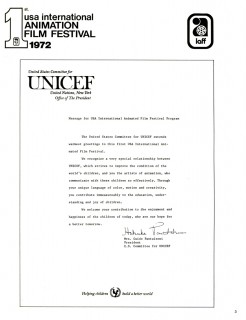 3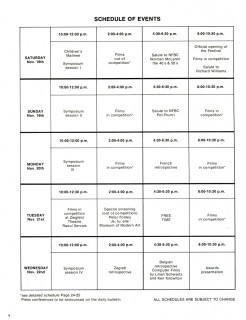 4
Lots of praise from groups like UNICEF.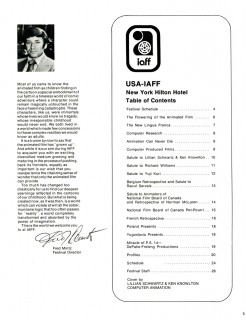 5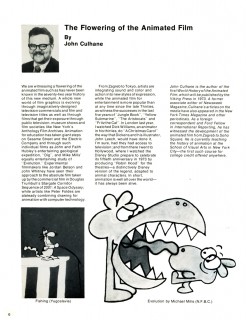 6
The letter from the director, Fred Mintz and
an article about animation by John Culhane.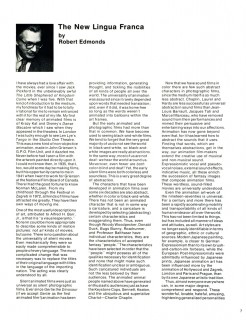 7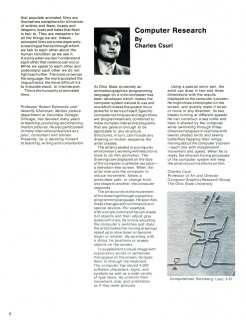 8
Articles by Robert Edmunds (who?) and Charles Csuri (double who??)
Lots of talk about computer animation.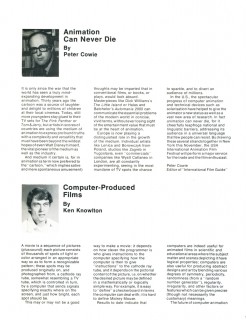 9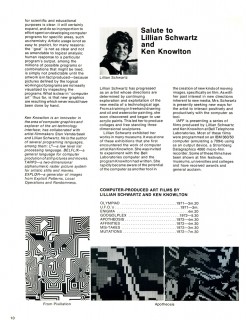 10
More articles by Peter Cowie (he'd written a couple of books I'd owned -
I knew who he was) Ken Knowlton (more computer animation – there
wasn't much computer animation visible to the general public back then.)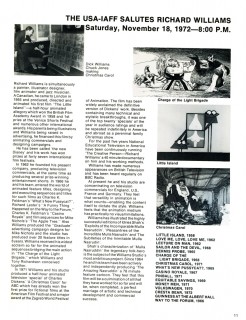 11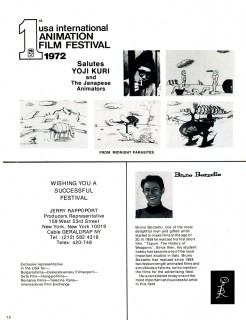 12
Articles about RIchard Williams (now you're talking) and
Yoj Kuri (I'd read about him and saw his films for the first time here.)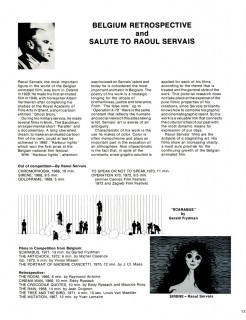 13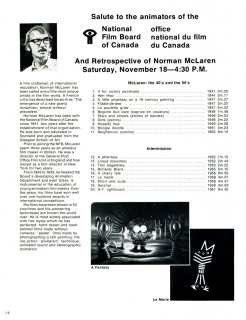 14
Raoul Servais (I didn't know but would get to know him) and
Norman McLaren (I defintely knew him in 1972 and would learn more.)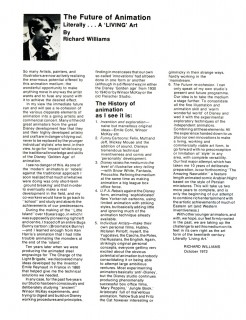 17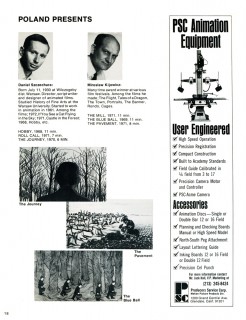 18
An article by RIchard Williams (he was already a hero of mine in 1972).
Every Festival had to have a show of Polish animated films back then.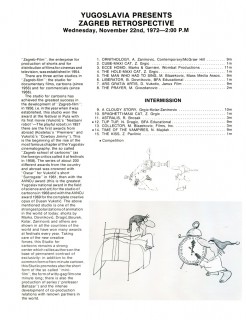 19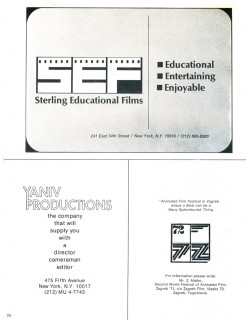 20
Zagreb was big at the time. Deservedly so.
I still don't know what Yaniv Productions was.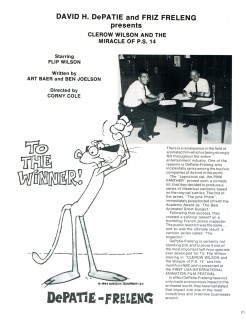 21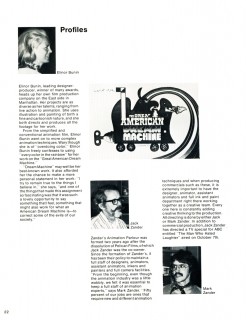 22
Elinor Bunin and the Zanders were staples in NYAnimation back then.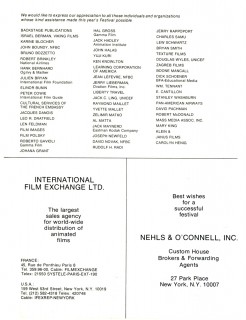 23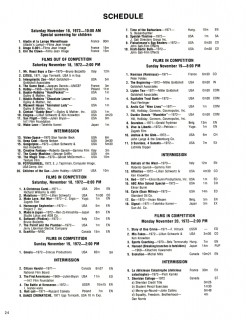 24
Note some of the titles in the schedule: MR. ROSSI BUYS A CAR (Bozzetto),
A CHRISTMAS CAROL (Williams), Paul Fierlinger ad, BATTLE OF KERSHENZ.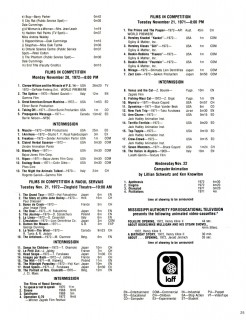 25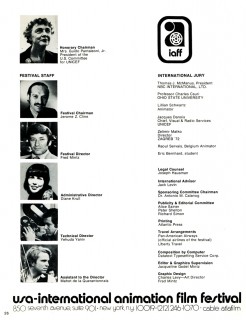 26
More titles: Barrie Nelson's PROPAGANDA MESSAGE, Zagreb's VENUS AND THE CAT,
Gianini & Luzzati's ITALIAN IN ALGIERS, Hubley's CHILDREN OF THE SUN, George Griffin's THE CANDY MACHINE.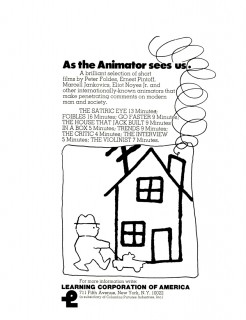 27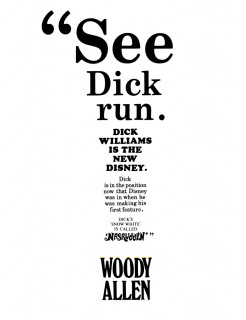 28
Eight years later I would open my own studio and do my
first films for the LEARNING CORPORATION OF AMERICA.
Back cover – WOODY ALLEN talks about DICK WILLIAMS

I have the program for the 2nd Festival. It's a bit slicker. I'll post that someday as well.
One Response to "1st USA INT'L ANIMATION FEST"
on 01 Dec 2009 at 11:48 am 1.Mark Mayerson said …

Charles Csuri was one of the pioneers of computer animation at Ohio State University. In the 1980′s, his company Cranston-Csuri was one of the big five computer animation companies (the others being Omnibus, PDI, Digital Productions and Robert Abel). Like all of those companies, except PDI, it went bankrupt. In the early days, hardware cost a fortune and there was no off the shelf software. Each of these facilities was forced to write its own software from scratch. In the wake of all the bankruptcies, companies that wrote and sold software sprang up, so that production companies only had to worry about paying for it, not creating it.
Leave a Reply