Bill Peckmann &Books &Illustration 23 Dec 2009 09:04 am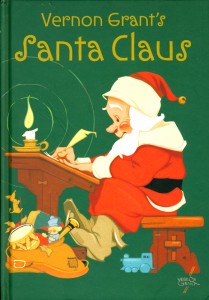 - You'll remember that I did a couple of pieces on the illustrator Vernon Grant. He was the original designer of Snap, Crackle and Pop for the Kelloggs Corp. back in the late '30s, and I featured a post on the history of those characters.
I followed that with one on his Mother Goose book. There, I posted some of his uniquely styled illustrations for that book of Mother Goose rhymes.
Both those posts were heavily dependent on some great material loaned me by Bill Peckmann from his remarkable collection.
Vernon Grant was also drew Santa Claus. He seemed to love drawing St. Nick in many different incarnations. This is something we share. Whereas I confine myself to many varied Christmas cards, he has a perennial best selling picture book, Vernon Grant's Santa Claus, that's been on the market for many years. Bill Peckman recently sent me a copy of the book to scan and post, but I'd already had my own copy. I've decided, here, to post about half of the book. I'm particularly interested in Grant's illustrations prior to the '50s. Conseqeuntly, I've chosen to select only those illustrations that were done in 1953 or earlier, and I've placed them in chronological order.
Not all of the images are of Santa Claus. Hence in organizing them by date, we have to start off with a beauty but one that doesn't feature Santa.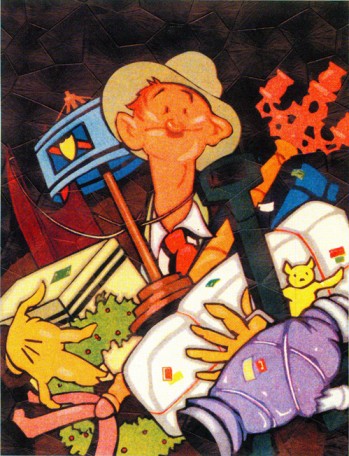 Hi-Ho! For a Merry Christmas – 1932
How sad! The Depression hit Santa, too.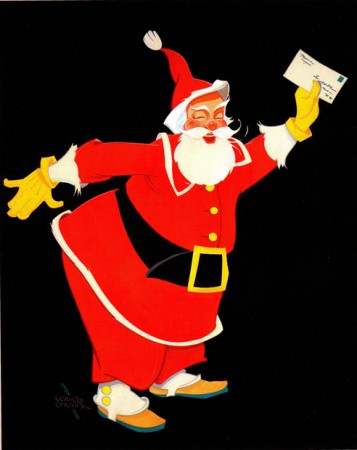 Santa's Special Delivery – 1940
This one is untitled, but it's far and away my favorite.
These last two are too Norman Rockwell for my taste.
But it shows the direction Vernon Grant and America were taking.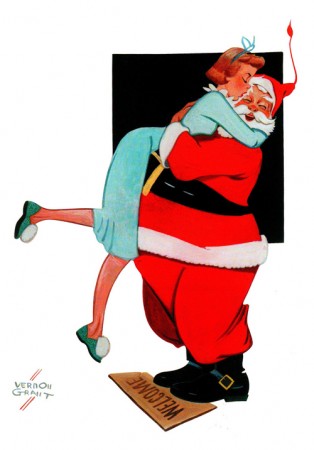 Mommy Kissing Santa Claus – 1953
The song "I Saw Mommy Kissing Santa Claus" written by Tommy Connor
was a smash hit in 1952. The smash singer was Jimmy Boyd (who later
grew into the role of "Jimmy" on the original Mickey Mouse Club.
Vernon Grant obviously built on the song title.
It looks like a Coca Cola ad of the period.

2 Responses to "Vernon Grant's Santa Claus"
on 23 Dec 2009 at 10:57 am 1.Stephen Macquignon said …

"Empty pockets" could work for 2009 as well

on 23 Dec 2009 at 11:00 am 2.Stephen Macquignon said …

I forgot the work his beautiful like always
Leave a Reply