Photos &repeated posts 24 Jan 2010 09:16 am
- Given the crazy weather lately, this post seems appropriate for repeating just now.
_____________

- The other day, to escape the rain, I found myself in the 8th Street subway station heading downtown. It was a BMT station which features a number of artist images done in tiles. Called Broadway Diary some 40 mosaics are featured on this subway platform's walls. The art was created by Tim Snell who specializes in mosaics and murals.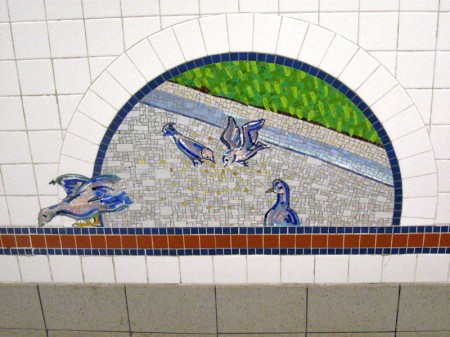 (Click any image to enlarge.)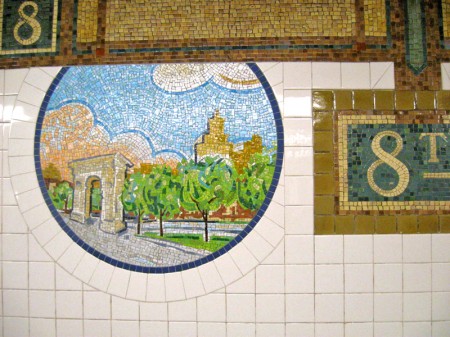 A number of themes appear in the grouped images. NYU is part of the
neighborhood, so it's prominantly featured in many of the pictures.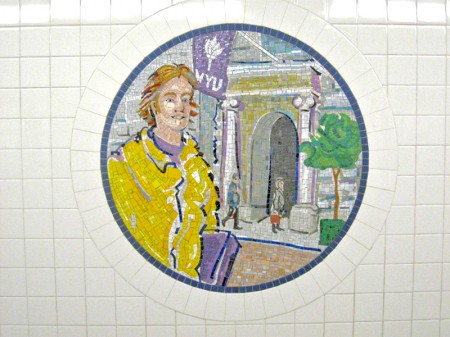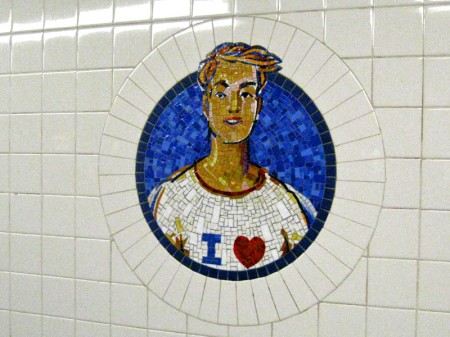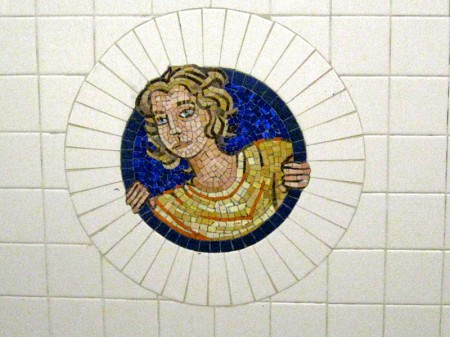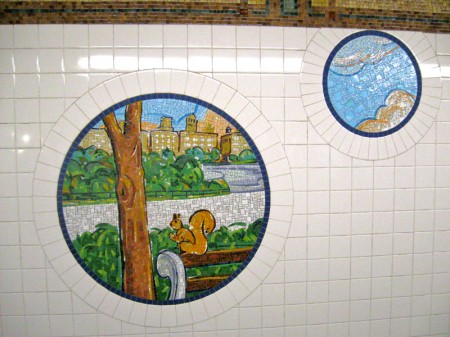 A lot of the animal life of the area also appears prominently.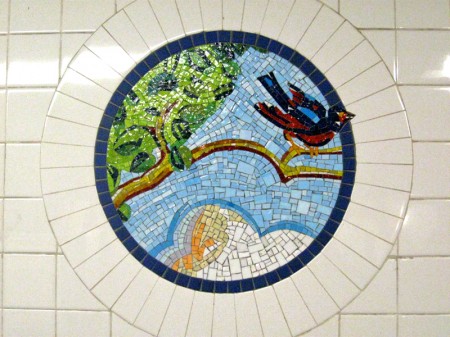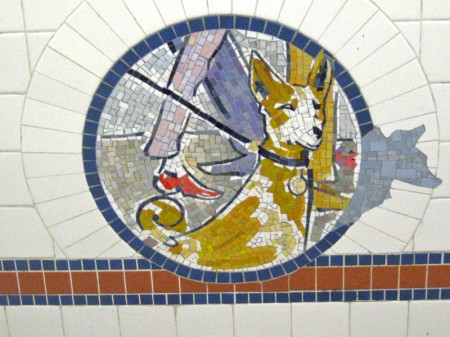 Some of the animals appear on a leash.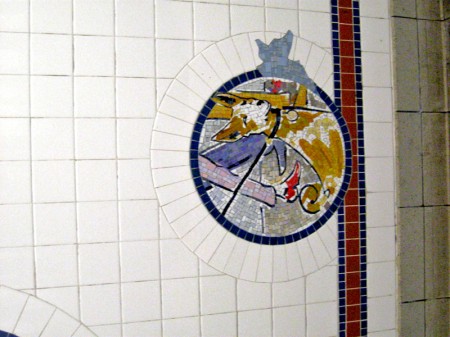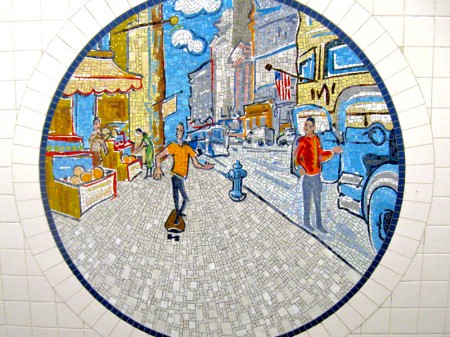 The busy shopping area of 8th Street is prominent.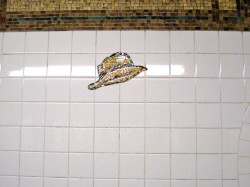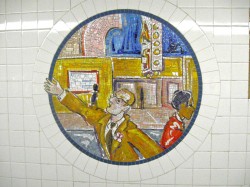 The free flying hat makes me think of the 23rd St. station
and its murals by Keith Godard of free flying hats.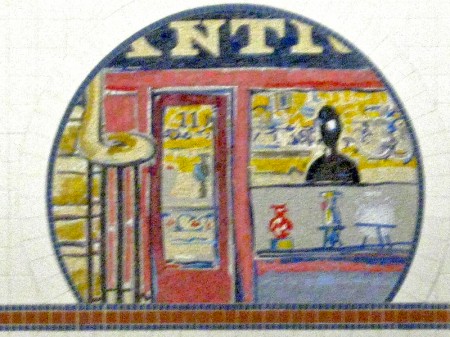 Many of the local shops are also featured.
This one was on the other side of the station.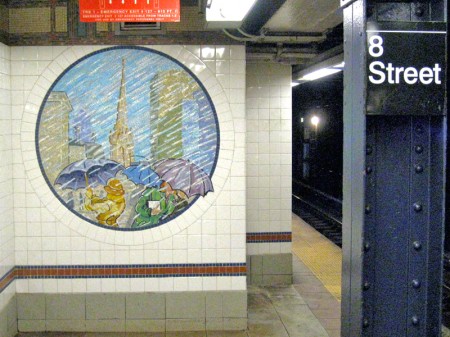 Rain seems to play a part in a number of the pictures.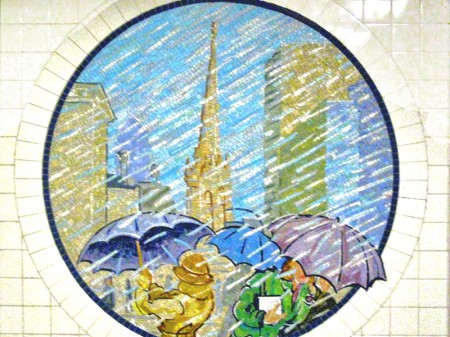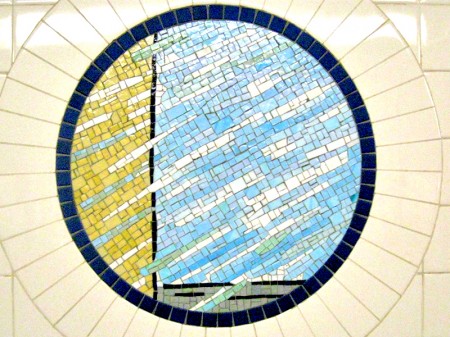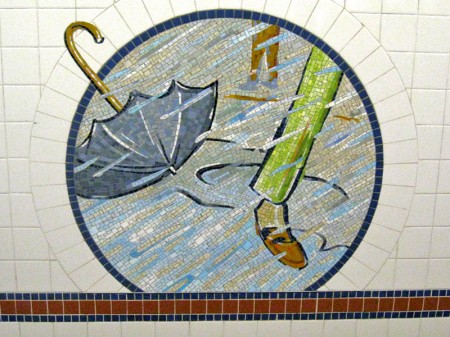 It's a delight to be able to see this work while waiting for a train. (I was able to snap all these pictures before the next train arrived.) It's a bit like the 20th century's answer to WPA art. (These were all done before 2000.)
Let's hope Obama initiates art projects to keep some artists alive while giving us some positive artwork.
3 Responses to "8th Street Tiles – recap"
on 24 Jan 2010 at 1:29 pm 1.Mike McLaren said …

Yes, it would be wonderful for there to be a program to fund more wonderful projects like this, and to allow the best of the graffiti artists in our cities to paint some of the urban blight with murals.

on 25 Jan 2010 at 8:48 am 2.Stephen Macquignon said …

I have enjoyed the mosaics in the subway such an improvement to what they once looked like I hope they continue creating art underground

on 25 Jan 2010 at 9:07 pm 3.John said …

The mosaics along the BMT Broadway line are nice added touches to the original Squire J. Vickers designs for the BMT, IRT and IND systems on lines opened between World War I and the immediate post-war years (the handful of stations that were built or renovated post-1950 were done in styles that ranged from the stupefyingly bland to the outright horrific. The MTA finally recognized the error of its ways at the end of the 1980s and started trying to preserve the design history of the subway tiling, while at the same time making use of the available white space for new individualistic touches at each station).
Leave a Reply