Animation Artifacts &Bill Peckmann &Rowland B. Wilson 26 Mar 2010 07:42 am
- I have a few models by Rowland Wilson that I haven't yet posted. I'm ganging them up, even though they come from several different projects. All of these come courtesy the collection of Bill Peckmann. Many thanks to Bill.
This first series comes from a spot Rowland designed for Phil Kimmelman & Associates. It featured a mountie and his trusty sidekick.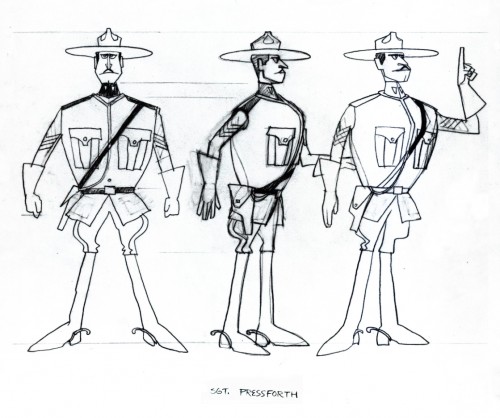 1
(Click any image to enlarge.)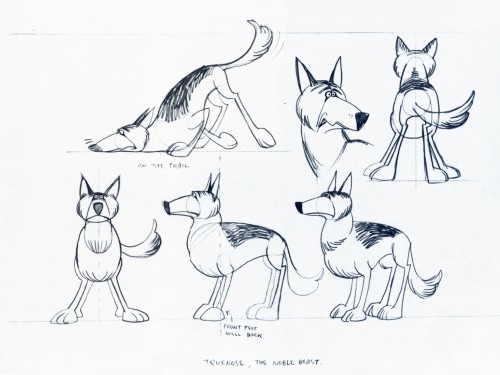 2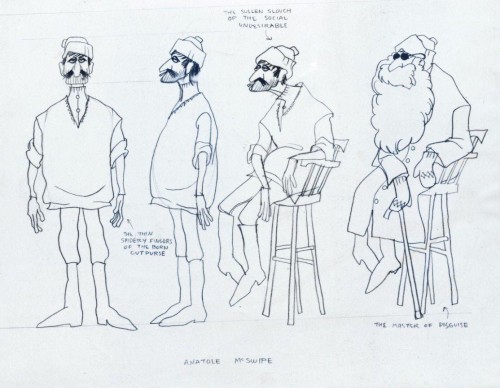 3

The following two layouts came from the 2nd TV spot Rowland did for 'Utica Club Beer', featuring a Knight and a fiery Dragon.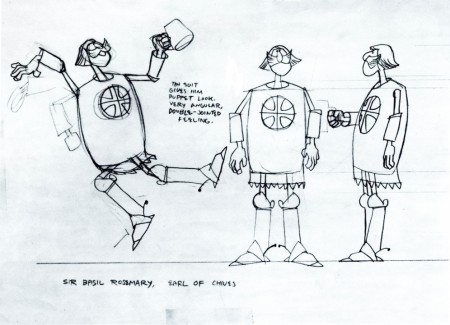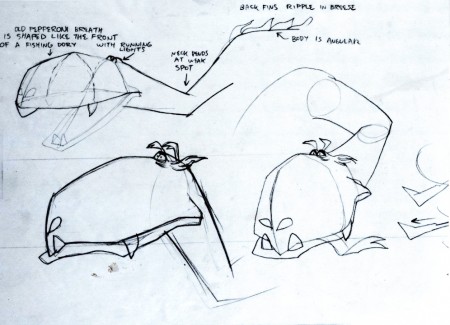 This is a rough that RBW did for a dog food animatic. It was a take off of Bogart's 'Casablanca', hence the 'play it again Sam' scene with Bogie Basset.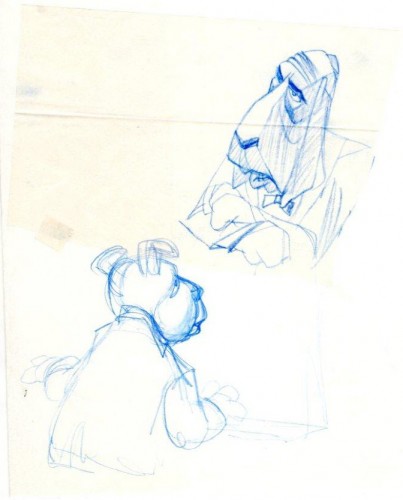 This is a LO rough for what's probably a TV Guide illustration: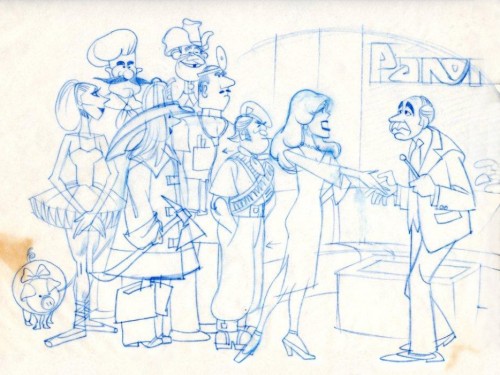 This is a painting by Rowland Wilson for
The Hunchback of Notre Dame "All Fools Day".
Here is the same thing broken in two for better viewing.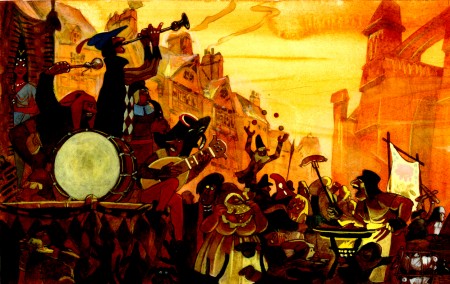 Left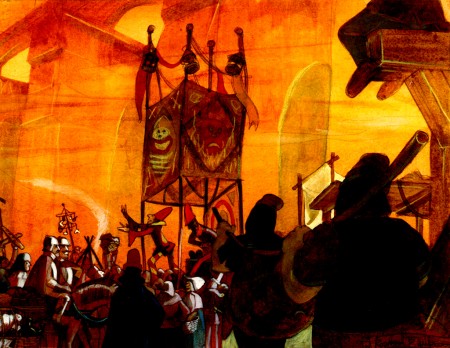 Right

Here's a group of Christmas Cards Rowland did. This is the note that Bill Peckmann included with the cards: "Years ago Rowland had an old school friend ('Pete the Greek', I've forgotten his last name) in Dallas (their home town) who owned the 'Drawing Board' greeting card company. Rowland did these professional (dentists, doctors, cpa's etc.) Christmas cards for Pete. He loved doing them because Pete let him run with the ball, none of the usual looking over your shoulder advertising art direction."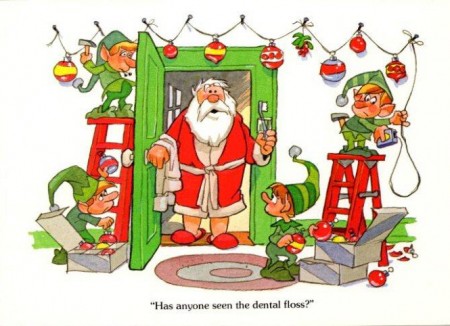 1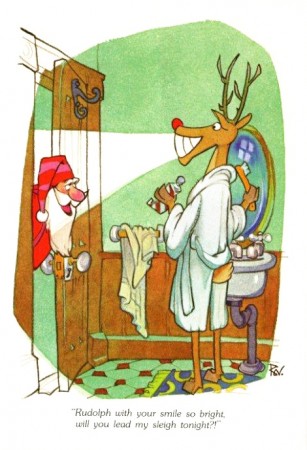 2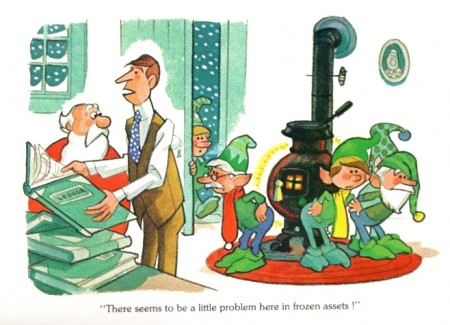 3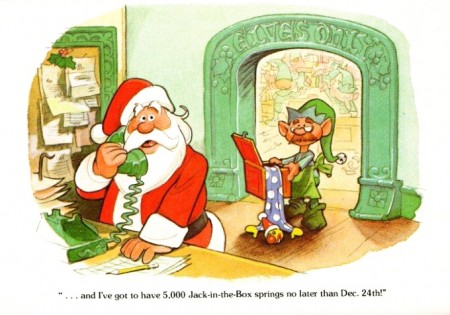 4

And here are two cards that were sent out by Rowland and Suzanne.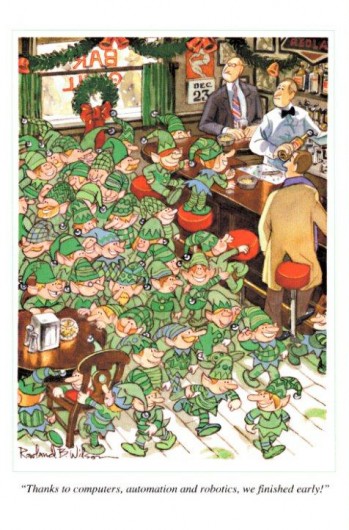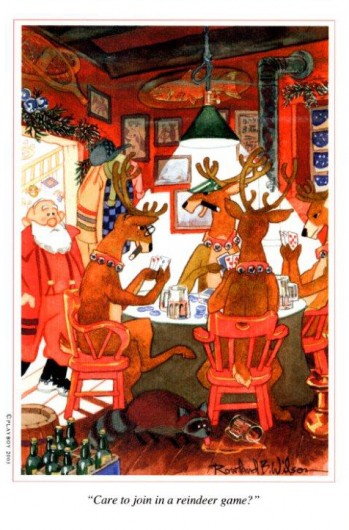 Here's a caricature Rowland did of Grim Natwick and himself: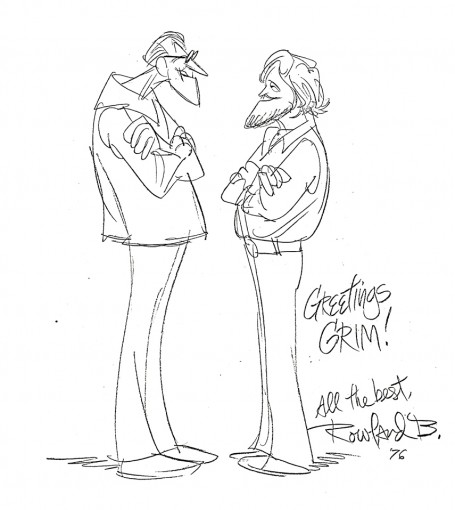 Finally, here's a cartoon Bill Peckmann did of the staff at Focus, a company in NY just prior to Phil Kimmelman's forming PK&A. Here's a note Bill included with the drawing: "This was done by me when we were working on RBW's second animated spot which was Vote Toothpaste's "Combs & Plotzen." His first was a Flying "A" gasoline spot animated by Lu Guarnier. Both circa '68-'70. Of cours this pre-dated the Utica Club "Mountie"strong> caricatures."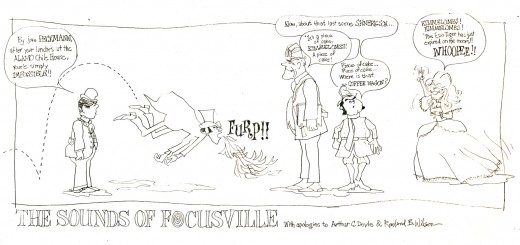 The caricatures pictured above are from left to right:
asst animator Victor Barbetta, designer Bill Peckmann, animator Jack Schnerk, owner Phil Kimmelman, designer Agnes Cannata.
6 Responses to "Rowland Wilson Grab bag"
Leave a Reply