Animation &Commentary &Independent Animation 22 Apr 2010 07:30 am
- I'm a bit late in reporting this, but I just found Emily Hubley's excellent feature, The Toe Tactic, on the Sundance Channel. I've reviewed the film in that past and have shared some of my thoughts. Here's my review of the DVD.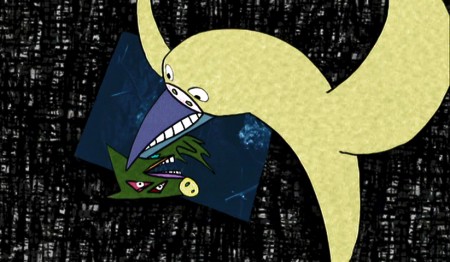 Written and directed by Emily Hubley.
Voices of: David Cross, Andrea Martin,
Eli Wallach, Marian Seldes, Don Byron
Animation by Jeremiah Dickey and Emily Hubley.
The show can be seen on these dates and times in April. Record it if you can't watch it live.
April 21 4:10am
April 25 10:00pm
April 26 3:55am
April 26 11:45am
____________
- One of the more amazing posts I've seen on line in recent weeks (maybe I should say months) is Cartoon Brew TV's >Howdy Doody and His Magic Hat. This UPA film by Gene Deitch seemed to be lost until Jerry Beck and Amid Amidi were able to discover a good quality print that they've put on line.

The piece has to be seen as an edxcellent bit of historical discovery. Deitch's direction is first rate given the obviously meagre budget. Cliff Roberts' color design is first rate (given the slight color deterioration of the print) and offers a rich original bit of life. Duane Crowther's animation is limited to the point where it might be called more of an animatic than an animation, but even that is done in a spirited sense of fun.
The real find for me was the brilliant score by Serge Hovey. I don't know his work, but I'm certainly going to be searching to find out more about this composer. The score threads it all together and the playful way that Crowther animated off the score indicates that it was probably prerecorded.
I'm pleased to see this film has been found (thanks, apparently to the work of Dave Gibson for finding the film at the Library of Congress, and to Ondřej Muška for the restoration work on the print.) This is not the greatest film ever made, nor even one of the best UPA shorts. However, it was a missing artifact in the career of a key director in animation's history. It's also an absolutely original looking piece that stands above many of the average films of today.
This film is just the tip of the iceburg from the guys at Cartoon Brew. When they're on it, they're on it. They share information before anyone else gets the news; they share historical films (such as Howdy Doody and another post of Flebus from Ernie Pintoff while at Terrytoons – posted to memorialize the passing of Allan Swift, the NY mega voice artist), and they present new works we might otherwise miss.
But at this point, everyone in animation knows that this is the first site to visit when sparking up the computer.
2 Responses to "Toe Tactic & Howdy Doody"
on 22 Apr 2010 at 7:30 pm 2.Kevin Langley said …

I remember reading an interview with Dietch recently and he talked about this film. He didn't seem optimistic that it would be found so I was pleasantly surprised when it was posted the other day.

While the animation is minimal the designs and score really made this an enjoyable short. I too now feel the need to find out more about Hovey after hearing the score.
Leave a Reply