Commentary 27 Nov 2010 08:52 am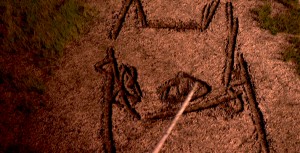 – It's taken me a while, but I've finally seen How To Train Your Dragon, albeit in DVD form. The film's reputation preceded it when everyone from A.O. Scott to Mike Barrier have praised it. (Sometimes in both reviews it seems faint praise, but praise just the same.) I have to say I have a similar position on the film. It's a frustrating affair.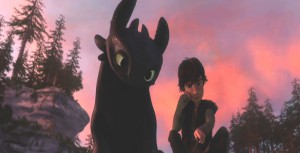 It all starts with loud and violent warfare, Vikings vs Dragons. Lots of screaming, fireplay, quick cutting, aggressive movement all set to cacophonous music. John Powell, who did one of his first animation scores for my "Goodnight Moon," has given a mixed bag of a score for Dragon. Excellent and delicate parts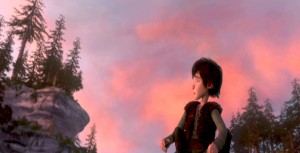 vs the loud and booming music which is played low in the background so as to create a bed of noise.
Then there's the meeting between the hero, Hiccup, and "Toothless," the dragon. These are fine sensitive scenes with interplay between human and dragon cleverly done without the need of dialogue.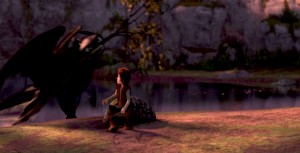 (I suppose I'm supposed to say "Spoiler Alert" here.) However it doesn't take long for the shouting to return as a trumped up ending resolves the film. (Hiccup having lost his leg took me by surprise and made me think of those in Iraq and Afghanistan, and I wasn't sure I liked the comparison.)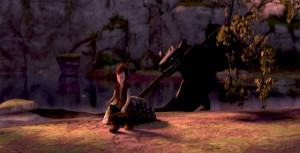 Looking at the film from a distance, there's a different feel to the big picture. Yes, you can see the "Acts" change in the script with all the clunking machinery dragged in behind it, but the Art Direction, I think, is so original that it makes you feel something else. It's a real positive for the movie.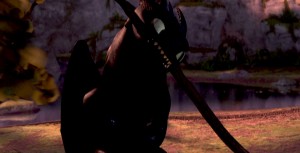 Directors Chris Sanders and Dean DeBlois have done a job equal to what they did on the Disney film, Lilo and Stitch. All the outer space nonsense from that film dragged it down to middling, when the scenes on earth between Lilo and Stitch were excellent. A similar problem holds true for Dragon. All the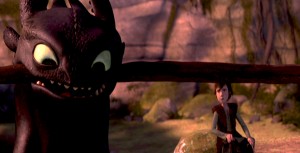 tiresome fighting between dragons and Vikings is tedious to get through for the friend-making scenes between Hiccup and Toothless.
There's a touch of Miyazaki's design in Sanders' sketchbook. The face of "Toothless" looks not unlike "Stitch" which looks very much like "Totoro." However, there's something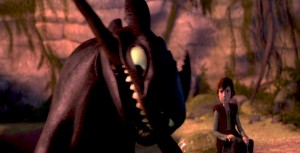 comforting in that look, and it's certainly not a negative.
As a matter of fact, the character design is extraordinarily playful. The drawing can be felt through the cgi puppet-like creatures, and there doesn't seem to be the visual "attitude" given most animated characters these days. (Take a look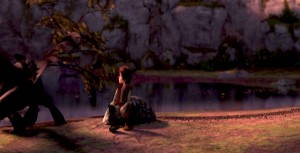 at Tangled to catch the "attitude" quotient for the year. Glen Keane should have looked a fourth time at his models; they're embarrassing when compared to any pre-Keane designer.) Dragon seems to have left the visual clichés on the drawing table, and they produced an original. As I pointed out yesterday, when reviewing the "Art of Dragon" book,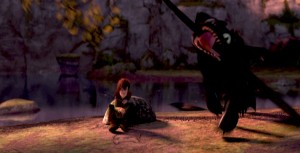 the artwork is all exemplary. It seems there isn't a wasted sketch or painting that didn't make it to the film. Of course, that means the book is well constructed and lets it feel naturally connected to the movie.
As a matter of fact, there are only a couple of the typical "Dreamworks" – type 20th century* jokes dragged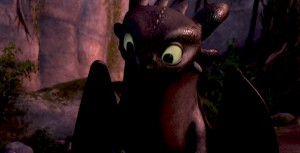 into the film, and that is a blessing. However, as each one – dropped by Craig Ferguson's character – falls, one can't help but grimace. They're so clunkily placed into the movie – something about his "underwear" is the only one I can remember. We can deal with a surfer-dude, as one of the trainee kids, as long as his dialogue seems appropriate to the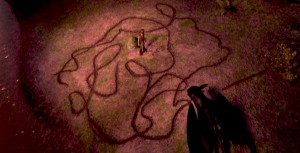 film as a whole. Without these ties to the modern world, the film would have felt more timeless and have lasted longer on the shelf.
This film far excedes Toy Story 3 in all departments and is very much the better film. However, neither comes close to The Illusionist for originality and filmmaking ability.

* Note: I meant to say "20th Century" not "21st Century."
Note that the sequence of frame grabs is the same as the storyboard section I reproduced from the book, yesterday. Compare and contrast.
10 Responses to "How To Dragon – Movie"
Leave a Reply