Frame Grabs &Hubley &UPA 18 Jun 2012 06:40 am
- This is the fourth part of the animated segments from the live feature, The Four Poster, with animated segments from UPA directed by John Hubley with animation directed by Art Babbitt and design supervised by Paul Julian.
As I wrote with each of the past posts, the film is an adaptation of the play by Jan de Hartog which takes place wholly in one room – the bedroom – around a fourposter bed. We see scenes wherein the couple marries young and grows old together. The only time we stray from the room, in the film, we do it via the enormously creative UPA animation. The film starred real husband and wife, Rex Harrison and Lilli Palmer.
This sequence represents an attempt for the couple to come together again after a difficult period. They take a vacation to Paris, France.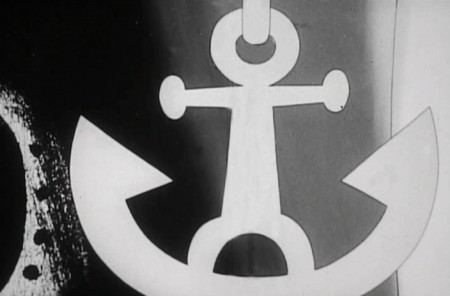 1
Cut to an anchor being lifted.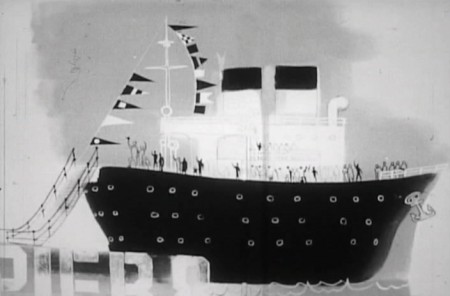 2
The cruise ship is set to take off.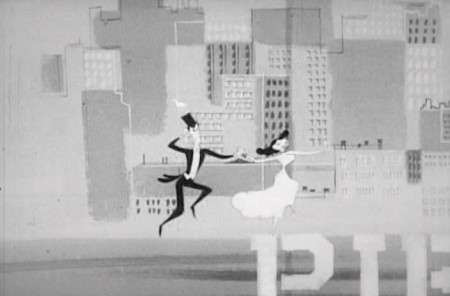 3
Our couple races to the ship, they're late.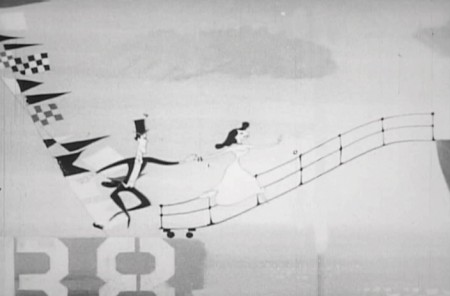 4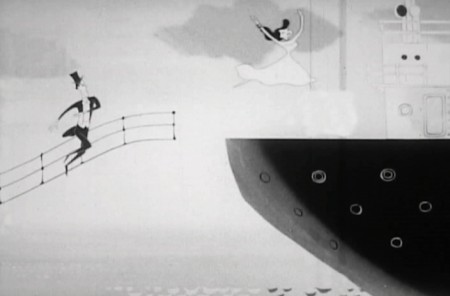 5
As the ship pulls away she jumps on board.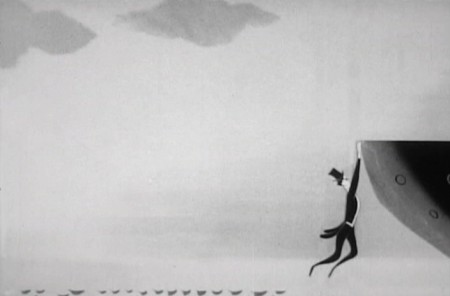 6
He tries and misses, hanging at the edge.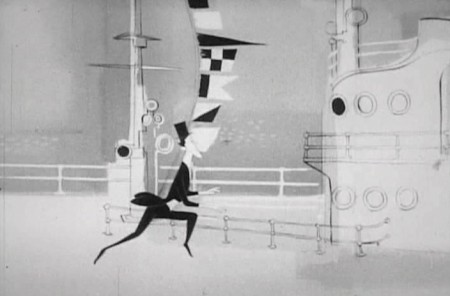 7
He lifts himself on board . . .


. . . but has to search for his wife.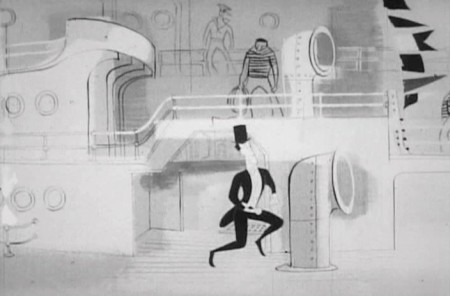 11
He continues to dance in search of his wife.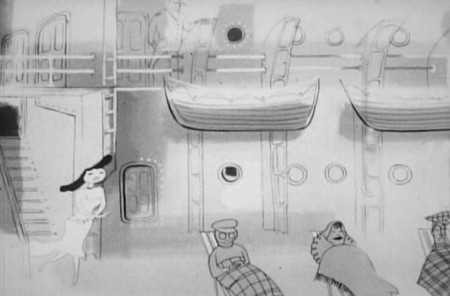 12
She's just a bit forward of him.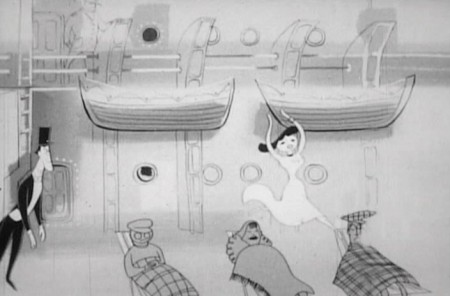 13
She dances over some resting passengers.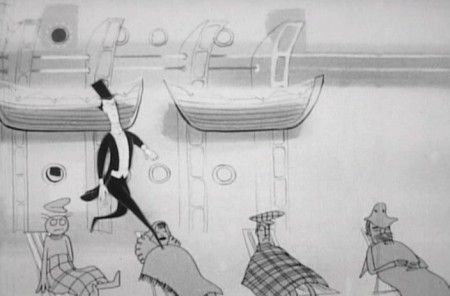 14
He tries to do the same, but ends up . . .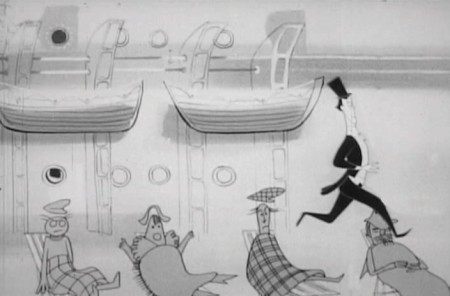 15
. . . stepping on each of the people in deck chairs.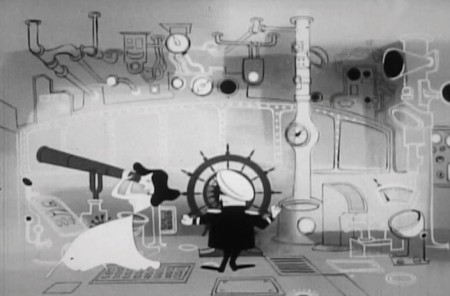 16
She's in the captain's chair looking through a telescope.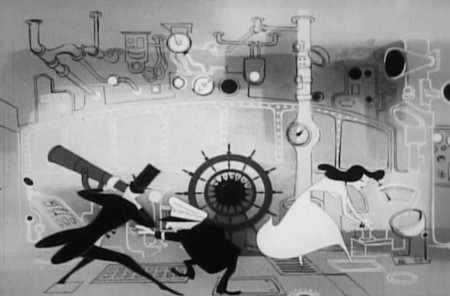 17
He joins her to see what she's been looking at.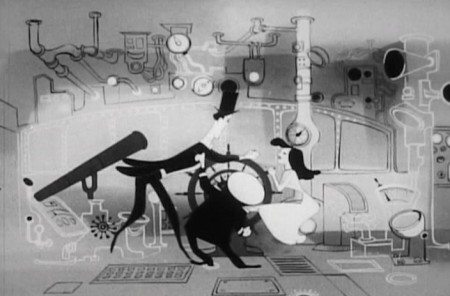 18
The two of them scrabble over the steering wheel.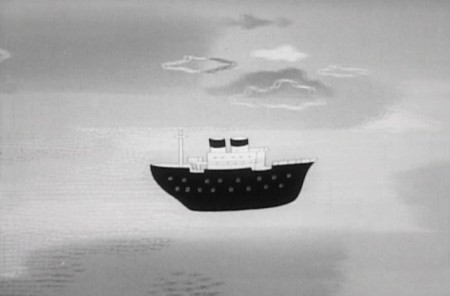 19
The ship spins about at sea.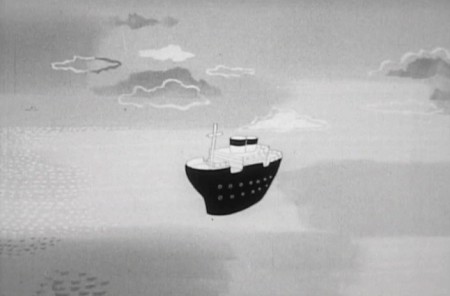 20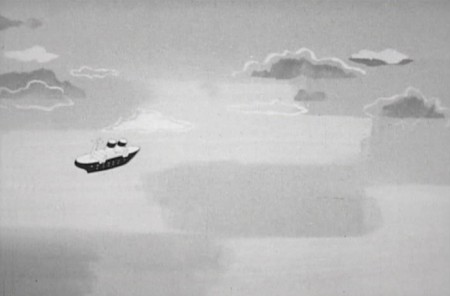 21
It goes spinning into the horizon.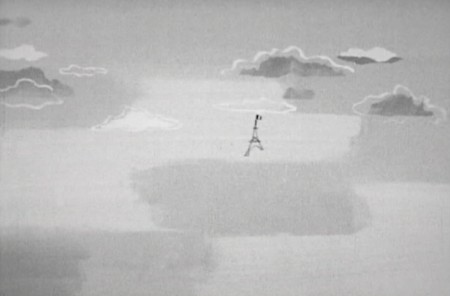 22
The Eiffel Tower dances forward.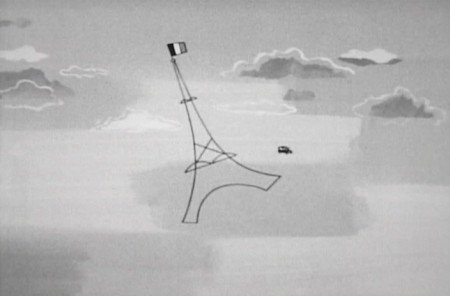 23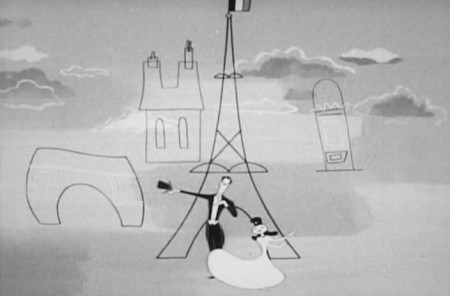 24
They finally join in front of the landmark.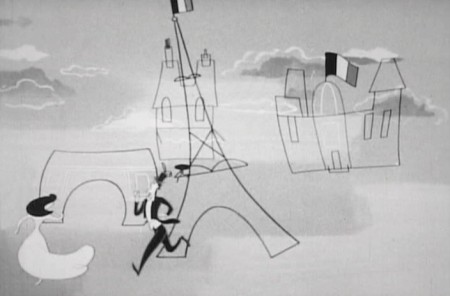 25
They run off screen.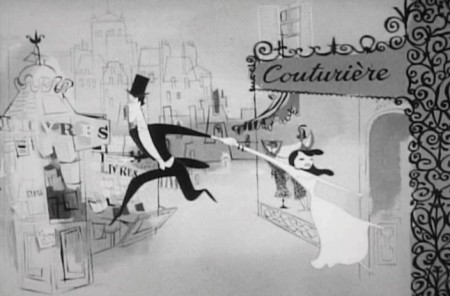 26
He tries to pull her away from a Couturier (dress maker).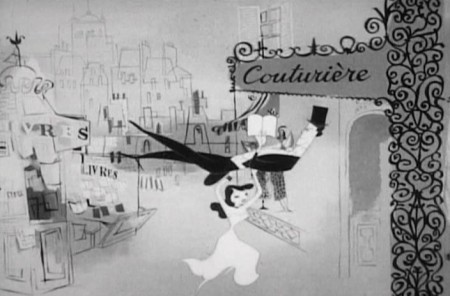 27
She ends up literally carrying him into it.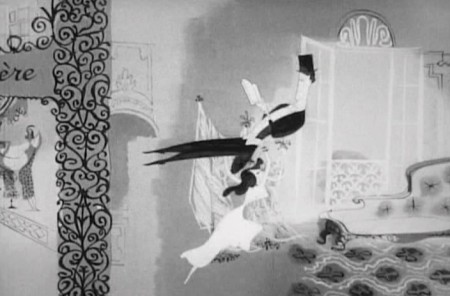 28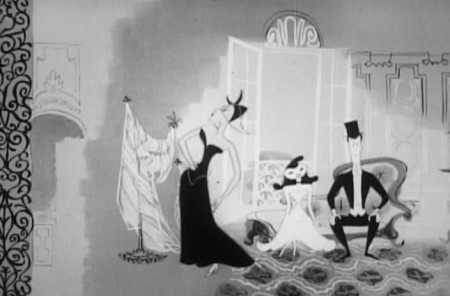 29
He's seated on a devon to watch the fashion show.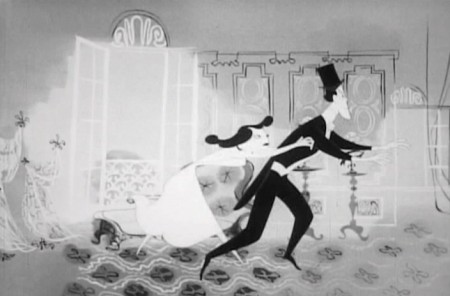 30
Finally, he pulls her further in . . .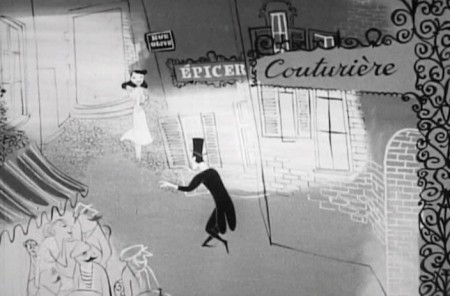 31
. . . and she leads him outside.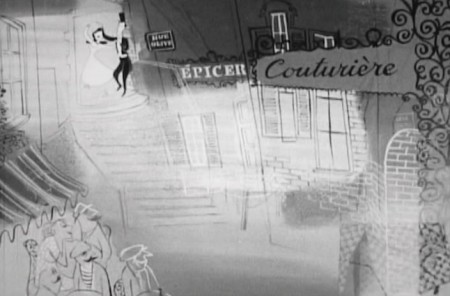 32
They pause at the top of a stairway.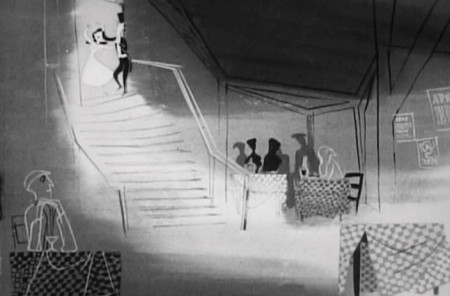 33
The background dissolves to a cabaret.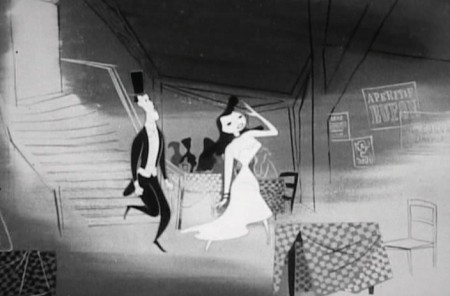 34
The couple enters and seats themselves at a table.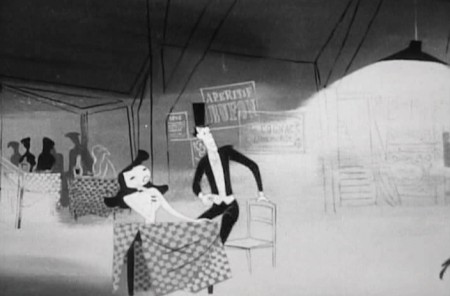 35
There's no doubt that Art Babbitt animated this "Apache Dance."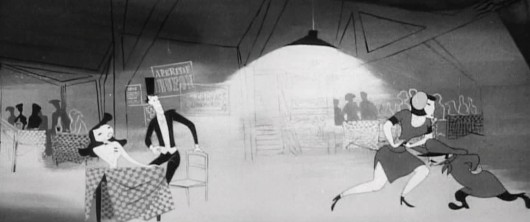 Pan across as an "Apache Dance" is in progress as the floor show.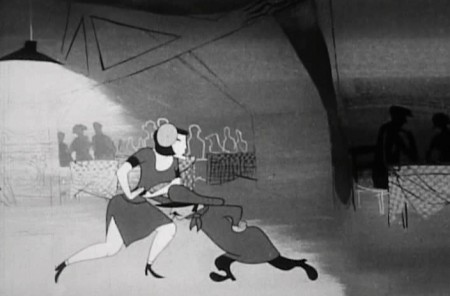 37
The male pushes the female back toward the couple's table.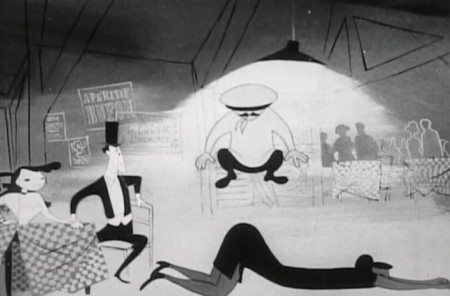 38
He jumps on top of her, in rhythm to the music.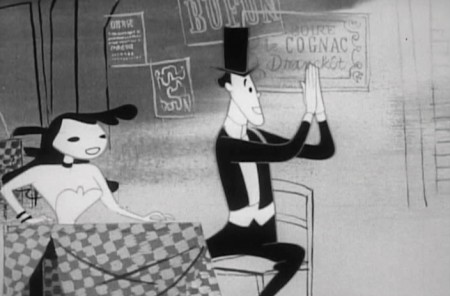 39
2 shot – He applauds the dance.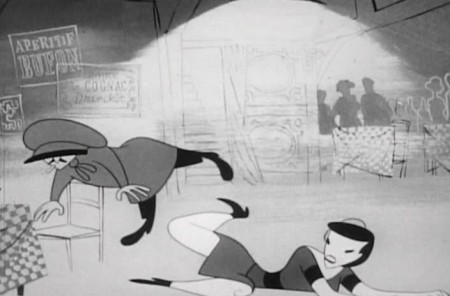 40
She knocks the male dancer off his feet.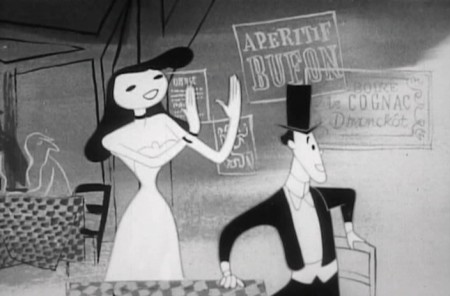 41
2 shot – she applauds the female.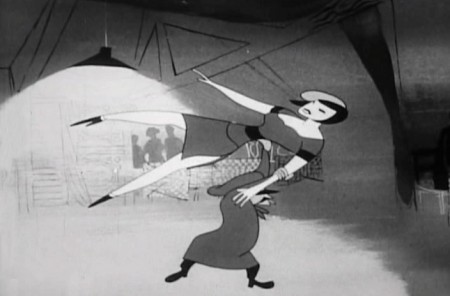 42
The guy lift the female over his head
and off the screen.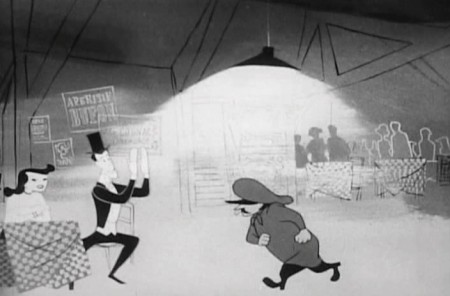 43
He then goes to our male and . . .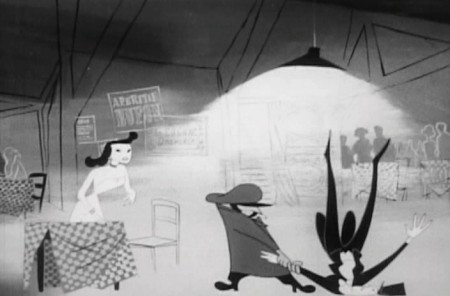 44
. . . tosses him.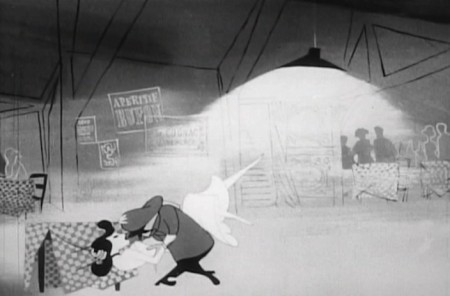 45
The male then dances with her.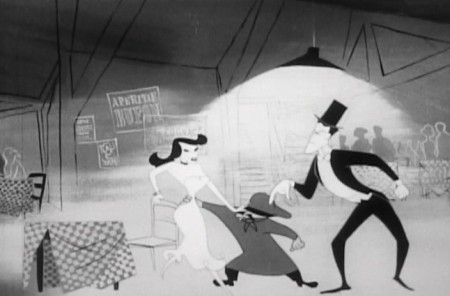 46
Our hero enters, and taps the dancer on the shoulder,
as if it's his turn to cut in to the dance.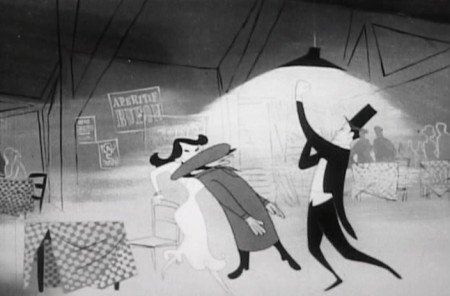 47
Instead, he knocks out the male dancer.
All to the rhythm of the song.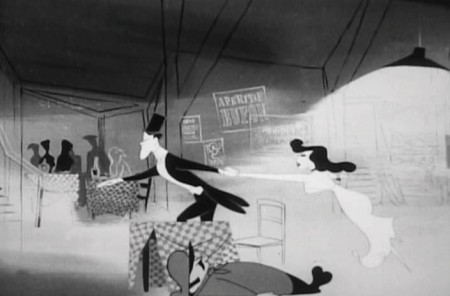 48
Our couple dances toward the door.
Exit Paris.


. . . and the camera pans back . . .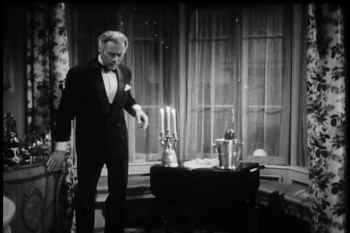 . . . to the Live Action

____________________

The final sequence begins with the couple elderly and close.
It becomes obvious that she dies as we move to him writing at his desk.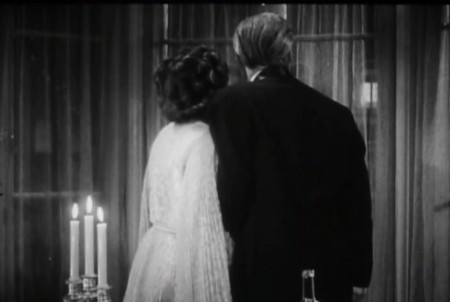 1
We see a beautiful Paul Julian painted sequence which shows
their house as it grows old in a series of dissolves.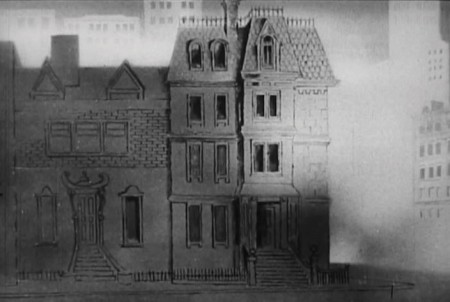 2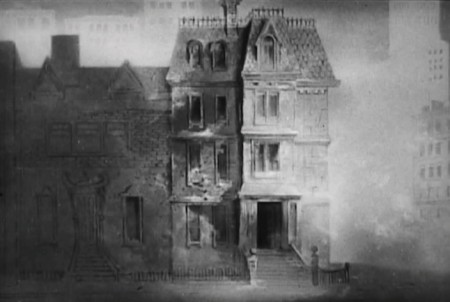 3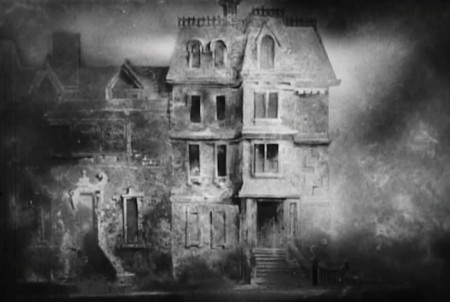 4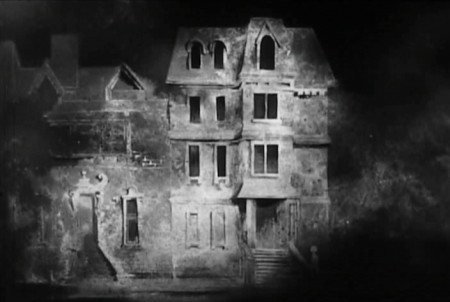 5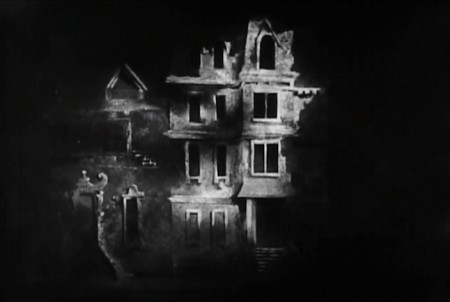 6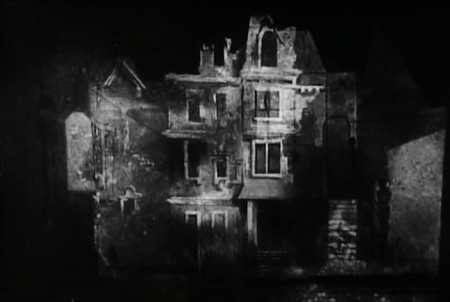 7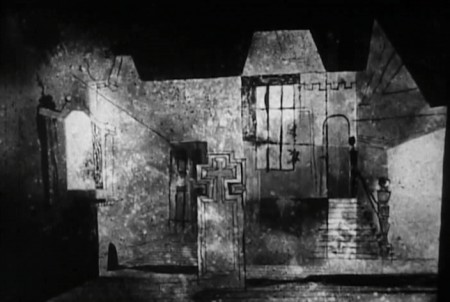 8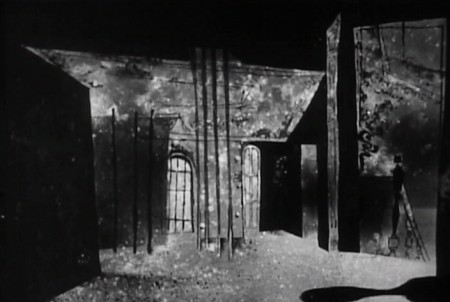 9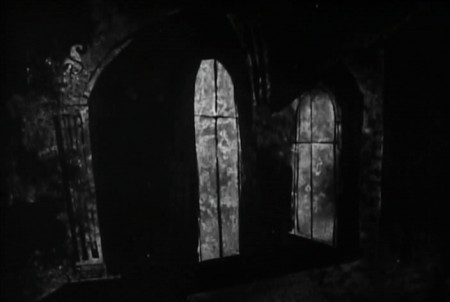 10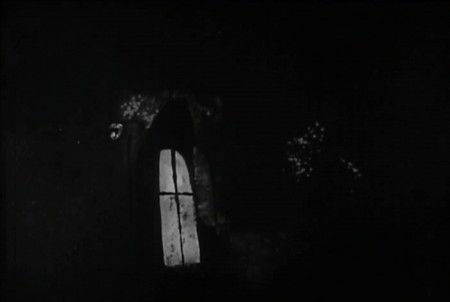 11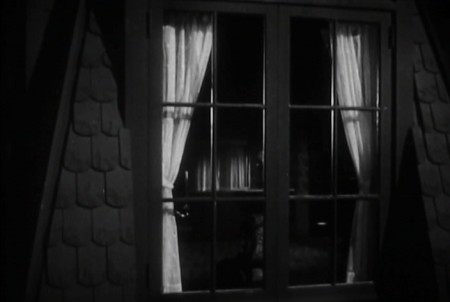 12
Back in through the Live Action window.
We see him with his head at rest on his desk.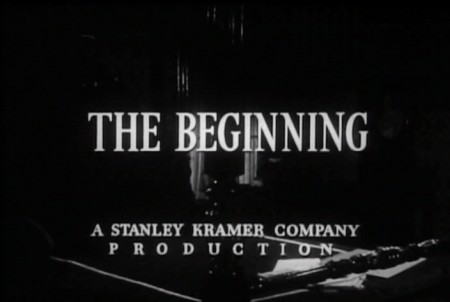 13
It seems obvious to me, after all the time I've recently spent studying the UPA œuvre, that there were a lot of forward thinking individuals who were quite adept at creating modern designs, quite like new textiles or illustrations. However, it would seem to me that only a small few were actually artists. John Hubley and Paul Julian were certainly in this latter character. Hubley was incapable of drawing a cartoon, and Julian was painting his backgrounds in the same, serious style as his own Art. Together, they were brilliant. It's only unfortunate that they didn't have the assist of animation by Bobe Cannon. He is one who took the animator's job to a higher order. We'd have to wait a decade to see Hubley and Cannon together, but, by then, Julian wasn't available to them, and Hubley painted his own Backgrounds. See Adventures of an * or Tender Game, and try to see one of the stunning, newly reconstructed prints from MoMA.
One Response to "The Four Poster – part 4"
on 19 Jun 2012 at 12:50 am 1.hans bacher said …

these BG's are just stunning! what a shame that nothing is left in original. I can't even imagine what looks the team HUBLEY/JULIAN would have come up with if history had not changed that chance.
Leave a Reply