Art Art &Theater 29 Jul 2012 08:20 am
- Just in the past couple of weeks, one of my favorite current artists, Sue Coe, had a show in NY at the Galerie St. Etienne. Ms. Coe is very much akin to my favorite current playwright, Caryl Churchill. They're both so brilliantly political. Last night, I saw an excellent production of Ms. Churchill's anti-Thatcher play, Serious Money. Despite the very low budget, off-Broadway production, the show was every bit as great as I'd hoped. I tried to find something that was marginally related for today's Splog, and I've decided to recap this Sue Coe post. Especially because it links to others about Ms. Coe's work, I thought it very appropriate.
I feel as though I need a larger dose from the Coes and Curchills of the world as Mitt Romney bounds about the airwaves these days.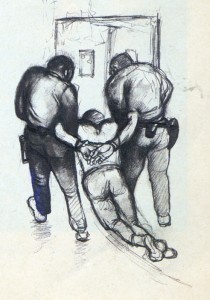 – Sue Coe is one of my favorite current artists. A wholly political artist, it seems to me that she is the extension of the German Expressionists, focusing on man's inhumanity to man, or Goya's Caprichos or Ben Shahn's attention to political injustice. All of her work seems to fit into this form, and I am completely attracted to it.
She is represented by the Galerie St. Etienne, in New York. Years ago, I was there, arranged by HBO, to see some paintings by Grandma Moses. While they pulled out the paintings for me, I was able to see a stack of lithographs by Sue Coe, and it made for a memorable day for me.
I've posted a number of other pieces about her and will probably do it again. You can view a couple here and here.
About 15 years ago, The New Yorker magazine, printed a number of pictoral essays by her, and I've saved several of them. Here's her study of "Nightcourt" in the Bronx. I believe these images were represented by Galerie St. Etienne.
_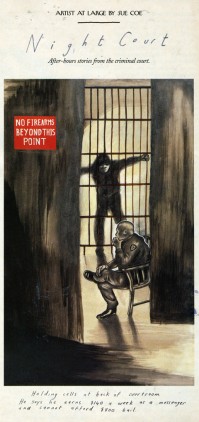 __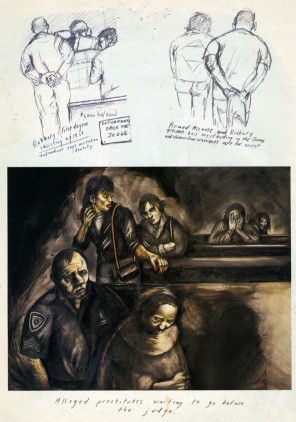 ___(Click any image to enlarge.)
2 Responses to "Sue Coe in Nightcourt – revisit"
on 29 Jul 2012 at 2:34 pm 1.Janet Benn said …

Michael, Thanks for bringing these out. No one has the emotional depth that she has.

on 29 Jul 2012 at 10:58 pm 2.The Gee said …

I just want to express thanks for another great week's worth of inspirational and informative posts.

Rowland's work continues to amaze me. The UPA work is great. The reminders of reading materials are swell. All of it, including this post on Sue Cole, is great to see.

There's someone I know of who had a chance to do comic book journalism about a trial. If I remember how to get in touch with him, I'll pass along this post. Though as far as I know he's already familiar with this and I'm sure he knows Coe's work.

By 'comic book' I just mean sequential art/ graphic storytelling. I don't mean it in a derogatory way. It is just the best way to describe it.
Leave a Reply