Commentary &Daily post 23 Oct 2012 06:32 am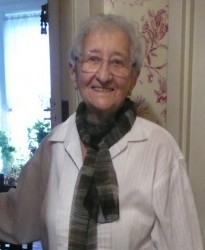 Before getting into it, let me remind those living in NYC, there will be a memorial service for Tissa David who passed away last month. Tissa was something of an original, a female animator who could draw with the best of them. She animated plenty of footage for the Hubleys, Dick Williams, R.O. Blechman and my studio, Michael Sporn Animation. Clips will be shown from many of her films, and five speakers will talk about Ms. David.
It starts at 7pm at the
Academy Theater at the Lighthouse,
111 East 59th St, lower level.
There's no charge.

______________________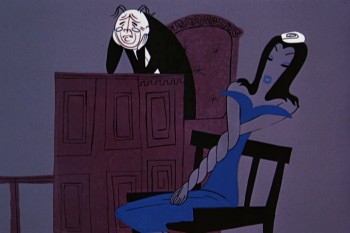 -I was thinking about Rooty Toot Toot the other day. Actually, I wasn't, I was thinking about some of the ugly designs that came out of other lesser UPA films. Some, like Rooty Toot Toot, were those of animation's greatest design ever done. The bad ones had characters borrowed out of 19th century illustration, and they didn't blend in with the 20th century art that others were designing for the very same films.
I think of characters in several of the Art Babbitt directed films at the studio. They just didn't work. Brilliant backgrounds of Paul Julian just didn't have the support from the unattractive characters. The characters just didn't approach the same level of design; in fact, they fought the Bgs which tried very hard to work. Actually, Babbitt's films don't seem to fit into the canon of work that came from the studio at the very time they were being developed.
A quick mental jump, and I was thinking about John Hubley and the characters in Rooty Toot Toot. They're definitely the outgrowth of some modern approach to character design in illustration. Ben Shahn had his influence there, as did Thomas Hart Benton and Saul Steinberg.
Hubley was a working artist. He spent time looking at, working with and studying other artists religiously. He never lost his curiosity when I knew him and applied it to his art. When he did the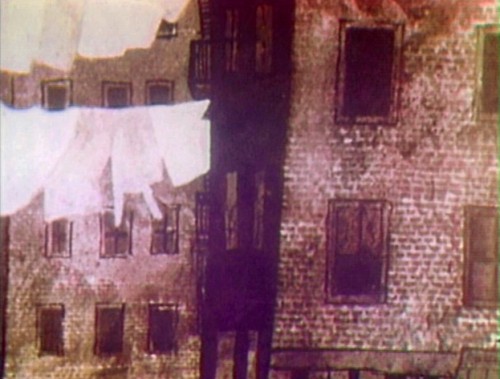 Letterman gig for The Electric Company, he pulled out Paul Klee and studied all those Klee's with cross-hatching and mottled watercolor. Then he turned to George Herriman and Krazy Kat. During Carousel there were plenty of artists to study and John did. He wasn't looking to steal from the greats; he just wanted to understand how another artist had solved a similar problem. This was second nature to Hubley. Gregorio Prestopino's design for Harlem Wednesday.
,
In the fifties and early sixties, John was taken with the work of Gregorio Prestopino , and brought him into the mix. A 10 min short film evolved, Harlem Wednesday (1957). At UPA, the younger Hubley sparkled with intelligence and purpose in his design, and he acted as a force at UPA when things got big.
Hubley loved many other artists. Who knows what the reference was for Rooty Toot Toot, but we know that there was a group of artists that got Hubley rowling, and the end result was rich.
At the Disney studio a different sort of reference was pulled out for study. Disney brought illustration designers like Frederick Horvath and Albert Hurter to the studio. Dsney reached deeply into the European fairy tale illustrators. If he had been able to bring Edmund Dulac or Arthur Rackham into the studio, he would have. As it is, he brought the best he could find.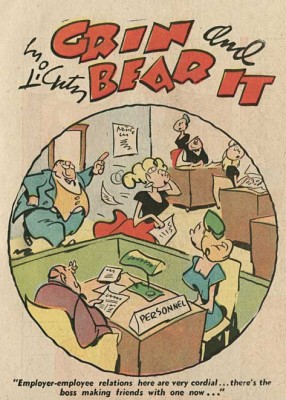 Heinrich Kley and Wilhelm M. Busch. 19th century artists whose principal focus is on the body and physical gesture, this is the strength of animators. Anyone can appreciate their strong work, but animators are particularly attuned to such reference material. Many other animators look toward other cartoonists. Rod Scribner was in love with George Lichty's comic strip "Grin and Bear It." He studied Lichty, religiously, for inspiration, and the result was that great style.
Both types of reference are important. As long as it gets the mind to the next step. Art means you're trying to continue making art; cartoon references means you're trying to make a cartoon. Is it necessarily true that if you're referencing "Art" you're going to end up with "Art" and if you reference cartoons it means your end work will not be "Art"? No, the answer is no. Who knows what kind of reference Jim Tyer was going for, but some of the animation he did takes animation to another level, one that only Tyer can reach with his uniquely individual style.
Actually, let's move down another generation. All the Don Bluth films analyzed, studied and reworked the Disney classics while those animation workers told themselves they were in homage of the Disney classics. When the end result becomes a Thumbelina or Gnome in Central Park, you're not going to find much "Art" in the film. But then Disney animation took it lower.


Is it live or is it Memorex? Or maybe Romnesia?
Woolie Reitherman's reuse of so many scenes from the Disney classics makes us wonder if there was still talent in the studio. Where was Ken Anderson, Milt Kahl, Frank Thomas and Ollie Johnston when Woolie was trashing Disney? Why didn't those bosses speak out against it? Sure, they wanted to cut costs, but did they have to take that route? How many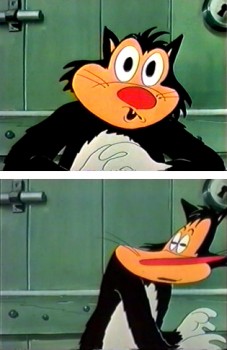 times do we have to see Snow White dancing with the dwarves – I mean Maid Marian dancing with small animals – to realize that we're looking at bad animation reuse. It's not an homage, it's just cheap. But then Woolie Reitherman was chockablock with cheap ideas as a director. That disco sequence in The Aristocats couldn't have felt any more bankrupt, just when Disney animation needed to be at the top of its game, Woolie brought it to its lowest point.
Taking inspiration from animators or animation classics doesn't necessarily pull you to the bottom of the junk heap. Bakshi pushed John Kricflusi into the genius of Jim Tyer's scenes, and a new style emerged. Granted it isn't always art but it is original. John K has spawned a whole new world of wildness among many of the younger people. I'm not sure that's good, but I am sure that some of the work he, personally, has been doing is rich and inspired.
Woolie Reitherman was just looking for a way out of a tight budget; John K uses his tight budget as a way of taking Jim Tyer to another level.
One Response to "Inspired Perspiration"
on 23 Oct 2012 at 4:48 pm 1.John said …

One of the great things about "Rooty Toot Toot" is seeing the more abstract modern designs moving in full animation. While similar designs are commonplace today, seeing those types of character designs smoothly moving across the screen is not due to the lower budgets that have followed.

As for the reuse of animation in productions that should have the budgets to do better, going all the way back to Paul Terry and his filed mouse animation sequences, there always seems to have been a bottom-line mindset that while you have to draw it the first time, there's no need in drawing it again if you can get away with just drawing over it.

A studio like Filmation had to do original animation for "The Archies" because they were too new an outfit to have drawings on file, and had no way to rip themselves off circa 1968, as they did in just about every other show they produced for the next decade. But you expect that from TV work; with Reitherman, it's a Disney feature film, for chrissake, at the very least from them you were expecting something with a little more effort than your average Saturday morning cartoon.
Leave a Reply