Commentary 27 Oct 2012 05:51 am
Academy Voting
Today and tomorrow, Academy members in New York are converging to watch fifty some odd short films to make the first cut list of animated short films. Since the shorts range from five to 30 minutes, this means there are many hours of movies to watch. They've split it up into two days' worth of screening. Half today and half tomorrow. By 7pm tonight my eyes should be bloodshot.
Lots 2 Have Done This Past Week
- This past week was a busy one packed to the gills. I finally had to back out of a couple of things, or I woulda gone crazy. Let's go back to last Monday and start there: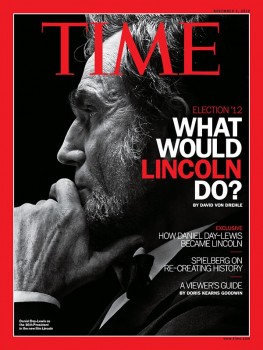 - Last Monday there was a screening of Lincoln. That's a film I'm curious to see. The book by Doris Kearns Goodwin is great. Steven Spielberg is not much of a draw for me. I'm not his biggest fan, though there were a couple of odd little films he did that I liked, particularly Catch Me If You Can. More recent films by him have been horrible. Tin Tin was completely bad. Spielberg seemed not to know what he was doing (if, in fact, he did control that thing.) War Horse made me want to run out and rent Black Beauty so I could see a good version of this film. It was beautifully shot but the film was completely misguided.
No Spielberg is not the reason I want to see the film. It's the book and the script by Tony Kushner; he's something of a genius. His play, Angels in America got better with his screenplay of the same thing. His play Homebody/Kabul is a work of brilliance, and the version I saw starred Linda Emond, who had the stage to herself for the first half hour. And I think that was the best half hour I've ever seen in theater and the best acting.
So Tony Kushner and Doris Kearns Goodwin are reasons I want to see Lincoln, not Spielberg. Oh, and Daniel Day Lewis looks and sounds G R E A T. Tommie Lee Jones is also getting the good reviews for the film. I want to see it. But not last Monday. Besides I wanted to see the debate and somewhat glad I did. Nice to see Romney in a flop sweat.

_________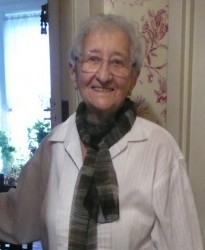 - On Tuesday I had the Memorial for Tissa, and there was too much to do. It seemed effortless, I'm sure, but it took a lot of planning and I have to thank my Heidi for being on my back about that. It was not as easy as one might have thought, and I still hadn't written my speech.
Finally, the event came. I'd had great help from Paul Carrillo and Rick Broas in editing the footage. It had to look simple and effortless. I copied off a couple hundred copies of the program and had folded all of them myself. I met John Canemaker at the screening room early Tuesday, and with the help of the Academy's John Fahr we went through a quick rundown of the program. Since I was going to moderate it, I had to figure out what was going to be said on the fly. That rehearsal really helped, and it gave the projectionist a chance to see the eight times he had to stop and restart the video. The DVD looked horribly compressed on my computer, but it looked wonderful on the big screen. (Though Raggedy Ann suffered a bit. Too bad they haven't released that film on DVD.) The Academy has a great projection system there; the sound was amazing.
It all came off well and a bunch of us went out to an upper east side pizza joint where they gave us a table for 12 to buy some drinks. That was fun, too. I've posted a review with a lot of photos from the event here. I'll post the speeches next week that were given on Tissa's behalf.

_________
- On Wednesday Ron Diamond presented his Show of Shows program. This is an accumulation of a lot of short films Ron has seen at Festivals and is now distributing. The program is usually good, albeit long, and the animation community shows up for it. Consequently, I generally like going to it, and I reserved a couple of spaces right away. It usually gets packed quickly. However, this year, there was heavy going all week with screenings etc., and since many of the films to be screened at Ron's show are part of the Academy screenings this coming weekend, I had to back out of it, and I did. I must say, it was a good decision considering I've had some back problems lately. It ain't easy sitting in movie seats, and that's all I'm doing this week.

_________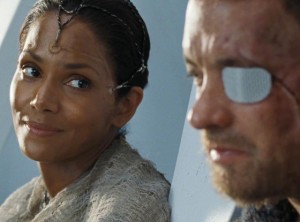 On Thursday I saw Cloud Atlas. The film was like the end credit music. It was sort of minimalist. It kept playing in cycles a bit like Phillip Glass, but not as sophisticated. The non-theme kept feeling as though it were going to burst into a strong and hummable tune, but it never did. Just circular, musical motions. That was the movie. You kept thinking it was going to burst into a strong story that you could care about, but it didn't. It had a hundred stories with two hundred characters all played by the same people. Tom Hanks is six characters, Halle Berry plays five or six. Everybody is busy. Hugh Grant plays five characters and I think two were women. I nodded off a couple of times, but i don't think I missed anything.
This was more of a video game than a movie. You kept going back and forth to different levels. If the characters got in a bad enough jam we'd cut away to another level. The only problem was that the viewer isn't controlling the level shifts. No surprise that the directors did The Matrix. This is the film for those with Attention Deficit Disorder.

_________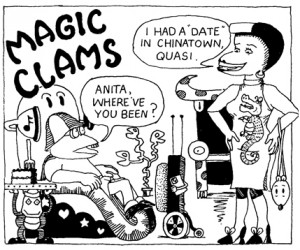 On Friday the Museum of Modern Art celebrated the work of Sally Cruikshank. There was a screening followed by a dinner at the Italian restaurant to the rear of the museum, Il Gattopardo.
I was there when Sally Cruikshank's Quasi at the Quackadero burst onto the scene in 1975, and I watched closely as her career developed. There were a number of short films featuring the characers from Quasi. She had moved to San Francisco and worked closely with Kim Deitch. He, for a while, was her boyfriend and would assist her and paint cels etc. in the making of the films. Sally was making a feature of Quasi – it was that big a success. It never quite happened, so I assume she never raised the money. There were a couple of trailers made which were shown, as films in their own right.
Quasi has a curious story and introduces characters galore, one more funny than the other. Actually, there's no real story other than that Quasi and Anita go to a club and meet up with a world of wild. Her style has been often compared to that of the early Fleischer films like Bimbo's Initiation or an early Van Buren short like In a Cartoon Studio. In that her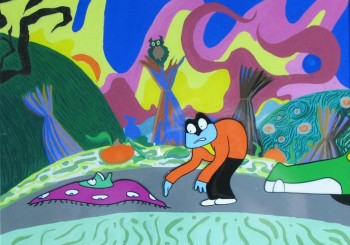 work has a odd drawing style with all the characters completely malleable, almost as though they had no bones, and an innocence in the movement, I have to agree. The Fleischer work always seemed open to the animators' adding to the curious layouts peculiar motions. The characters often move a long way out of whatever way they're going to get back to the completion point, and it's all about the funny. She truly understood the Fleischer house style and did it well in her own drawing style. They're very peculiar films.
Sally also did the high-budget job of titles for the movie, Ruthless People as well as the animated sequence for the Twilight Zone feature film directed by Joe Dante. The big budget bought a very smooth and rich style which goes like a bandit. However, my favorite of her films was Face Like a Frog. This is like her hallucinogenic style on speed. Everything is moving all the time, and there's just so much life in it.
Because the films came in so many different formats, the projectionist must have had a hell of a time keeping the evening flowing. However, it seemed not to be a problem. The show felt like one of those many screenings we used to attend in the 70s. Lots of black in between films and a feeling that you weren't quite sure what was going to come next.
Sally has basically left animation. After trying hard to work in Flash for a couple of years, she decided that it was too difficult for what she wanted.There were a couple of shorts in this process, and they seemed to be fighting a constraint that the earlier films didn't have. She has turned to watercolor painting. Her films seem like they've gone through the Fleischer/Van Buren mode but using a filter of something more modern. A similar but very different effect comes through the work of Kim Deitch. They both obviously influenced each other and are both remarkably original in their art. I'd like to see what Sally's watercolors look like.
I hadn't met Sally prior to last night, so I was glad to have been invited by the Museum's Josh Siegel. He did a great job of organizing the event. J. Hoberman, was a longtime head critic for NY's Village Voice and was only recently downsized by that paper. It completely tore apart the Voice's film section. Hoberman moderated the program asking questions and taking a few from the audience. He was well-informed about Sally's career and it was obvious that he truly enjoyed the films. I've been a real fan of his writing and criticism, so I was pleased to have had the chance to talk with him. (He did review one of my films, the music video Caverns – scroll down when you get there. He didn't like the film very much and felt I'd stolen a technique of split screen from another music video director. In poiint of fact, I didn't; I just wanted to play with split screens.)
Il Gattopardo is a pleasant place; the museum usually takes us to a table in the rear. Often, if it's a large group, there will be a very long table, and we'll talk with those closest to us. The long tables make it difficult to chat with those some six table-lengths away. Last night, it was a small group at an over-sized round table. Sally and her husband, J. Hoberman (who moderated the event) with his wife and daughter, Josh Siegel, John Canemaker and Joe Kennedy and me. (Heidi works Friday nights and couldn't attend.) The meal was good, the chat was pleasant, and the evening was a success.
The film program will be repeated at MoMA on Monday at 4pm for those who'd like to see it.
There's a good interview with Sally here.

_________
Backto the start. Today and tomorrow there will be 13 hours of cartoons to sort through. Lots of complaints, but I kind of like the whole thing. Maybe I'll write about it for tomorrow's splog post.
_______________________________

Ed Sorel – Enigma
- Mark Mayerson directed me to this excellent article in The Comics Journal that speaks about Ed Sorel, the great illustrator whose art has graced many magazines including a number of issues the New Yorker. The article was written by R.O. Blechman and naturally has the wit and poetry of the great writer that Bob Blechman is. This is quite a piece, despite its brevity, and I urge you to take a look.

_______________________________
3 Responses to "Next . . ."
on 27 Oct 2012 at 6:26 pm 1.the Gee said …

As usual, good posts all week long. Thanks to you and to Bill for putting up so much great stuff.

As for Sally Cruikshank: she's pretty awesome and her works show that.

For the life of me I will never understand how Cruikshanks all seem to have some form of artist gene in them. It probably isn't entirely true of everyone of them that's ever lived but sometimes it seems like it.

on 28 Oct 2012 at 1:54 pm 2.Nachev said …

Can you post the full list of submitted academy award animated shorts for this year?
thanks.

on 28 Jul 2013 at 7:29 am 3.Kid Express Reggie said …

Obviously going thru the op's blog post a number will like this as it is correct and its good to see an author that is blogging this for all to see to think about.
Leave a Reply