Comic Art &Illustration &Photos &T.Hachtman 18 Nov 2012 07:08 am
- Tom Hachtman, who you may remember is the friend who does Gertrude's Follies and sometimes contributes to this Splog, (see this post about that) and his wife, Joey Hachtman, who you'll remember has a business painting murals on the big houses at the Jersey Shore. (See this post as an example.) That's where they live, in a house at the Jersey Shore. Point Pleasant is just a little bit of paradise with one of the rowdiest boardwalks at the shore. It's a fun place, at least when the weather's warm enough.
Well, Tom took some pictures. Sandy visited the shore a few weeks back, and things have been a bit different. They still don't have heat or electric. So here's the first of some photos of their back yard.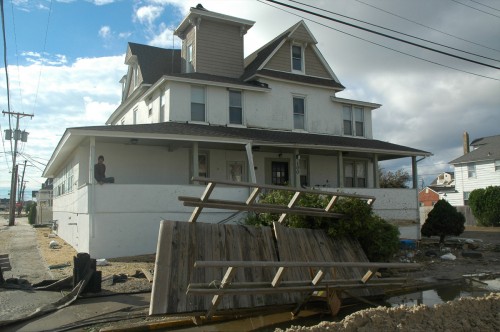 1
Some of the boardwalk on Atlantic Avenue.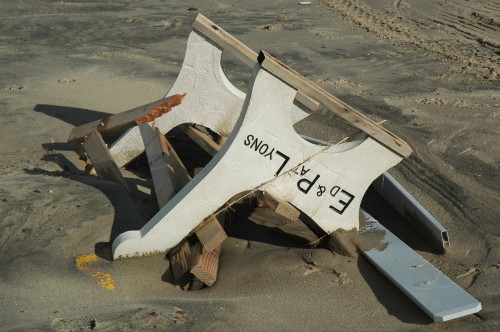 2
A bench from the boardwalk.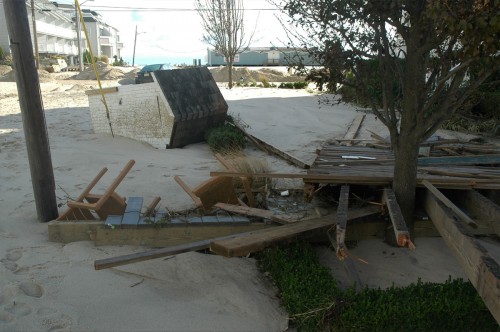 3
Boardwalk booth.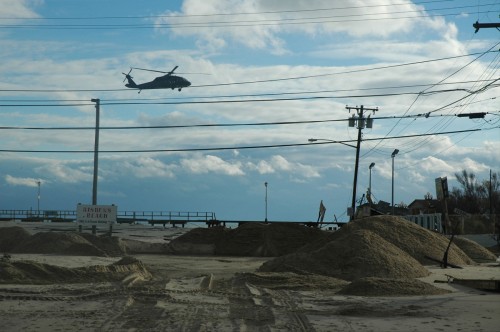 4
Copters all day long.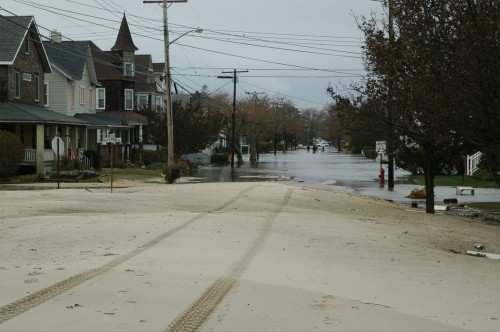 5
Our house with the peak – looking west on Forman Avenue.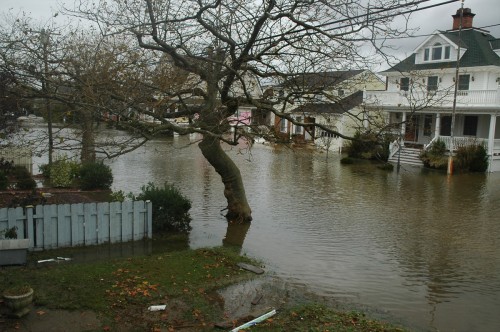 6
Our street, after Sandy, looking West.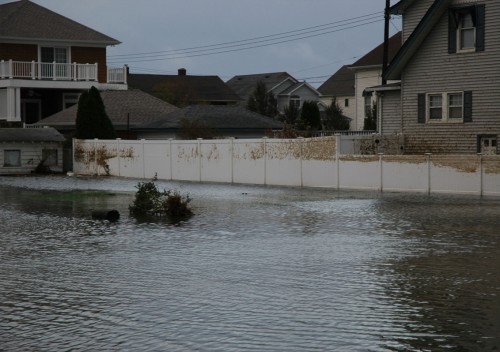 7
White fence shows high water mark.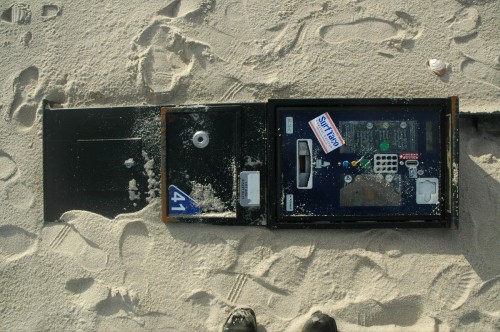 8
No parking today.
A parking pay station.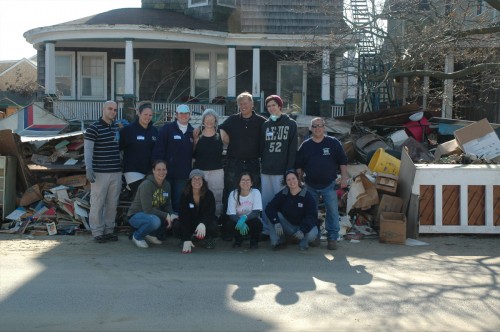 9
Northern NJ clean-up crew – did the basement.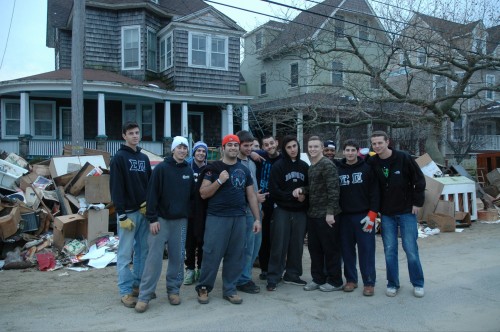 10
Seton Hall's Sigma Pi boys – cleaned out the garage.
(They found a possum playing dead convincingly.)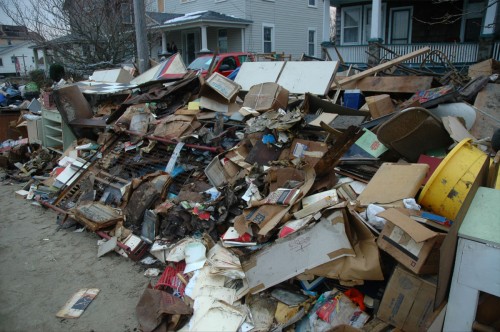 11
Soggy collectibles.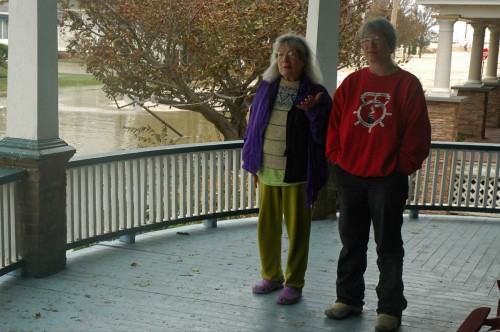 12
Myrna and Joey on the porch.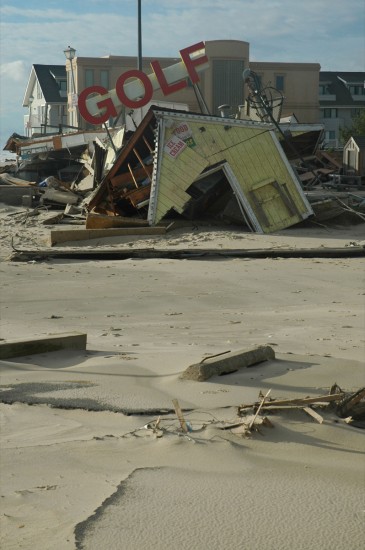 13
No mini-golf today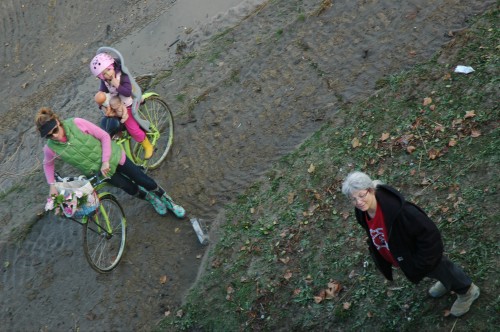 14
Kitty and Olive stop by visiting Joey (right)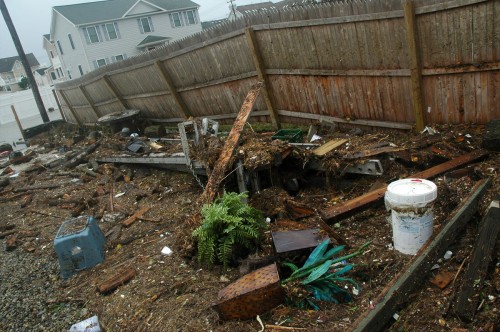 15
Debris in Rick's driveway.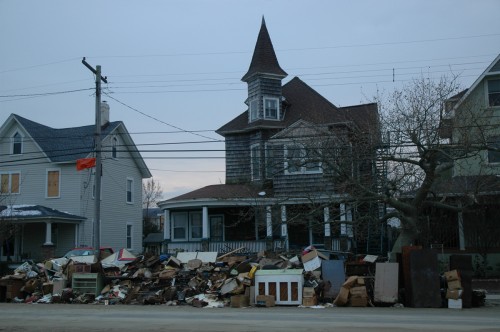 16
Our house after some housecleaning.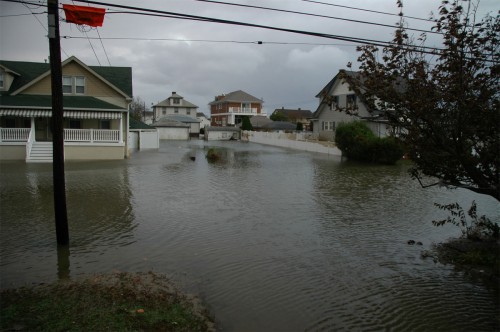 17
Across the street – high water mark on white fence.
And of course, turning to stored artwork that the family did over the many years, things weren't so good.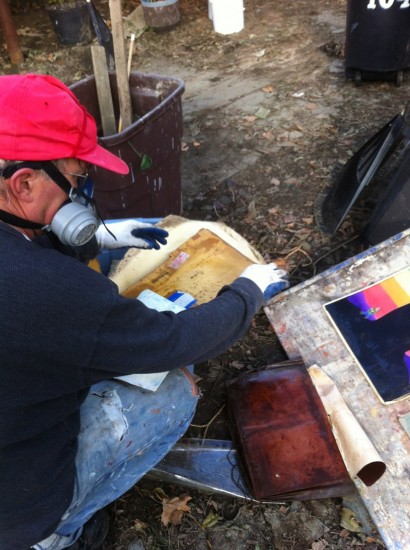 18
Here's Tom going through some of the debris
to find anything that can be saved.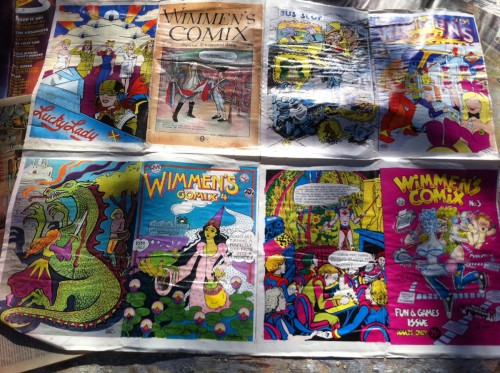 19
Here are some of the comics that Joey had done cartoons for.
It's doubtful that the issues can be replaced.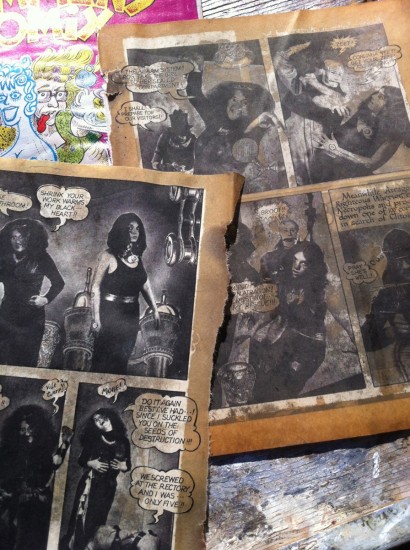 20
More of those comics. Do you hold onto them?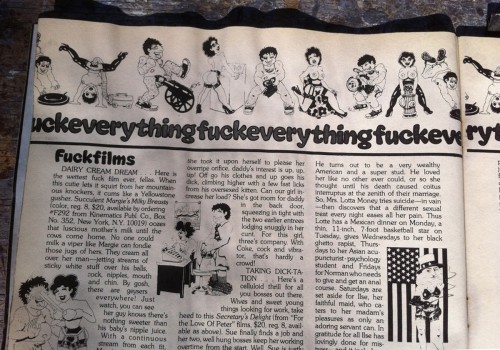 21
Here are some of the many cartoons she did for Screw Magazine.
Gone.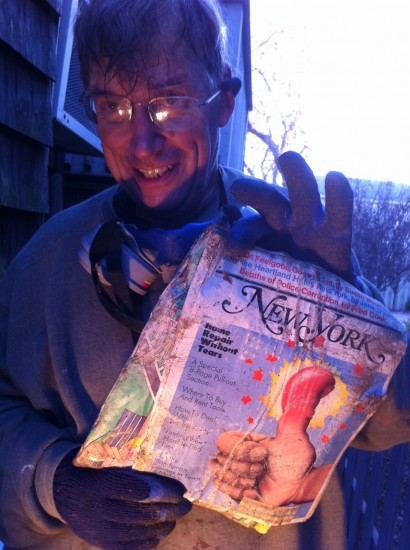 22
A cover for New York Magazine
that Tom had saved.
It was done by Bob Grossman a few years ago.
2 Responses to "Sandy's Point Pleasant"
on 19 Nov 2012 at 2:33 pm 1.the Gee said …

I hope everything comes together in the best ways possible.

It may seem silly to even suggest this but I'm going to anyway.

Don't ignore creative impulses that can be had when dealing with this stuff.
Or, if it is a situation where something, many things are seemingly overwhelming try to make the most of it in your creative endeavors, or, by solving some problem in a way that makes you happy or makes something work better. That can be something as simple as making something beautiful that you and your neighbors appreciate and enjoy.

I had to deal with a flood years ago. Some things were lost, yes. But, nothing major. However, the reason I bring it up is because I was working on something which indirectly benefitted from that experience. I learned how to take my art in a different direction; the way I wanted it to go but which had been difficult up until that point. So, i was working on it before the flood, before the rains but somehow it became better because of the situation.

I guess in short, if it is possible, make the most of the experience in a way that benefits you, and others, for sure.

Take care.
Leave a Reply