Commentary 12 Jan 2013 06:00 am
Oscar Toons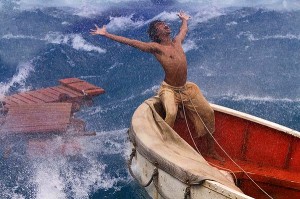 - The Oscar nominations came out this week. It was an odd mix, and a curious grouping of those in that mix. I couldn't be happier than that The Life of Pi (left) did so well. Let's hope it wins one or three awards from those 11 nominations. I like that film a lot. I wouldn't be too disappointed with Lincoln or The Master winning either, but I really like Pi. How can you not like a film that proves the intellectual existence of god?
Skipping down to the animated shorts, I'm not allowed to say much, but I am surprised at some of the choices. The ones that were eliminated so that a tv cartoon could make the list is embarrassing to me. Perhaps the hollywood people wanted to vote in something they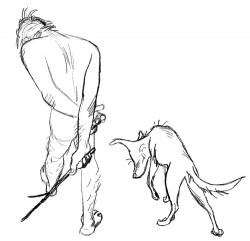 had worked on, or maybe it's just that it was supposed to be funny. Presumably they must have laughed in LA. They didn't in NY. Oh, well. As Groucho would've said, "Why a duck?"
Best Animated Short
Adam and Dog – Minkyu Lee
Fresh Guacamole – PES
Head over Heels – Timothy Reckart and Fodhla Cronin O'Reilly -
The Longest Daycare – David Silverman -
Paperman – John Kahrs
Congratulations to all five nominees.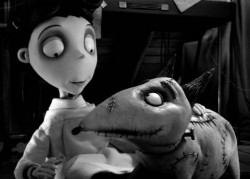 – As to the features, is it an accident that both the animated short nominees and the animated feature nominees both have one film that's about the love between a boy and his dog? It seems too much of a coincidence. Hmmm. I never thought of myself as a conspiracy theorist, so I must be onto something here.
I'm impressed that there are three puppet animated films nominated. Not bad. I also don't mind Brave's nomination and think that Wreck-It Ralph will probably win. It was pretty damn popular though I lost interest half an hour in. Maybe I should play more video games. Somehow, though, it seemed to be about so little as compared to all the others.
Best Animated Feature
Frankenweenie – Tim Burton
ParaNorman – Sam Fell and Chris Butler
The Pirates! Band of Misfits – Peter Lord
Wreck-It Ralph – Rich Moore
They all involved a lot of work and they're all pretty good. Personally, I'd like to see Tim Burton win one after all the animation work he's done. There haven't been that many stars who have been consistently supportive and attentive to the medium. The Nightmare Before Christmas has become something of a classic, and The Corpse Bride was so gracefully attractive. The guy deserves a win.
This actually gives me an idea for a blog. Lately a lot of live action people are turning to animation. I guess animation people are trying o turn to live action as well. There must be something worth discussing there, and I'm going to find it.

_____________________________________
Muhammad's Cartoon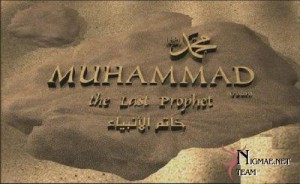 - Talking about animated features brings me to this oddity. While tooling around YouTube, I came across a feature I've wanted to see. It was Directed/Produced by Richard Rich. That guy made a lot of animated features, and they all have some strong semblance of professionalism. I have to give it to him. Features are hard to do, hard to raise money for, and hard to maintain the enthusiasm, not only within yourself, but for the whole crew. As a director, if you're not up to it, neither is your crew. You're the backbone of the energy level of a film, and a feature goes on for a long time.
After all, before he left Disney, Richard Rich had directed The Black Cauldron and The Fox and the Hound. On his own, he had a bit of a hit with The Swan Princess in 1994. Good enough to get four sequels out of it, including The Trumpet of the Swan, the biggest. He also did an version of Rogers & Hammerstein's The King & I as an animated feature. A daring idea that didn't really work. Then there's Muhammad: The Last Prophet which sneaks in there among dozens and dozens of Christian shorts about Christ and the apostles. He also produced Alpha and Omega, and another sequel called The Swan Princess Christmas. Those last two were cgi done in India.
John Celestri, a good friend, was an animator on all of Rich's work done outside of Disney. We're set to talk sometime soon, but John is buried with work. (I'm glad to hear that.) I'm also glad that Rich recognized John's talent and held onto him all those years. I only wish some of the films were better. At the very least, better than Don Bluth's output. At least Richard Rich keeps going. That's positive in its own right. I'm also sorry he deserted 2D animation. I can't blame him, though. It's tough holding onto the 2D world.
Anyway, here's Muhammad. I suspect it's better on a big, theatrical screen.
Muhammad, the Last Prophet
_____________________________________
J.J.'s History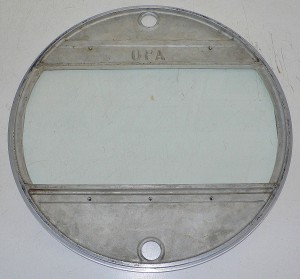 – I had planned to post a piece about the study J.J. Sedelmaier did for Imprint Magazine. But then Mark Mayerson did another of his perfect posts, tight and to the point excellently written and finely thorough. Though I'd already spent a lot of time looking at the Imprint Magazine piece, Mark's writing got me back to read it again.
J.J. has an article with a lot of good pictures, about animation discs, pegs and desks. This is the old style hardware where anmators called themselves at home. Hours staring into desks made of cheap drawing tables with holes cut into them; lighting housing built on the underside of those desks, and animation discs were placed into the holes. This allowed man-made light to shine into the artist's eyes revealing the animation in process through several layers of paper.
Divine.
For many years I'd collected a bunch of his animation hardware. I have a Fleischer disc – the earliest one I have didn't use the foot-pedal peg release system. They're just Acme pegs in that disc, though I have at times changed the pegs to Oxberry system or Signal Corps style. Now they're Acme. I do have one of the bars of three round pegs from the Fleischer system.
I also collected X-Sheets. They're all different. Most used the 80 lines on the page. 80 lines representing 80 frames or two 16mm feet or five 35mm feet. Some studios used 100 frames to the page. Shamus Culhane's studio used those. Mathematically they meant nothing, but Shamus told me he liked that even number. The even number was pointless, really. Some other studios liked using 96 frames on a cover sheet and 80 frames on all sheets that followed. Disney did this for years. There was also a lot of room for I.D. info on those cover sheets. I liked the basic 80 frames; they made sense mathematically.
So you can see why an article like J.J.'s piece on discs and desks and pegs would interest me.
J.J. had also put together an exhibit about the history of NY animation and the studios here. Like most exhibits, they move on. However, Imprint Magazine posted an article covering that exhibit. J.J. also wrote that article. You can click this link to see It All Started Here. The article will live on, fortunately.
As a matter of fact, scroll through J.J. Sedelmaier's articles while you're there. They're all interesting.

_____________________________________
Ken Brown's NY Street Pop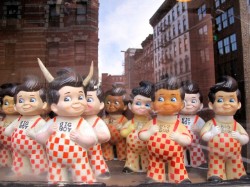 - Today at TekServe, Ken Brown will open an exhibit of his artistry. Slide Shows, Post Cards, Short Films, Prints, Drawings. Multi media, in short. From 1pm-3pm there will be a feast of all that magnificent material Ken collects and reconstructs to create and artform that's all his. There's no charge and it'd be great to get out and support one of our best artists. (I'll try to post some photos if I can remember to bring the camera and then take my eyes off the art to make stills.)
TekServe is at 119 West 23rd Street
The exhibit runs Saturday, January 12th through Sunday, February 24th
hours: Mon – Fri 9am to 8pm; Sat & Sun noon to 6pm
Just cherck out these sample photos which are displayed in the article on HuffPost. Sheer fun. you've gotta see the show live. If you can't make it today, follow up in the next month while the exhibit stays up and lively.

_____________________________________
Gaiman's Game's on
- You'll remember that I recently posted some photos of Tom Hachtman's waterlogged house at the Jersey Shore. His home was a victim of Hurricane Sandy, and that wasn't too recent. Take a look here if you missed the pictures and want to see them. I received this email from Tom this past Wednesday:
Neil Gaiman gave a commencement address to the graduating class at U of the Arts and it went viral on Youtube.
Now it will be a book – any book designed by 'Chip Kidd is of interest – so I am forwarding this.
Not animation news but interesting I think.
Love those Rabbit Boy strips you posted today.
btw: Len Glasser went to the Museum School that became PCA our alma mater (Phila College of Art) that became University of the Arts.

We are just getting back into our house.

We have heat and hot water again.

Woody is home from LA.

going to celebrate now – talk later
(Finally, afer all this time, heat and hot water. Some kind of frustration/joy sound; that's all I can emit.)
Commencement speech? Neil Gaiman?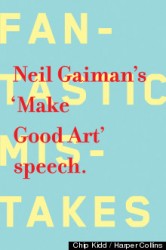 It's a comic book. I'm not a big fan of Gaiman, so I have to have a reason for posting about it.
Gavin Aung Than illustrated it.
Ok, here's part of the HuffPost article about it:
Gaiman, known for his short fiction works including "Coraline" and "The Sandman," gives a 20-minute speech on the difficulties waiting in both failure and success that emerge in the pursuit of art. The standout passage reads:
When things get tough, this is what you should do: Make good art. I'm serious. Husband runs off with a politician — make good art. Leg crushed and then eaten by a mutated boa constrictor — make good art. IRS on your trail — make good art. Cat exploded — make good art. Someone on the Internet thinks what you're doing is stupid or evil or it's all been done before — make good art.
If you're an artist, do you really need Neil Gaiman to tell you this?
Seriously, though, the only one like Gaiman out there is William Joyce. His books have also attracted a lot of features: Robots, Meet the Robinsons, Rise of the Guardians, and Epic (coming soon).
Anyway here's part of Gavin Aung Than's strip.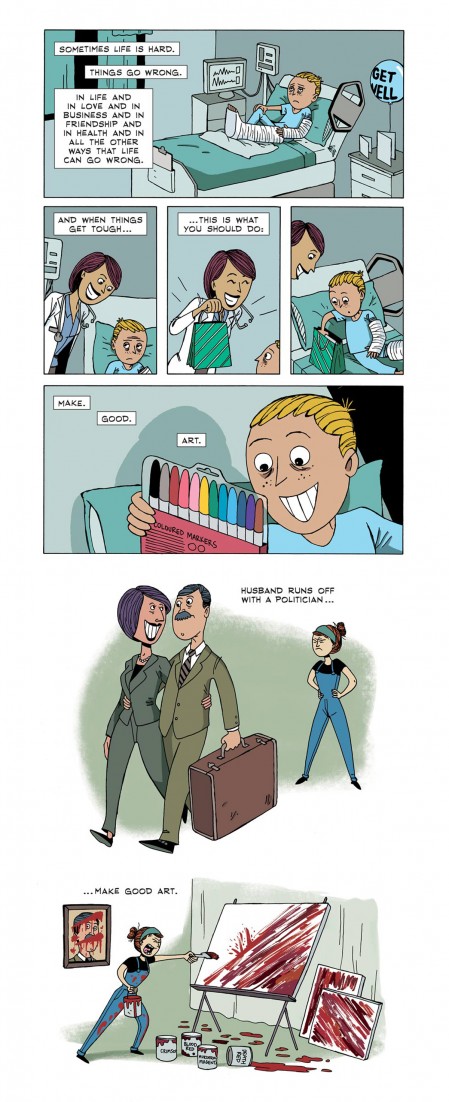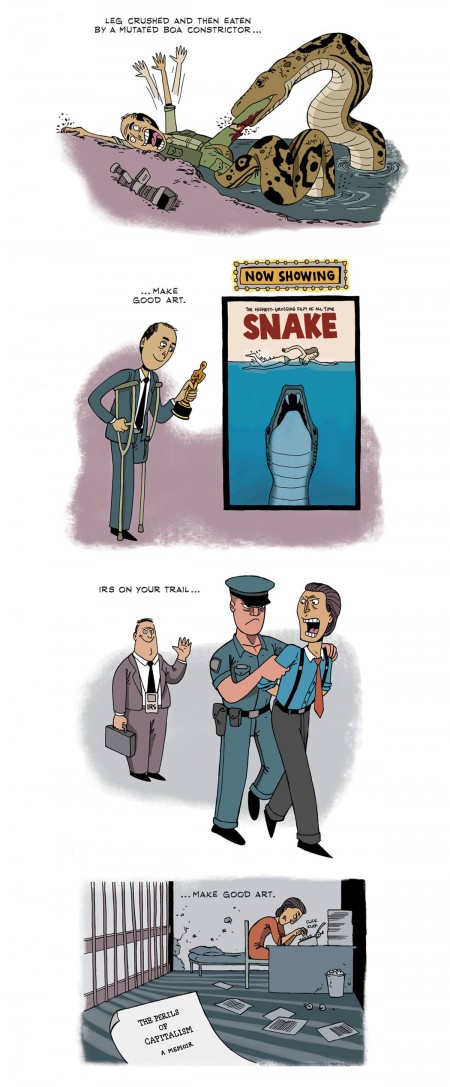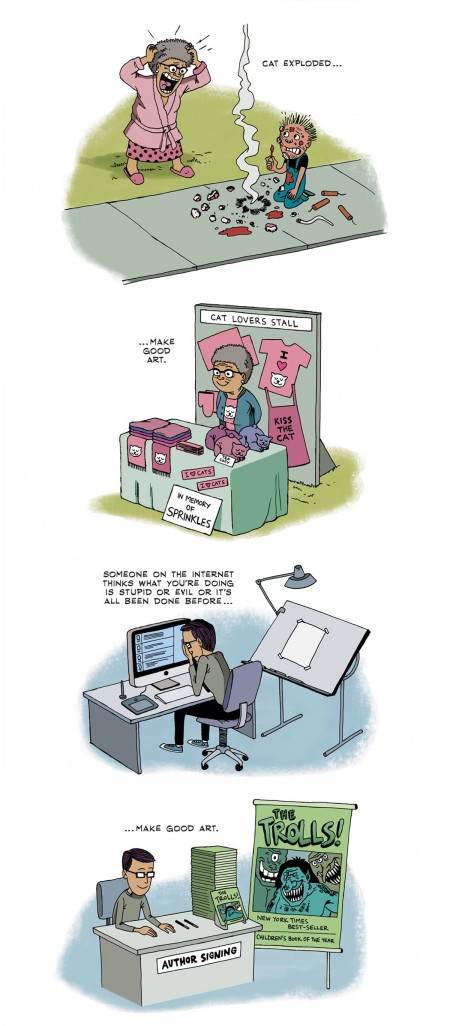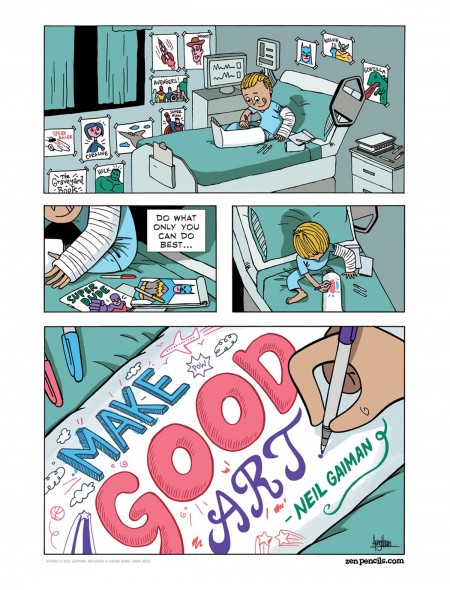 Looks très commercial and way too tight for my taste. But if god serves you lemons, make some art.
By the way, here's the video of Gaiman's commencement speech, just in case you're a fan and haven't caught it yet.
_____________________________________
10 Responses to "Movin'"
Leave a Reply