Animation &Animation Artifacts &Bill Peckmann &commercial animation &Illustration &Models &Story & Storyboards 30 Jan 2013 08:26 am
- Still left in the Vince Cafarelli collection of drawings from commercials he did, most probably, at Goulding-Elliott-Graham (for the moa part) are the drawings below. We know through some small bits and pieces of information what a couple of the sponsors were. (The wording of dialogue the professor speaks that the sponsor is Nabisco Shredded Wheat; the lion and the mouse ad is obviously for Vicks – drops or vap-o-rub.) However, too many other bits leave us empty handed. I can recognize cartoonist, Lou Myers' work anywhere, but no clue what they're for. Candy Kugel and I were also able to delineate Lu Guarnier's drawing style (Vinnie was his assistant for years), and I know Jack Schnerk's great work. I recognize the brilliant and great hand of George Cannata from similar work that Bill Peckmann had recognized (see here) in a past post. So it is great to learn as much as we can, even though there's a lot of guesswork in it.
The following are three storyboard drawings by cartoonist Lou Myers for some spot: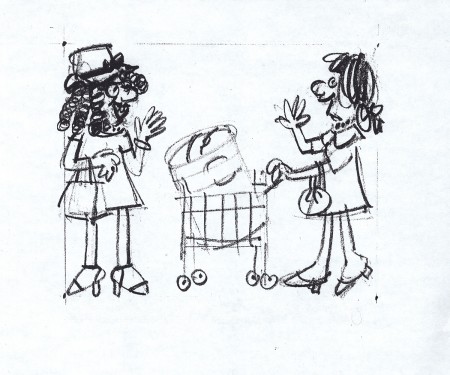 1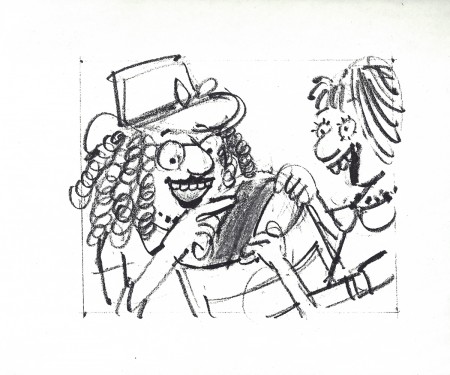 2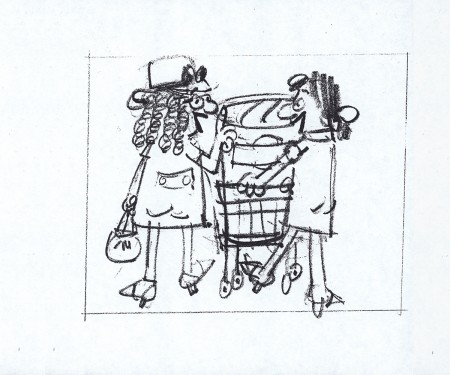 3
The following drawings are for
Nabisco Shredded Wheat
. They're animation drawings/ruffs by
Lu Guarnier
. The delicate pencil lines of these years turned into dark rougher ones in his later years. The timing charts were always the same right out early wB years. You'll notice a lot of quarters and thirds in the breakdowns. This is something you'd never see from Disney. There, everything is broken into halves and halves again and again.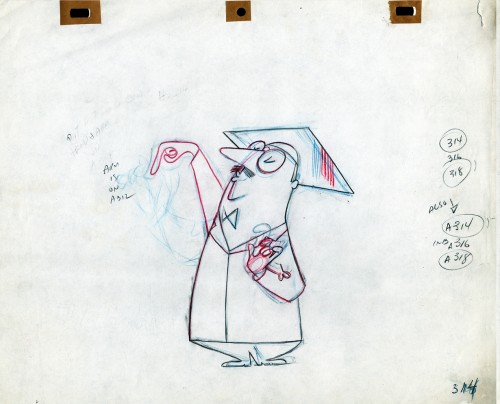 1A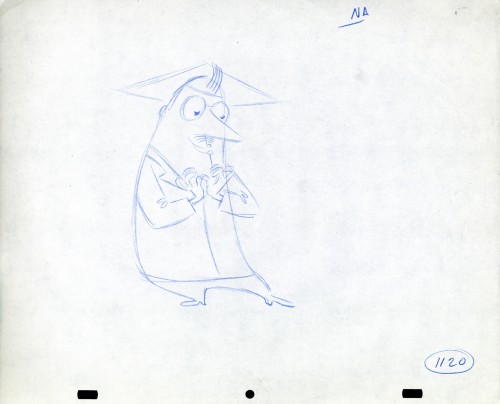 1B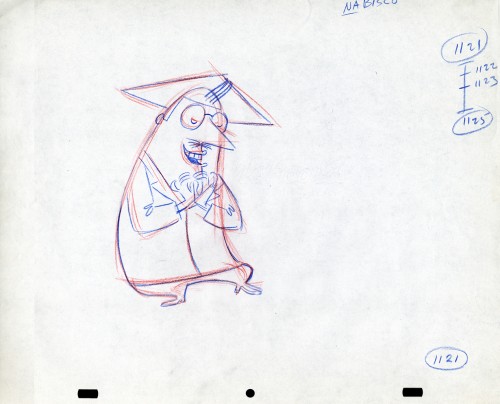 1C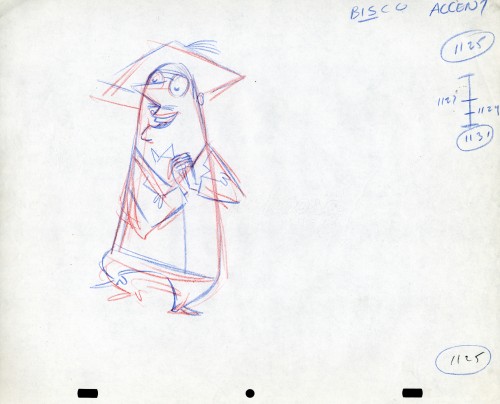 1D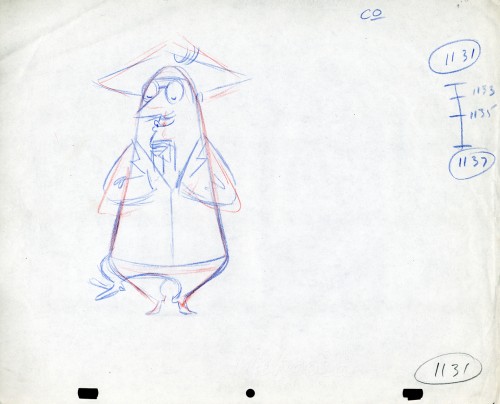 1E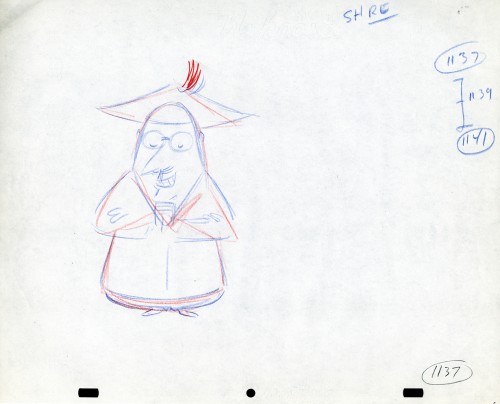 1F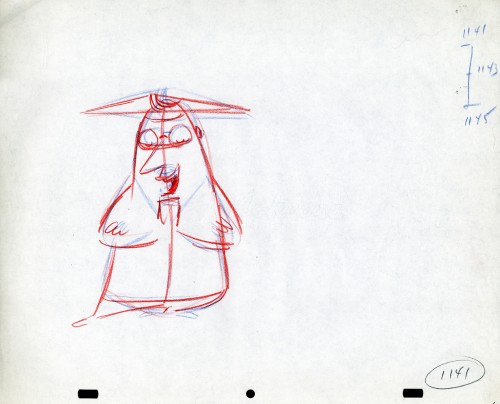 1G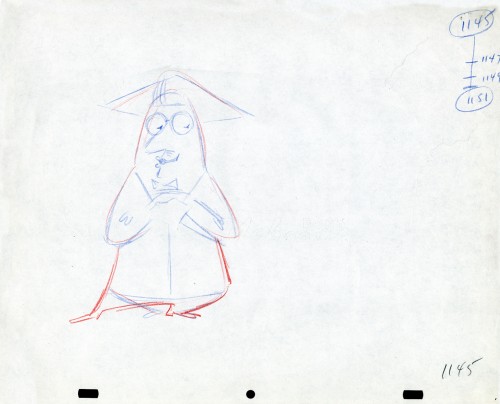 1H

- The following lion is designed and animated for a Vick's commercial. (Note the second model sheet.) There were quite a few commercials during the period that reworked this great Aesop tale for the sponsor's use. The lion obviously has a cold. Rather than pulling out the thorn, the mouse introduces him to Vicks' cough drops and the lion feels a whole lot better.
What has been left behind of this ad includes a couple of model sheets of the lion as well as a couple of animation drawings. I don't know who the designer is, but the animation drawings are most definitely the work of Jack Schnerk. I suspect all the drawings here are by Jack. He probably kept reworking the model sheet until he got the character in his hand. I can remember him lecturing me on the quality of my drawings. Unless my drawings became roughs, rather than tight clean ups, he was convinced I couldn't get good animation in my pencil. Jack's work was rough. and it became much more rough than this, certainly by the time I knew him and was assisting him. He also had a peculiar style of roughness; very choppy angular lines chiseling out the fine drawings. You can get a good example of that with drawing labeled "2D".
The last four drawings are all animation drawings. "2D" is a rough, "2E" is a clean-up by Jack. The last drawing is a beauty and probably the final look he hit upon.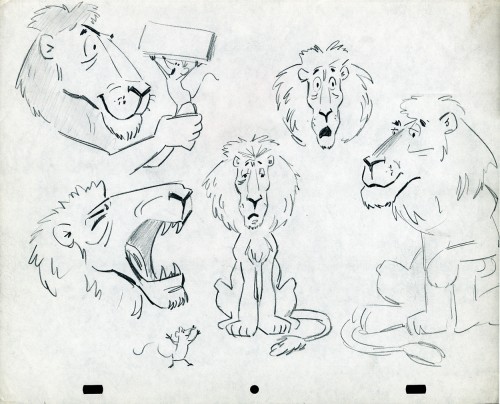 2A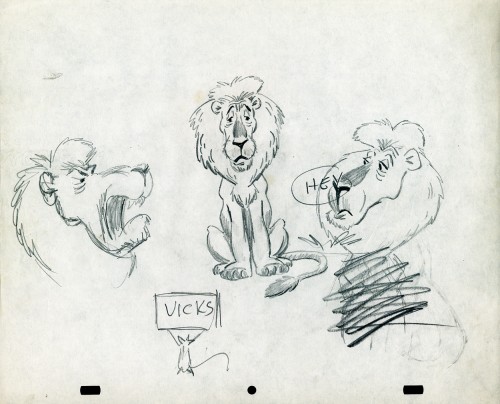 2B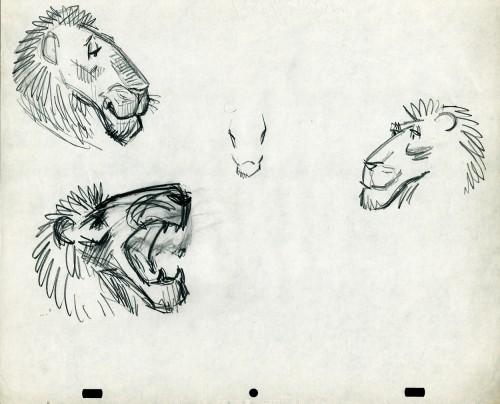 2C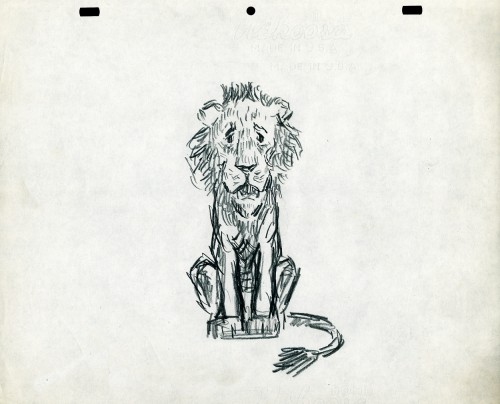 2D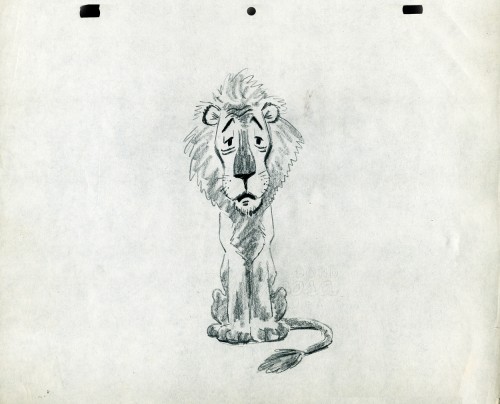 2E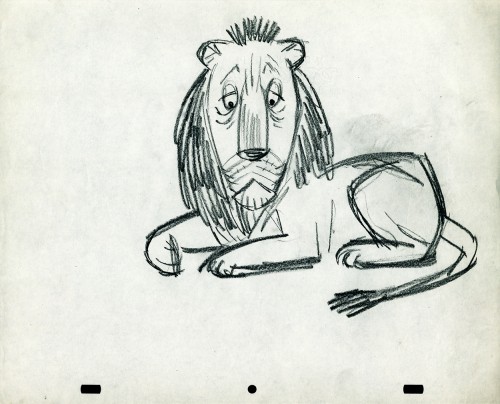 2F

Here we have some drawings by a designer. I suspect that it's the work of George Cannata. I did a couple of posts on a designer at Robert Lawrence Studio a few weeks back. Bill Peckmann identified the primary designer whose work screamed out to me. Since then, I'd recognize that line anywhere, and it's most definitely below.
The Groundhog below is obviously a character with a southern drawl. The first step was to try the obvious making him a cowboy ("3A"). But that soon changed. and the character got plenty more sophisticated ("3B & C"). After that the line got juicy and the color got bold. There's really so much to a character like this who just about animates himself.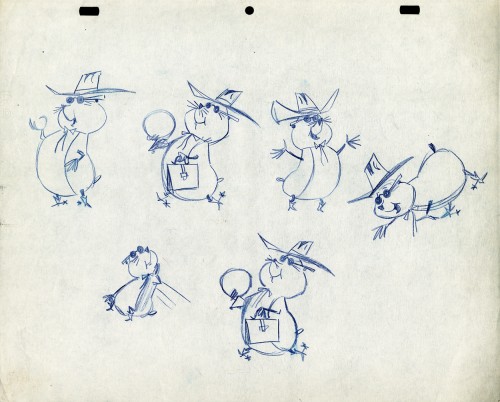 3A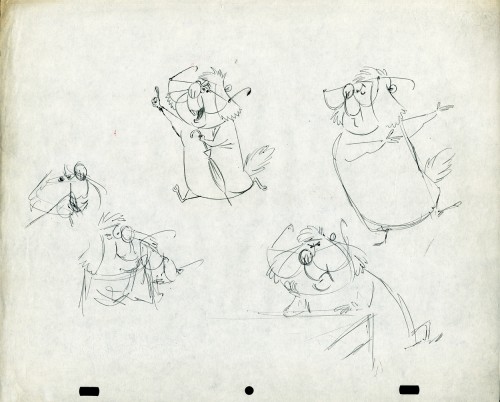 3B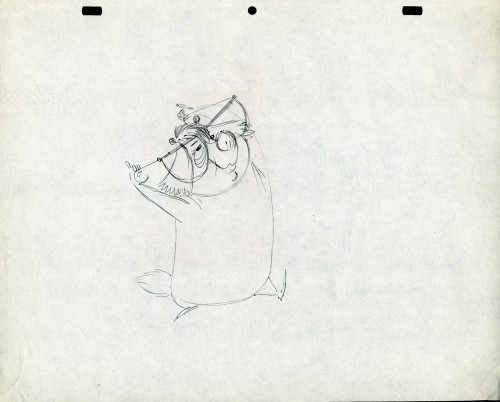 3C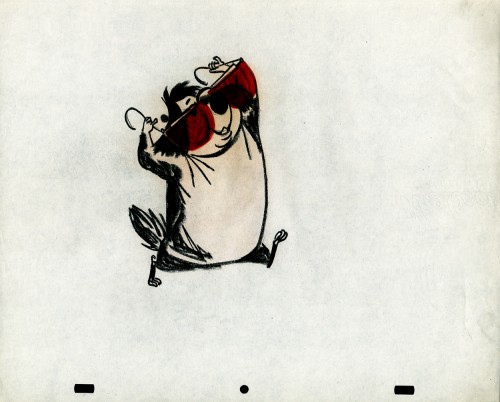 3D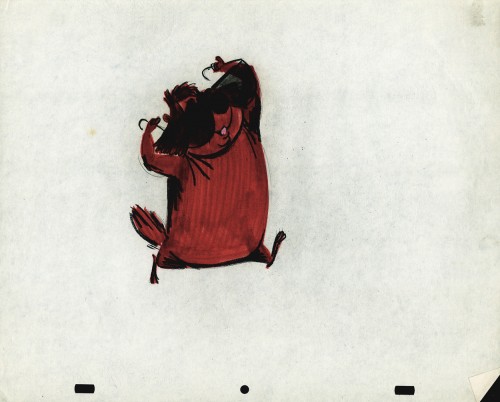 3E

The following five drawings are for a WISK commercial. There are two model drawings and three animation ruffs. The primary model indicates that the spot is done for Screen Gems which was a viable studio in the early 60s and 70s. However, I don't know who the animator was. Neither Lu Guarnier nor Jack Schnerk fill the bill.I know that Irv Dressler was at Screen gems for many years, but am not sure about this time especially since IMDB has him free lancing for King Features and other entertainment studios. The drawswing style of these animation drawings is right out of the Paramount/Terrytoons mold. Many animators' work looked like these. People such as Johnny Gentilella, Marty Taras et alworked in a very similar style, though these are a little harder lines than either of those two.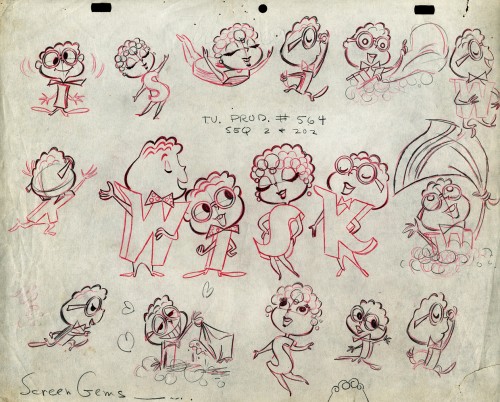 A
This is the primary model for the entire family. It's a
beautiful drawing, and the characters have a lot of play
in them despite being connected so obviously.
Just look at the father's hair. Beautifully done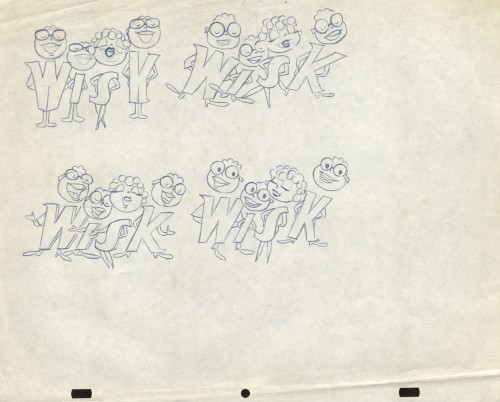 B
Here's a secondary model. I suspect this is the animator
tracing off the characters and seeing what he can do with them.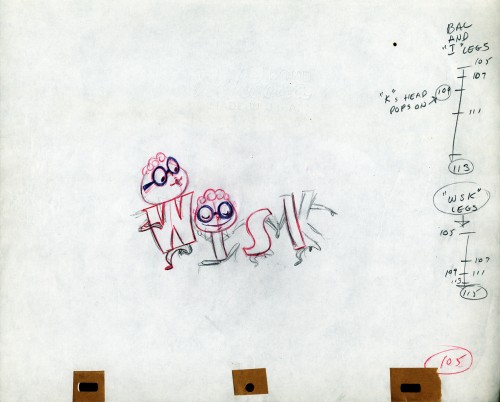 C
Animation drawing #105. Those breakdown charts are something.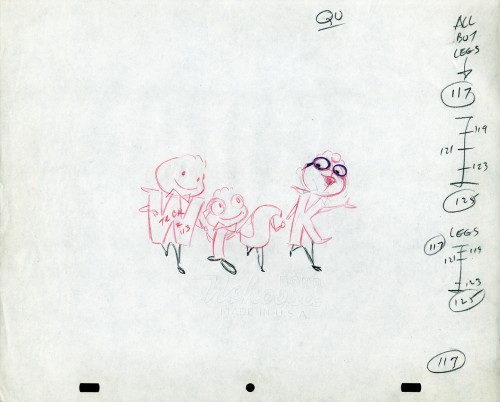 D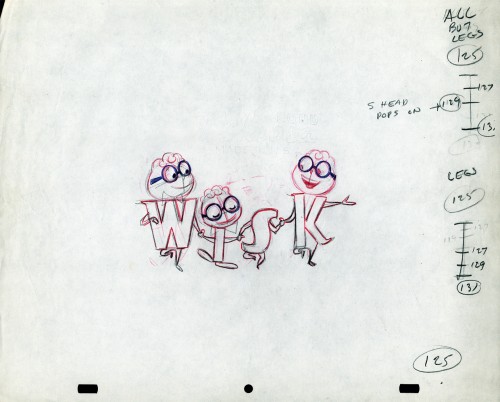 E

The Buffalo Bee for Honey Nut Oats is also a model sheet from Screen Gems. With it come an animation model sheet for the walk cycle of the character. These drawings look like Lu Guarnier's to me, but there's no official way I could confirm that, of course.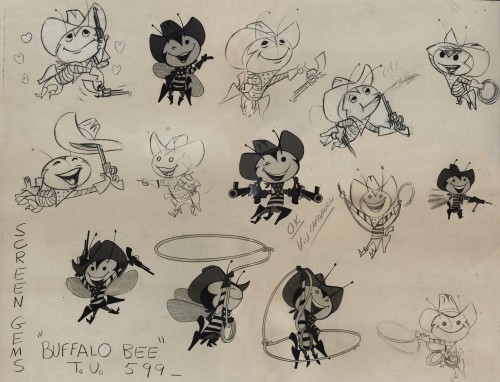 Model sheet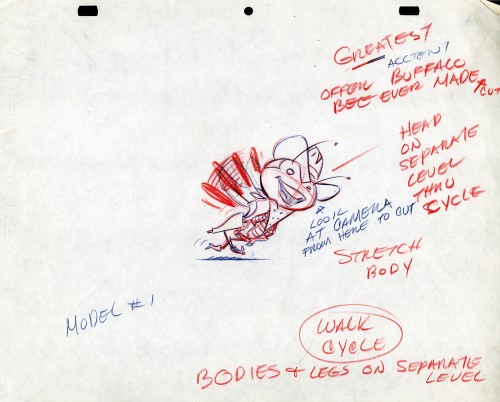 1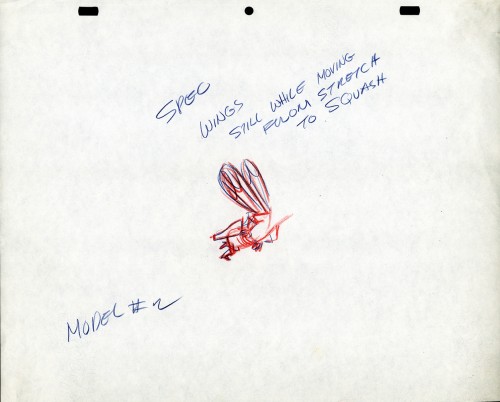 2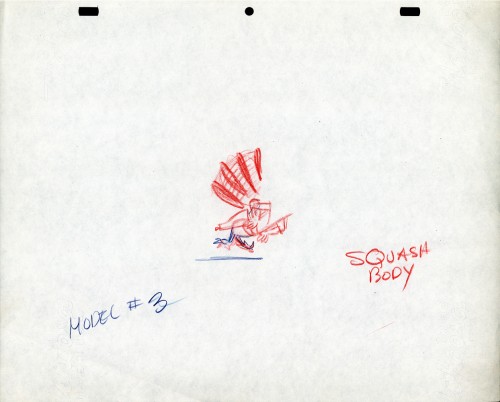 3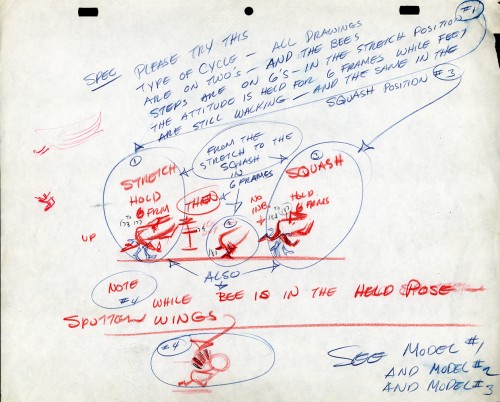 4
6 Responses to "More Misc Commercial Art"
Leave a Reply