Animation Artifacts 19 Apr 2006 07:28 am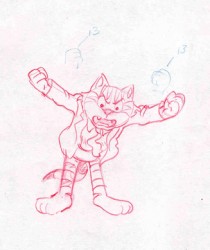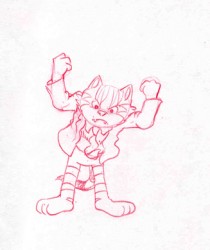 (Click on any of the images to enlarge them.)
Back in 1972, Fritz the Cat premiered. For me, just getting a start in the film business, it was out of nowhere. I didn't know it was coming, and I was taken aback by its arrival. It wasn't so much that it was a sexually daring film – the puerile sex in the film was more embarrassing than sexual – it was the vigorous down & dirty way the film was pulled together. This always got me charged and inspired me to want to do something immediate.
Bakshi had spent a lot of time in the New York animation industry. He obviously rose quickly through Terrytoons and then Paramount. (Is it odd that he witnessed the end of two long-time studios in the City?) He then went to make The Marvel Superheroes and Rocket Robin Hood in Canada. Steve Krantz (Judith Krantz's then-husband), one of the uncredited producers, worked with Bakshi to acquire the rights to Fritz The Cat (much to R. Crumb's displeasure) and to get it financed, and they set up a studio in NYC.
I recommend reading Michael Barrier's Funnyworld article about Fritz The Cat for an in depth telling of its difficulties getting to the screen and an insightful look at the film.
What Bakshi did by setting up Fritz The Cat in New York was to make a film that utilized the talents of a lot of the Paramount and Terrytoons guys who were put out of work. It plays like a who's who of New York animators. Guys like Jim Tyer, Nick Tafuri, Cosmo Anzilotti and Marty Taras made the industry in this city. Now they were being stretched beyond their mettle.
A number of the animators had a big problem with the racy work they were animating. The story of Jim Tyer is that he, a very devout Catholic, quietly bore with the material until one day he just slammed down his work and, cursing all the way, walked off the job.
The extremes on this page are part of a scene that Marty Taras animated. By the look of some of the other animation drawings I have, I'd say Marty had no problem with the racy material.
He was an animator who figured large in the New York community. He spent much of his time at Terrytoons and Paramount. He was closely associated with Baby Huey at Paramount working on many of the shorts – in the same way Johnny Gentilella was associated with Popeye. In fact, Marty was sometimes, lovingly called Baby Huey (partially because of his shape.)
He had a very clean, rounded line not unlike that of Connie Rasinski, who reigned over Terry's for more than thirty years. His animation also moved in a perfectly rounded, smooth way, but never had any real depth of character. Though it always felt like Marty had done it.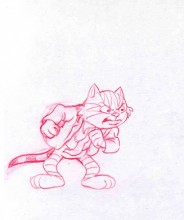 I've worked with Marty on a number of jobs, usually as his assistant, but I rarely had communication with him. He'd bring in the work, we'd have a couple of small pleasantries to exchange and he'd leave. Anytime I brought up the job, there'd be little in it for Marty to talk about. He kept to himself when I knew him.
Just his neatly assembled pack of animation drawings with his easily cleaned-up artwork. No violent strokes of the pencil (a la Grim Natwick) ripping through the paper with strong, bold, violent numbers. No, Marty was clean and round and neat. Everything exact and in place.
– Thad Komorowski whose site Golden Age Cartoons has been invaluable for some time, has just put up a piece about Marty Taras with an interesting, older picture of him, at his new blog Identifying Animators and Their Scenes.
4 Responses to "FRITZ"
Leave a Reply