Animation Artifacts &Daily post 21 Nov 2006 07:46 am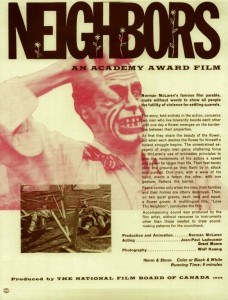 – The Museum of Modern Art will be celebrating the pioneering work of Norman McLaren by screening some newly stuck 35mm prints of some of his key works.
This also celebrates the recent issuing of a new DVD set of McLaren's complete works by the National Film Board of Canada.
Norman McLaren: Master's Edition
MoMA will present this eleven-film program on Nov.29th and 30th, which demonstrates the imagination, vitality, and versatility of the artist's animation.
The program includes Opening Speech, Stars and Stripes, Hen Hop, Begone Dull Care, A Chairy Tale, Lines Horizontal, Blinkity Blank, La Merle, and Neighbors.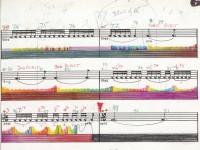 I urge you to attend since there aren't often screenings of these films in 35mm. Maybe it's just me, but somehow, it doesn't feel the same in dvd or ipod.
We're living in a world where everything has to be handed to us. When an artist, such as McLaren, comes along with films that are slightly abstract and force us to use our imaginations, films that have a strong intellectual content, we have to bask in the glow and absorb the inspiration.
(Images enlarge by clicking them.)
Wednesday, November 29, 6:00;
Thursday, November 30, 8:30.
The Celeste Bartos Theater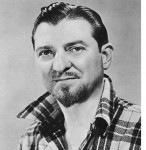 – To move to an artist of a different sort, I received a comment on my Splog (original post here) from Thaddeus Seymour who is the son-in-law of TV art instructor, Jon Gnagy. I'd written a post about Gnagy and talked about the impression that his art instruction made on a young me.
Thaddeus wanted to announce that he and wife, Polly, have put together a new site memorializing Gnagy which includes ten episodes of his show in YouTube format. Manna from heaven.
This may serve as a trip down memory lane for many; it may serve as art instruction for others. Either way it's entertaining and informative about a television program that was big in the 40′s & 50′s.
Go here for the site.
Go here to order a Jon Gnagy kit.
Thank you Thaddeus and Polly Seymour.
4 Responses to "Norman McLaren At MOMA"
Leave a Reply