Commentary &Daily post 24 Jan 2007 08:48 am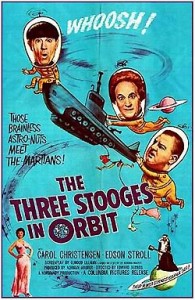 - In the film, The Three Stooges in Orbit, released in 1962, a machine is invented which enables the Stooges to film themselves, but on film they come out as animated cartoons in psychedelic flashing colors.
As a kid watching this in its initial run, I couldn't wait to see what the animation would look like and how the inventive producers would pull this idea off.
The Stooges dressed like chickens, filmed themselves and it ended up being rotoscoped images of the Stooges in chicken outfits. What a disappointment! However, at that film showing in the Bronx, the Stooges made a LIVE guest appearance. The disappointment of the movie didn't quite wear off even when up close I saw how tiny and old these three guys were. I did, after all, see the Stooges in person.
But ROTOSCOPED! Why! I never got over my irritation of the climax of that film. No one else really cared.
My comment on this site a couple of days ago indicates the irritation I've recently been carrying inside.
Dodos, Kentridge & Quays: This made me wonder if hand-drawn animation is going to go a similar way. Will they be able to find the bones a hundred years from now? Evidence seen in the past five years or so seems to give me little reason to doubt that it would be gone. MoCap will get better and the guise of animation will be front and center for the obvious future. There's a good chance tomorrow will show us two of three nominees for Oscar's Best Animated Feature will be Motion Capture. The animator as we knew it is virtually dead.
All that's left is Art.
I guess that irritation is starting to spill over. Yesterday's Feature Animation Oscar nominations had become obvious to me on Monday, and I said what I did because I meant it. I'm not deliberately trying to be provacative, but I am trying to encapsule how I view "Animation" that I grew up knowing and loving. It's almost completely gone. Every once in a while you get a glimmer of it, and a sign that it can even still grow.
Joanna Quinn's film, Dreams and Desires: Family Ties did that. It took a basic human ritual, a wedding, and combined it with all the trappings to make a hilarious animated piece that really comments on the human condition. All done with incredibly bold camera moves, juicy, lively animation and enormous wit. It's not a good film, it's a great film.
I was so certain that there could be no doubt that this would not only be nominated but win the Oscar. But this year the majority of the Academy members let me down. They also let down Animation. Once again, the medium looks dead to me. With these arbiters of taste in control, there's small hope that the commercial medium can move on.
Individuals are all we can hope for. Fortunately there's a Brad Bird or two out there to keep the tiny spark glowing, but I'm not sure how long that can last. The Crunch Bird is going to win again this year, and what can you say? Oh well. More rotoscoped Stooges.
__________________________
Obviously, the Oscar nominations got Mark Mayerson as angry. He writes a good piece about Motion Capture on his site.
Keith Lango has too consecutive posts: he talks about my Dodo comment and the Oscar nominations.
Burying my head in the past, I love the photo of the Disney animation camera (courtesy of David Lesjak) on the 2719 Hyperion site today. David's site, Toons At War, is also a good one.
__________________________
Fortunately New Yorkers can see Joanna Quinn's Dreams and Desires at The Animation Show. This compilation of animated shorts (which also includes: Run Wracke's Rabbit, Bill Plympton's Guide Dog and Don Hertzfeldt's Everything is OK) will be screened Jan. 25th, Thursday at 8pm and Jan. 26th, Friday at 6:30 & 9pm. The ticket Price is $12.50 at the Roseland Ballroom 239 W 52nd St.
6 Responses to "Rotoscoped Stooges"
Leave a Reply