SpornFilms 04 Mar 2007 07:51 am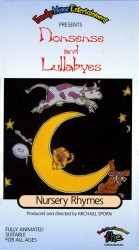 – Having presented Jason McDonald's first storyboard for me, the pair of films titled Nonsense and Lullabyes, I'm pleased to showcase some artwork from those two films. As I mentioned on Friday, the two films were adaptations of children's poems. One, was subtitled "Nursery Rhymes" had anonymous authors (Mother Goose et. al.), the second "Poems" had famous authors' poems we'd adapted.
They were all designed by Jason as an outgrowth of the storyboards he drew. Once the boards were done and the tracks recorded, we set about layout and animation. Jason did all the backgrounds for the film using different media. Many were done with cel-vinyl, others used Dr. Martin dyes or watercolors. All used ink lines done with brush or rapidograph. Like the storyboards, these were Jason's first backgrounds for me. They were all done on a tight budget which meant a tight schedule.
(Click any image to enlarge)
Here, then are some pieces from some of the poems: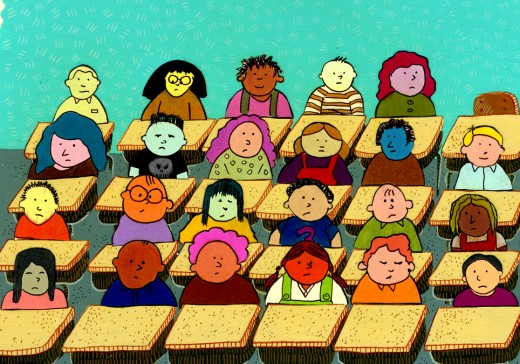 The Creature in the Classroom
It appeared iinside our classroom at a quater after ten,
it gobbled up the blackboard, three erasers and a pen.
It gobbled teacher's apple and it bopped her with the core.
"How dare you!" she responded. "You must leave us . . . there's the door."
So begins Jack Prelutsky's poem. It was one of the signature pieces of the Poetry video. Linda Hunt's reading was half the fun, Jason's designs the rest.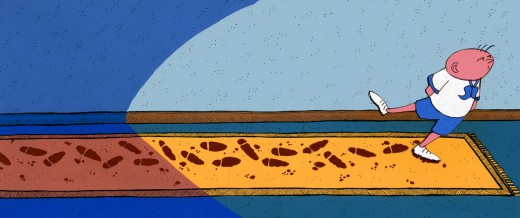 Mr. Nobody
I know a funny little man, As quiet as a mouse,
Who does the mischief that is done In everybody's house!
There's no one ever sees his face, And yet we all agree
That every plate we break was cracked By Mr. Nobody.
A Jack Prelutsky gem. He had to have written a good number of the poems we used; they all had charm and weight and humor. I love the sailor suit Jason gave the pointy-nosed boy.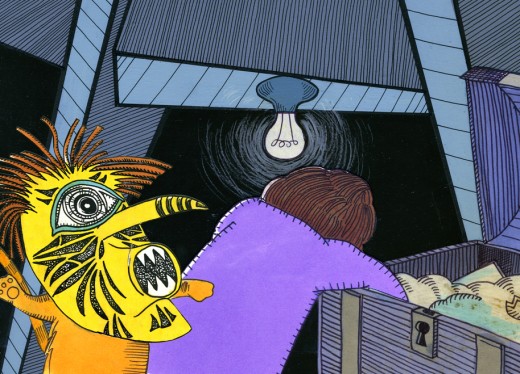 The Bogeyman
In the desolate depths of a perilous place
the bogeyman lurks, with a snarl on his face.
Never dare, never dare to approach his dark lair
for he's waiting . . . just waiting . . . to get you.
Another Prelutsky poem, this one read with spine-tingling venom by Phillip Schopper. It was the first piece Rodolfo Damaggio animated for me. He captured the light mood underlying Jason's board.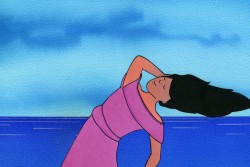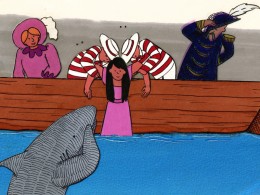 The Chivalrous Shark
He bowed in a manner most polished
Thus soothing her impulses wild.
"Don't be frightened," he said,
"I've been properly bred,
And will eat neither woman nor child."
This was an old sea shanty that we used. It went on a bit for my taste, but Sue Perotto's animation and Jason McDonald's bright Dr.Martin backgrounds gave it life.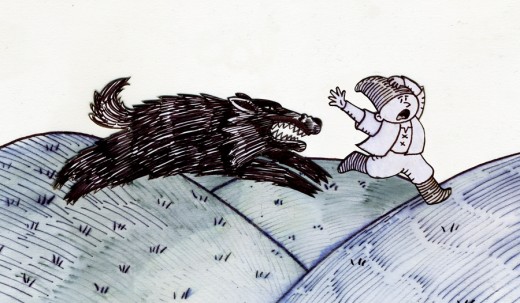 The Boy Who Cried Wolf is a victorian verse telling of this Aesop fable. The piece was on the long side, and we tried to keep it as exciting as possible. It used a style with Sharpie markers which were bled with turpentine then added some marker highlights after it dried. It was a very loose style.


The Tin Frog
I have hopped, when properly wound up, the whole length
Of the hallway; once hopped halfway down the stairs, and fell.
Since then the two halves of my tin have been awry; my strength
Is not quite what it used to be; I do not hop so well.
This is far and away my favorite piece. Russell Hoban's poem is everything I wanted for this series. Jason pulled dignity out of the verse for the simple style, and Mark Mayerson did a quietly brilliant job of animating it. The character is always a tin frog, but it has so much feeling behind its mechanical motions it just tears me up every time I see it.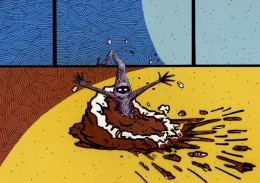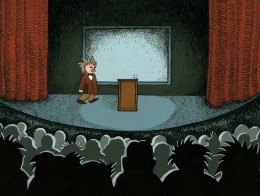 to the left: Wrimples
When the clock strikes five but it's only four, there's a wrimple in your clock.
When your key won't work in your own front door, there's a wrimple in the lock.
Jack Prelutsky continues his funny verse. A great kid pleaser. An easy author to adapt; it's all in the words. Jason pulled more out in his board and the nice colors. He told a story that wasn't really there.
Pictured to the right: Solomon Grundy.
Solomon Grundy, Born on Monday,
Christened on Tuesday, Married on Wednesday,
Took ill on Thursday, Worse on Friday,
Died on Saturday, Buried on Sunday,
And that was the end of Solomon Grundy.
This is an old tale that Jason developed into a lecture. Just for good measure we repeated it at twice the speed.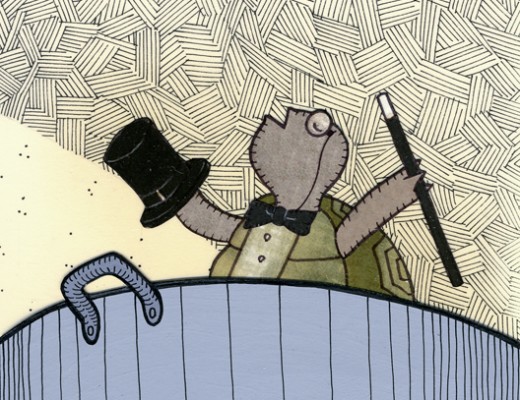 Turtle Soup
Beautiful Soup, so rich and green, Waiting in a hot tureen!
Who for such dainties would not stoop?
Soup of the evening, beautiful Soup!
Of course, we had to include Lewis Carroll. Caleb Sampson wrote a song of this poem sung in Alice In Wonderland. Jason gave the poem to the turtle singing inside the pot on the stove as the chef prepares him for dinner.
9 Responses to "Jason McDonald – Nonsense"
Leave a Reply