Books 18 Mar 2007 08:21 am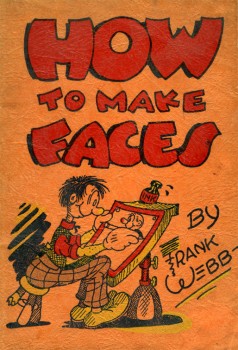 – Last August, I posted bits of the book How To Make Faces which I am pleased to own. It comes from a completely different era, and contains drawings which remind me of my childhood. Romps to the public library rummaging through any book that had whatever remote connection to animation or cartooning.
I vaguely remember seeing this book there and was happy to find it on ebay. Every so often I flip through it and smile at the drawings. There's some funny work there, and I wonder how many kids used it to try to learn how to draw cartoons.
Just this past week I received an interesting comment on that post; here it is:
Hi,
Frank Webb was my great uncle, and I am very pleased to have found someone who still knows of him. I have a bunch of his stuff, and know a bit about his history, including him publicly proclaiming Walt Disney a crook! One of Franks drawings ended up in a sale to Disney, and renamed (from "Dippy Dog") to Goofy. Thank you for including him here.

Darren Reese
This was just the excuse I needed for sharing a bit more of this booklet. I didn't see any resemblance of Dippy Dog, but there is a guy who looks a bit like Farmer Alfalfa. I hoped I wasn't alone in appreciating Mr. Webb's cartoons, and now I know I'm not. Here are a few more pages. In the pages I posted last time, Frank Webb showed how to make cartoons from letters of the alphabet. This time he works in a more traditional manner.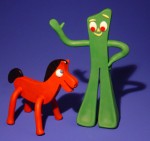 – Speaking of Old Timers, Gumby celebrated his 50th birthday last week. All 200 episodes of the "Gumby Show" will be released in dvd this fall. However you can watch episodes of the show for free at AOL or YouTube.
A remastered version of the 1995 "Gumby Movie" will premiere next month at the Tribeca Film Festival in New York.
Congratulations to Art Clokey. Still going strong.
60 Responses to "More Faces of Frank Webb"
Leave a Reply