Category ArchiveDaily post
Daily post 05 Nov 2013 04:16 am
It was more than a week ago that I posted some very nice inspirational and preproduction drawings printed in the wonderful Chronicle book, Animation Sketchbooks, edited by Laura Heid, who is not only an artist but an animator as well.
Lēt's take a look at a few more. Shall we?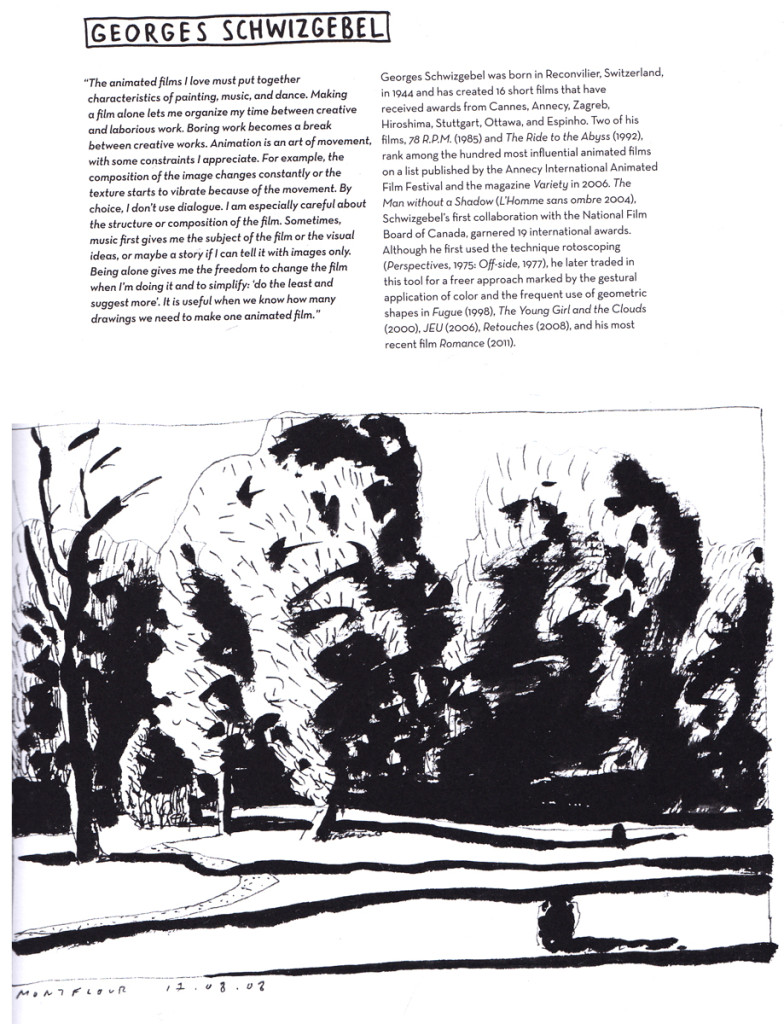 1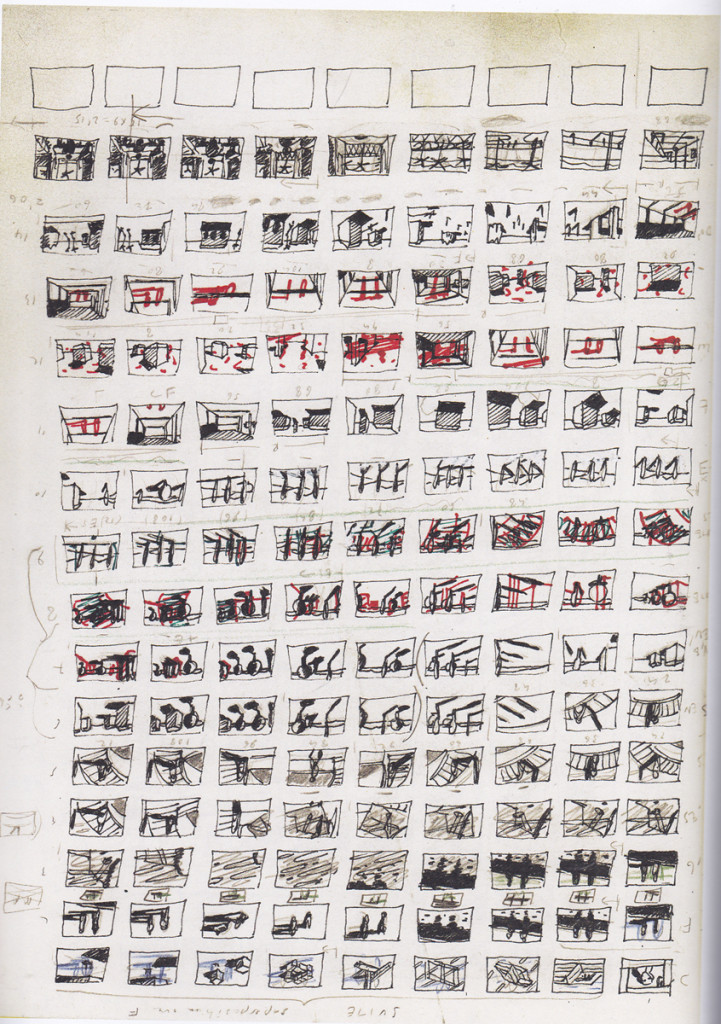 3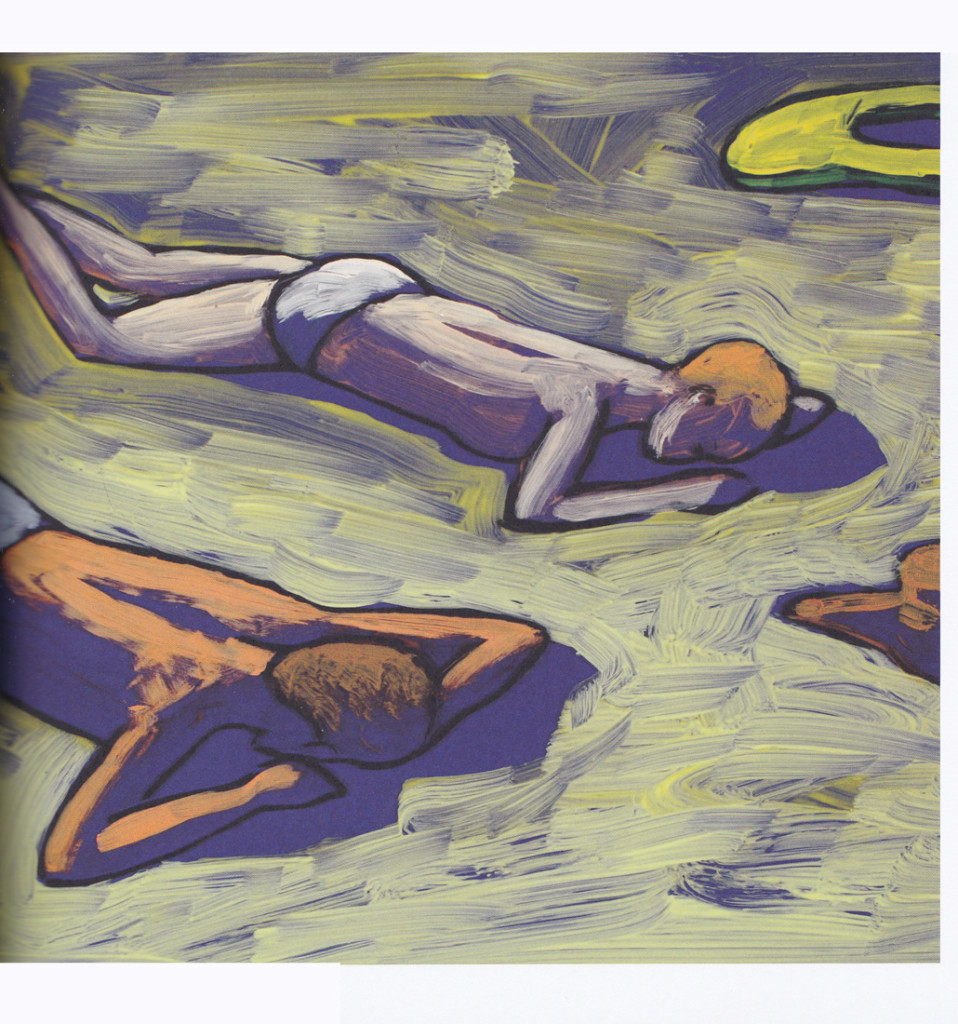 4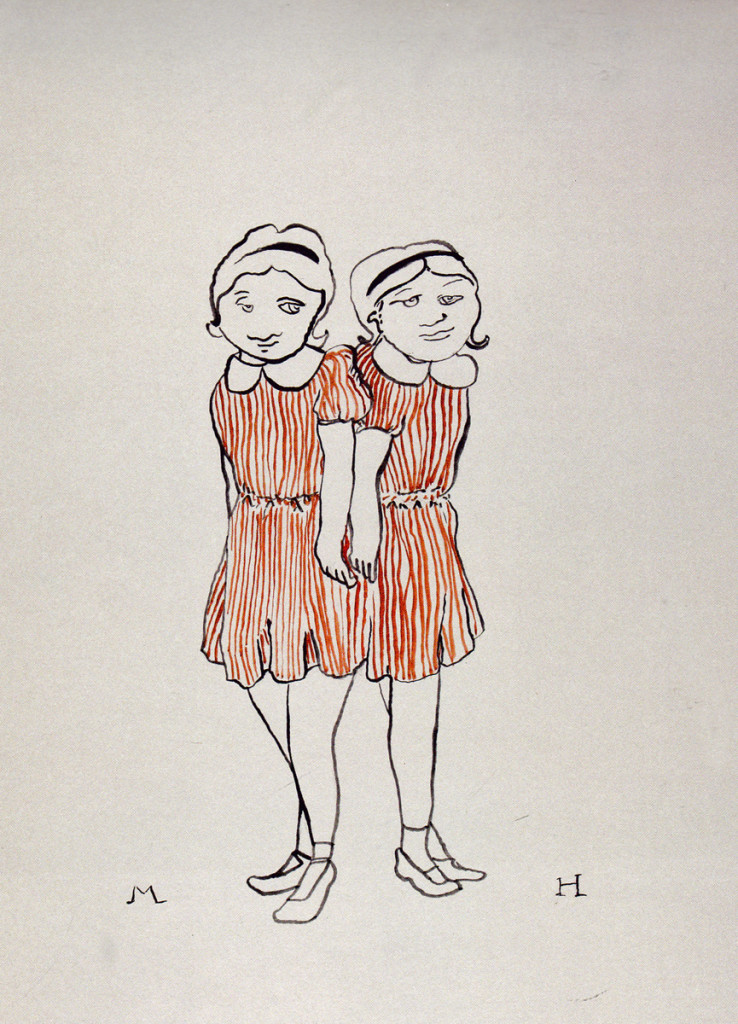 5
Maureen Selwood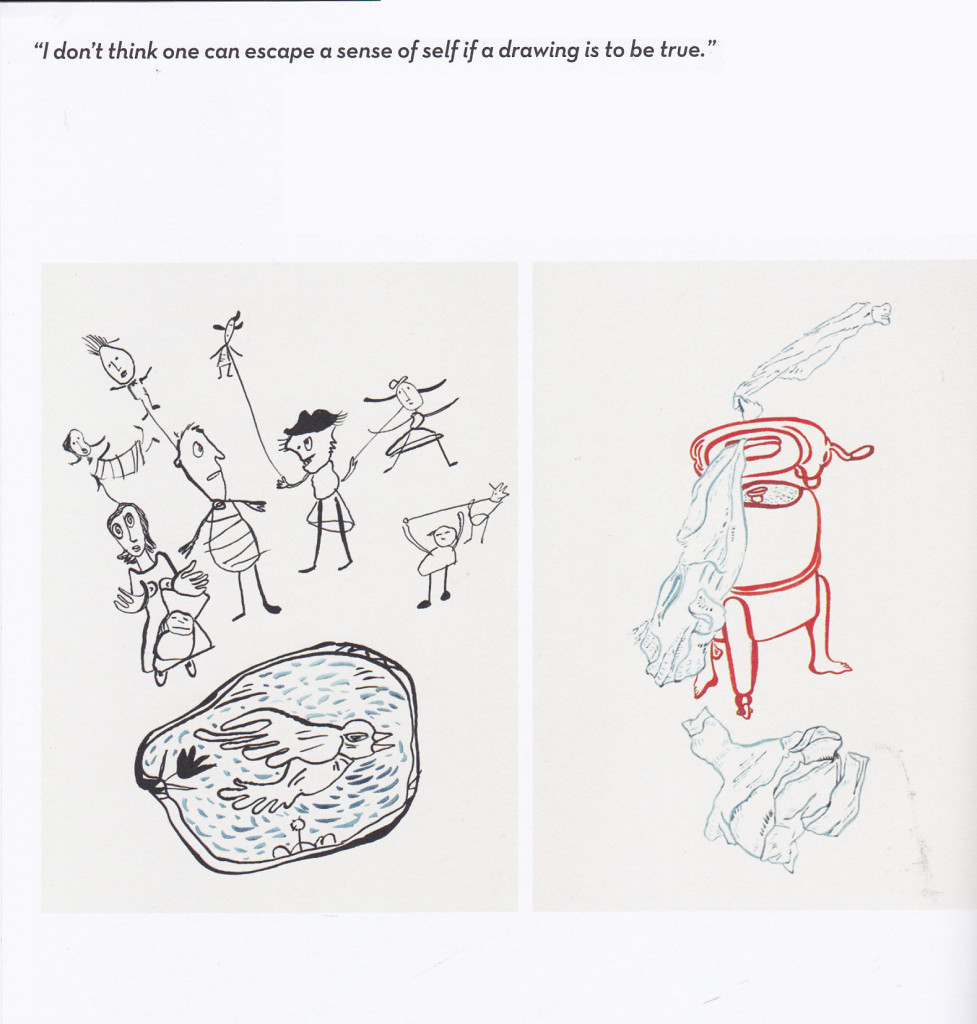 6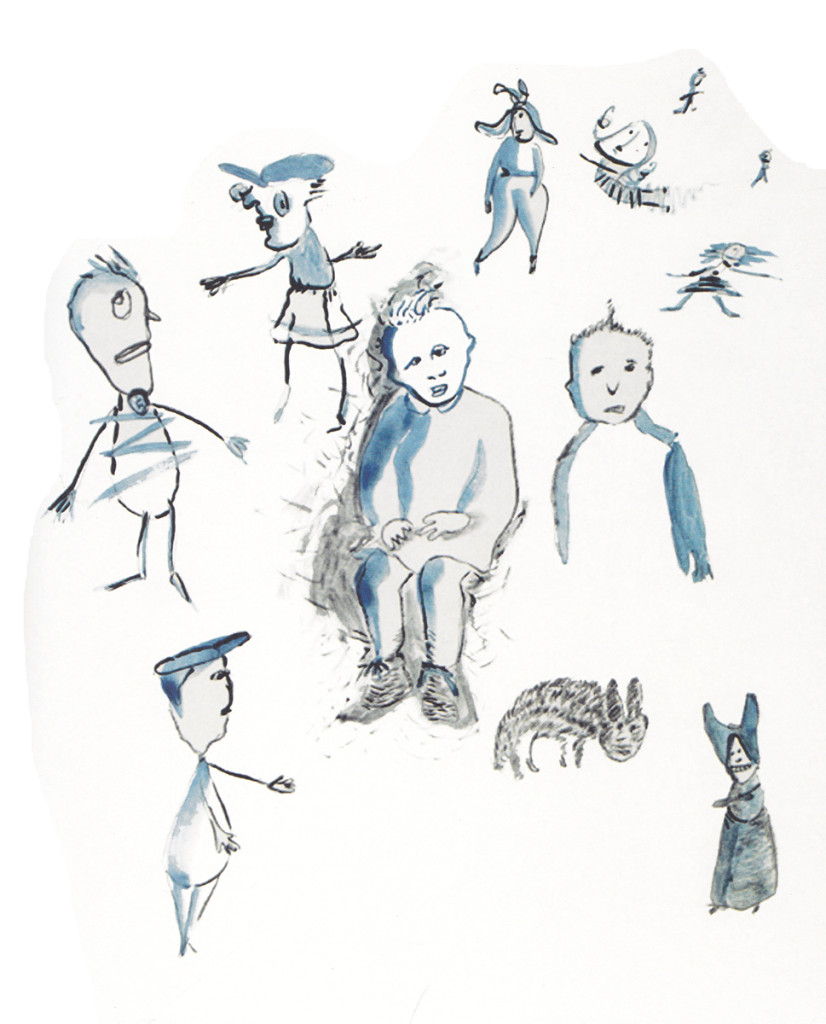 7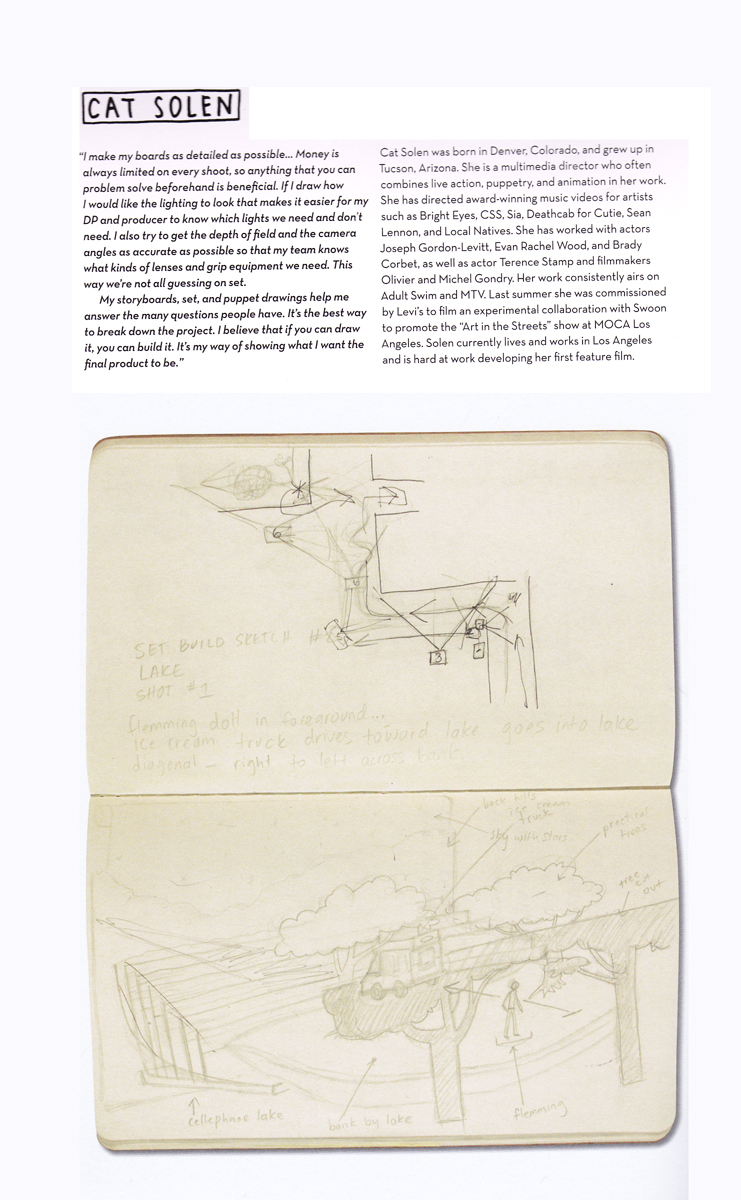 8
Cat Solen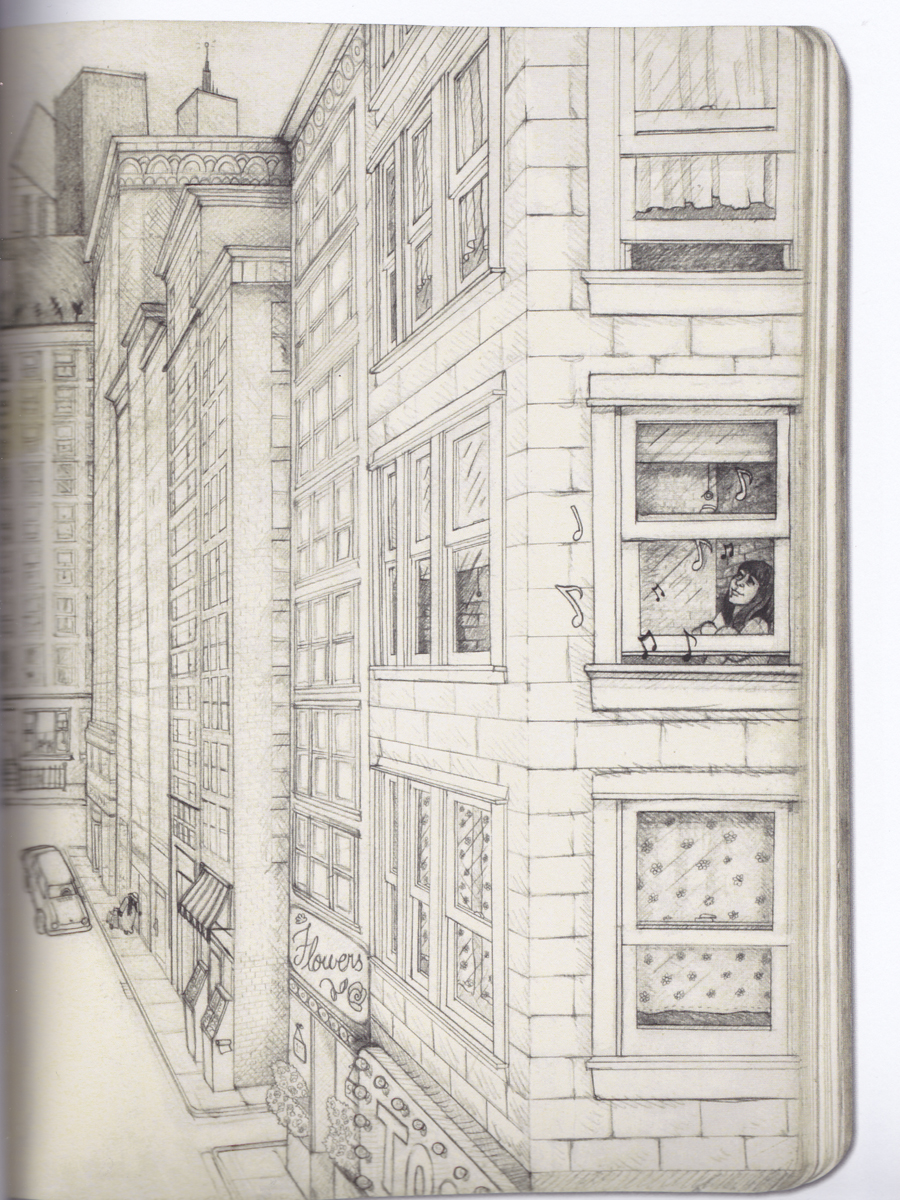 9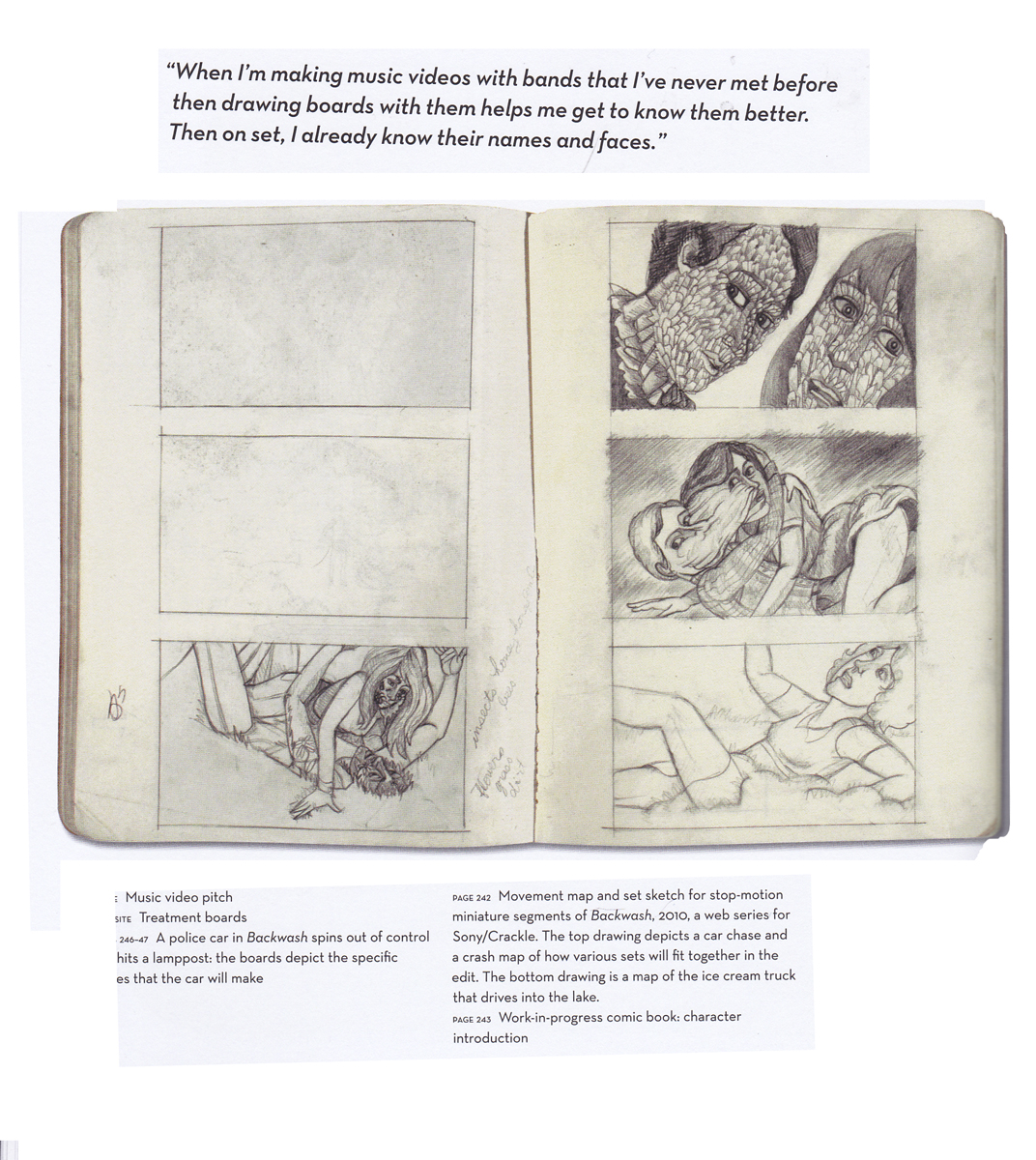 10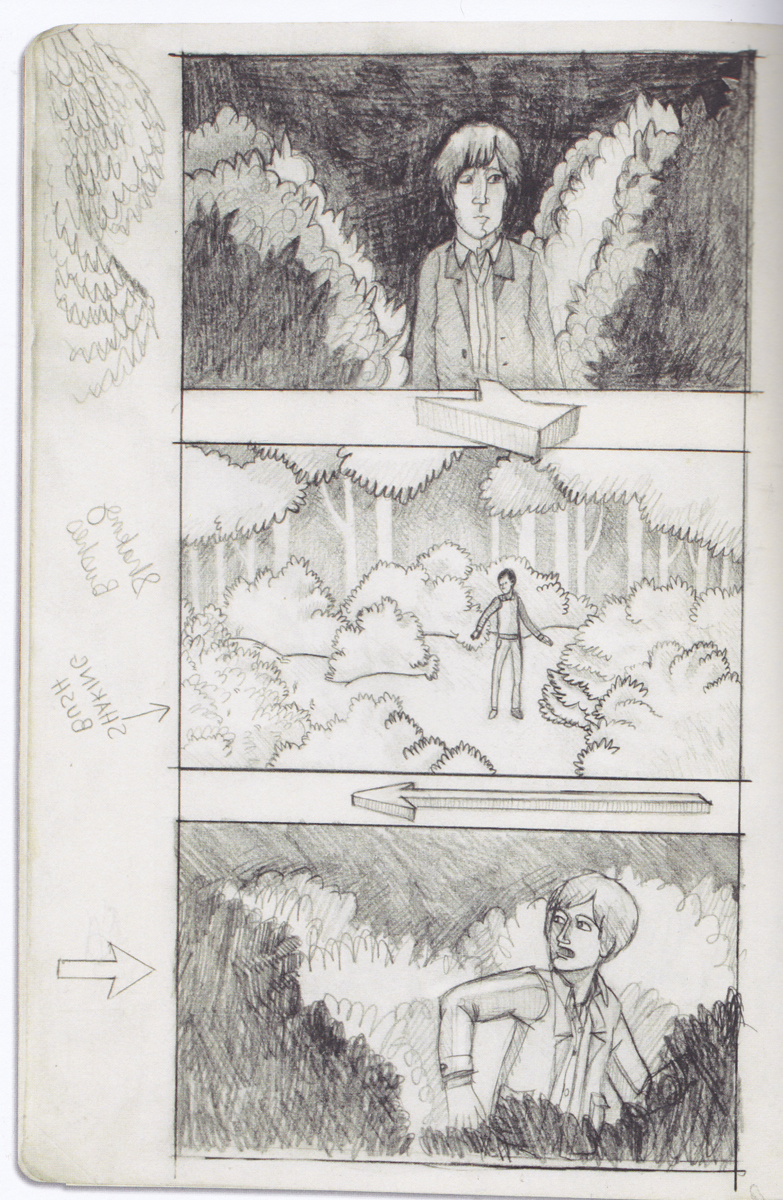 13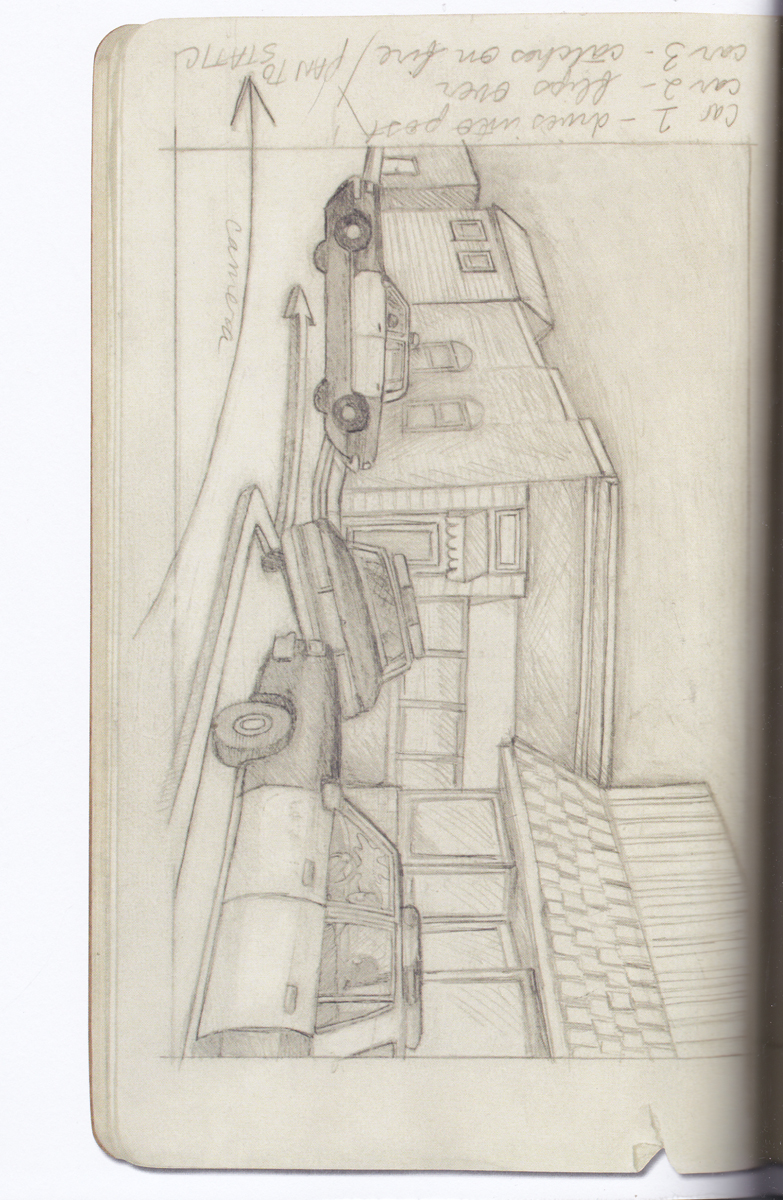 14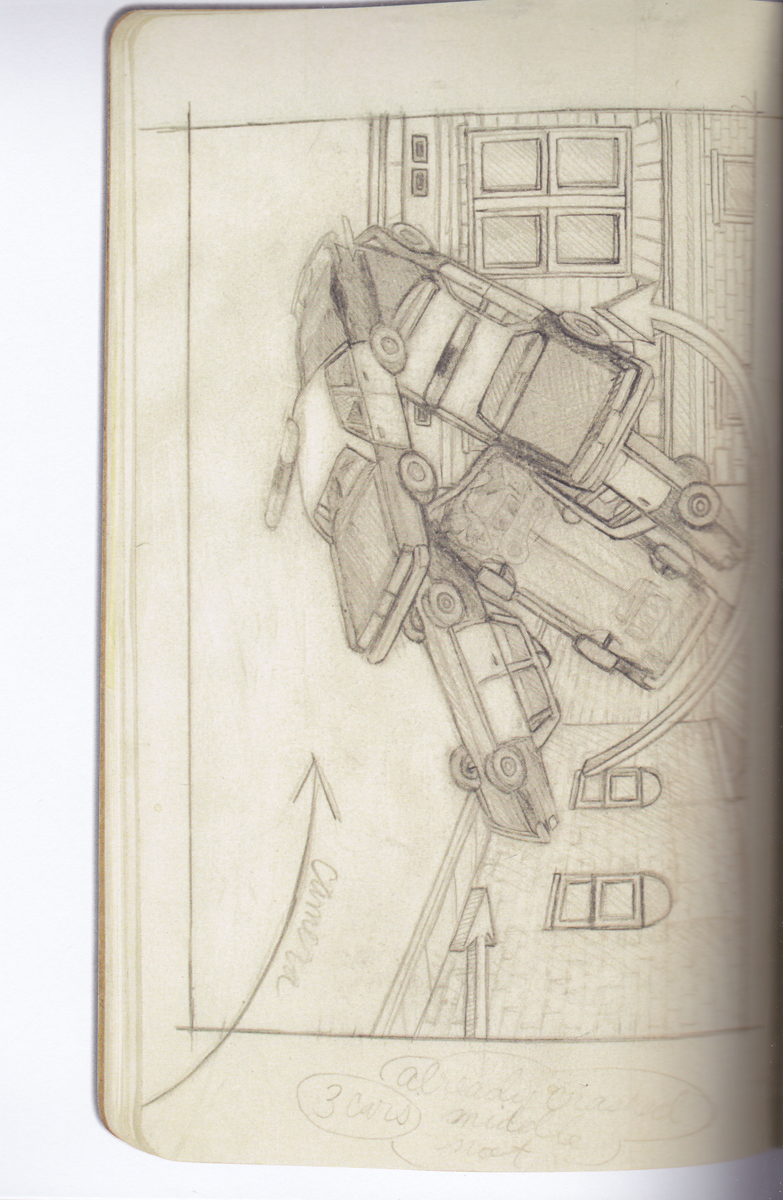 15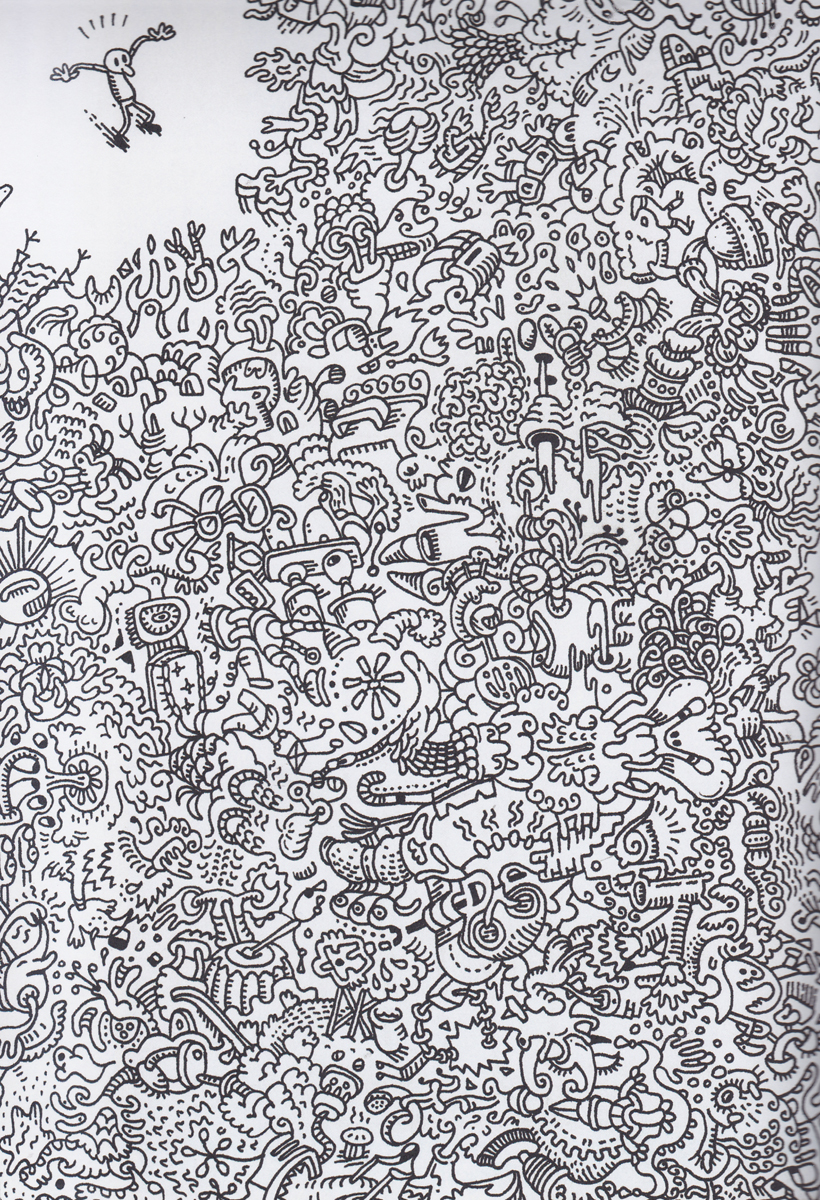 16

Daily post 01 Nov 2013 01:24 am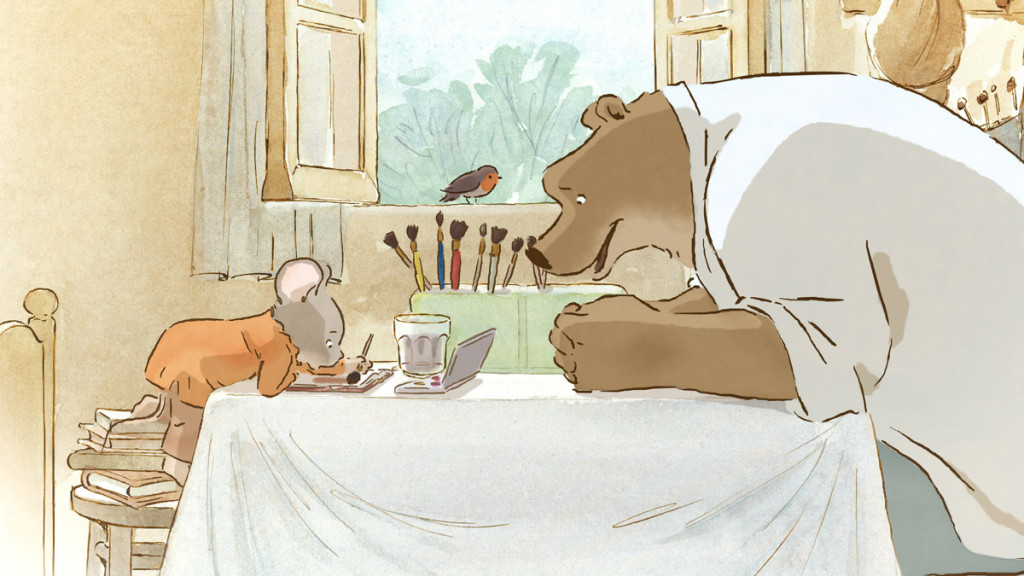 What a delicate and aweet title for the French animated feature of the children's book, Earnest & Celestine. Adapted from, the book by Gabrielle Vincent the animated film takes full advantage of the soft and delicate watercolors. the deftly drawn pencil sketches and the wonderful care gone into the book's illustrations. The images are beautiful, knowing full well that 3d cgi animation would not be able to carefully and ably translate these great features to the screen. Thus far they've got this book down beautifully and completely. It doesn't even go in for overlas moving at divers speeds to make it feel like there's depth there (I think I counted them doing that three times in the film), yet I didn't mind.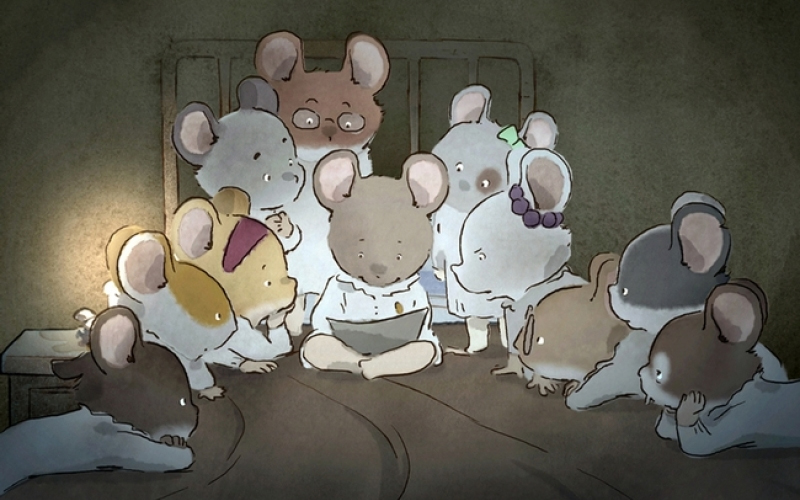 As for the Backgrounds I found none of them bad. Some were far richer than others, but all together they made for a happy blend, a really well painted product. The layouts were always simple and direct. When there were a few times I longed for something richer, I could only blame my own taste; it had nothing to do with the film making.
However, the story, simple as it is, is so poorly written, planned and told that the film is left with nothing but extraordinary visuals. There's a gruffness there that comes off more as crude than as character development. And I was very sad for this problem. The artists really did do the work and got the characters to move with some feeling. It's just that they weren't there to help the story; they were just going through the motions.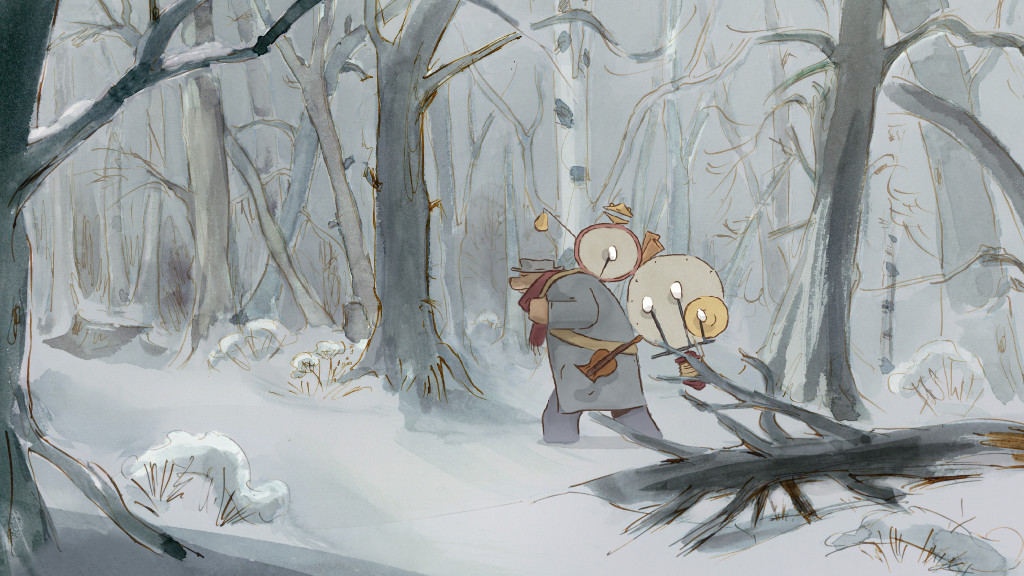 Of course this is just my take on the film. Perhaps I just wanted more and caught the film on the wrong day, or maybe I woke up on the wrong side of the bed. I do think so, and I will watch the film again to make sure that it isn't the case. I do encourage everyone who loves animation to see this film. It gives reason enough for 2D animation to exist. There is nothing in 3D they can do to match it and there's no reason for anyone to try. The books, the characters are lovely.
It's just those damned writers. We exist in different planes, and I'm sorry for that.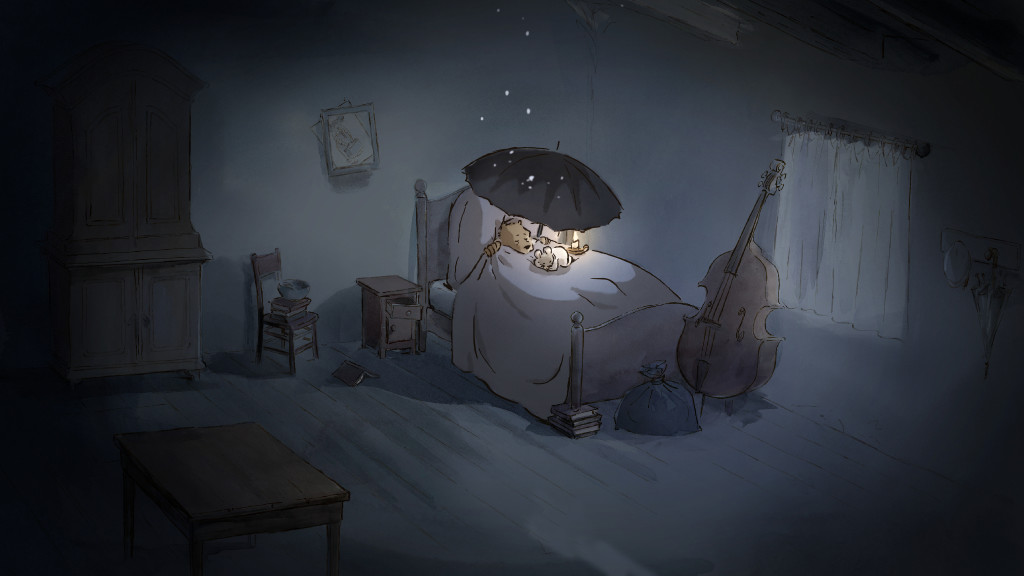 ____________________________
I've had some problems lately and your comments, though not being obvious about it, are letting me know quite well. I've had a lot on my plate lately – not a lot of it to do with animation (except that I'm not getting enough work.) It's shown in my writing, particularly the depth of it, but also in the number of typos. Believe me, I could blame this damned keyboard with sticky keys, missing letters and slow speed. I'm trying to catch them, and hope that'll be the case more often than not, but for now this is what it is. I apologize if this is turning any of you away from the site, but I do promise things will improve.

____________________________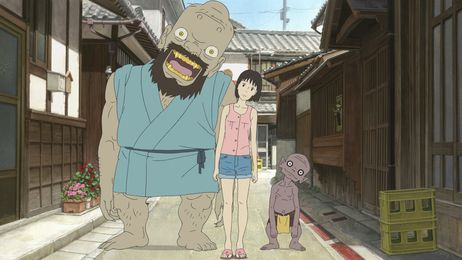 This is the first year they've made it possible for us to vote on all the animted features narrowing the choices considerably of that we'll end up with the expected 5 in the competition. If it does nothing else, it shows us what diversity there can be from the 2D films which are not the same old little puppetdolls we get from the cgi films. Rather than the cgi viewmaster look, we have beautiful watercolors in Earnest and Celestine, the expected look from the Miyazaki oevure, amd I haven't even gotten to A Letter to Momo.
Daily post 31 Oct 2013 12:24 am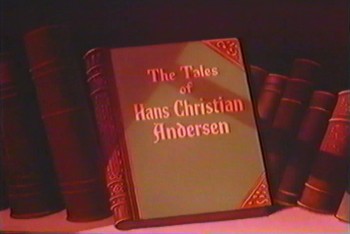 - Back in 1959 Sleeping Beauty wasn't the only animated feature to hit theaters. Universal had adapted The Snow Queen, a 1957 Soyuzmultfilm production, adding the voices of Tommy Kirk, Sandra Dee and Patty McCormick to the English language version. (Dave Fleischer got credit for "Technical Director" whatever that was.) A new score by the excellent composer Frank Skinner was added including a couple of key songs.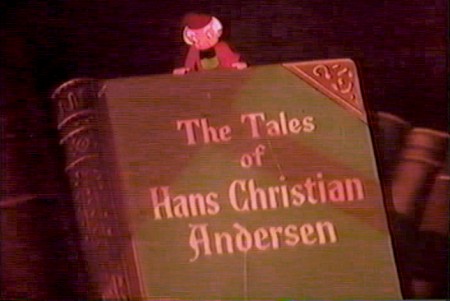 The original Russian film was directed by Lev Atamanov
a significant figure in the history of Russian animation. Several of his films
had been adapted and distributed to American television, including
The Golden Antelope which had received an award of merit at Cannes.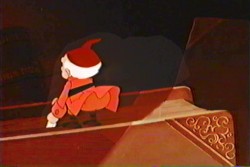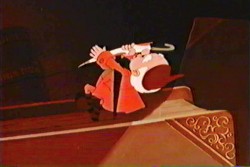 The odd bit about The Snow Queen is that it included an introduction
by a narrator which was voiced by Paul Frees in the English version.
This narrator, calld "Dreamy," walks around a statue of Hans Christian Andersen
and is flanked by a number of books.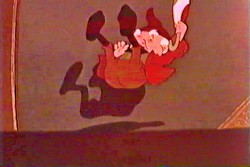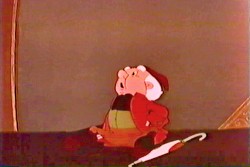 He tells of two umbrellas he used to give Andersen his tales via dreams.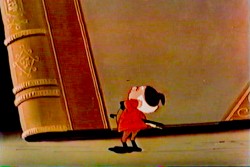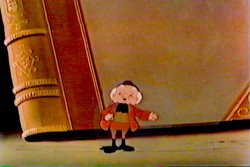 If "Dreamy" waves a black umbrella, Andersen doesn't dream; if he waves
a colorful umbrella, the dreams are big ones.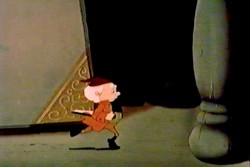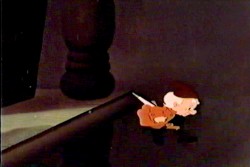 This leads us into the very big dream, "The Snow Queen."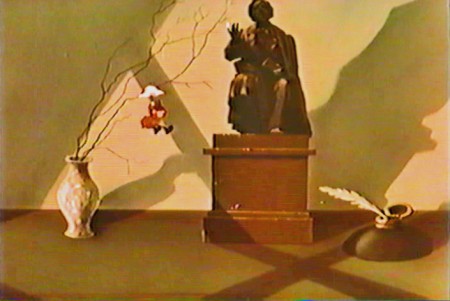 The overall feel of the lethargic and talky piece is that it is very similar
to Jiminy Cricket's appearance in Pinocchio.
a href="http://www.michaelspornanimation.com/splog/wp-content/Q/26pan.jpg">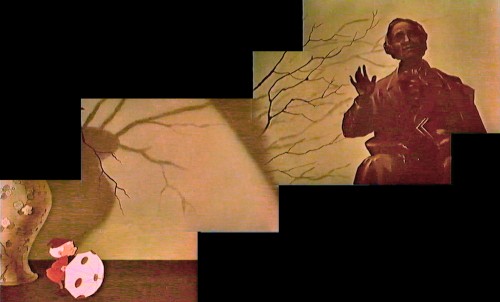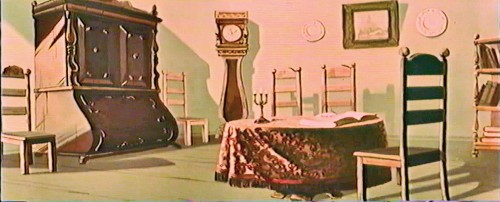 The animation of "Dreamy" was very slow and, I guess, "dreamy."
You can feel Paul Frees trying to mouth the character's limited mouth actions
and get all the words into the time allotted. It couldn't make for a good performance.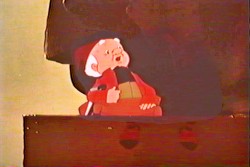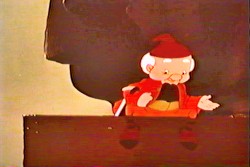 Comparing this to the excellent reading of Cliff Edwards, who mouthed Jiminy Cricket,
the acting in Pinocchio had to, and did, come off better.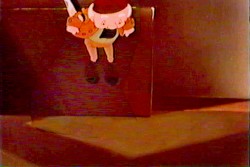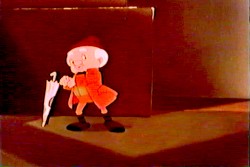 Yet, in saying all this, I have to admit a fondness for "Dreamy." I think it
may be that the film hit me at a very susceptible period in my young life.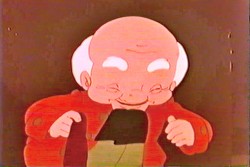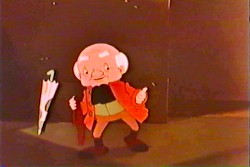 Animated features I saw in this period – I was 12ish – stuck with me.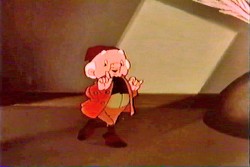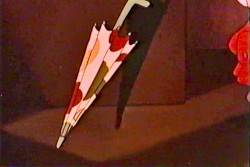 Sleeping Beauty, 1001 Arabian Nights with Mr. Magoo, 101 Dalmatians. They all mean a lot to me and have deeply affected my tastes.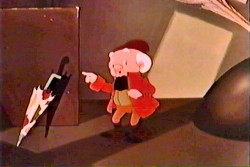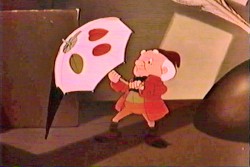 Somehow, even "Dreamy" comes off in a good light.
Now let's take a look at Jiminy's entrance in Pinocchio.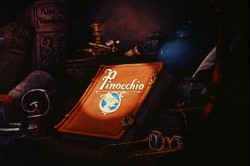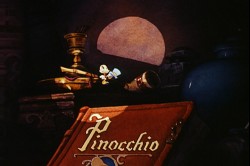 The masters at Disney, by the time they'd made Pinocchio, knew what they had to do.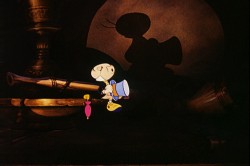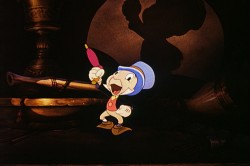 A beautiful song, a great voice with a perfect performance
even though he only had one umbrella.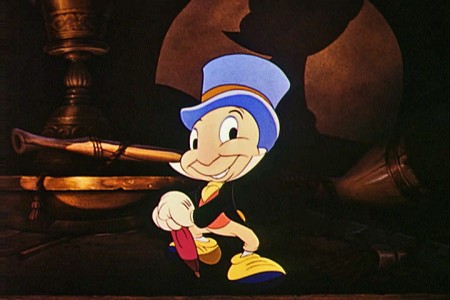 A real character introduced up front in all his glory.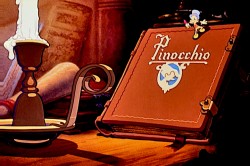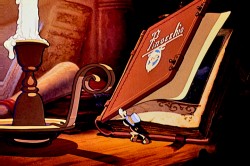 They knew how to keep things . . .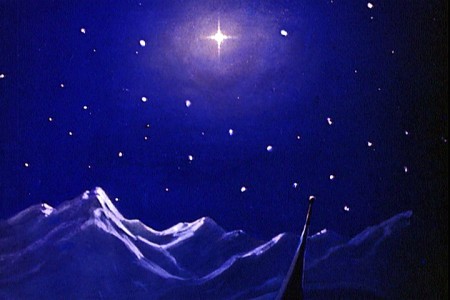 . . . "dreamy."
Now it's all cgi for worse or worser.
Daily post 29 Oct 2013 04:32 am
I was able to switch up my plans to see FROZEN in a theater. It hurt badly.I's the worst Disney feature I've seen in ages. I won't get into it, but trust mean on this one. It's a horrible attempt to make a long-form feature. I had to walk out at the 2/3 mark. The drawing wasn't all that was wrong. Acting, coloring, songs. It's a mess. I'll go a little deeper (but not by much) at another time. See the Mayazaki film a second time instead.
Here's to something better – anything,
Michael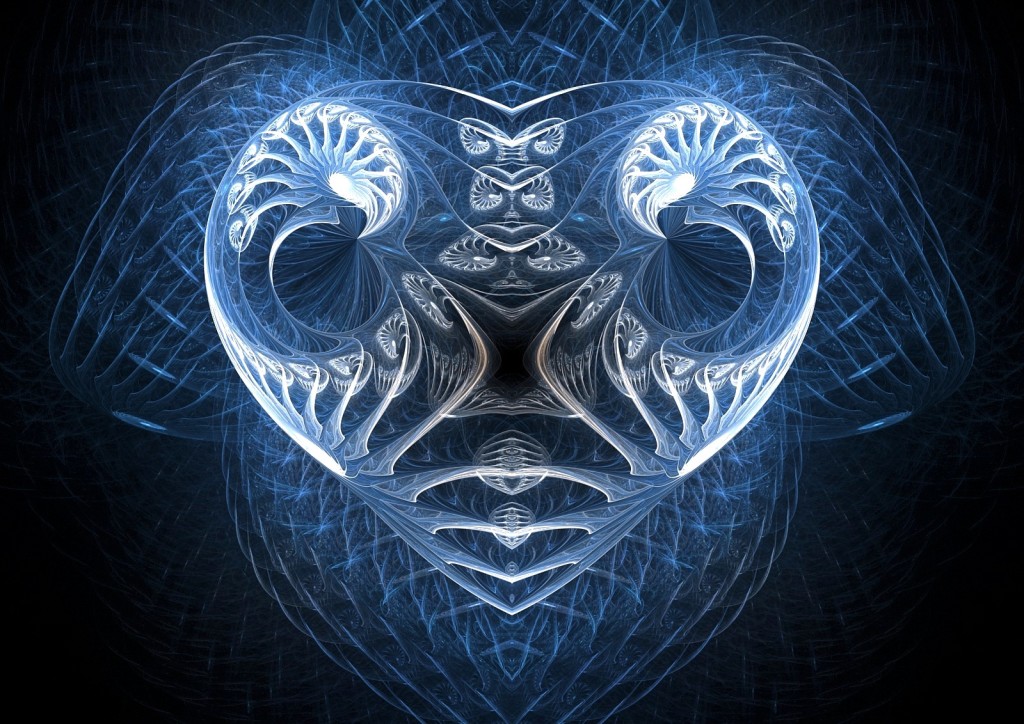 Daily post 28 Oct 2013 08:40 am
Ward Kimball once gave me the advice that I should forget animation and go into something more lucrative . . . like, Dairy Farming. Not one to listen to my elders I pushed on with the animation plans.
The passing of the animation bloc voting for the animated shorts made it all the nearer to dairy farming than I'd like. On Saturday they ran 60 shorts for us; on Sunday the remaining group. We were supposed to intelligently narrow the groups down, and I guess we did. How dull it all seems when you post then all one-on-top-of-the-other. Eyes start to water and turn blookdhot, and a decent coversation is abnormal.
Over the corse of the first 60, I found myself getting ill and frequently having to run to the bathroom.By the time we hit 45 I was a goner. The stuff just kept coming out and wouldn't stop. no help immodium, Live with it my body screamed, You got yourself into this mess, now get yourself out of it,
On Sunday I was still out of it and couldn't make it back. I called a voice of support every once-in-a-while, big deal that did.
There were replacement films for some of the past. One about an underground war vs a machine. It reminded me so much of Consumption (a film from last ear) that I decided it must be a follow up of sorts. There was the cgi Courage the Cowardly Dog, so interesting an exercise – but just that. So many others my head's been blogged shorted out – though, I'm getting over it.
Canndy Kugel had a nice little dinner for some remaining Canadiens who came down to vote. Heidi and I joined them for anoth-*****************************************************************er large meal rousted together by Candy's Chuck. We stayed about two hours not wanting to overstay our welcome.
I'll meet up with Jacques Droin for an interview for the blog and I'll go with them, Candy and Jacques to see FROST. The more the merrier for these mass screenings. I'd already seen THE WIND RISES last Thursday; and had hoped to see it again next weeek, That's a very strong film.
Commentary &Daily post 27 Oct 2013 05:10 am
I have to say that the new WordPress is not easy for me. If there are slip ups, my apologies it's all my fault. If there are typos, it's my haste in getting something out…. I do have the option of writing fewer posts, and I just may do that. For now,though, nothing is changing.
Saturday just went whizzing by. I was sick all day while trying to screen some 40 short films. There were some obvious great films in among the bunch, but a large majority of them remain as mediocre. Things like the Pixar short where they follow some umbrellas with eyes through a rushing rain storm. Tedious is about the only word I can come up with for that. There were others which were enormously delicate and had lost none of their political themes.
The typical film by Your Head creator, Bill Plympton. It's hard to imagine using drunk jokes at this point in history. There was the cgi version of Courage the Cowardly Dog. It was as funny as all the other episodes of Courage despite the cgi makeover. I'm obviously prone to the hand drawn version, but I can't take too much away. The show probably got less whacky for the cg elements. Perhaps John Dilworth will get his oats in doing it cgi soon.
Lots of flying children and floating monkeys.
The last half comes today. Can't wait and hope for the best. It's still a damn hard job making a film short or long…..
I give all these filmmakers courage.
I look forward to the second half of the program today and hope several films will stand out.
Daily post 23 Oct 2013 11:30 pm
Halloween's just about here, so it's time to revisit this wonderful Carl Barks' story. Many thanks, once again, to the great Bill Peckmann.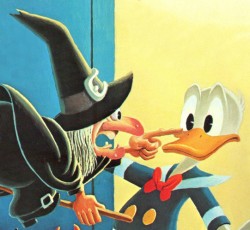 - I remember as a kid seeing the annual Halloween show on the Wonderful World of Color. Featured was the Donald cartoon wherein Hazel the Witch was introduced, Trick or Treat. Carl Barks went wild with this character and the premise, and it was a treat every year to get the new Donald story featuring the great character. (All that was missing was June Foray's great voice. But I could play that in my head when I read the comic book. t was her first voice for Disney and her big break into animation voices. She started with a homerun; a classic the first time out of the box.)
Bill Peckmann has forwarded scans of the following story. Here's his introductory words to the piece.
In 1952 Carl Barks did a 'Donald Duck' comic book titled 'Trick or Treat'. It was a rare instance where a Barks story had its origins in a Disney Duck short. (Geoff Blum's excellent essay/history of the story at the end post will explain how the 'Trick or Treat' book came about.)

Here, with no tricks and all treats is Carl at the top of his game, this is the cover of the original 1952 Dell comic book.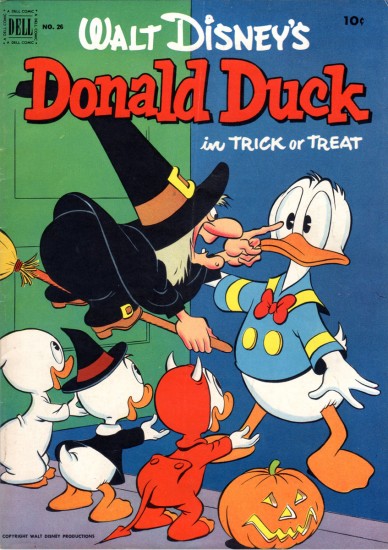 Comic book cover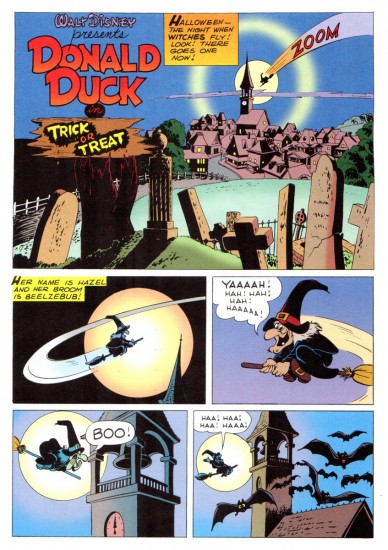 1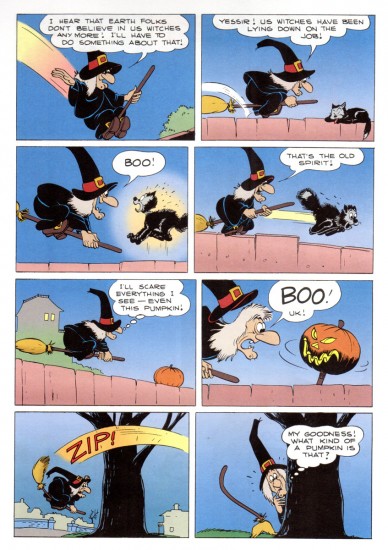 2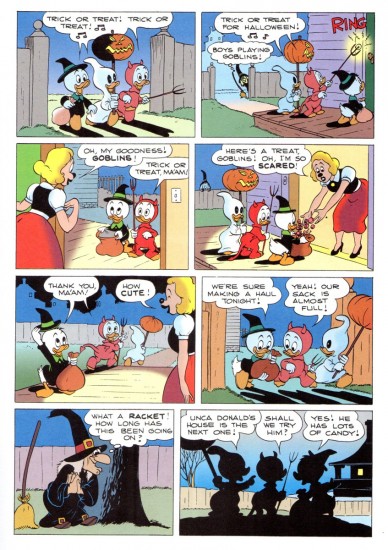 3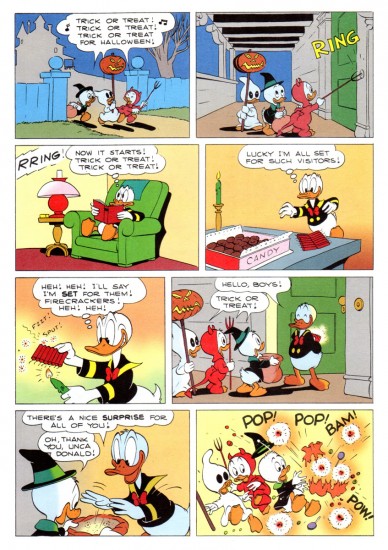 4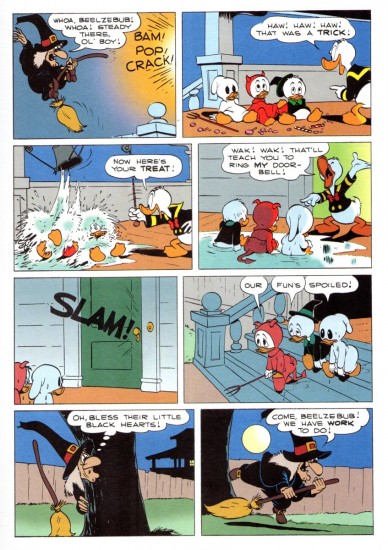 5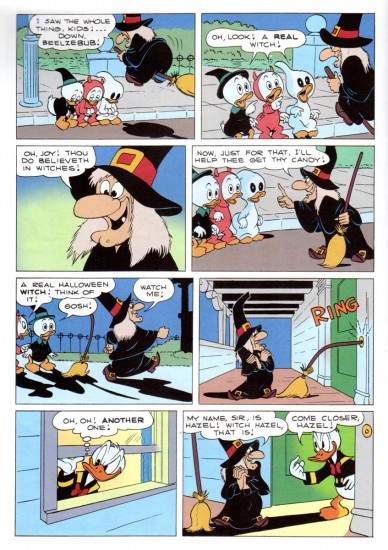 6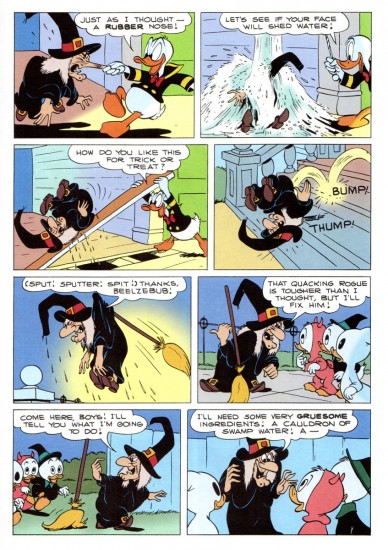 7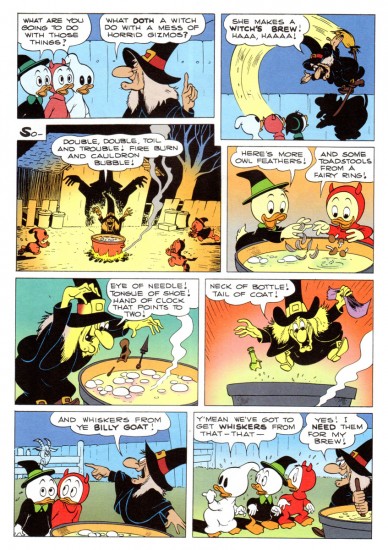 8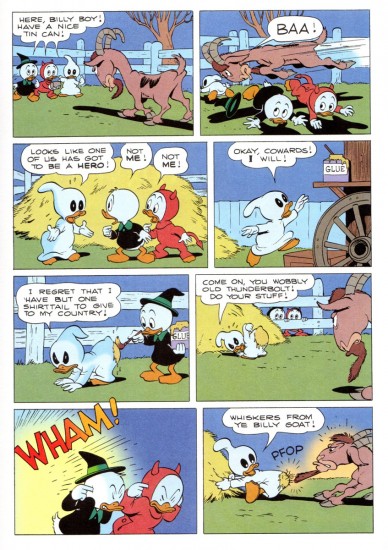 9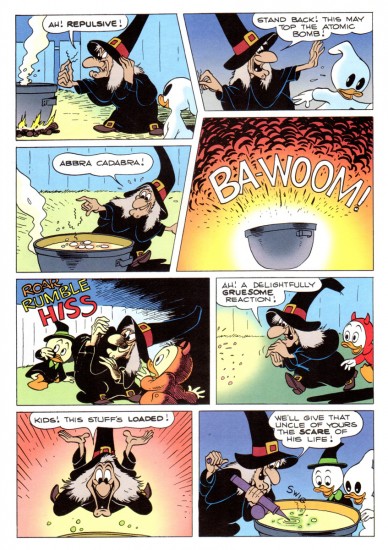 10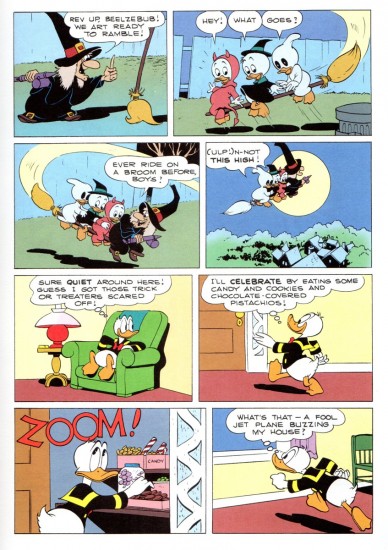 11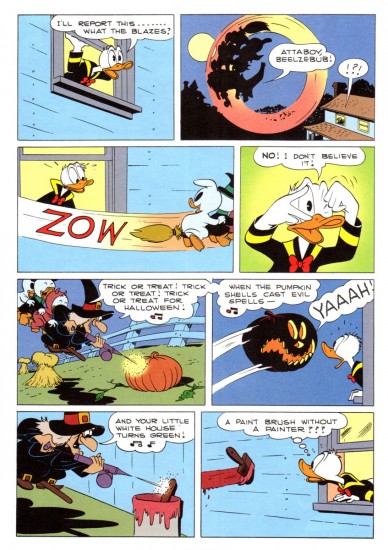 12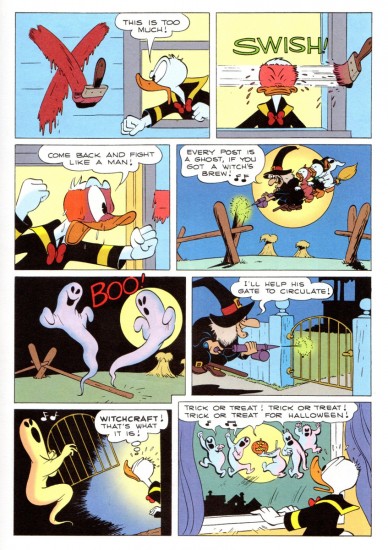 13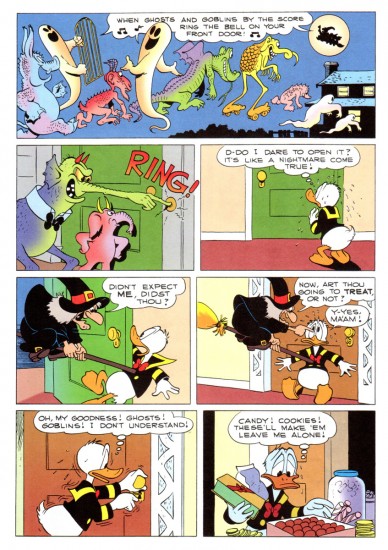 14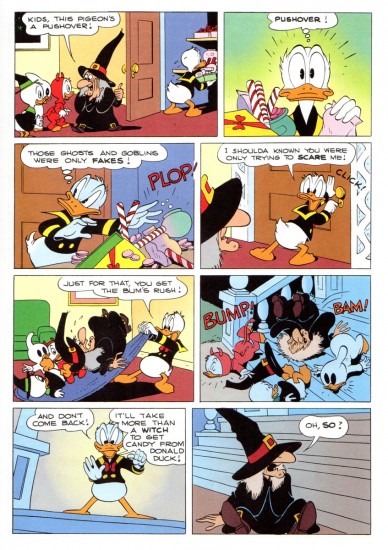 15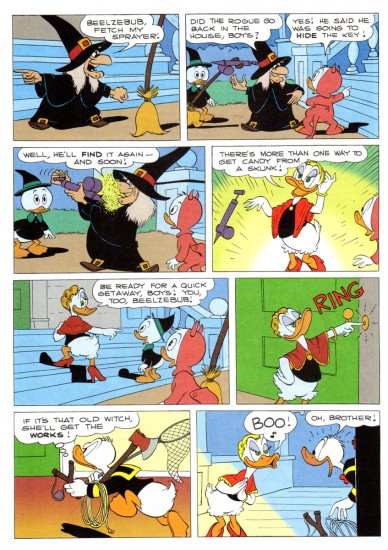 16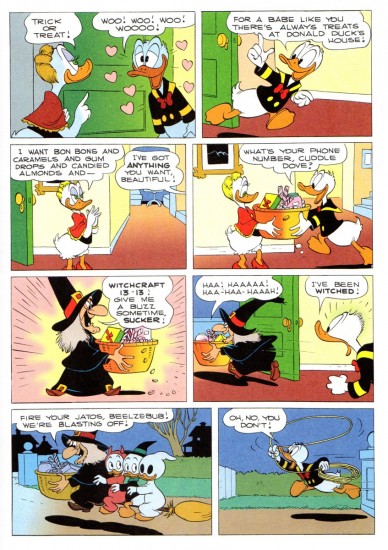 17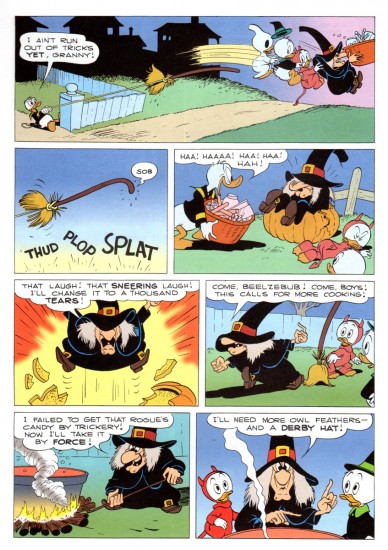 18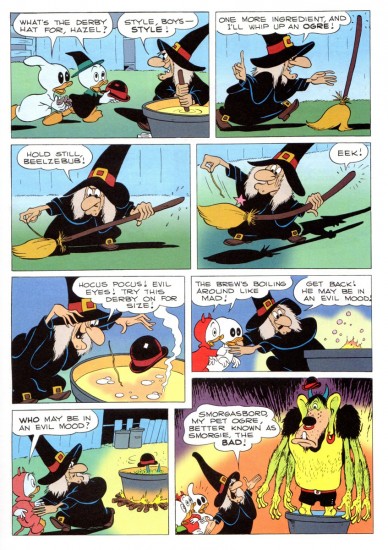 19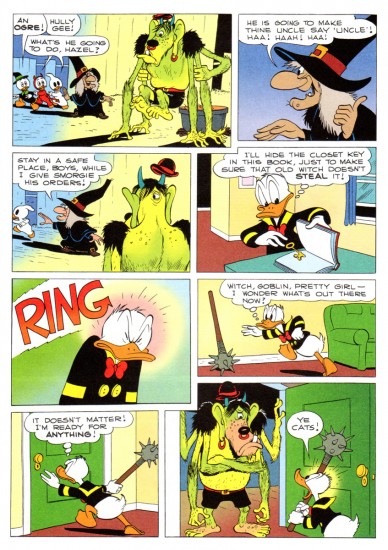 20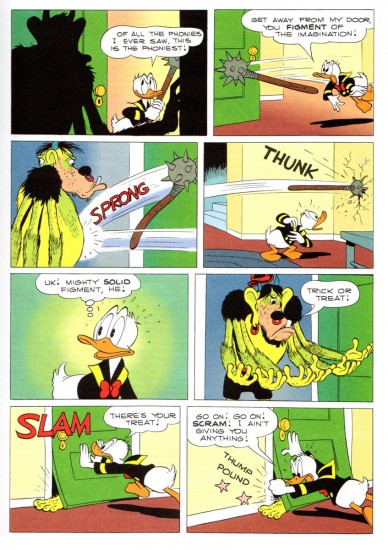 21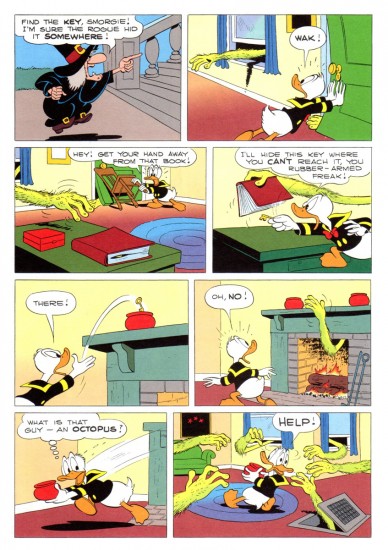 22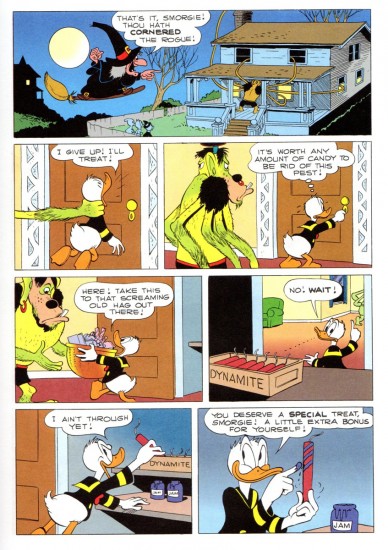 23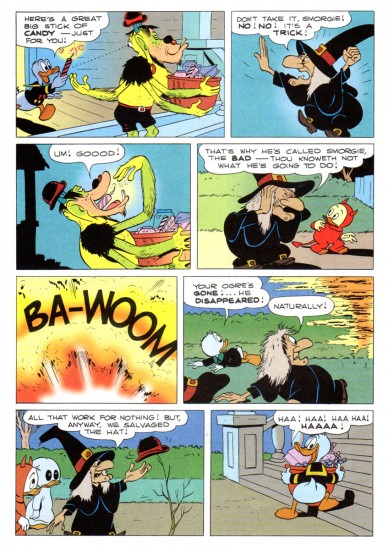 24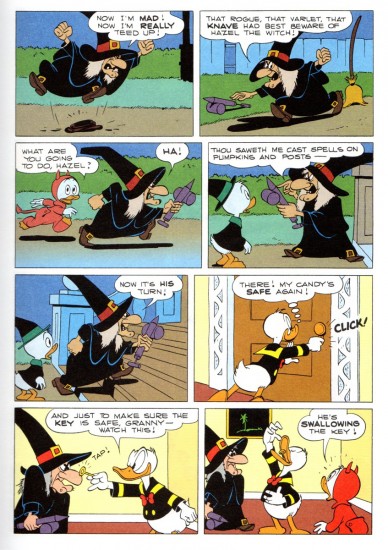 25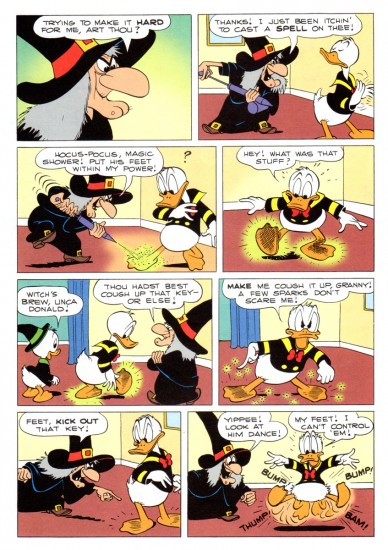 26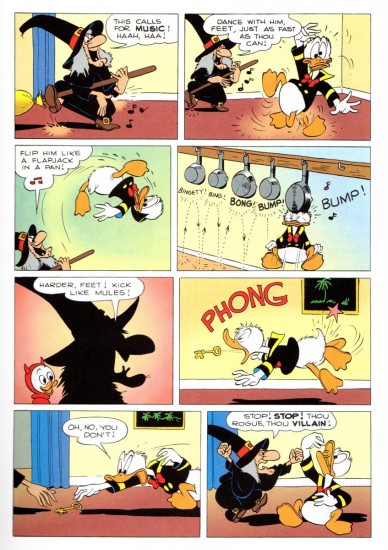 27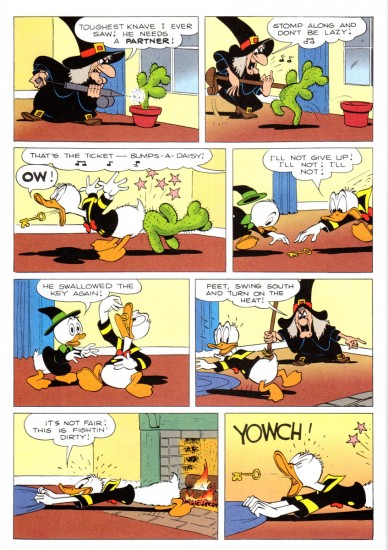 28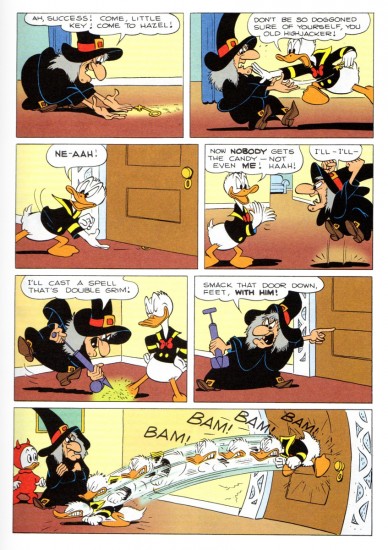 29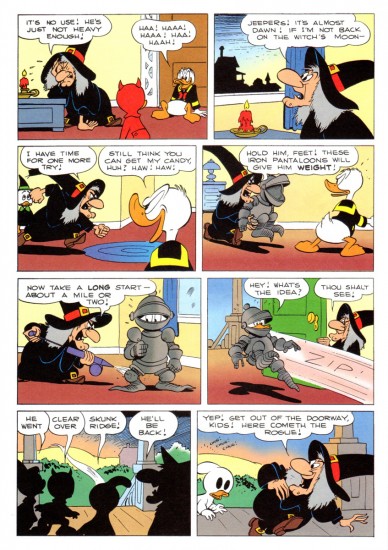 30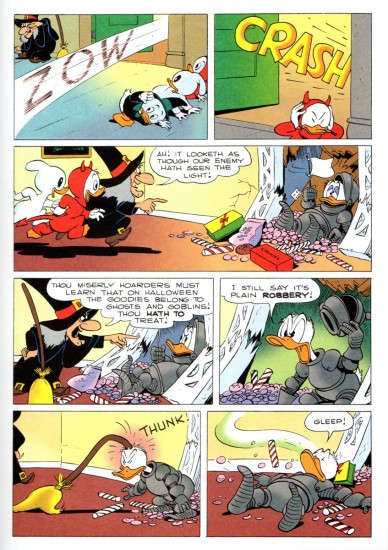 31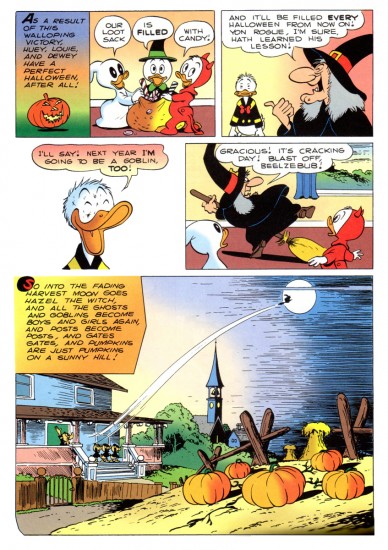 32
Here's the article by Geof Blum writing about the genesis of this comic book story adapted from the animated short.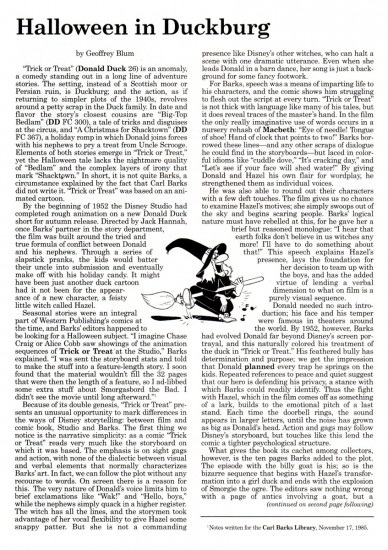 33
(Click any image to enlarge to make it legible.)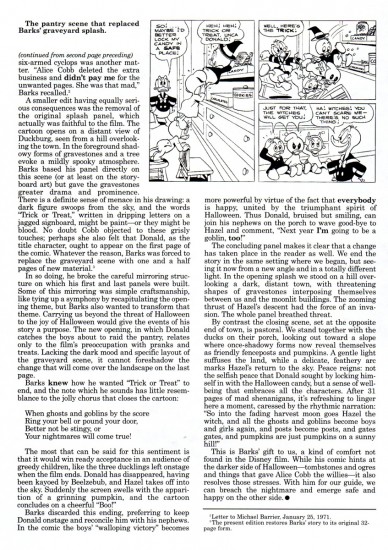 34
There's a good post about the color of this strip for the Gladstone publishing version of Trick or Treat. Posted are a number of color guides for that version.
Finally, here's Carl Barks' oil painting based on the artwork for his classic comic book.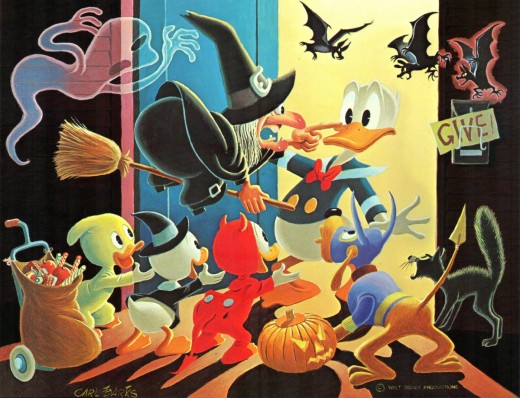 To be honest, I think this is the best of this series of oil paintings that Barks has done. It doesn't feel like something overworked and trying too hard. It just captures the spirit of the original magazine as well as the spirit of the animated short from which it was adapted. Not only a Barks gem, but a Disney gem as well.
Commentary &Daily post 23 Oct 2013 08:02 am
This is a week for 2D animation. Last Sunday I watched the 1991 film ONLY YESTERDAY. That was a brilliant film, and it was so quiet and delicate and touchingly perfect. Directed by Miyazaki's partner, Isao Takahata. What a gentle and near-perfect movie. It's probably too quiet for most people, but I loved it. I have to thank Nat who left the comment on my blog about it.
Last night, there was John & Faith Hubley's 1962 feature, OF STARS AND MEN. This was the first Hubley film I saw in a theater. I was only 17 at the time. It was a little bit of genius living around the corner from me. It's a feature, a great one, without having all the low wit you'd usually see these days.
It was the first film by the Hubleys that I ever saw in a theater. Only 53 mins, it takes your breath away. It's very much an adaptation of Dr. Harlowe Shapely's book, "Of Stars and Men." This is a pure and unadulterated look at the science as studied by Dr. Shapely. Every inch of glorious painting and remarkably strong animation layout is used with the 2D animation camera. As many as 10 passes through the camera are used for every frame.
John definitely went for the abstract, where he found a beauty that couldn't have been replicated any other way – including in the pre-historic sequences of the original Fantasia. I'll try in an upcoming blog post to post some of the frame grabs from this movie, gorgeous as it is in all its delicate motion.
Talk Session for "Of Stars & Men"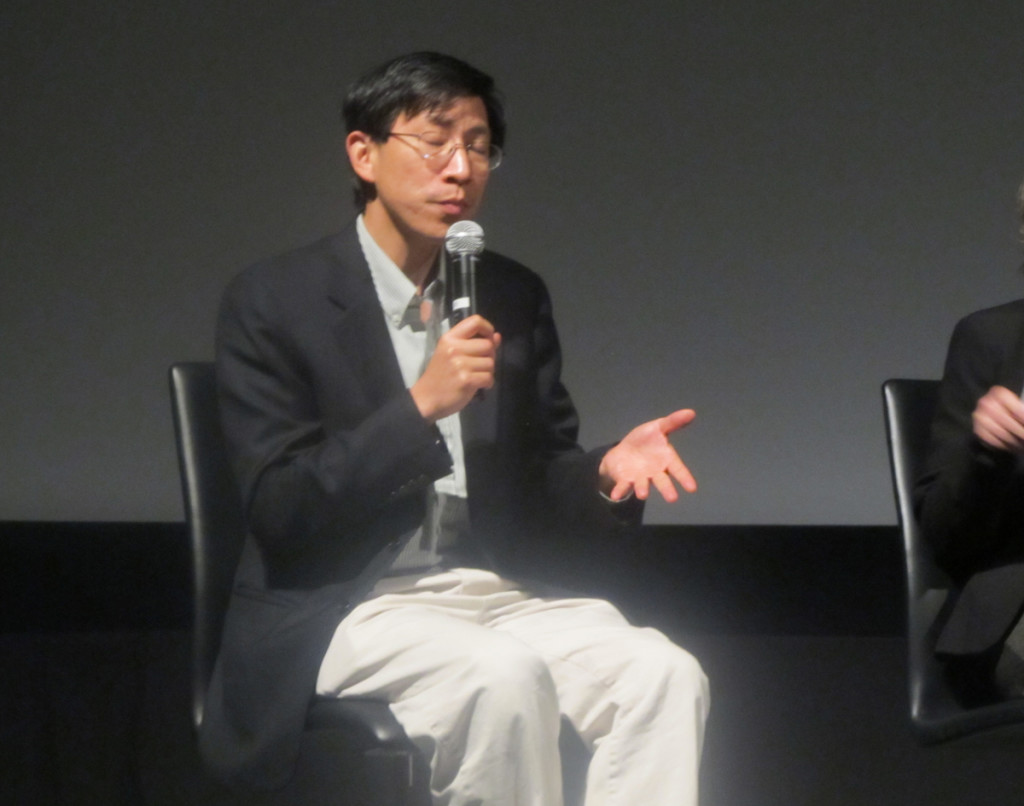 1
Dr. Charles Liu, a scientist supporter of Dr. Harlow Shapely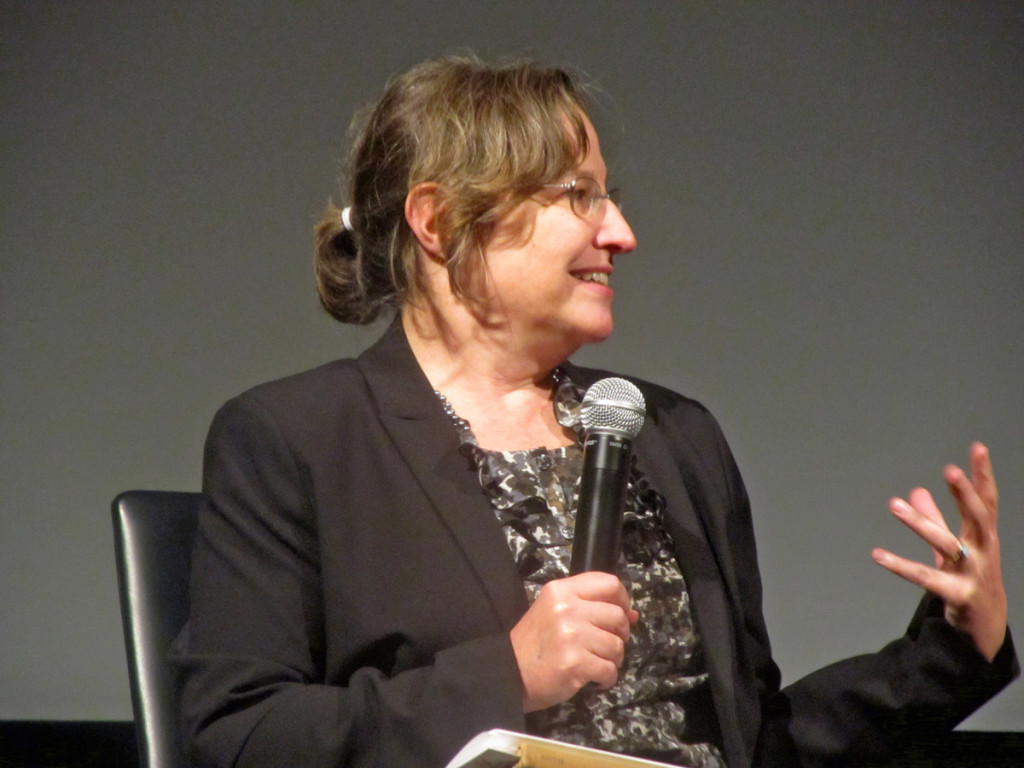 2
Emily Hubley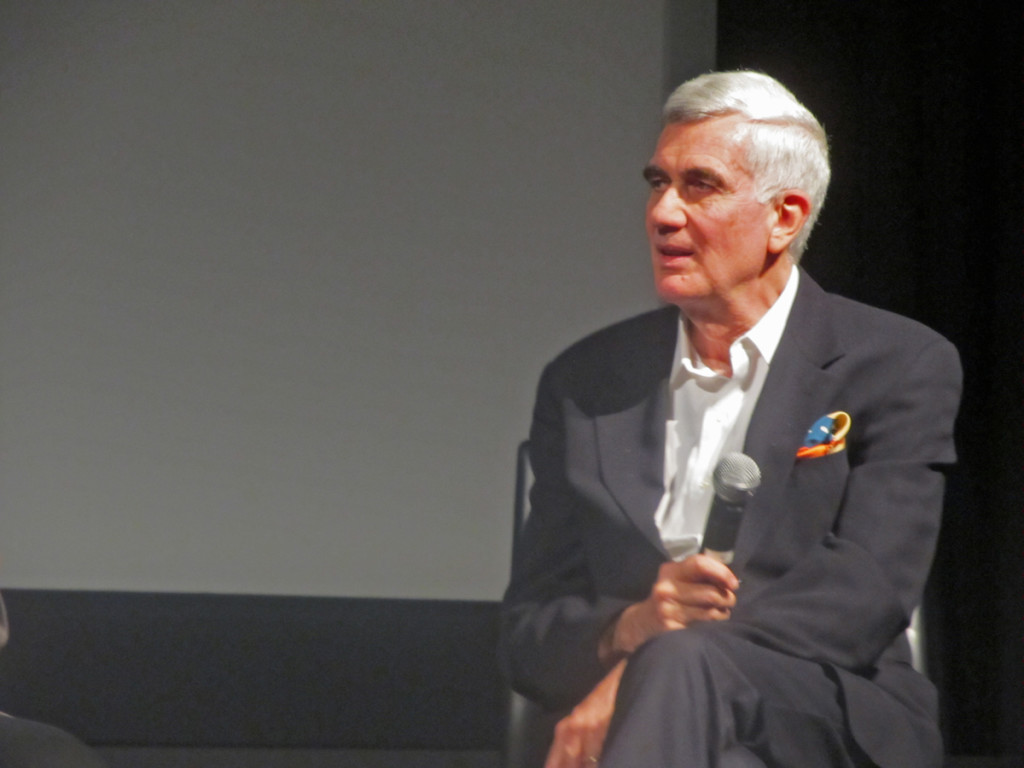 3
John Canemaker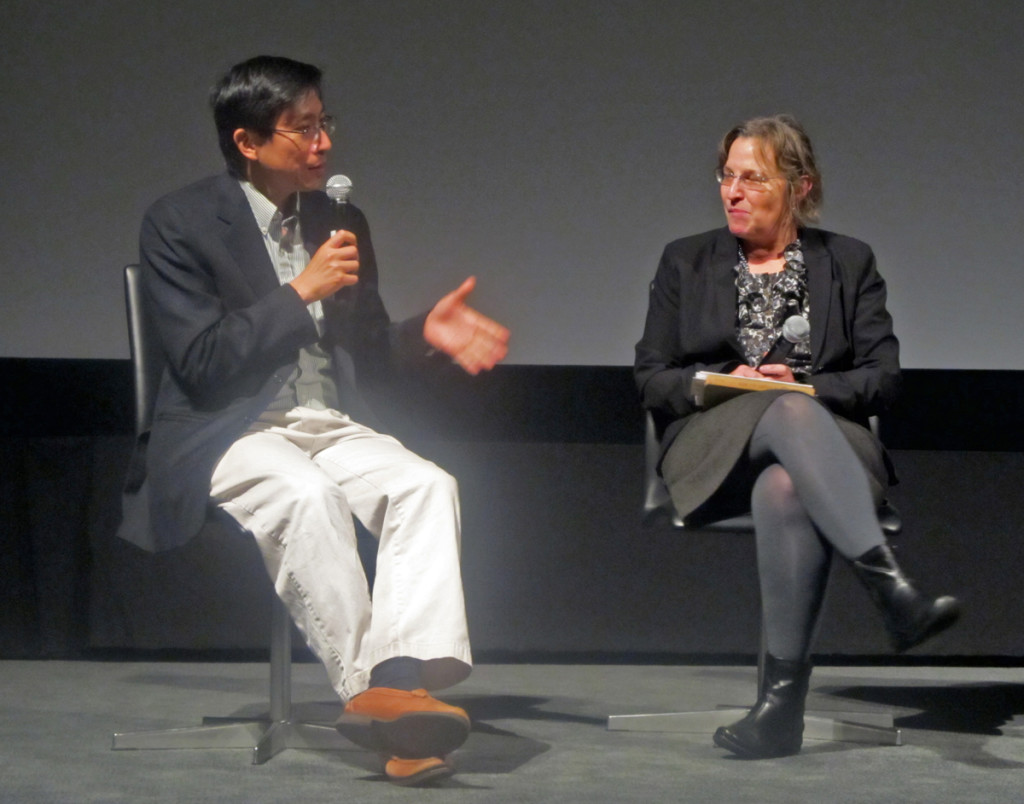 4
Dr. Charles Liu and Emily Hubley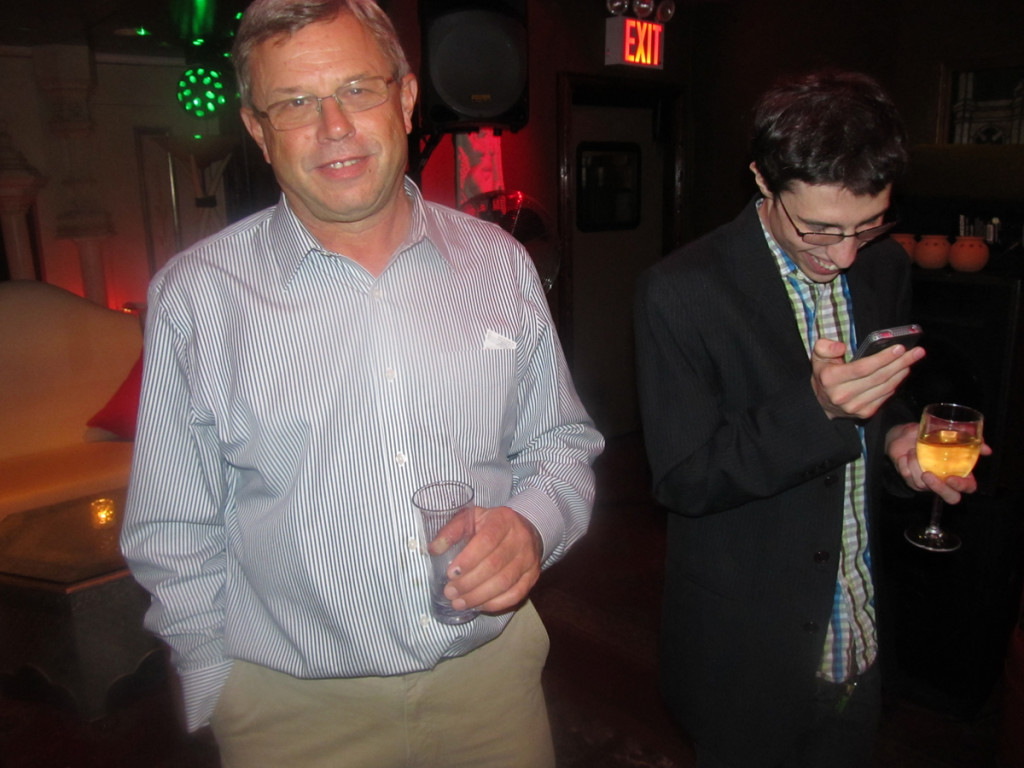 5
Mark Hubley and nephew, Max Hubley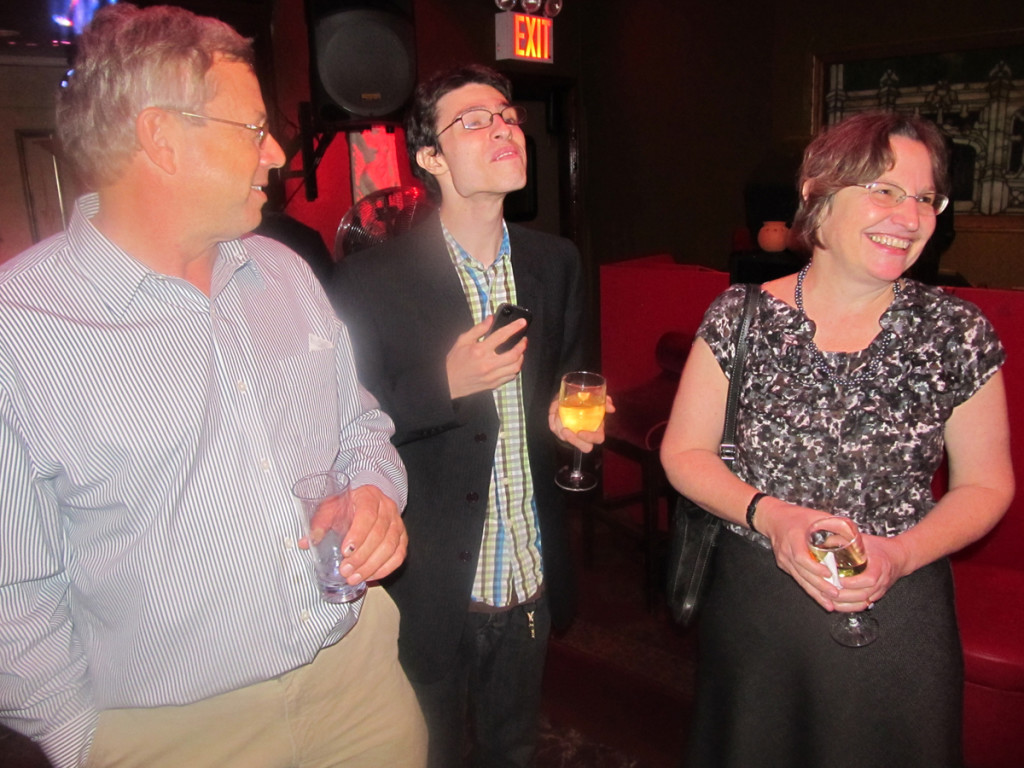 6
Mark, Max and Emily Hubley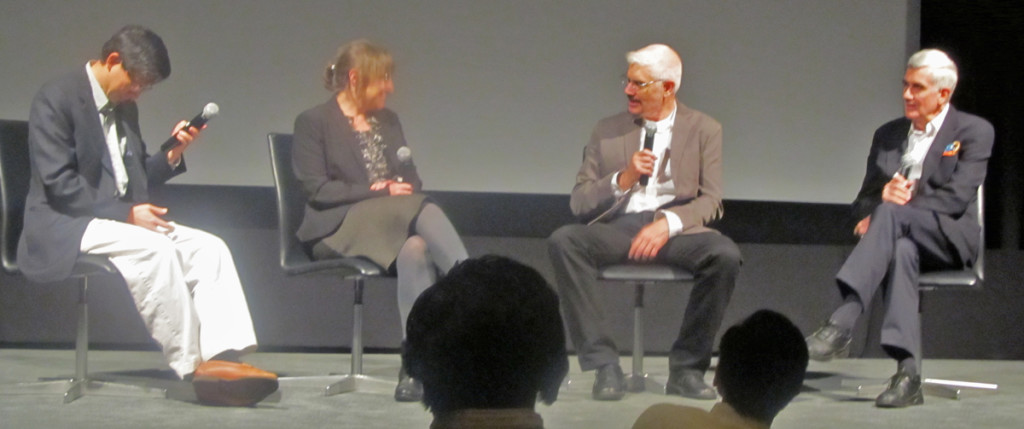 7
Dr. Charles Liu, Emily Hubley, curator, Ron Magliozzi, and John Canemaker.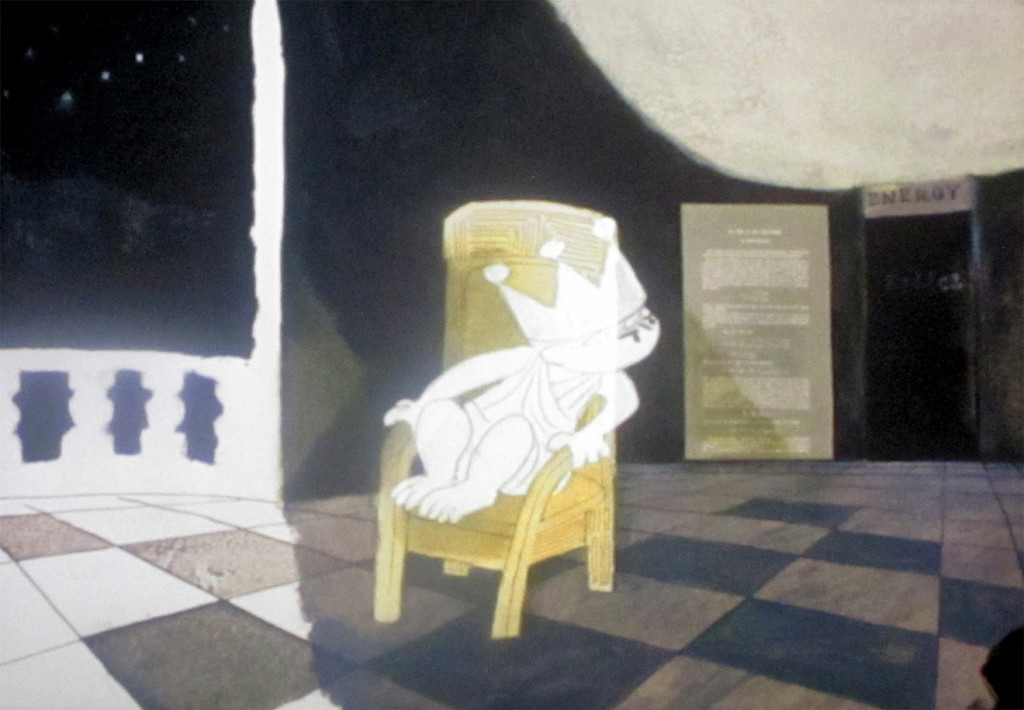 8
Will Rosenthal, Emily's husband and Ira Kaplan Georgia's husband were also there.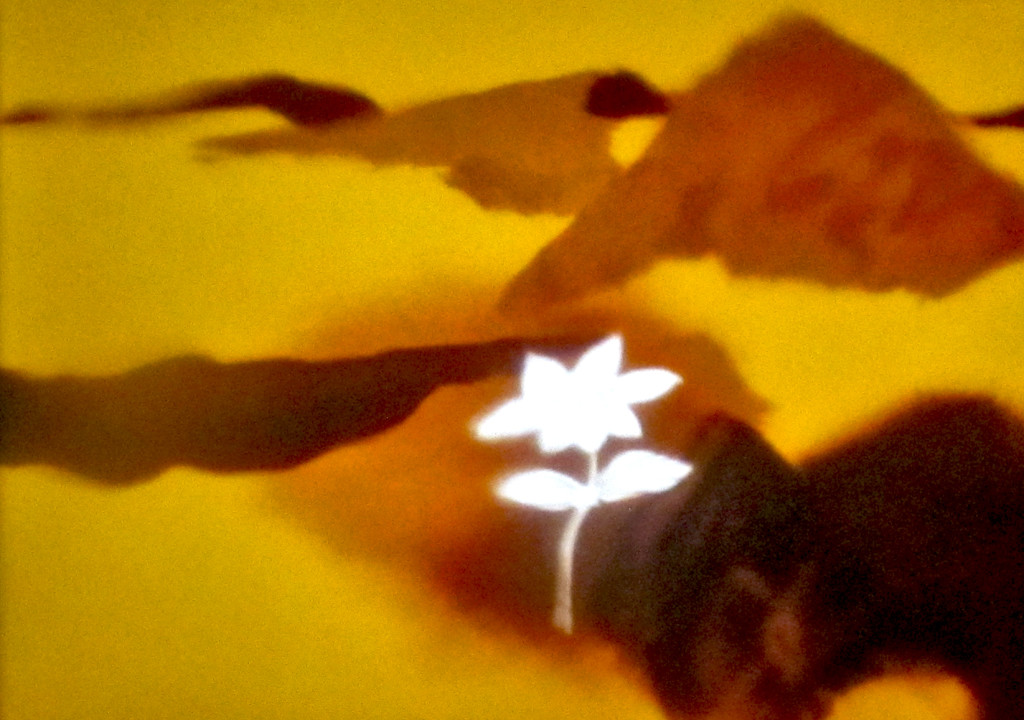 9
On screen flower
Also iin the audience were Candy Kugel, Jannet Benn, Joe Kennedy
Biljana Lobovic and Jeremiah Dickey.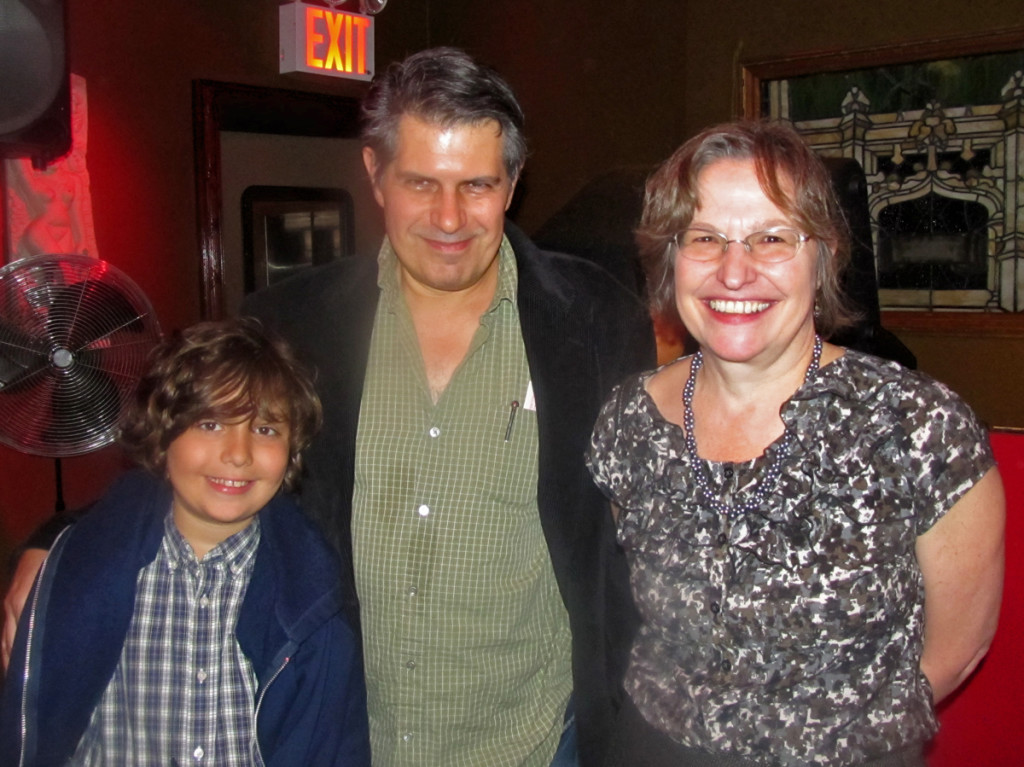 10
Oscar and Jeff Scher, and Emily Hubley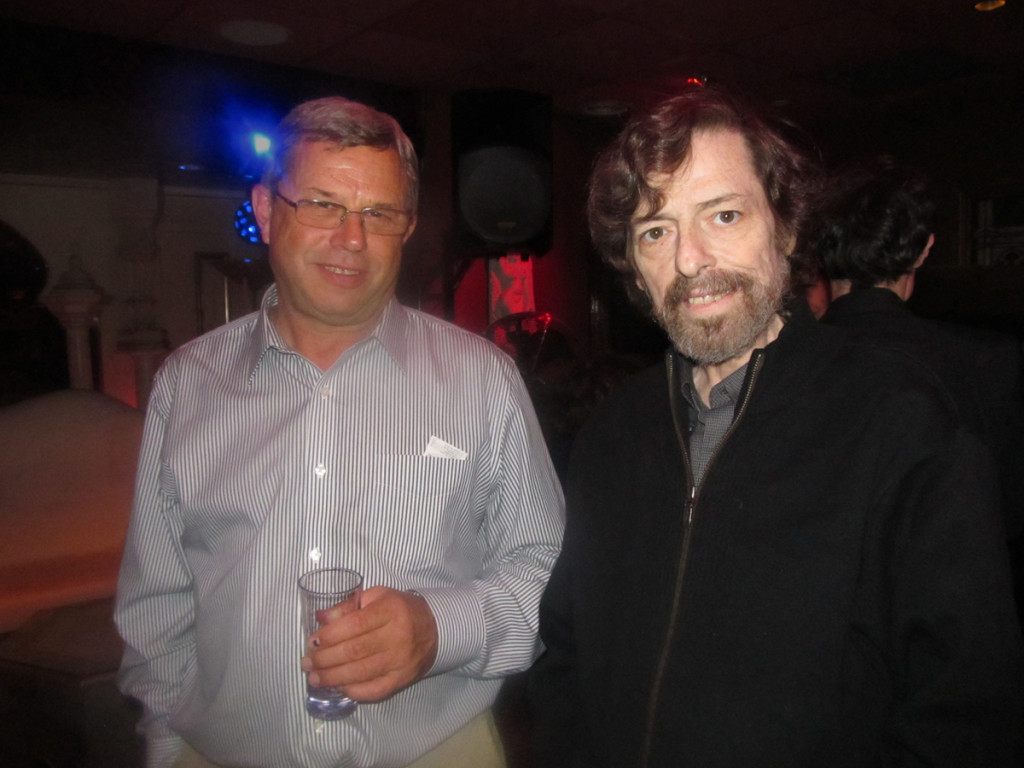 11
Mark Hubley and me.
At the end of the film, my wife, Heidi, asked where the credits were. She'd forgotten those were
at the film's start. The entire crew amounted to 15 people.
Harlow Shapley Harlow Shapley
Mark Hubley Mark Hubley
Ray Hubley Ray Hubley
Produced by
Faith Hubley producer
John Hubley producer
Cinematography by
Film Editing by Faith Hubley (as Faith Elliott Hubley)
Animation Department
Pat Byron … background artist (as Patricia Byron) / rendering artist (as Patricia Byron)
Nina Di Gangi … background artist / rendering artist
Faith Hubley … background artist / rendering artist
John Hubley … background artist / rendering artist

Bill Littlejohn animation director (as William Littlejohn)
Gary Mooney … animation director
Music Department
Roy Friedman music recordist
Walter Trampler … musical director
THAT'S IT!
Thursday we see Miyazaki's The Wind RIses, and on Sat & Sun we see all of the AMPAS entered animated shorts. Mine eyes hold up.
Daily post 19 Oct 2013 03:44 am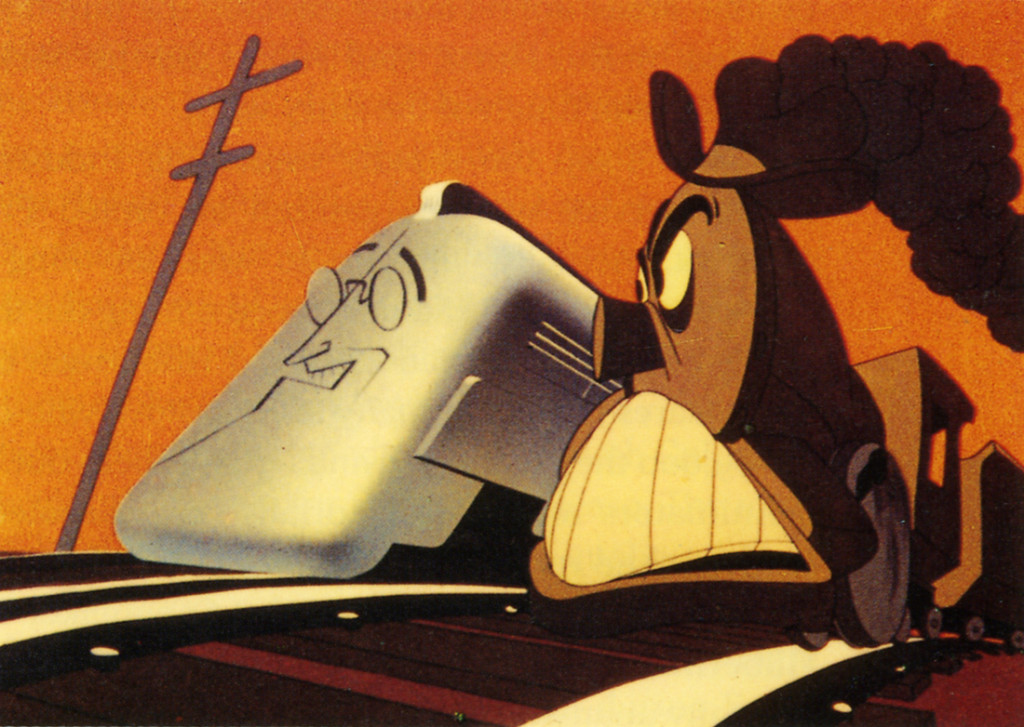 In his book, When Magoo Flew, The Rise and Fall of an Animation Studio – UPA,writer, Adam Abraham details the story of a group of artists working together a new series of films. John Hubley wasn't always happy though he was undoubtedly one of the leaders of the artists who came together from different sources. Many from Disney, some from the US Army Signal Corps, others from Chouinard Art Institute -a school supported by Walt Disney in his attempts to gain artists for the films he made in LA.
The stories behind the films were done wholly to advance the new art forms being discovered in Los Angeles. It was their notion that by breaking the rules of 19th Century Art animation could begin to come truly alive as an original.
Two of the artists were truly original in the approach, and when they started working together a curtain unveiled something new.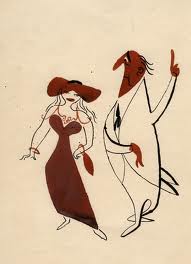 John Hubley was one of the bosses and one of of those who brought strength to the films he created. In the beginning he worked with the animator, However, he was bothereed by some of the color choices made others, particularly by BG artist artist Herb Klynn. Hubley was incensed at the ugly yellow/green that Mr. Klynn would incessantly choose. For this reason (among others) he brought in the gifted master painter Paul Julian to do the the background coloring. Hubley, himself, was a strong designer and a master painter. Who could question what he wanted to do with the department.
Once past a couple of near-sighted Fox and Crow films; Hubley wanted to do films about humans, not animals, and he eventually got his series featuring the near-sighted Mr. MaGoo. In the big picture, though, they were forced to follow many artistic constraints. Despite this, they two did a number of very successful shorts in changing the look and feel of animation globally.
The films done by both Hubley and Julia
Continue Reading »