Animation Artifacts &Disney &Mary Blair &Peet &Story & Storyboards 03 Mar 2008 09:00 am
- In the past two weeks I've posted a number of boards and preliminary artwork for Susie the Little Blue Coupe, the 1952 Disney short. Bill Peet did all of the storyboard drawings posted last week, and he did a storybook prep for the film posted the week before.
All of this material came to me via a generous loan from John Canemaker.
Here's the final board in the series. It seems to be LO drawings and doesn't appear to be part of the storyboard. Perhaps it was prepared for a Leica reel? Regardless, the drawings are interesting, though I doubt Bill Peet did them all.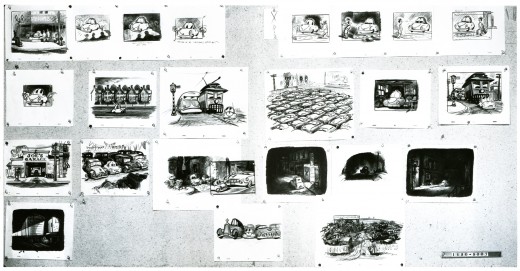 __As with other recent posts of storyboard material, I've broken it up and repositioned
__the images so that you can enlarge them for better viewing. The above image rep-
__resents what the photo given me looks like.

1a
____________ (Click any image to enlarge.)

1b

2a

2b

3a

3b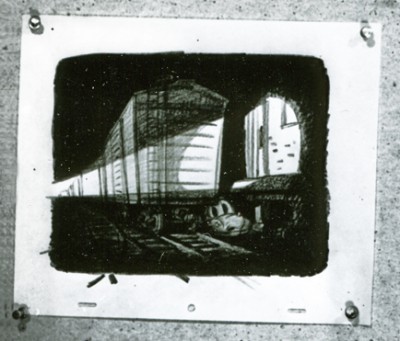 4a

4b
Finally, I wanted to give an indication of the film's color, so I've gone back to John Canemaker's book The Art and Flair of Mary Blair and have poached this color sketch she did in styling the film.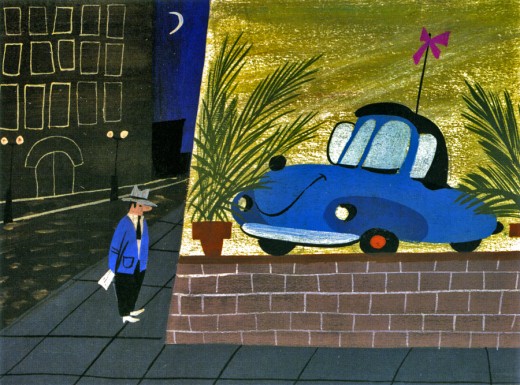 2 Responses to "Last of Susie"
on 03 Mar 2008 at 10:04 pm 1.Eddie Fitzgerald said …

Holy mackeral! I can't believe the riches that we're getting on this site! Thanks a million to you and John!

on 04 Mar 2008 at 7:49 am 2.Kellie Strøm said …

I especially love the sketches with strong light and shade: the car in the showroom window, silhouetted in the garage, in the car lot and in the alley.

You can step right into those drawings, yet it's so simply done.
Leave a Reply