Animation &Animation Artifacts &Disney 19 Oct 2009 07:37 am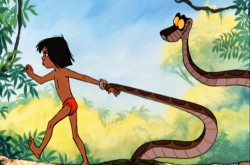 - This is the last of three posts showcasing the drawings of Frank Thomas for one scene of Mowgli and Kaa in The Jungle Book.
Frank was a very productive animator who was very defensive of his drawing ability, yet he always seemed to come up with something attractive and full of his gentle personality.
There is some nice use of foreshortening in the leg of Mowgli in these drawings. You have to be particularly good at drawing to make it work; I think I've seen too many bad drawings where it's called attention to itself. Foreshortening is usually something worth avoiding unless you feel really confident about it. However, as done by Frank, it really helps the motion.
Again there is a smart use of ones and twos, and there seems to be no effort in having moved back and forth between the two. Yet, when you look at the movement, it seems natural.
The scene also ends in the middle of an action, something an editor might do, but it seems to be controlled by the animator here.
The entire scene is now up in all of the QT's posted.
Part 1
Part 2
We start with the last drawing from Part 2.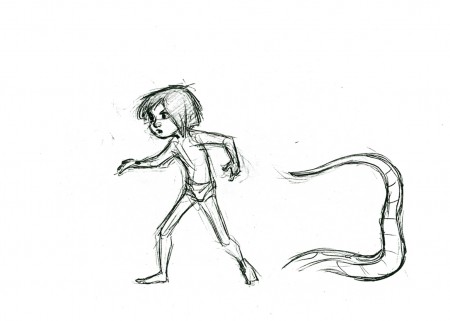 51
(Click any image to enlarge to full animation sheet size.)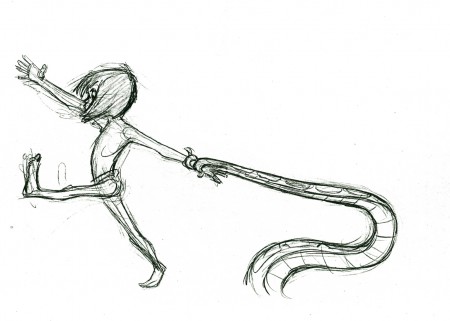 65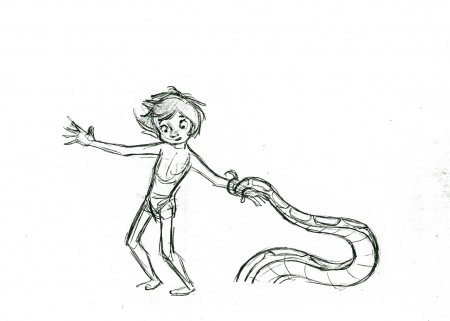 75

The QT movie below includes Parta 1, 2 &3 of this scene.

Mowgli & Kaa
Click left side of the black bar to play.
Right side to watch single frame.

Many thanks to John Canemaker for sharing these drawings with us.
10 Responses to "Frank Thomas' Jungle Book 3"
Leave a Reply