Bill Peckmann &Books &Peet 05 Apr 2011 07:06 am
- Bill Peet's Capyboppy was published in 1962. It's one of the best examples of his book illustrations. The images are all B&W and are strong drawings, all.
The book feels like a close relative to Bill Peet: An Autobiography. (For those of you in animation, you ought to have a copy of this book on your bookshelf. It's one of the finest biographical books by an animation veteran, and it's completely illustrated by him. It's an original.)
Once again, I don't post Peet's writing; you'll have to get the book for that (and it's worth it.) I do, however, summarize the story under each illustration so that they make sense.
To view the other parts of this post: Part 1, Part 2, Part 3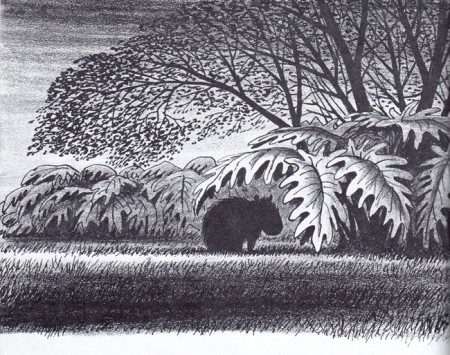 1
We worried about Capy's depression. He just sat there
doing nothing and couldn't be pulled out of it.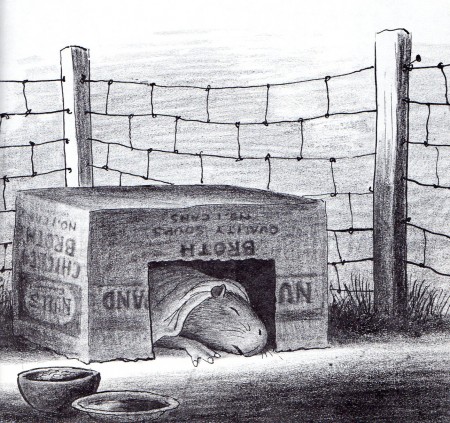 2
The same continued the next day. Steve was already there feeding him and
giving him water, but Capy didn't move. We only knew he was alive by the breathing.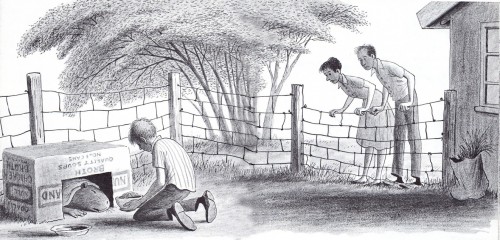 3
On the second morning, things remained the same. we heard from Tommy.
His head was better and he wasn't mad at Capy for hurting him.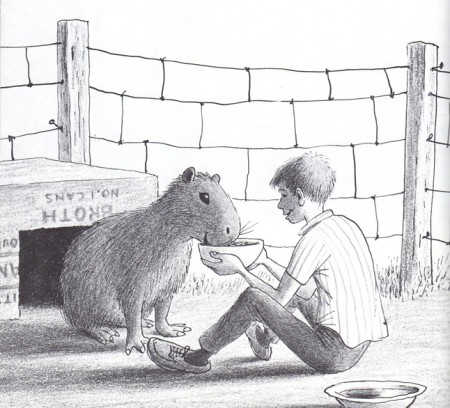 4
By the third day, Capy had gotten better. He sat up and was
drinking water and eating a little food. He seemed to be happy.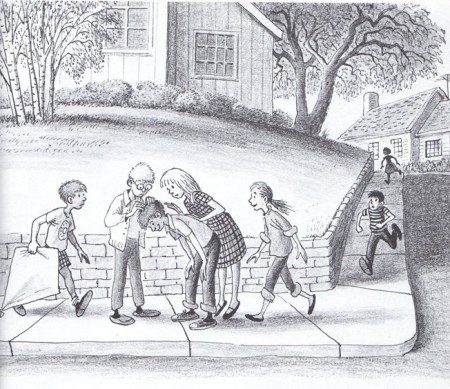 5
Meanwhile Tommy had become a local celebrity. His scar from Capy's scratch
was a hit and every kid wanted to see. We were afraid other children would
want to be scratched by Capy and we began to think how we could avoid this.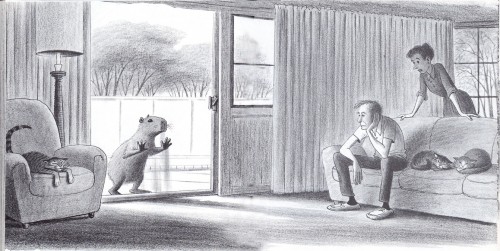 6
I suggested donating Capy to the Los Angeles Zoo.
Margaret said that'd be like sending him to prison. Why not send him
back to South America with a note that he should be released into the jungle?
Then she suggested we bring him there, ourselves.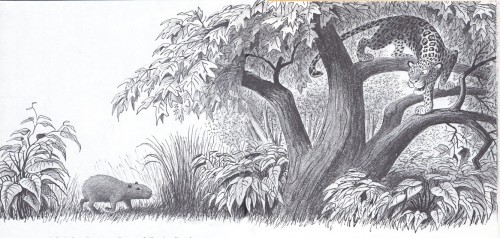 7
We agreed. But we worried that Capy wouldn't survive in the jungle.
He'd want to play with the other animals, and they'd want to eat him.
At this point, Bill, our son, returned from Mexico.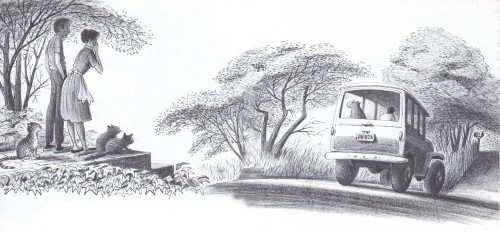 8
We discussed the problem with Bill and we tossed and turned
over the decision for many days. Finally, one day Bill picked up
Capy and put him into his jeep. He drove him to the Zoo.
Margaret cried, but aI reminded her that the Zoo was only a half-hour's
drive away and we could visit him any time we wanted.
On the third visit, Capy shared his pen with a pair of huge hippos.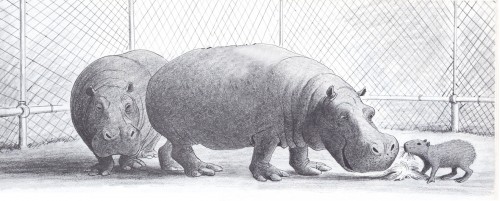 9
The zookeeper told us it wasn't a mistake, and
Capy even rode around on their backs.
We watched as Capy and a hippo fought over some grass to eat.
The hippo won and we worried that Capy would go hungry in this pen.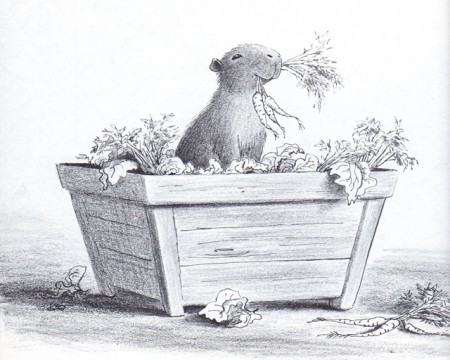 10
So we sat across the way on a park bench until feeding time.
The hippos were playing in the pool and Capy was having a feast.
We should have known the ultimately Capy would have his way.
If anyone was to have his way in the pen it'd be our Capyboppy.

This posting concludes Capyboppy. Many thanks to Bill Peckmann for introducing the book to me and sharing it with all of us.
3 Responses to "Peet's Capyboppy – Part 4"
on 05 Apr 2011 at 10:23 am 1.Elliot A said …

"Once again, I don't post Peet's writing; you'll have to get the book for that"
Am I going crazy? I think i see the writing posted!

on 05 Apr 2011 at 10:27 am 2.Michael said …

Nope, that's not Peet's writing. As I wrote in the post it's me summarizing the action.
Leave a Reply