Animation Artifacts &Fleischer &Layout & Design 20 Jun 2012 05:36 am
- For the past few weeks, I've been posting artwork from Vince Cafarelli's collection of animation artifacts. We're coming down to the remainders in this box, and I'll post most of it. There are a few color Background originals.
At first viewing, I thought these were possibly from Terrytoons, (here is a past post I did of Terry Backgrounds I own from the late Thirties) but they have a slickness that Terry Backgrounds wouldn't have had. They also lack any sign of the glorious whimsy the Fleischer Backgrounds had. These, no doubt, come from Late 40s Paramount cartoons when Bob Little was the principal artist. There's ample use of airbrush over the bright tempera colors. (I don't remember seeing airbrush in any Terry cartoons of this period.) Physically, they were all done on bristol board and separated from the card back. This is also true of all the Terrytoons Backgrounds I've seen.
I'm sorry to say that I can't ID any of these Backgrounds or tell you what films they're from. Were I able to do that we might have been able to figure out who did them. If you know anything about them, anything at all, your comments would sure be appreciated, and I'll keep updating the post to make sure they're noted.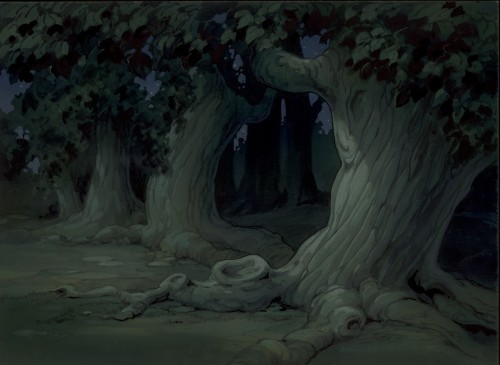 1
This first one does a nice job of setting the mood for the scene.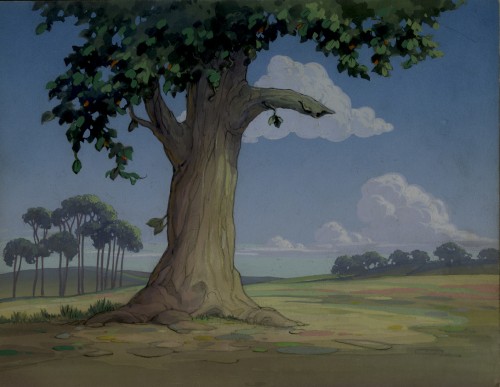 2
from Song of the Birds
This one doesn't really do much other than be a background.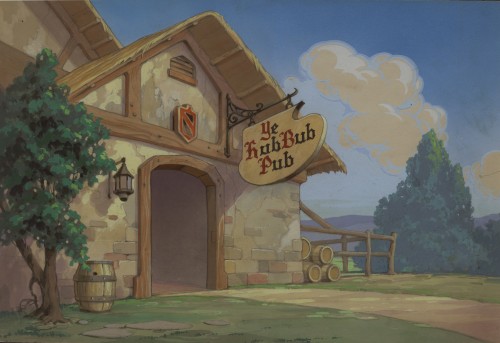 3
from Robin Hood-Winked
This tavern really does set up the scene. As a matter of fact,
it's so specific it should be one of the easiest to identify.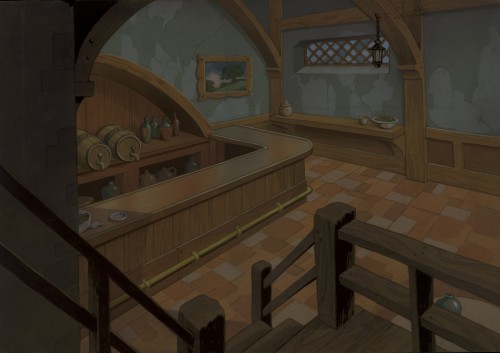 4
from Robin Hood-Winked
This interior is also more specific than most of the
Paramount Bgs of the period and feels as though
it may have come from the same film as the tavern, above.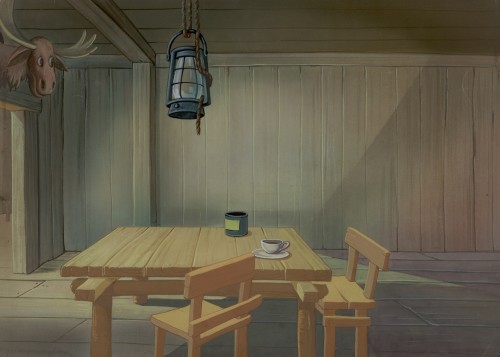 5
from Lumberjack and Jill
This one is so generic it may have come from any of a hundred
films of the period. It's the Bg that felt like a Terrytoon to me.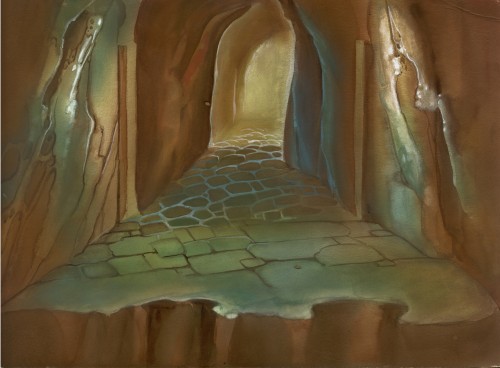 6
This Bg feels closer, stylistically, to #4, above,
than to #5. There's a lot of airbrush in it.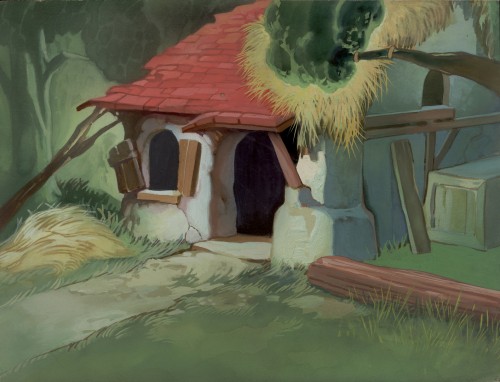 7
This Bg seems to have some chalk used on the white stone
of the building's exterior. It reminds me of several other
Disney Bgs – not as good as Disney, but similar in feel.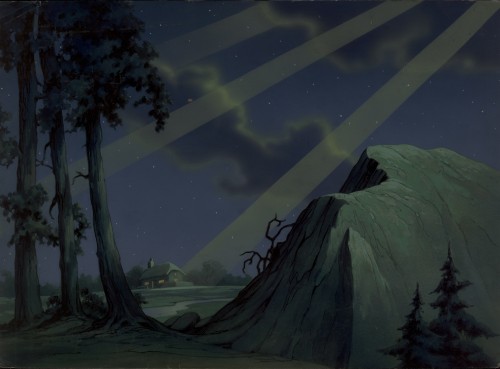 8
from Leprechaun's Gold
Who knows what this Bg is. I guess god's
looking down on the inhabitants of the hutch.

__________________________
- As a bonus to add to these Backgrounds, here's something completely unrelated.
Today, when children's films are distributed non-theatrically (meaning to schools and libraries) a teaching aid accompanies the film. This is usually a two or three page piece which gives information on how the film can be used to teach whatever subject to the students. This form has developed in quite a sophisticated way so that it is often very helpful to the teacher or librarian.
Within Vince Cafarelli's collection of art and artifacts, there was a teaching aid – which seems half designed to be a give-away to students. It's a primitive form of what is standardized today. The printing of the piece is quite rich on semi-gloss paper with nice B&W photo reproductions of stills from the film. I thought this would be of interest to some of you out there.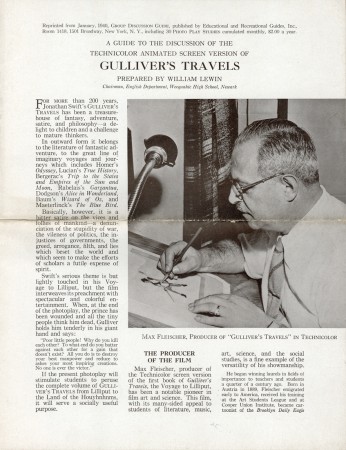 1
(Click any image to enlarge.)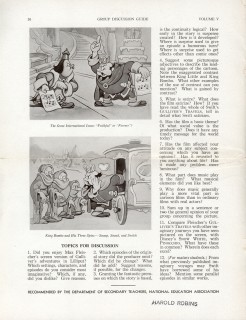 8
13 Responses to "Paramount Bgs & Gulliver Teaching Aid"
Leave a Reply