Bill Peckmann &Books &Comic Art &Illustration 27 Jul 2012 06:46 am
Whites of Their Eyes, Rowland Wilson's book (1962) which collects his early cartoons, is the subject of this and a couple of other recent posts. (Part 1 & Part 2)
Bill Peckmann has been kind enough to share some scans with us, and I'm ravenous enough to hurriedly post every scrap of Mr. Wilson's work. I came into animation fully aware of his great work, which I'd often cut from many of the magazines in which they were published. I think I'd first met him, rather briefly, at my short stint inbetweening at Phil Kimmelman's & Ass. I had little more than the opportunity of telling him how much I admired his work. I worked on a number of Schoolhouse Rock pieces (Lucky 7 etc.) that he'd designed. Later on, I got to know him a bit better through my association with Dick Williams. I also knew his daughter, Amanda, through animation circles at the time. She worked on Raggedy Ann, where I was a supervisor. My connection, in real life, was limited, but my appreciation for his work great. Here's Part 3 of Whites of Their Eyes.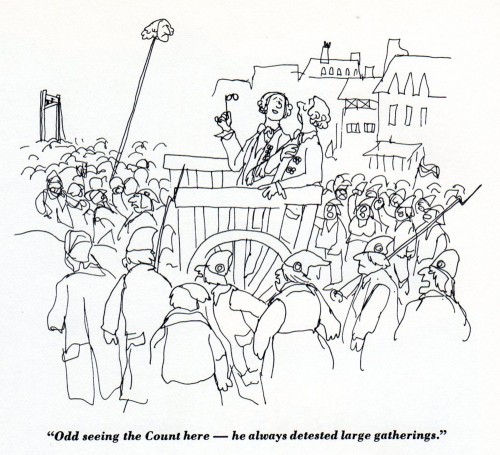 1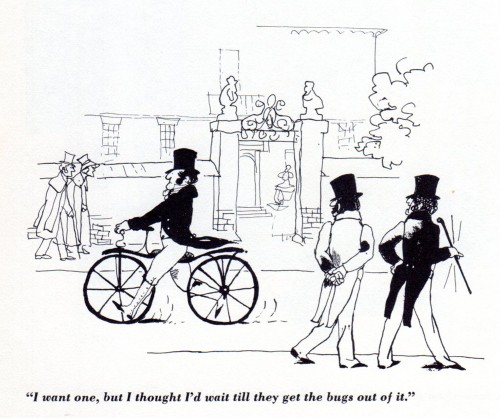 2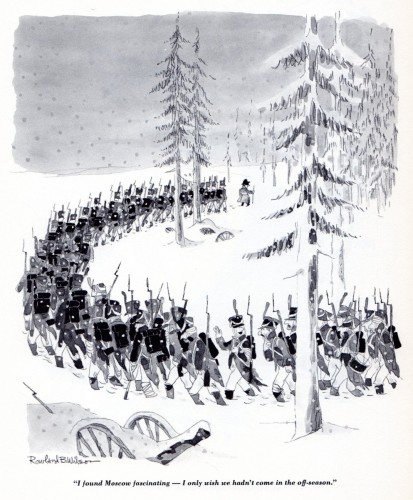 3
Does it get any better than this cartoon?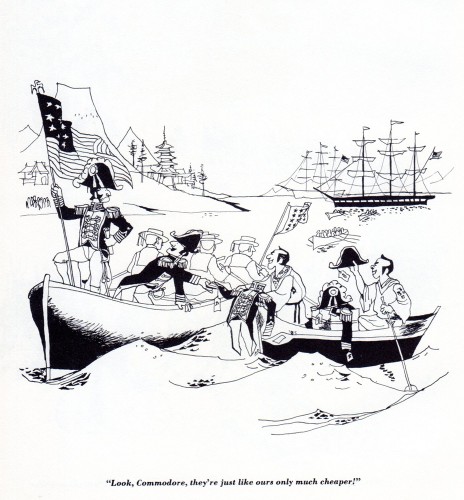 4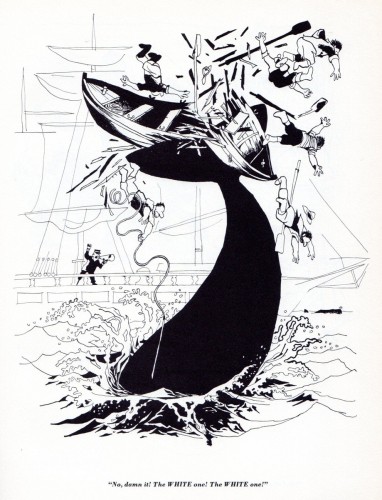 5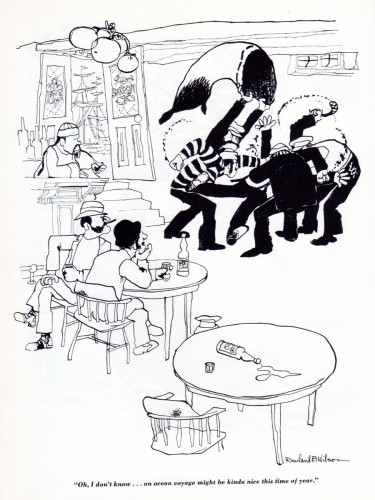 6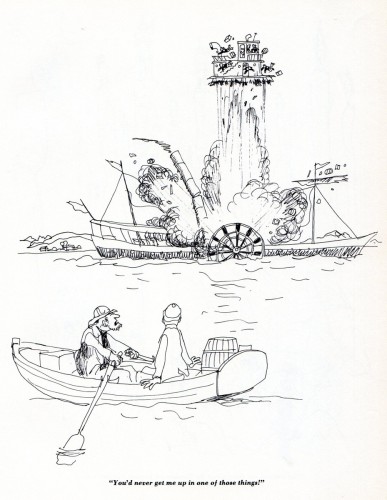 7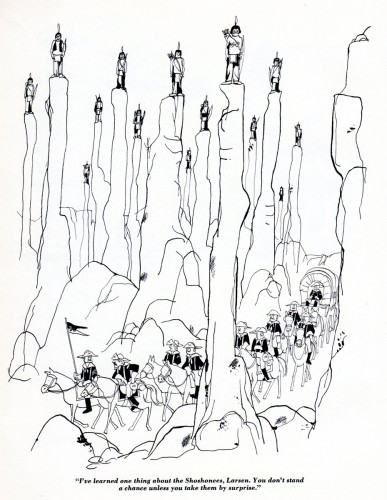 8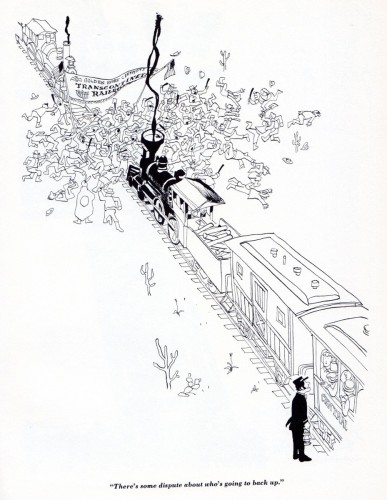 9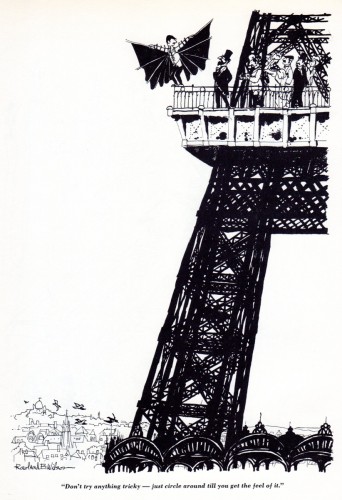 10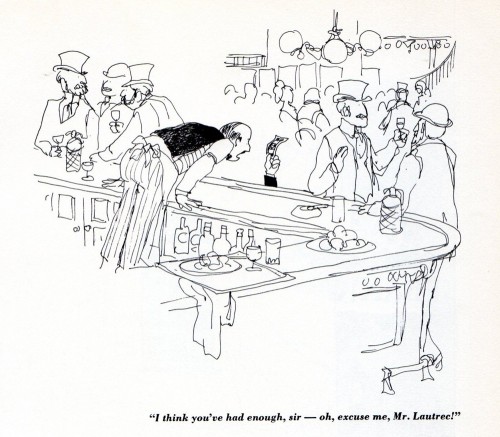 11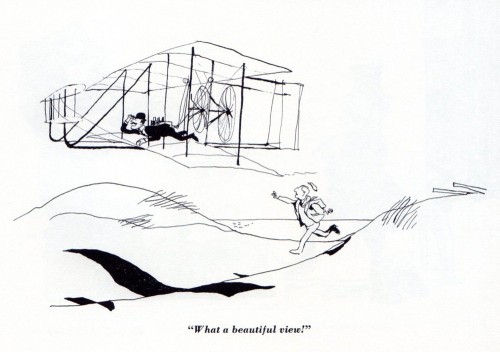 12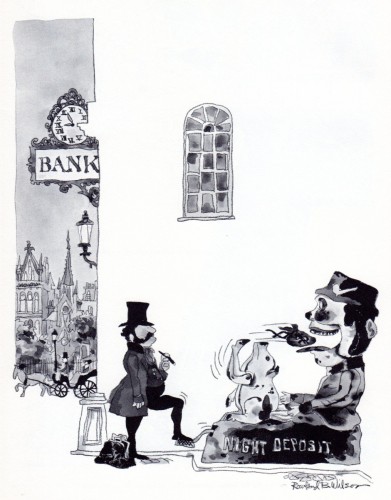 13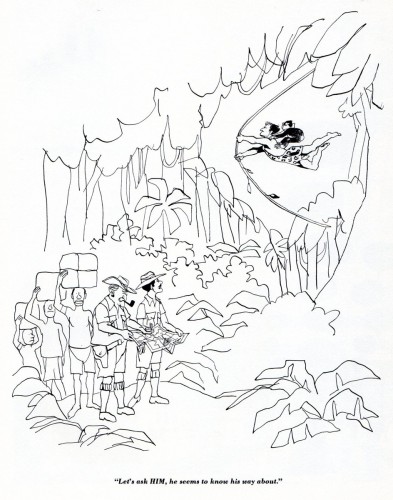 14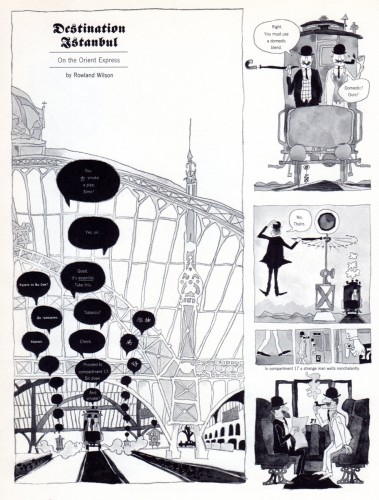 15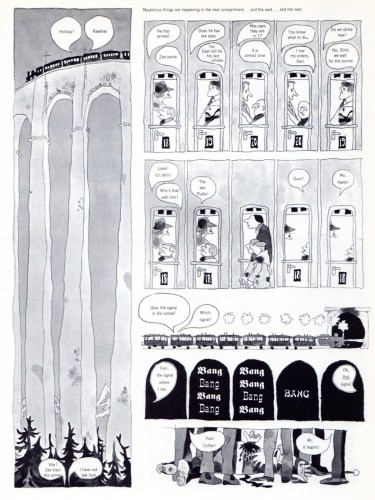 16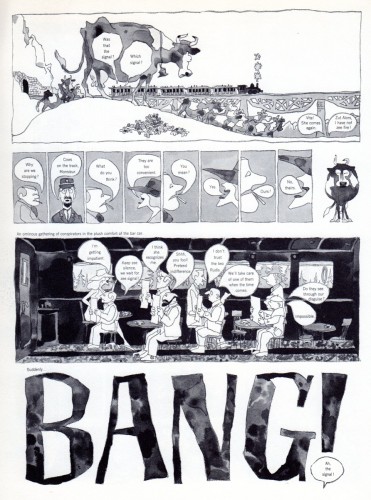 17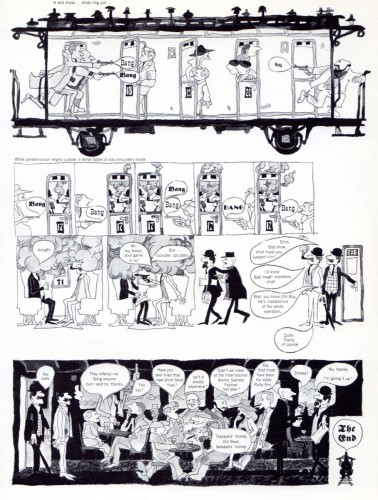 18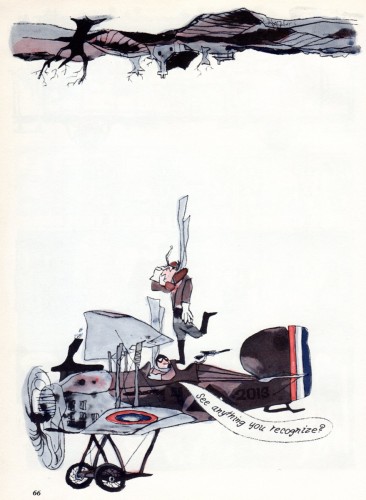 19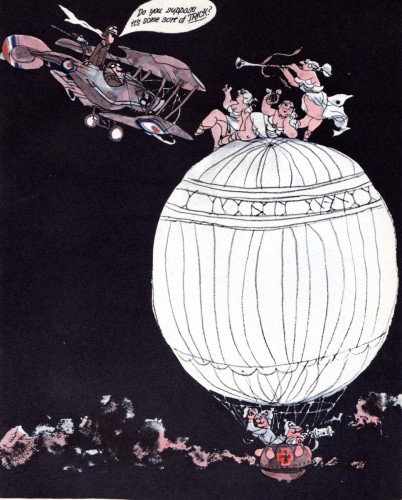 20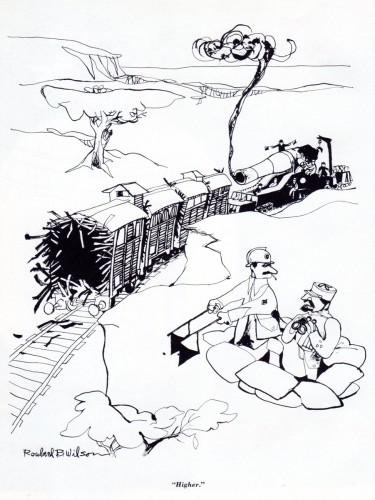 21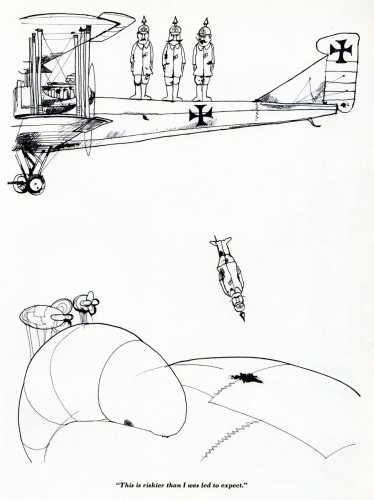 22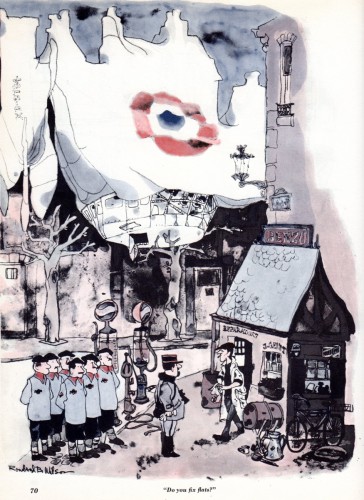 23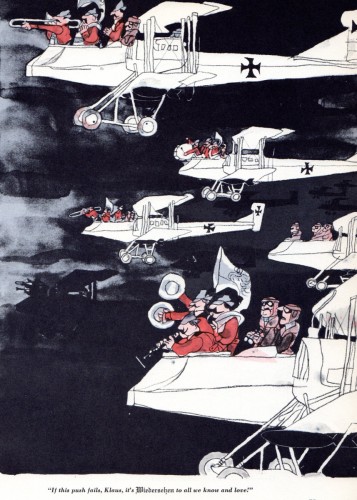 24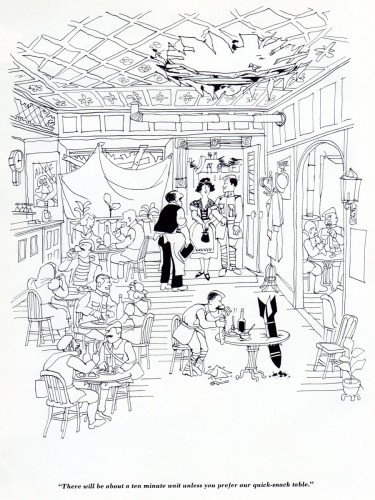 25
Here are some photos taken in 1970 at Focus Design Studios.
They are of some of the crew that produced and work on
Rowland's early TV commercials, like Utica Club's 'Mountie' beer spot.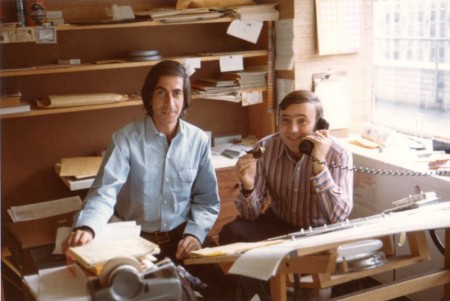 This is Sid Horn, producer and Phil Kimmelman, director.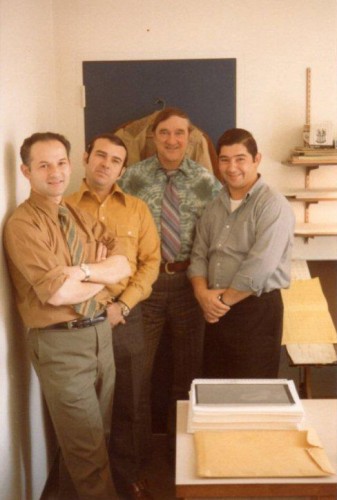 Dante Barbetta, Roger Mejia, Gerry Dvorak and Victor Barbetta.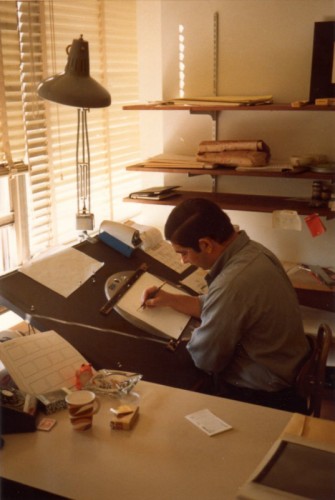 Victor Barbetta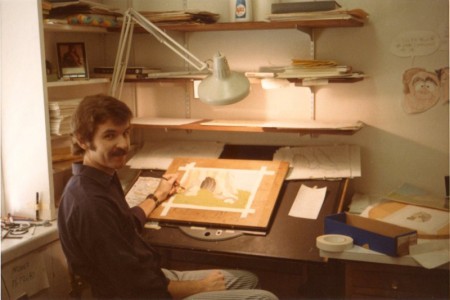 Bill Peckmann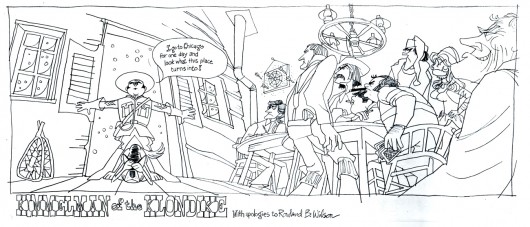 from Bill Peckmann: I'm sticking this drawing on the end because
it was done about a year (1969), before the photos were taken.
It's one you've posted already quite a few years ago, but
maybe this photostat might be of better quality?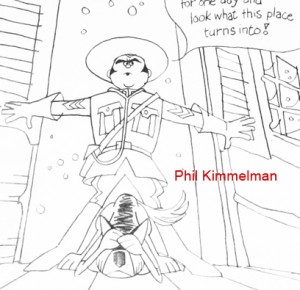 .

.

.

I've split the drawing up and used George Griffin's notes to mark up and identify the people within the caricature and to make it a bit easier to read.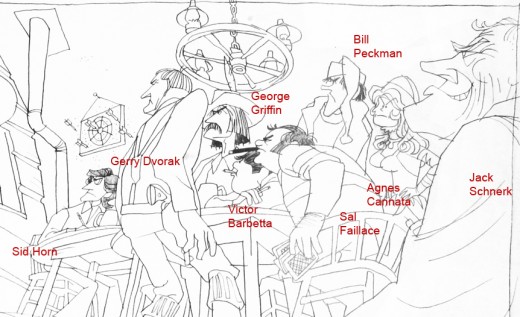 The Mountie ad starts at 3:31.
Another Rowland Wilson ad starts at 0:31.
3 Responses to "Whites of Their Eyes – 3"
on 27 Jul 2012 at 1:01 pm 1.anik said …

Beautiful drawings, so much personality! Especially those purely linear ones, like 1, 7 and 11.

on 27 Jul 2012 at 2:19 pm 2.Ray K. said …

Some great stuff from Roland W. and Jack Schnerk.

That Cheerios spot at 1:37 is great—and beautifully retro-chic. If DFS or General Mills has a decent print floating around in a supply closet I think it would do great on TV tomorrow.

on 27 Jul 2012 at 4:00 pm 3.Suzanne Wilson said …

At the recent Comic-Con I had the honor of speaking with the legendary Sergio Aragones. He reminisced about Rowland Wilson and recalled the cartoon "Do you fix flats?" (No. 23).
It's wonderful to know that 50 years later these cartoons are remembered and still circulating. Thank you for posting them.
Leave a Reply