Action Analysis &Animation &Animation Artifacts &Disney &Tytla 13 Sep 2012 05:48 am
- Bill Tytla is probably the finest animator who has graced the history of the medium. He was a brilliant actor who dominates most of the classic early films of Disney work. Snow White, Pinocchio, Dumbo, and Fantasia are all appreciably greater films because of his work. In studying this master's work frame by frame you can see a real elasticity to the character, one that is not apparent in the motion of those same characters. There's true emotion in the acting of these characters, and it's apparent that he uses that elasticity to get the performances he seeks.
There's something else there: Tytla's roots were in Terrytoons: I have no doubt you can take the guy out of Terrytoons, but it seems you can't take the Terrytoons out of the guy.
Let's look at some of the drawings from some of the scenes I posted here in the past.
Where better to start than with those gorgeous dwarfs from Snow White. Here's a scene I posted where all seven are animated on the same level as they carry Grumpy to the wash basin. If he won't clean himself, then the other six will do the job for him. Take a look at some of the distorted characters in this scene, then run the QT movie. Look for the distortion in the motion.
As for the drawing, like all other Tytla's scenes it's beautiful. But tell me you can't find the Terrytoons hidden behind that beautiful Connie Rasinski-like line.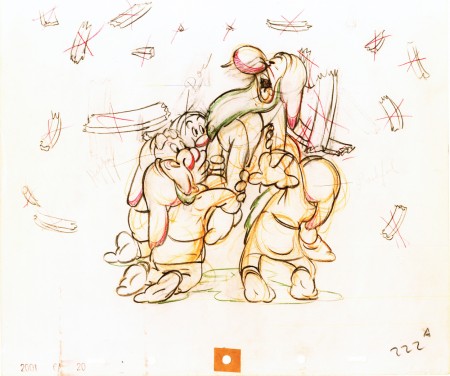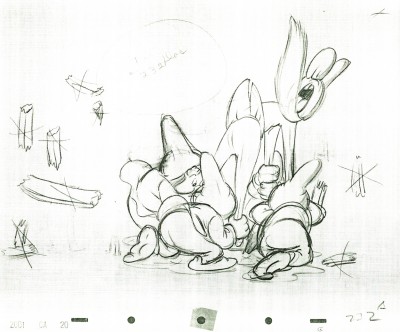 232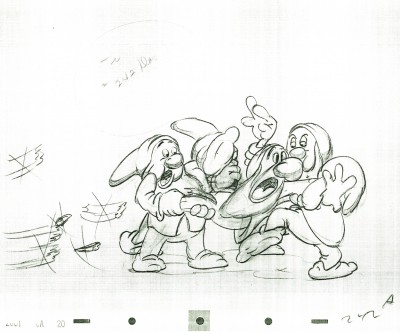 242
Flipping over to Stromboli, from Pinocchio, we find animation almost as broad as many Terrytoons, the difference is that Tytla's drawing that roundness and those enormous gestures on purpose. He knows what he's doing and is looking to capture the broad immigrant gestures of those Southern European countries. Stromboli goes in and out of distorted drawings, as I made clear in a past post.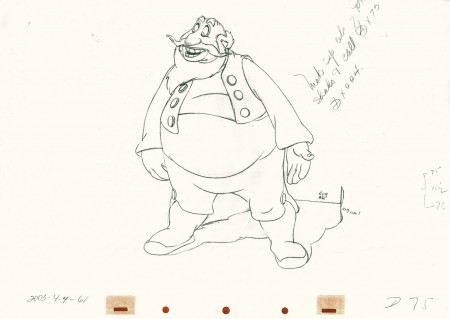 75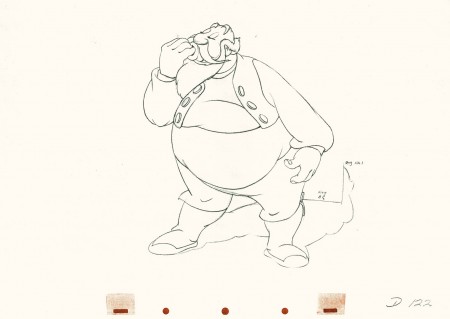 122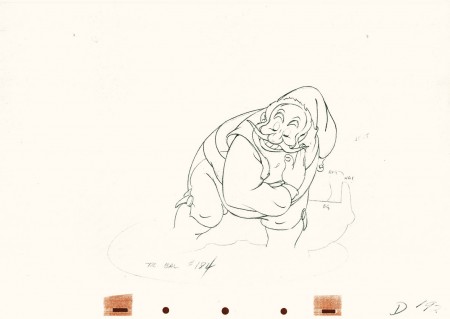 192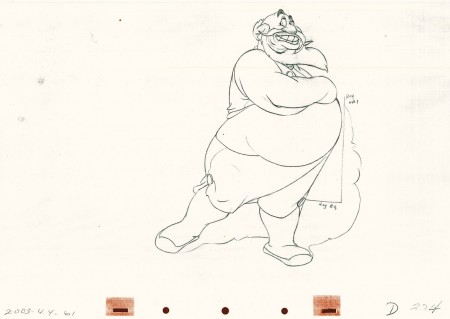 224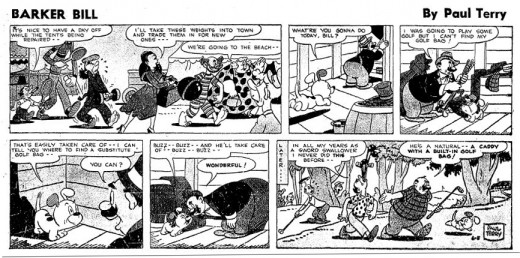 A strip by "Paul Terry"as starring his 1930s character, Barker Bill.
Borrowed from Mark Kausler's blog It's the Cat.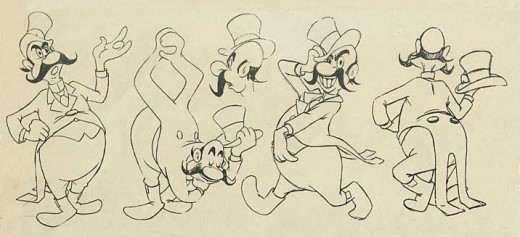 from the Terry short, The Tempermental Lion
The Laughing Gauchito was a short that was, no doubt, going to be part of The Three Caballeros. Tytla, Frank Thomas and Ollie Johnston had all animated for the short before Disney, himself, cancelled the production.
Here are three drawings from the film, and they are all beautiful extremes from the scene. (Tytla marked his extremes with an "A" to the right of the number, or at other times with an "X" in the upper right.) The beautiful roundness does not come at the expense of his drawings. Below the Laughing Gauchito we see a cartoon drawing by Carlo Vinci from a 1930′s Terrytoons short.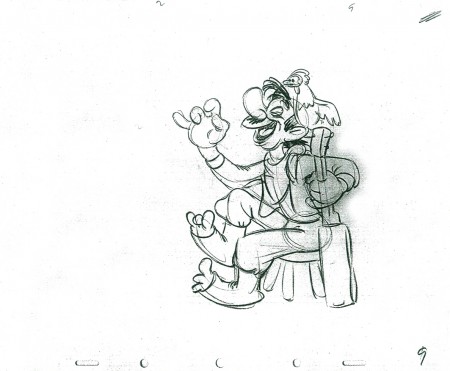 9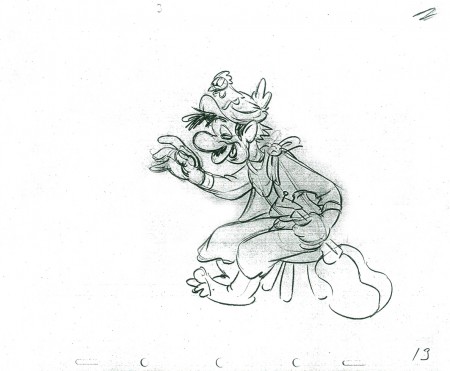 13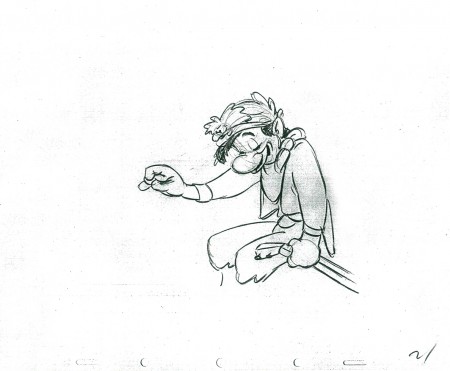 21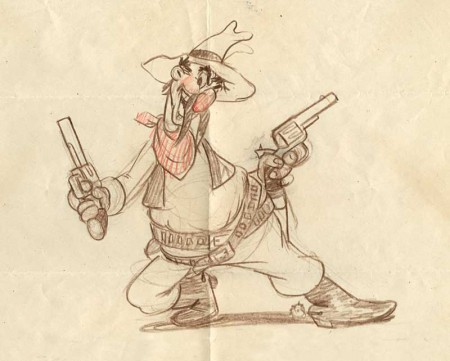 A Terrytoons drawing by Terry artist Carlo Vinci from a mid '30s short.
borrowed from Animation Resources
Here's a scene Bill Tytla did for a Harman-Ising cartoon. He was the supervising animator, and the lack of Disney becomes evident in the drawings. The animation is closer to a Terry short than what he did at Disney's. The movement feels muddy in that actual cartoon. I'm sure it was his own animation trying to blend with the style of Harman's work.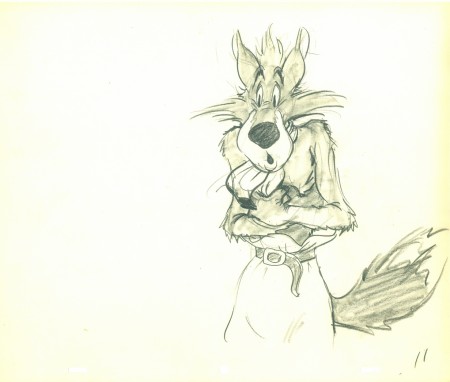 11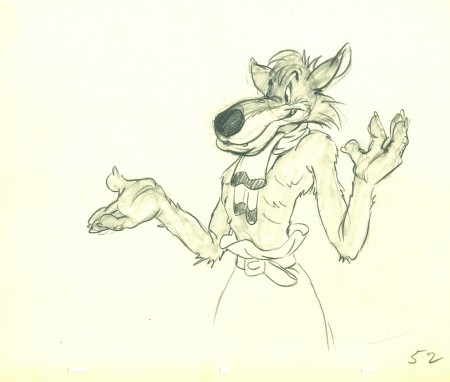 52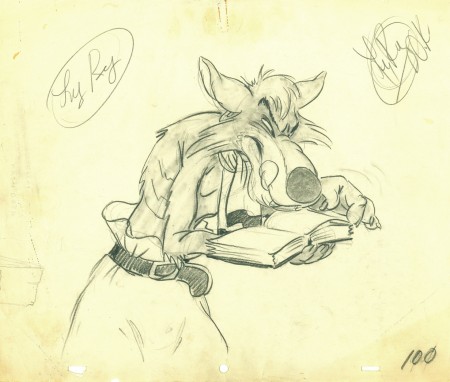 100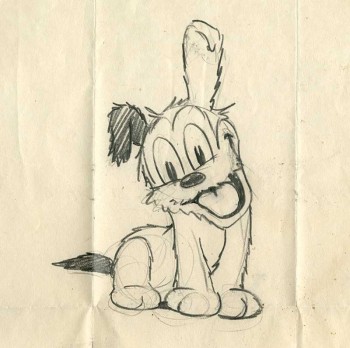 Another beautiful Carlo Vinci drawing from a 30′s Terry short.
borrowed from Animation Resources
And here's a drawing out of a Little Lulu cartoon. I's not a film directed by Tytla, and is not a good drawing. But Tytla's influence on all the Lulu shorts at Paramount at the time can't be denied. It certainly looks more Terrytoon than Paramount. This is not even a good Terry drawing – though its for a Paramount cartoon.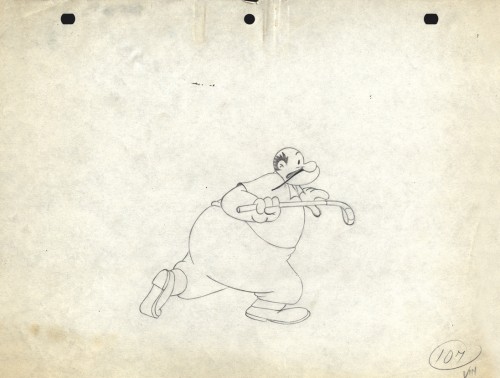 Back at Disney, Tytla animated Willie the Giant from the Mickey short, The Brave Little Tailor. This character, like Stromboli, owes a lot to Terrytoons. I felt this when I first saw the short as a child, and I still think it true. The same, I think, is also true of the same Giant character when he appears in Mickey and the Beanstalk, which Tytla obviously didn't animate but would have handled if he'd stayed at the studio.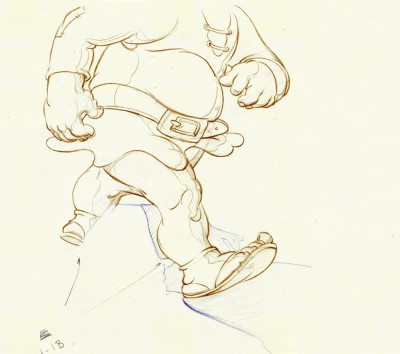 3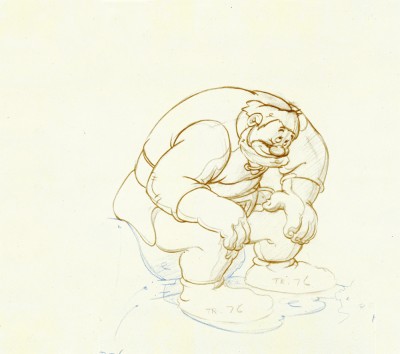 6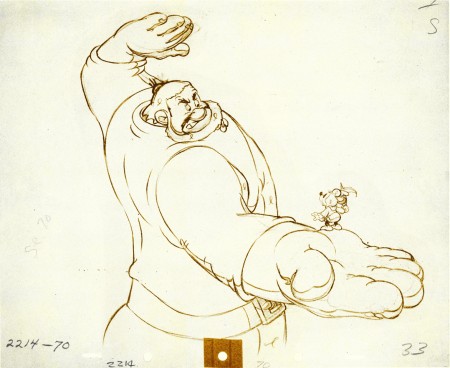 8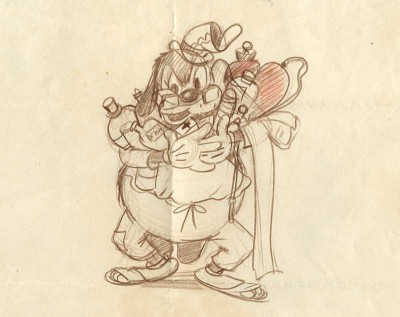 Another Carlo Vinci sketch.
borrowed from Animation Resources
This following, last drawing is a Tytla drawing I own. I know Tytla did it. He gave it to Grim Natwick who gave it to Tissa David who gave it to me. It's a gem.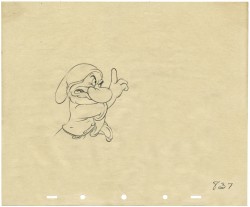 10 Responses to "Tytla's Terry-Disney Style"
Leave a Reply