Books &Daily post 29 Sep 2012 06:55 am
Egos
There's been a relatively short conversation going on at the comment section of my blog for an older piece I'd repeated this past week. The discussion has been about Eyvind Earle. The first few visitors who commented all wanted to express their dislike of this film (particularly the story) and Eyvind Earle's design work, in particular. "Scott's" dislike of Mr. Earle's work extends to his personal attitude while working on the film. He, according to "Scott", was thick headed and wouldn't listen to any requested changes to his designs, allowing his ego to take charge of the work. (I'm not sure that I see that on the screen, nor did I really feel that when I met the man when I got to spend an afternoon with him as I accompanied Mike Barrier on an interview. I admit it is possible though.)
In fact, I think the ego is essential in breaking new waves and advancing the art form. Adam Abraham in his book When Magoo Flew writes about the ego of John Hubley in running his productions at UPA. If he wanted a specific blue, that's all that he would settle for. The report is that he was oppressively insistent on it being his way only. I worked for Hubley for years and never got to see that side of the man. Oh, there was a well deserved and big ego there, but it never got in the way of the art being created.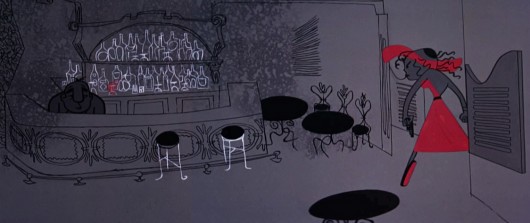 Rooty Toot Toot
We've seen Bill Peet complain about Bill Tytla's use of his (Peet's) drawings while working on Dumbo. According to what I've read, Peet complains that Tytla took full credit for the sequence of baby Dumbo running in and around his mother's legs, when Peet felt it was his scene, his key drawings that made the scene the perfect piece that it was.
Chuck Jones, while working briefly for Disney (on Sleeping Beauty), told Walt that he had to leave the studio. When Disney asked what job Jones really wanted at the studio, Jones said, "Yours." He felt that only Disney's job was suitable for him. Talk about ego. The ego was even larger than that when you realize that it was Jones, hmself, that told me that story – however real it actuall was. The egos of Jones and Clampett and even Freleng vie over who created what character.
Egos are necessary in an industry of craftspeople and artisans, especially when an artist is trying to get something brilliant out of them. Thomas, Johnston, and even Kahl were brilliant actors with amazing abilities of draftsmanship. But the film, the bigger picture, needed a direction which Earle gave it. Just look at the wretched Reitherman films to see what Thomas, Johnston and Kahl turned out without the strong, smart director who was also an artist. Tytla took animation to another level, he was truly an artist, himself, but look at the miserable little films he directed when he left Disney's studio. Even the support system of that studio wouldn't have helped Leprechauns Gold or Snap Happy. (Mind you, I love Snap Happy, but it has no relation to art.)
Here's a small piece David Parfitt wrote:
Tytla was a tough guy who used abusive language and irritated his fellow animators. Ken Anderson (Disney Legend for Animation and Imagineering) went to Walt Disney to express frustration at the way Tytla treated his coworkers. Walt Disney replied, "What do you think of Chernabog, the God of evil, in 'Fantasia'? What do you think of Stromboli in 'Pinocchio'?" Anderson (the art director for both films) replied, "They are some of the most powerful and vicious villains we've ever done." Walt Disney looked at Anderson and said, "Where do you think all that anger comes from?" Vladimir Tytla was a maverick who needed to release anger and energy to manifest some of the most powerful imagery ever produced by the Disney Studios. A maverick is difficult for a company to grapple with because of their abrasiveness and the way they go against the way things typically run. Yet out of the agitation and irritation often comes a new direction that could secure a company's future.
Sleeping Beauty changed the Disney studio forever. The animators and artists there, with the exception of Ward Kimball and a few others, fought against the use of 20th century graphics in their films, yet UPA's influence slowly crept into the mix. Finally when Walt Disney, himself, chose Eyvind Earle and put full support behind him to design this film as he saw fit. The animators all fought Earle and continued to bad mouth him to the end of their days. Yet Earle's style, as well as Tom Oreb's great character designs for that film, are frequently copied by the new generations of artists. The backgrounds and some of the character design are stolen directly from Sleeping Beauty. Even though the SB art is a play on 15th Century manuscripts and art, it was used for the Pocahontas forests.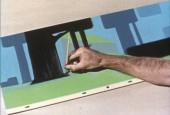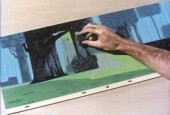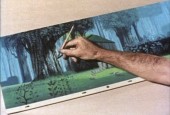 Painting Sleeping Beauty
Nothing at Disney, with the possible exception of Bedknobs and Broomsticks went back to the past to illustrate their films henceforth. Until, of course, today's new artists in animation who just steal from other past films. Bluth's Small One or is virtually without style. Tim Burton is possibly the only exception I can see of this current view of the state of animation. The regurgitated past of other artists who deservedly had egos aglow. We go on. Perhaps someone like Genndy Tartakovsky will bring some of the panasche he brought to Samurai Jack.



Samurai Jack
By the way, there's a good interview with Tartakovsky on this week's on-line version of the Village Voice.

________________________________

Books
.
- There are a couple of books I'd like to write about.
.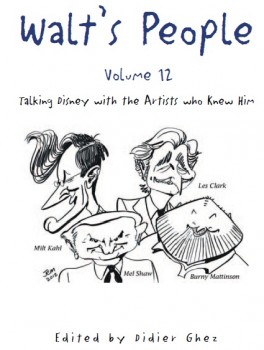 - Let me mention
Didier Ghez
' latest volume of his interview series,
Walt's People
.
Just released is
Walt's People – Vol. 12
. Just the idea of 12 volumes of any book in print, is quite extraordinary, and amazing feat for Didier Ghez to pull off.
I own about a half dozen of this series and have read all of them at least twice. Most of the interviews are exceptional, some are smart, and the rest are just very good. In all there are those interviews that give us some real insight into the process and history of the making of animated films by the professionals who did it. Les Clark, Larry Clemmons, Charlie Downs, Al Eugster, Sammy Fain, Milt Kahl, Burny Mattinson, Paul Murry, and Mel Shaw are among the many who are interviewed in depth for this new volume. Some of our greatest historians (Robin Allan, Michael Barrier, Albert Becattini, John Canemaker, John Culhane, Pete Docter, Chris Finch, J.B. Kaufman, Jim Korkis, Dave Smith, and Charles Solomon among others) conduct the interviews.
It's just another great volume in the series. You should own them all; I should own them all, to be honest, and I will.

________________________________

Ganesha's Sweet Tooth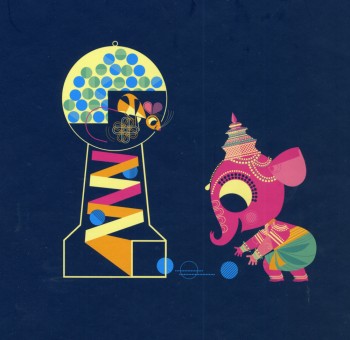 - As previously reviewed on this blog, Sanjay Patel will see his first children's book, Ganesha's Sweet Tooth released this week by Chronicle Books. I have a sore spot for Mr. Patel's work. He's an artist who works by day at Pixar and is an artist, with his own very defined style, working extensively after hours.
I've reviewed many of his books and have a real fondness for The Ramayana. Were I you, looking to explore this artist's work, I'd buy Ganesha's Sweet Tooth. Once you have it and want more – you will – go for The Ramayana. It's a brilliant masterwork.

________________________________

Snow White x 2
- Unless you've been hiding under a rock, if you're an animation fan, you know that the brilliant historian, J.B. Kaufman, has not one but TWO books on Snow White about to appear on the market.
The Fairest One of All: The Making of Walt Disney's Snow White and the Seven Dwarfs and
Snow White and the Seven Dwarfs: The Art and Creation of Walt Disney's Classic Animated Film
are the two titles by Kaufman that focus in great depth on that film and its development. This is to celebrate the 75th anniversary of the feature, and will coincide with a display that will appear soon at the Walt Disney Family Museum in San Francisco.
Both books come from the Walt Disney Family Foundation in conjunction with the Walt Disney Family Museum. I've seen the Art of Creation book, and was completely taken with it. I will most definitely own both books. The film means much to me, and I want to own anything Kaufman writes. It's a no-brainer – double my pleasure.
By the way, part of the reason I'm looking forward to reading these two books is to compare it with Michael Barrier's amazing writing on this period at Disney's studio. In Hollywood Cartoons, there's a large part of the book dedicated to the development andcreation of this particular film. Then in The Animated Man: A Life of Walt Disney Barrier tells the same information but from a different perspective entirely. This biography of Disney is wholly involved with Walt Disney, the man and artist. It's a unique turn that we only see in the poorly written Diane Disney Miller book, The Story of Walt Disney. As Walt's young daughter she could see the story no other way than from his perspective. While waiting for the Kaufman books to come out, read either of Barrier's books for the best, to date, version of the Snow White story. It's strong writing.

_________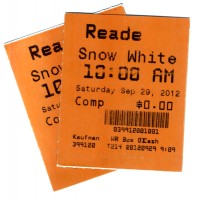 It's appropriate that I was invited to a 10am screening of Snow White at Lincoln Center this morning. It's part of the NY Film Festival's 50th anniversary celebration. Eric Goldberg introduced the film with a brief and smart little talk about the animation. Talking about The Old Mill as a test run for the Multiplane Camera, talking about the Three Little Pigs first offering characters that looked alike but had characterization defined by their animation (as did the dwarfs), talking about The Goddess of Spring being an enormous failure for Ham Luske who succeeded animating Snow White. It was nice to say hello to Eric prior to the film. We haven't seen each other in about five years. It was nice also to see the film projected. I saw the movie on tv/dvd only a couple of weeks ago, but it's a very different experience on the big screen. The digital transfer was glorious, merciless and disastrous. The ink lines were so sharp that you could actually feel how deeply the crow quills cut into the cels. However there were many points where individual frames had slight digital distortion to hurt the ink lines, and the magic mirror actually had the detritus of digital compression across the center of the mirror. Someone should have been there to supervise the transfer.
Paperman played prior to Snow White. It was animated cgi, then flattened and lines were added atop the flattened drawings. I can't for the life of me understand why it wasn't just animated by hand. It would have cut the cost in half and had more life to it. Sorry, I don't think it worth the Oscar. Though you never know it may be the best film, this year.

________________________________

Tales of the Night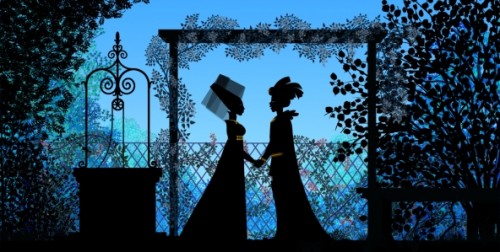 - Michel Ocelot has received another excellent review from the NYTimes. Tales of the Nightis reviewed by Andy Webster in the Times, and is Ocelot's latest feature length animated film – his first in 3D – and the reviews are sensational. It's screening as part of the Children's International Film Festival and plays at New York's IFC Theater through next Tuesday. This is a silhouette film in brilliant color.
His films are beautiful and deserve to be seen in a theater. I'd heartily recommend getting to the theater if you have the chance. Hopefully the distributor will submit this one for Oscar consideration. Though the look is 2D, the graphics are done via cgi as was the case with his past films, including Azur & Asmar, Kirikou et les betes sauvages, Princes and Princesses, and Kirikou and the Sorceress.
Some amazing animation is coming out of France these days.

________________________________

More Reviews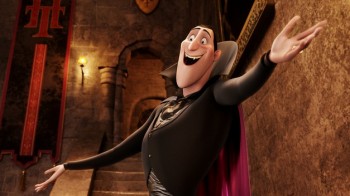 Now to the bigger release for the smaller film department:
Adam Sandler's second animated feature, Hotel Transylvania, opened to mostly poor reviews by 2nd string reviewers.
NYTimes sent Neil Genzlinger to give his negative review. The most positive line is: "The movie loses its originality as it rolls toward its predictable conclusion, but it's still lovely to look at."
Someone named Sara Stewart reviews the film for the NYPost and gives it a middling 2½ stars. "Director Genndy Tartakovsky ("The Powerpuff Girls," "Samurai Jack") is a natural fit for this kid-and-parent-friendly flick. The animator's wit and attention to detail enliven a collection of well-known ghosts and ghouls. (Though Tartakovsky's more traditional TV-cartoon style is still superior, as evidenced by his playful closing credits.)"
Joe Neumaier, the 2nd rate first stringer of the NYDaily news gave it a mostly positive 3 star review. "This being a Sandler movie, the humor skews toward the infantile (fart jokes, peeing baby werewolves). But the sleek visuals are rich and glossy, placing the characters, who look like Halloween door decorations, in baroque hallways or secret passageways."
I enjoy the reviews in The Onion, and their review for this film by Tasha Robinson doesn't disappoint. A C+: "Tartakovsky gets a long way on wild design and visually daring sequences. His work has always been adventurous, experimental, and conceptually creative, and he hasn't lost any of his energy or capacity for staging a memorable setpiece."
Whatever happened to the feature length version of Samurai Jack that J.J. Abrams was going to produce wth Tartakovsky directing?
11 Responses to "Egos, Books, and Michel Ocelot"
Leave a Reply