Animation Artifacts &Daily post &Photos 02 Dec 2012 07:01 am
- Way back when, I did a couple of photo posts where I snapped some pictures of things that floated around me in my studio. Things I loved because they were around me, or maybe things that were around me because I loved them. I'm not sure which was which – the chicken or the egg. (See here and here.)
Well, as I once wrote, I'm currently working out of my home for the moment with my studio space in storage. Now, I've got a whole bunch of different things around me. These aren't so obviously animation inclined, but I still love them. So let me give a show-and-tell around this room in the apartment.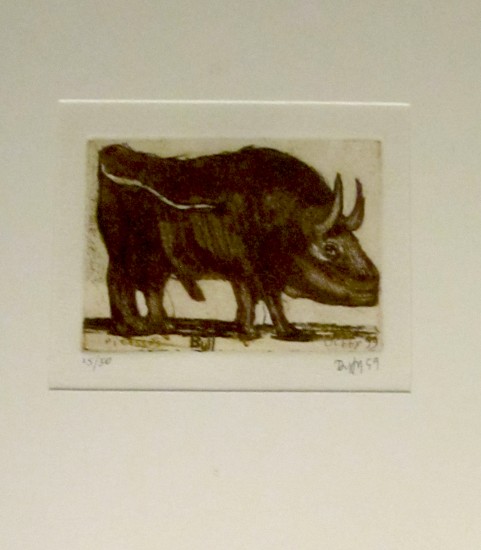 1
This is an etching that Heidi bought me for a birthday or some
other gift-giving-event. It's a tiny picture of a bull which is
framed and positioned over Heidi's computer in the living room.

I like this little guy.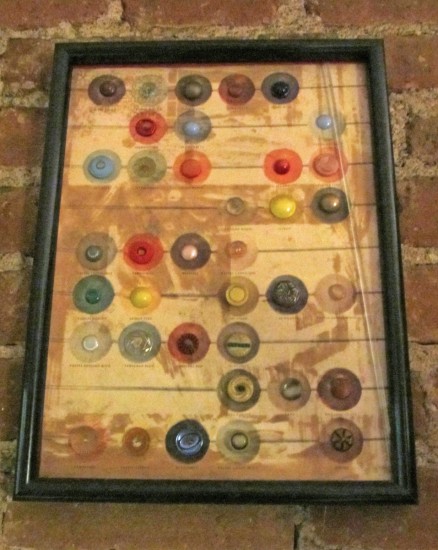 2
Heidi found this framed and dusty collection of buttons framed and
sitting inside the window of some garment-district store. I guess the
idea was supposed to be the display of the plastic buttons. It sits
hidden in the corner of the living room. I like it a l lot.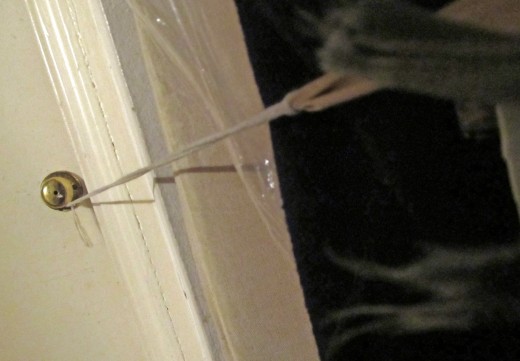 When we mixed our three cats together, Robbie, Alexander and Lola, it was
inevitable that they, all three, wouldn't get along together. Robbie and Alex
are fighting friends (boys); Alex and Lola get along (boy and girl) ; but all 3
together don't make it. Lola's claimed the bedroom for herself, and if Robbie
even tries, horrendous cat cawls emerge from the bedroom. Of course, all
Robbie wants to do is get into that bedroom and start the wail we hear.
So a rope ties the bedroom door to a hall closet keeping the entrance impossible
for Robbie. The rope started out as a bathrobe belt, got some silk ribbons added
when that broke; and finally some twine extended it to the second door.
Whatever, it works.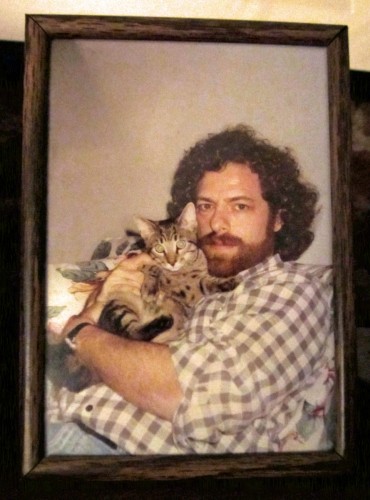 4
Ah, for the good old days of baby Claudie. I loved that guy.
He died in my arms on a final visit to the vet. He knew how
to do things, that boy. I loved him for 20 years.
His picture is over the piano in the living room.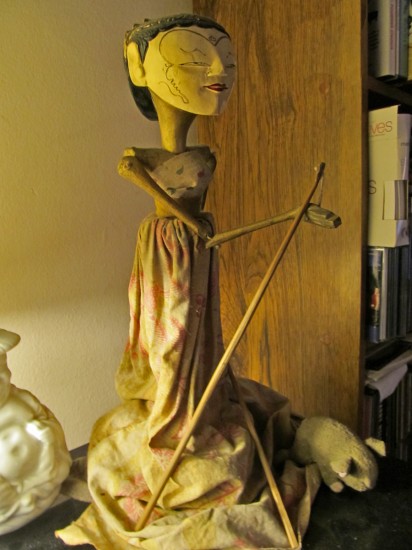 5
I'm sure you'll remember that I'm a puppet guy.
This Indonesian rod puppet sits atop the no-longer-in-use
record changer. Both like to gather dust, and Heidi attacks
the dust weekly week or there abouts depending on the weather.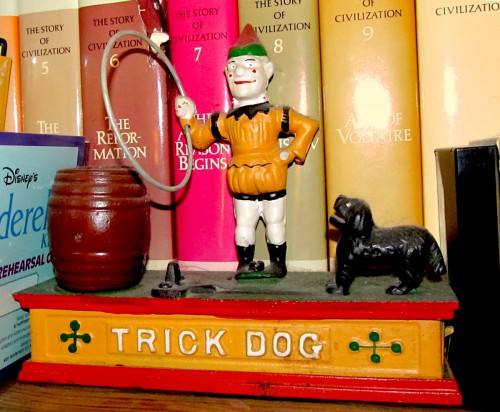 6
This trick bank is no doubt an iron reproduction, but
it's still great just as it is. Put 5 cents in the dog's
mouth, and he jumps through the clown's hoop to
deposit the nickel into the barrel.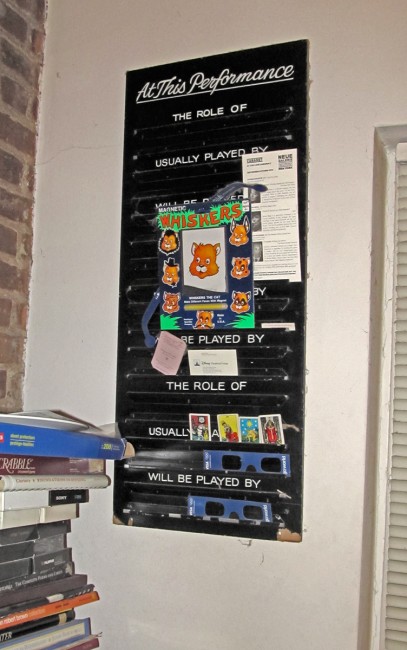 7
This replacement board came from the Winter Garden Theater.
When an actor doesn't make it for a show, the board announces
the names of any replacements that'll be going on. Heidi's name
appeared here many times as she sat out the end of Cats.
When Cats closed and Mama Mia opened they got new boards backstage.
Lots of junk – such as 3D glasses – have replaced the sliding names
(which Heidi also has in the back. They don't make the item any more
exciting.)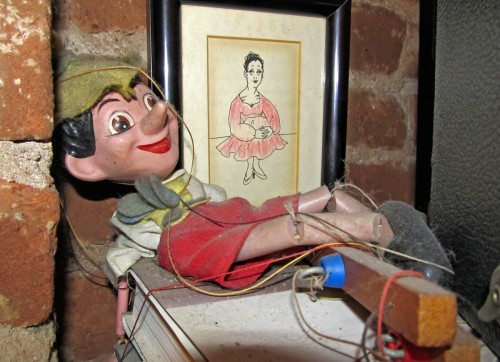 8
Pinocchio is something of an antique. The puppet sold in 1939
when the Disney film was released. It's made of a wooden mulch.
Sort of a mix of sawdust combined with glue; he looks just like
the real thing. Behind Pinocchio is a picture drawn by a childhood
friend of Heidi's.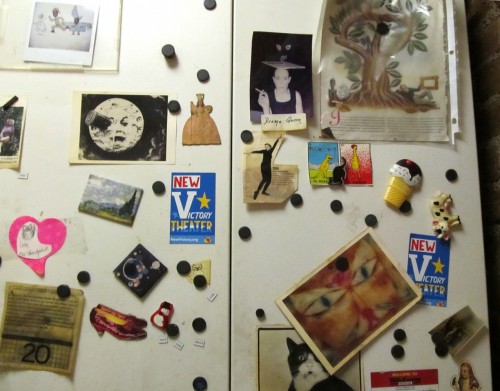 9
Finally there's the metal kitchen cabinets. Magnets hold a lot of
pictures in place. God help us if there's to be an East Coast
earthquake. Lots of magnets mixed with images would wind up
in the sink.
Leave a Reply