Search ResultsFor "two guys named joe"
Animation Artifacts &Books &Commentary 02 Jan 2013 09:07 am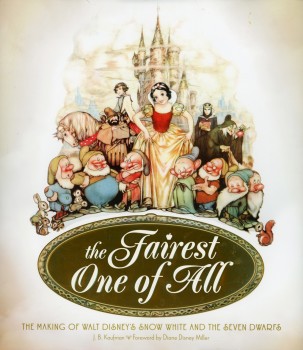 - I received a number of wonderful gifts this Christmas. Among them, from Heidi, came the two – count them, two – J.B.Kaufman books: Snow White and the Seven Dwarfs: The Art and Creation of Walt Disney's Classic Animated Film and The Fairest One of All: The Making of Walt Disney's Snow White and the Seven Dwarfs . Receiving one of these two books, both of which are expensive, is a luxury and a great gift to be treasured, but to receive both is above and beyond the treasure category. This is beyond the hoped for. And of course if you were asked to give the "list" of hoped for books, you feel guilty just requesting them. One of these books is expensive; the other is VERY expensive. Together, it's outrageous. Unless, of course, you're Mitt Romney's child.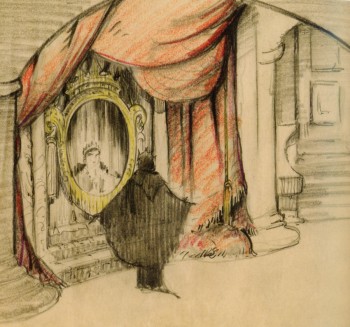 So I received both. I It was like having the Squid AND the Whale in my house, and I spent the day, in between Christmas outings, fingering both books delicately. I'd seen the less expensive book, Snow White and the Seven Dwarfs: The Art and Creation of Walt Disney's Classic Animated Film, on a couple of different occasions. It's beautiful.
The other book, the one that costs almost twice the price of the first, I'd seen that book on a table – away. No copies. That made me want it all the more. It's the book that has more of the writing in it. And that's what I want – the words, the history. Those images are glorious, but the thoughts and ideas of Kaufman and others he's investigating are the stuff I search for today.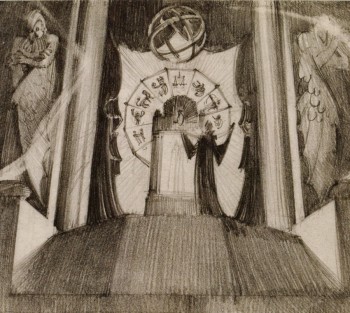 I started digging into and reading this second book: The Fairest One of All: The Making of Walt Disney's Snow White and the Seven Dwarfs , and there were no disappointments here – not yet. As a matter of fact, it's to the contrary.
In the rear of the book, "Section Four: Production Notes," Kaufman breaks the film drafts down verbally. Scene to scene, cut to cut we read who the directors are, who the animators were as well as their key Assistants. And the Effx Animators as well as the Asst Directors.
Funny how I thought, just now, how these last 3 names are less important than others. I don't know why or if I really believe that. The information is there to disprove it one way or the other. This is a fine little section of the book. It gives real homage to the people behind the glorious animation of this film. Maybe someday we'll be able to figure out who did which background. Take a look at that scene of the Queen sitting on her throne. Why is there no record of who was involved in painting that amazing backdrop? I seem to remember Maurice Noble talking about the scene, but I don't have the verification to back up such a claim. I'm not a historian; I just have a faulty memory. All we have is whatever information the Disney archives can tell us. If they were able to tell us anything, Mr. Kaufman most certainly would have taken the information to print.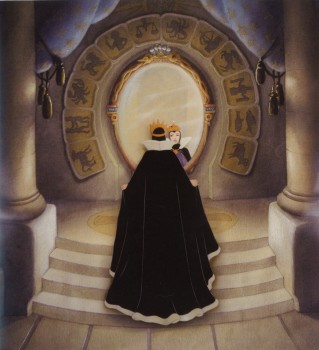 The Queen at the magic mirror. Note the astrological
signs surrounded the mirror from the very beginning
- see above preliminary drawings.
I'm not going to review the two books here; I haven't really read them and can't do that. I do know that they're great books; you can sense it, see it, feel it, smell it. Snow White's a seminal film for me. I get a thrill whenever I see some of the scenes from this movie, and I'm always hooked on it. The two books will keep me busy and help to let me feel the reason I love animation.
Truth be told, I can't imagine anyone giving me more information than Mike Barrier did in his book, Hollywood Cartoons: American Animation in Its Golden Age. Or again he did it in The Animated Man: A Life of Walt Disney. The writing in those books is brilliant, but so, too, is it great reading in Kaufman's books. The story by Barrier is complete, and I've already read both of his books half a dozen times, each. These two Kaufman books will keep me busy, and I'm happy for that. I'm sure the story will be more than complete here, too. I don't know if there's any more to learn, but I somehow suspect we will have a new view. At least I have good reason to believe so; I know I'm in the hands of a good historian, and I don't expect to put these books down.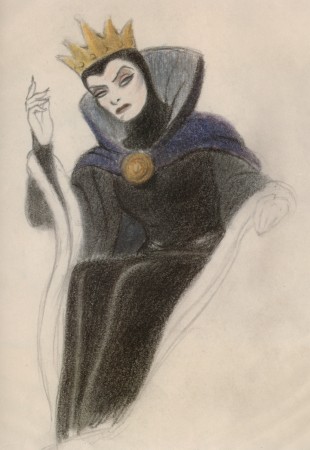 The Queen on her throne -
ah, there's a background!

But I'll save that for the real review.
By the way, don't ask me why I called this post the heading I chose. Guernica Eyes. It seemed to fit, especially with that last Joe Grant drawing I've displayed. An amazing talent in a studio filled with amazing talent. When you see some of the art he did for Snow White, you can have no doubt of that. (As if you would after reading John Canemaker's Two Guys Named Joe.
Books &Commentary 28 Jul 2012 08:03 am
Some Great Books
I'd received a note from Fraser MacLean this week. He's the author of the brilliant and beautifully illustrated book, Setting the Scene: The Art & Evolution of Animation Layout. It was odd that I'd just been talking about his book when I'd heard from him. This got me to think that I might post a reminder of a couple of the excellent books that were released this year. I'd reviewed a number of them, and would like to keep them at the front of your mind, so to speak. Here are three easy picks to tell you about.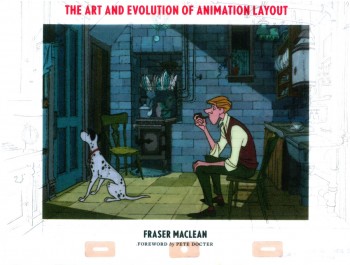 Setting the Scene: The Art & Evolution of Animation Layout is a book about Animation layout, obviously, and it belongs on every bookshelf of those who work in the medium or are interested in it. I guarantee your first visit to this book, though, will be your ogling the incredible illustrations. They're just wonderful. From 101 Dalmatians to the Cobbler and the Thief, from Pixar to Dreamworks. It's an attractive book.
The book covers layout from the point of traditional 2D animation, preparing for the camera, as well as for the computer. It also covers the Layout of animation for cgi films. (See my full review here.)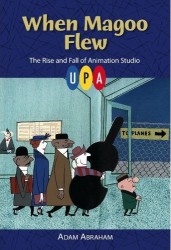 At the top of the list this year would have to be Adam Abraham's fine book, When Magoo Flew: the Rise and Fall of Animation Studio UPA. It is a gem. This is an intensely researched book about the studio that changed the direction of animation in the late 40s.
The book is a very political one, or at least it's about the politics of the studio that grew out of the Disney strike and pushed on through the McCarthy hearings with their hot design influences. The politics also refers to the ins and outs of the studio, whether it's John Hubley not liking Herb Klynn's artwork or Jack Heiter losing his job for refusing to listen to Jules Engel's thoughts on color.
There's a lot in this book and it's a treasure for anyone interested in that studio or those people. It also helps that a brand-spanking-new DVD was released at the same time with many of the important films from the studio. Jolly Frolics, the UPA Collection. We're still waiting for the Magoo Theatrical Films to be released, as promised, on DVD. Mr. Magoo:Theatrical Collection
This book also has a companion website, When Magoo Flew, hosted by the book's author Adam Abraham. There's material there which you won't find in the book. (Se my fuller review here.)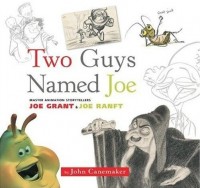 The third book I'll mention here, is a big, lavish, picture book. Two Guys Named Joe: Master Animation Storytellers Joe Grant and Joe Ranft is the story of two story writers and artists working at opposite ends of the Disney Studio, and it was released almost a year ago today.
Joe Grant was one of the old timers who made it through the Golden Age in the 30s & 40s as well as the Golden Age in the 80s. He was a force in the studio, and brought some real art and artistry to the characters and designs he helped develop. Joe Ranft was a youngster who helped put Pixar on the map. His expertise in developing and telling stories made the early cgi features all that they were.
John Canemaker pulls their two stories together and showcases their lives and studio experiences to give an interesting viewpoint of the Disney studio. This is an unusual but excellent book, and in case it's fallen off your radar, I might suggest you take another look if you don't own the book. It's a worthwhile volume to enter any animation collection. (View my full review here.)

________________________

Benzon's Dumbo
On his blog, the New Savannah, Bill Benzon has focused in on Disney's Dumbo and his in depth analysis features quite a few blogposts. Hearty reading for those of you who'd like to see more about this Disney great. (I sometimes think Bill is writing specifically for me; I love it.)

________________________

McLaren Animation – Tooned
Dennis Hermanson of Hillsborough, NC sent me a video that he thought I should post on the site. This is not really my kind of video. It's trying to be Pixar and does a good job of it, but it doesn't do anything to get me excited about animation. But I can see that it would excite others, so I decided to post it here, just the same. I hope you enjoy it.

Episode 01 (Wheel Nuts )
________________________

Daria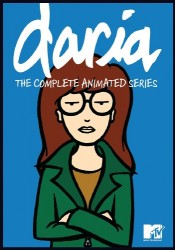 MTV is offering something called MTV's Retro Mania. But I come a bit late because it's ending its Summer run with the return of Daria this next week. Some of their favorite Episodes from the New York produced show, Daria, will air Monday, July 30 until August 3, 2012 from 9:00am to 12:00pm.
If you miss that, you can go to the MTV website and watch episodes on line. Daria.
There was a time, I think, when this show was cool. I guess I have to catch up; I still haven't made it through a show. I did root for the show to do well in that a lot of people who had left my studio went on to do work on the series.
Commentary 11 Feb 2012 07:04 am
- The past week saw little Academy action. We'd seen the Documentary features last week. (Five films within six days.) I found none of them earth shattering. Two were very good:
Paradise Lost 3: Purgatory by directors Joe Beringer and Bruce Sinfosky was one I'd expected to be a drag. I wasn't interested in the subject. However, I found it absorbing and quick moving. The story of three men who'd been sent to prison for murder. This film, the last of a trio of films, proved the innocence of the three and ultimately got them released from prison after 17 years.
Pina is a 3D film about the work of the dancer/choreographer Pina Bausch by filmmaker Wim Wenders. I found it exciting and exhilarating.
This week, the Foreign films are screening. They started Thursday night, but that was Heidi's birthday, and we weren't about to take in a movie. I started viewing the films last night and will continue this afternoon with another. They'll continue through Tuesday.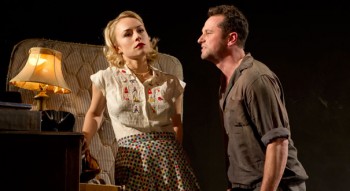 Heidi and I did go to see the play, Look Back in Anger. It was absolutely great. The best play I'd seen in the past couple of years. The director, Sam Gold, limited the stage. The actors have the length of the stage to move, but there's a black wall cutting the width of the stage to about four feet. It really drives home the claustrophobic apartment the characters inhabit. The lead actors, Sarah Goldberg and Matthew Rhys are decidedly stars in the making. The show was just brilliant. I found the mostly negative reviews a bit puzzling. Michael Feingold, in the Village Voice, seems to explain the reasoning behind that mystery. He writes about the British scene coming upon this play back in 1956 and how it broke through their class system and marked the changes that they were facing in heir Country. The US had gone through something similar earlier marked by shows like Streetcar Named Desire. ("Stella!")
Just the same, I got what this version of the show was doing and felt that Sam Gold had pulled John Osborne's play into the 21st Century taking the Kitchen-sink drama and dragging it through Beckett's Theater of the Absurd. Great stuff and very inspiring. Just a bunch of actors and not much more. But very moving.

__________________________
- I love that the dimwitted Rick Santorum won the Republican caucuses/primary on Tuesday. (Boy is this guy a turkey; he's still living in the 18th century.) The Republicans are just showing that they're completely at odds with all of the candidates available to them. The clown show will continue until their convention this Summer, and, by then, we'll all be exhausted with the incessant lies and vitriol these guys throw at each other.
Sorry, I'll get back to writing about animation.
__________________________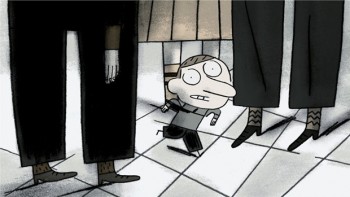 - The Oscar nominated shorts are being shown at the IFC Center – as of now. They make for three good programs. (Actually, I think the animated shorts program is the best of the three.) Here's a review from the Village Voice.
Info on the screenings:
Documentary Shorts
Live Action shorts
Animated Shorts

__________________________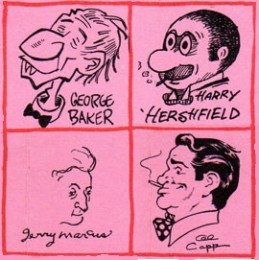 - Bill Peckmann has been contributing artwork to other blogs. On Joakim Gunnarsson's great site Sekvenskonst there is a great piece featuring many self-caricatures of a lot of cartoon and comic strip artists. We used one of these self caricatures on our Thursday piece about Rowland B. Wilson. Everyone from Roy Doty to Chester Gould to Basil Wolverton to Mort Walker to Tom Morrison to Ernie Bushmiller is represented and plenty more.
__________________________
- Here is a well written paragraph from AO Scott's NYTimes generally positive review of Chico and Rita, which opened yesterday at the Angelika Film Center. (Directors Fernando Trueba & Javier Mariscal will be doing Q&A's following the 7:40 PM shows Sat & Sun, Feb 11-12. )
"Chico & Rita," nominated for an Academy Award as the best animated feature, is a reminder not only of the aesthetic vitality of hand-drawn, two-dimensional animation, but also of the form's ability to provide entertainment and enlightenment for adults. A costume drama or a documentary would not have been as charming or as surprising. It would be hard to get cameo appearances from Charlie Parker or Marlon Brando, and the dutiful literalism of historical filmmaking would have dampened the vitality and killed the magic.
and here's a couple of lines from Lou Leminick's NYPost review:
Complain all you want about the Oscars (I certainly do), but give the academy major props for bypassing a clunker like "Cars 2" and handing a Best Animated Feature Film nomination to something as wonderful as "Chico & Rita."
"Chico and Rita'' beguiles first and foremost as a bebop romance that evokes a bygone era as well as, or maybe even better than, "The Artist."
__________________________
Finally, I wanted to write a couple of notes about the Annie Awards ceremony.
For years I'd read about the awards, without having attended, and have only been able to think about it in comparison to the ASIFA East awards, which are a small celebration of animation by the local members of the NY chapter of ASIFA. Ours is almost clublike in its ceremony. Very non-formal people dressed in street clothes, which means predominantly jeans and dress-down wear. The shaggy student awards. The idea that ASIFA Hollywood dressed up for their event made me immediately put it on a higher pedestal. I hadn't attended one of the Hollywood ceremonies, and only by seeing the streamed version of the awards could I get an inkling of what it was.

Having Patton Oswald host the event was only a positive in my mind. He's such a quick-minded comic who would do well at the podium. A real professional. However, hearing no feed back of audience laughs (there obviously was no audience mike for the program), made it seem like all his jokes were falling flat. There were also plenty of flubs on the stage as presenters were presented with the wrong envelopes, and winners learned of their wins a full category before their turns.
From the home audience it seemed like a train wreck had been occurring in front of our noses. I honestly couldn't imagine how tedious this must have seemed to the live viewers. But then they had a bar and drinks and friends to laugh with in the nearby seats. Very different than watching a show on a computer at midnight. Rooting for something like Phineas and Ferb over something else like Prep and Landing 2 at midnight on a Saturday night, just doesn't quite make it.
The awards went to deserving people, I'm sure. I recognized many of the names, and it was nice to finally put some of the faces to those names I'd only known from credit rolls. And I congratulate them for their well-deserved awards. However, to most of the world these are unknown people. There was a limited audience for this program. Me and a couple hundred others who'd sit out the slow slog.
I suspect that until I can see the Hollywood awards live, I'll sit out future streaming telecasts. But then, I'll probably change my mind at the last minute next year and watch it again.
Books &Commentary 24 Mar 2011 07:15 am
- Lately, Disney's book divisions have done some wonderful work. The Archive series: Animation, Story, Design and soon to come Layout & Bg are all stunningly attractive books. These are top of the line items from Disney Editions. John Canemaker's Two Guys Named Joe also comes from the same division, and it's a beautifully designed and attractively produced book.
But what about the lower end of the Disney Publishing empire? In the bygone days the animated features would be made into Little Golden Books utilizing artists from the studio. Mary Blair, Al Dempster, Bill Peet, and Eyvind Earle all contributed to books for the Western Publishing offshoot. Today there are still some Little Golden Books being made from Disney material. The Pixar product, such as Toy Story and Wall-E, as well the Disney Princesses and The Princess and the Frog all have editions.
However, I came upon something even lower down the pipeline. Here are three books that were produced for Walgreen's pharmacy megastores. Heidi bought them 3 for $3.98. None of the books gives a hint of illustrator or writer. The illustrations, on a very cursory glance, look as though they might have been frame grabs pulled from the movies.

Bambi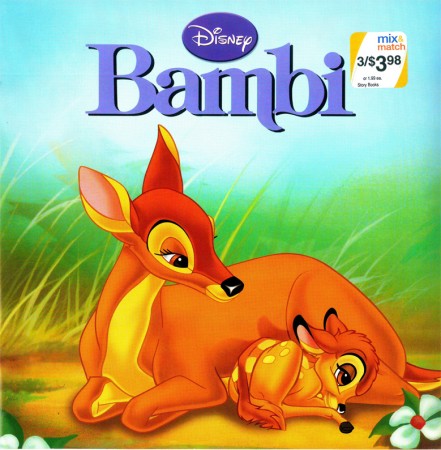 Bambi's cover. It's a nice watercolor evocative of the film. Though one
wonders why they played with the logo's type. The "m" now has a
little swoosh on its lower right. Not part of any other version of this title.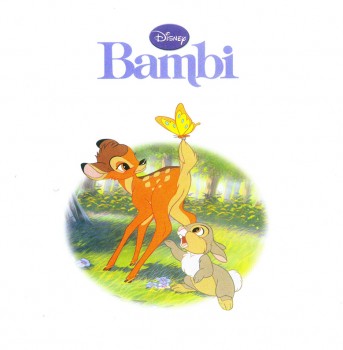 Our first interior illustration looks like it might
have been a frame grab from the film, itself.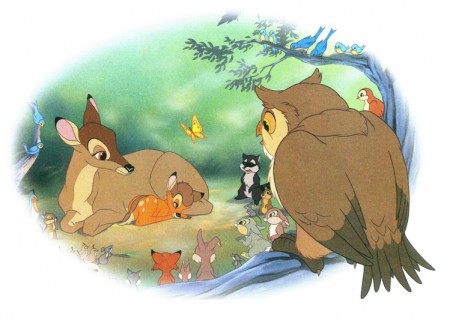 This tries hard to look like it might have come from the film.
But all the characters are moved around differently.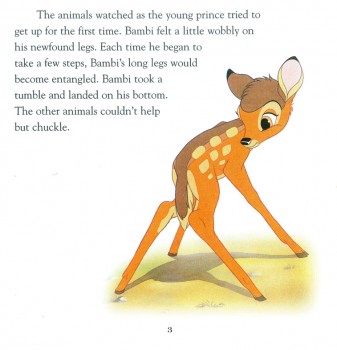 They do a nice job of layout using this iconic image against the type.
Looking at this book, I'm amazed how many well-know still images there
are in the original feature. Those old guys knew what they were doing.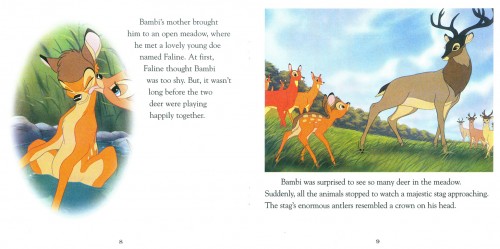 Here are a couple of double page spreads. I like the way they
handle them in these books. You can see that there is a plan.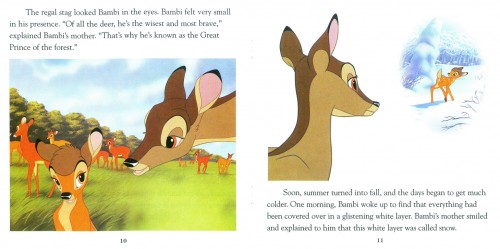 By now, the illustrations look more like Bambi 2 than the original.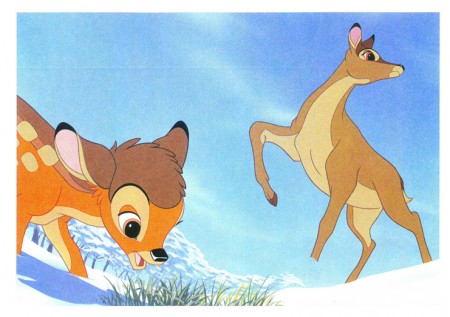 The characters were obviously done on separate levels. Notice the
mother's leg doesn't match the background. She's out of place.
Something you might have seen back in the days with the use of cels.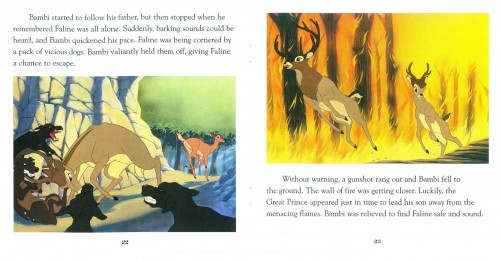 Two pages covers the climax of the film, Faline's encounter
with the dogs and the fire rates one illustration.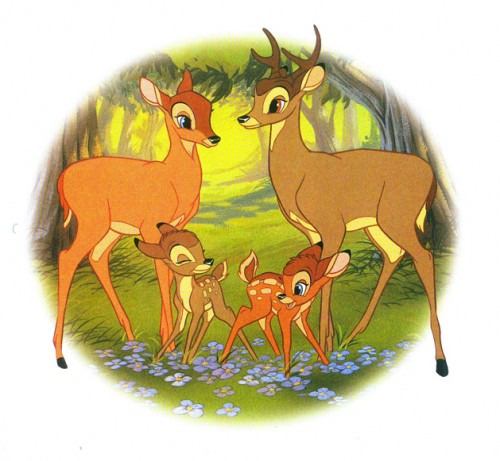 The final illustration takes us into "Bambi's Children" and
has nothing to do with the original film, anymore.

Peter Pan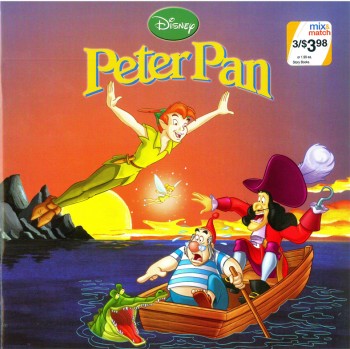 Peter Pan gets off to a bad start with a RED cover
and an action illustration. Not quite the film.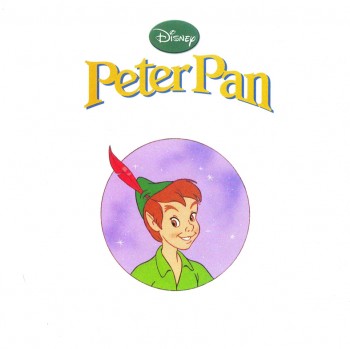 Get to the title page, and Peter is WAY off model.
Oh well.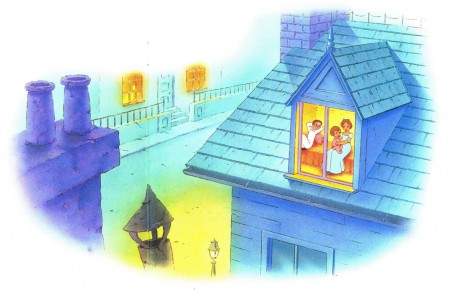 When I think of that beautiful opening shot in the film, it isn't
quite this. I'm afraid, the Bambi book will be the best of the lot.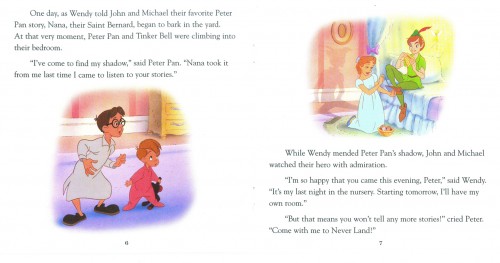 The double-page spreads do still play a bit with the form.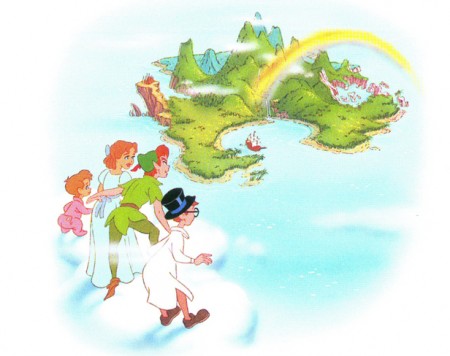 Not much magic left in this Neverland.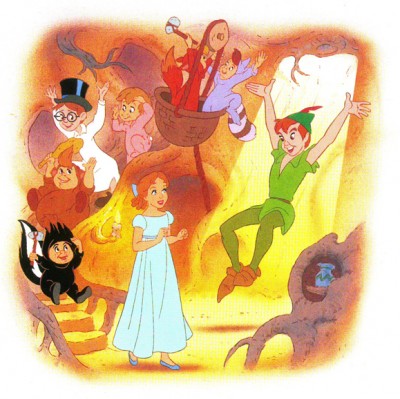 Some nice action.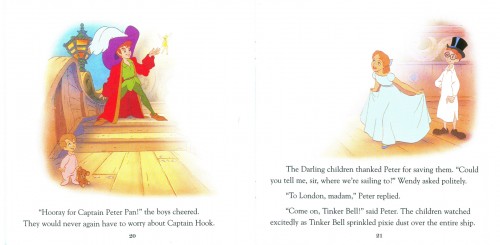 Most of the book is done in Long Shots. I'd say that's
not the best choice for smallish illustrations. And the
airbrushed white is too opaque to work as a border; it
gets to look like a virus in the air.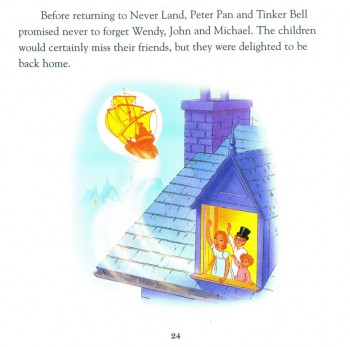 The book is too much on the red side. Everything here is
violet and yellow. Not quite the colors invoked by the
orinal designers.
101 Dalmatians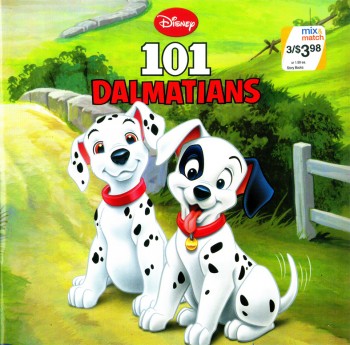 Uh oh, we're in trouble.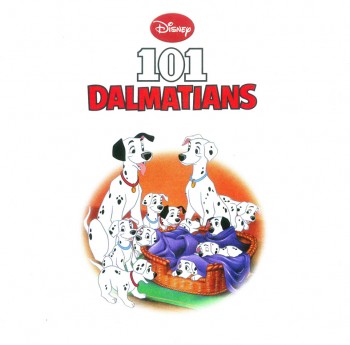 The title page makes for a good composition with bad colors.
The technique, using gouache starts to peek through.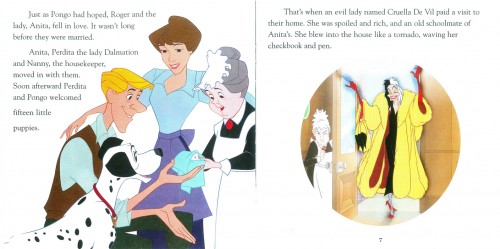 They've captured the pose and lost the film.
Where's that beautiful cut-glass rose in the door?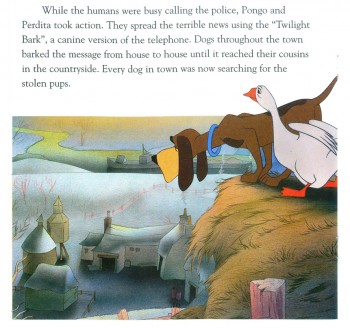 Too bad they've ignored the wonderful background styling
of Ken Anderson and the painting of Walt Peregoy.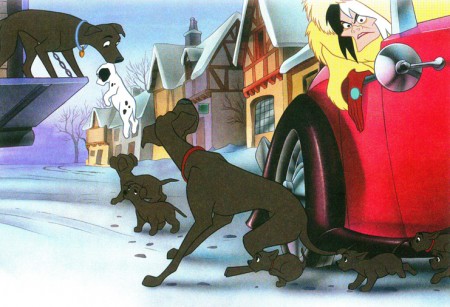 A lot of action. Not a bad image though Cruella's been simplified.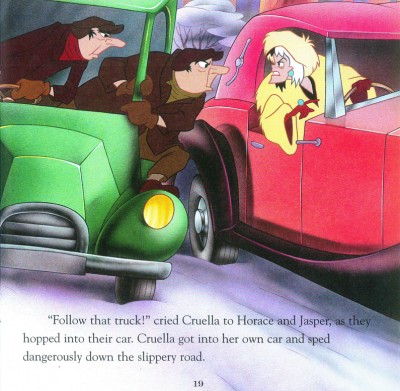 We've ignored the great design of the film and have gone to "storybook 2009″.
(The books were done in 2009.)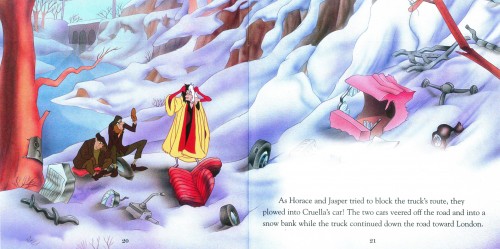 The two page spread makes use of its format, I have to say that.
All in all, I'd have to say it's probably not a bad deal for parents looking for cheap books to entertain their children. The Bambi book holds up nicely. Peter Pan wastes a great story and 101 Dalmatians works hard to reduce their story into a small book you'd buy in a drug store.
The art and delicacy of the Little Golden Books is gone. Take a look at this, or this, or this. They all varied wildly from the film, but with a sense of originality and design. These three Walgreen books all try doggedly to resemble the film while losing the artistry in the book.
Animation Artifacts &Bill Peckmann &Books &Disney &Illustration 03 Dec 2010 09:53 am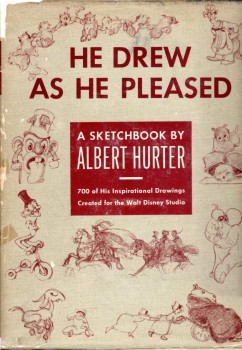 - Here are more pages from the book by Albert Hurter, He Drew As He Pleased (Simon and Schuster, 1948.) This gem is a rare book, indeed.
Albert Hurter was one of the European illustrators Disney brought into his studio for Snow White and Pinocchio. Hurter was the his own master, drawing designs which would be used generally to further the design of the features and Silly Symphonies.
A similar position seems to have gone to Joe Grant when he worked in the period during the making of Beauty and the Beast through The Hunchback of Notre Dame. Some of his drawings, as can be seen in John Canemaker's book, Two Guys Named Joe, are just as brilliant. Indeed, there were a lot of brilliant artists floating around the Disney studio in the late Thirties, early Forties.
Many thanks to Bill Peckmann for the loan of the book's pages and the arduous task of scanning these illustrations.
_______________________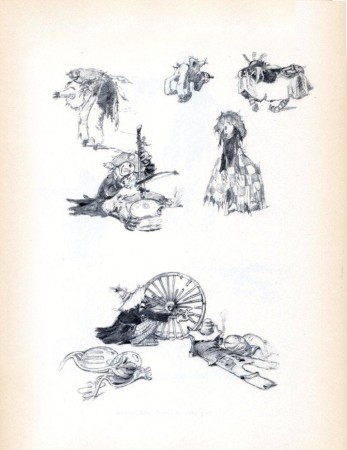 50
"He was fond of scarecrows . . . "


.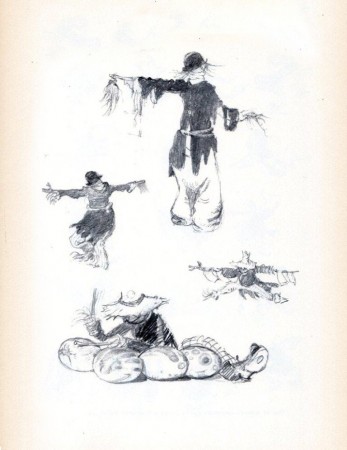 51
"They were so simple and natural . . ."
.

52
"One of Albert's ambitions was
to design a scarecrow ballet."
.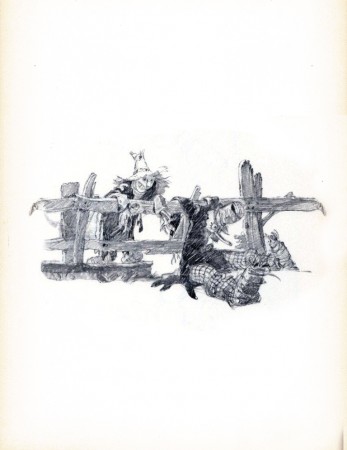 53
.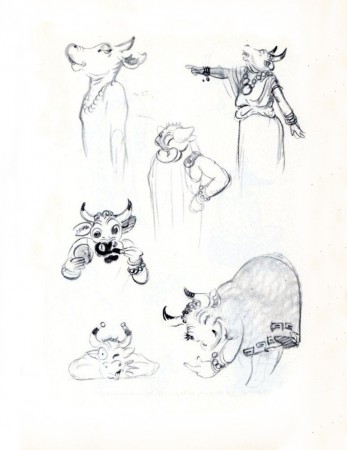 54
"When Fantasia was planned,
he began playing with mythology."
.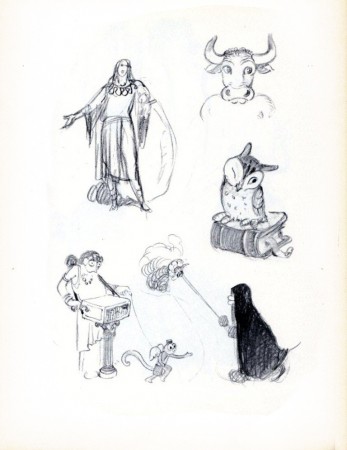 55
.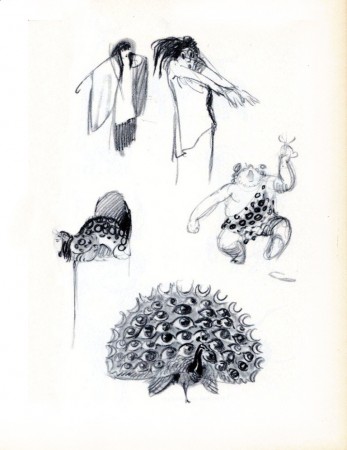 56
.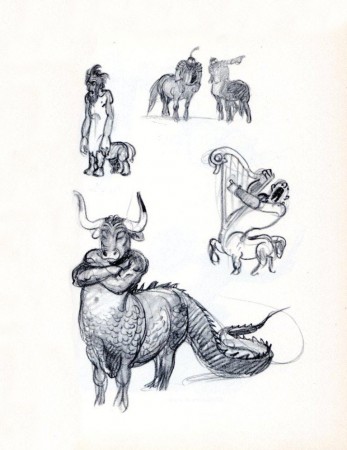 57
Variations on a Centaur
.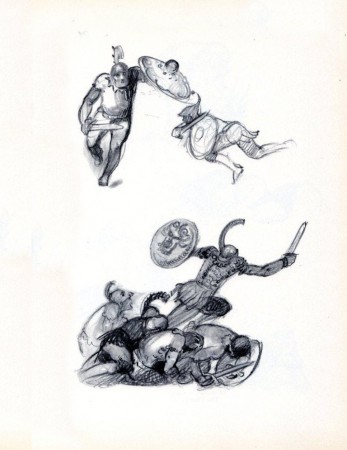 58
Gladiators at Work
.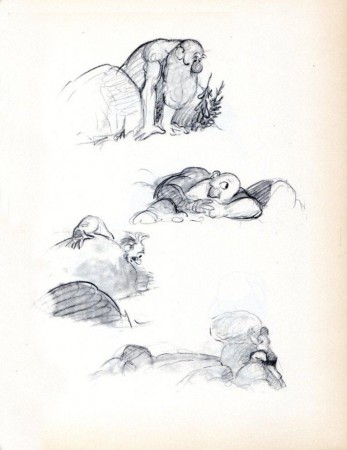 59
The Titans
.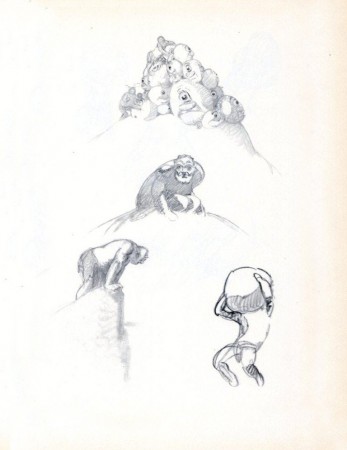 60
.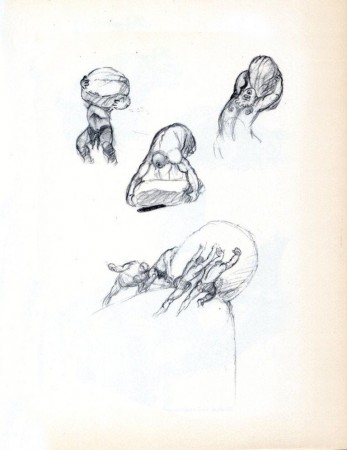 61
.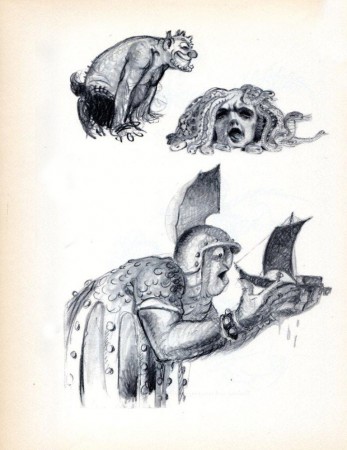 62
Medusa and Contemporaries
.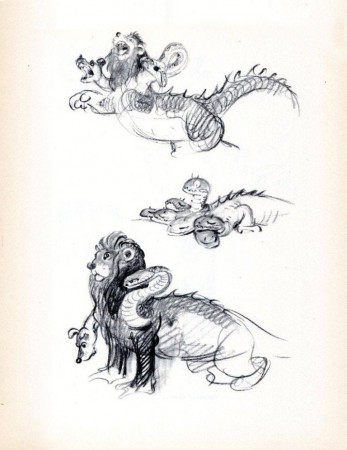 63
.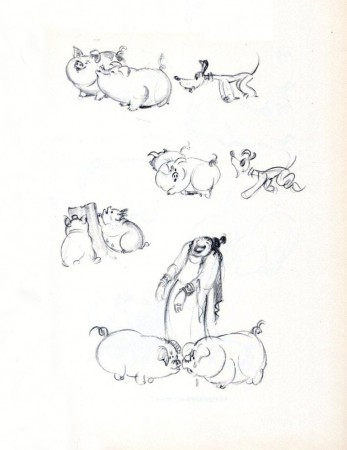 64
Victims of Circe
.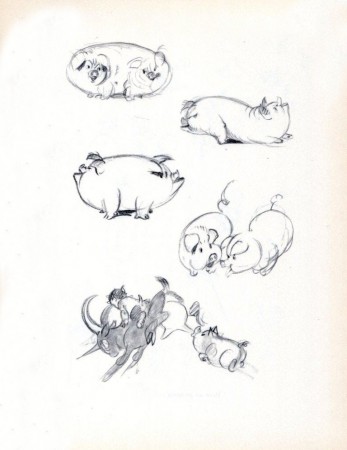 65
Siamese and Otherwise
.
Books &Disney 28 Oct 2010 07:47 am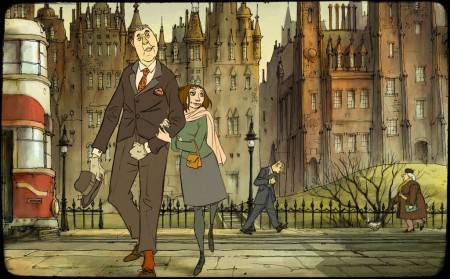 - Mark Mayerson has given an initial review of The Illusionist. I've waited a while to see this feature. I'd intended to go to Ottawa, not only to represent my film shown there, but to see this new film from Sylvain Chomet. The first screening I will be able to attend is on Wednesday Nov. 10th.
Richard O'Connor in his short review at his site Asteriskpix.blogspot, left me something to think about, but he didn't feel it was the best of the features at the Festival. Mark Mayerson certainly did. In the comments section of Mark's site, Richard extends his review telling me, clearly, that I'll have to judge for myself.
Mark's review is answers some of the questions I wondered about. He predominantly focuses in on the story elements and leaves plenty for us to digest. His comparison to not only other animated features but live action, as well, takes this review to a high level, which is where Mark seems to be placing this film and where he always writes from.
______________________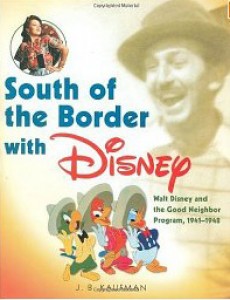 - Michael Barrier has reviewed the two important, relatively-new books: South of the Border with Disney by J.B. Kaufman and Two Guys Named Joe by John Canemaker.
The review is quite long and goes into plenty more about Disney and his employees, covering all the times that Joe Grant would have been working there. Barrier talks more about Grant than about the book's other half, Joe Ranft. This gives a wider view of the studio. Since Barrier has less interest (admittedly this goes for me as well) in Ranft, he's give short shrift in this review.
There's quite a bit about the anti-Semitic remarks Disney and others made and faced at the studio. There's plenty about the importance (or non-importance) of those travelling with Walt for any length of time. And, most importantly, there's an analysis of others with equal position to Grant in making the films at the studio – particularly as to how the person was moved by Disney into other branches of work as the studio transitioned into live action and television.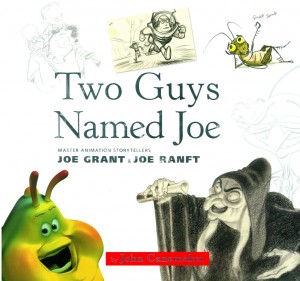 Finally, Mike's take is that all-things-Disney is starting to get tiresome. He questions whether the two books would have been written differently if they weren't published by Disney. This was a question I'd asked as well, though I didn't have the courage to add it to my reviews.
It's another excellent commentary article by Mike and is a must read for anyone interested in animation. As with some of his other recent reviews, I more taken with some of the side notes – slight tangents Barrier takes – than with that which is directly addressing off the book. The article doesn't flinch in calling the shots against the authors, although I know that Mike is very sensitive, expecially in this piece, in not wanting to hurt either of the two authors.
______________________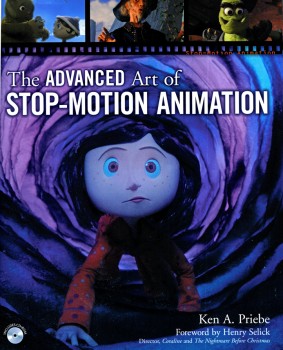 - This pushes me into doing my job of reporting on two books I've meant to cover for some time. Ken Priebe's excellent The Advanced Art of Stop-Motion Animation is a follow-up to his first book, The Art of Stop-Motion Animation.
The first book was a primer about the art of that medium. Ken covered it thoroughly and gracefully. He not only revealed many of the secrest of the process, but he gave plenty of examples of other stop=motion animation which elucidated on the art.
The second book is much more involved with many of the films out there. There's a good history of the medium in this book, and I was not disappointed to find some of the rare pieces from the early days. Just look into the films of Starewicz (Americanized as "Starewich", here), and you'll read plenty that you might not know. The same goes for A. Ptushko and G. Pal. There's also plenty said about newer stop-motion. Caroline, The Fantastic Mr. Fox and The Corpse Bride are well covered.
The illustrations are plentiful and large, and the book comes with a DVD so that you can view some of the exercises in the book.
Ken Priebe loves the medium of stop-motion. He often advises me of some rare piece he's found and put up on YouTube. These are often gems in good quality. He brings that same love of this often-neglected branch of animation to the book at hand. If you, too, have any love of the form, get this book.
It's a paperback published by Course Technology PTR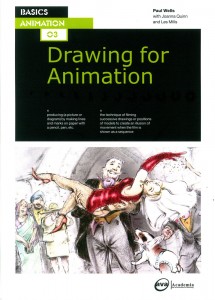 The second book I'd like to present to you is Drawing for Animation by Paul Wells with substantial help from Joanna Quinn and Les Mills.
Need I say more than Joanna Quinn to get you interested in this book? Her films are brilliantly drawn works of art, as if Daumier had come to life. The drawing in this book is outstanding as well, and we're treated to a plentiful look at her art – from storyboards to animation drawings to final setups. My only complaint is that the images are small. One wishes it were on line so you could click the thumbnails and enlarge. Alas, it's a book, and we have to settle for the thumbnails (or scan and enlarge them ourselves as I did at the end of this review.)
The use of drawing is detailed and instructed through many many examples and it's all worth studying. Paul Wells' writing is clear and concise, and he well uses examples to illustrate his thoughts. This book is a little gem and I recommend it highly for any animation (especially 2D animation) lover.
The book is a paperback published by Ava|Academia.
Here are a couple of the other illustrations in the book which you can enlarge by clicking: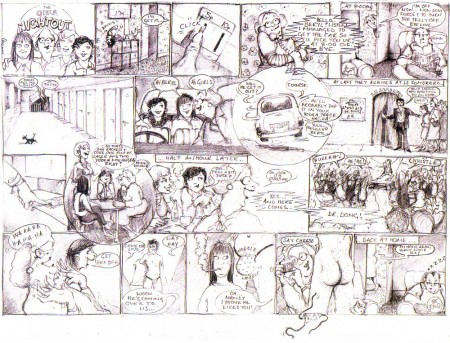 A comic book version of a storyboard
for the film A Girl's Night Out.
An unorthodox method that energized the film.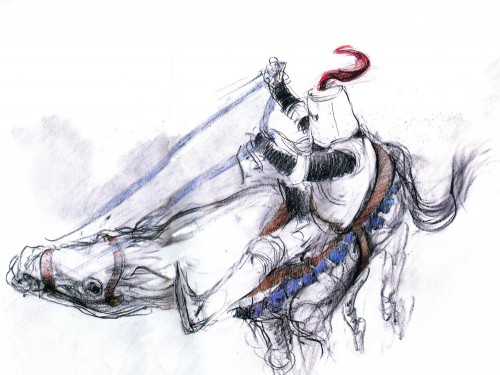 A study for The Knight Riding Horse 0f Wife Of Bath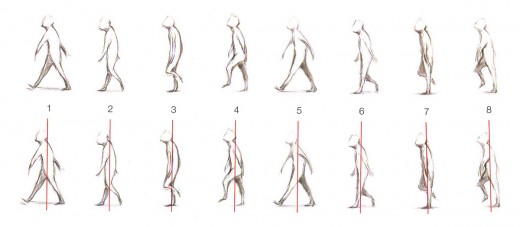 A walk cycle which I put through a QT movie (on threes) below.
Commentary 09 Oct 2010 08:00 am
A lot of things seem to have happened in the past few weeks. I thought it time to just ramble about some of them.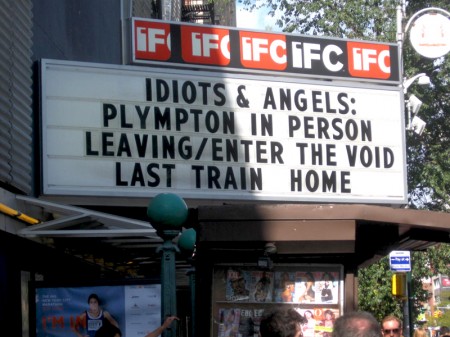 - Bill Plympton's feature, Idiots and Angels, has hit NY's IFC Center like a storm. Bill seems to be attending quite a few of the screenings with Q&A's added. News about the show is everywhere in NY. The film got glowing reviews from the NYTimes and the NYPost. No word from the NYDaily News (which didn't review My Dog Tulip, either.)
Bill's been working overtime promoting the movie. Since he's self distributing the film, it takes real drive to get the attention he's created. His is a lesson we can all learn from. It's a small part of the job making the film; the largest part is selling it. Kudo's to team Plympton for a job well done.
Bill's film had an Academy screening this past Thursday in New York and will screen for the Academy in LA on Oct. 31st, Halloween night. It's quite a coup, I think, to see that he's gotten the film on their schedule to make sure members can see it. The Oscar push has already started (and Nikki Finke took note in her column.)
________________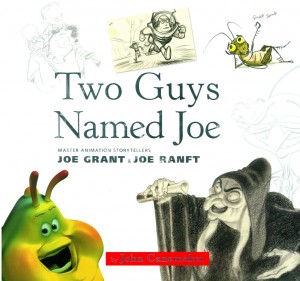 - Last week John Canemaker appeared at the Museum of Modern Art with a talk and book signing for his Two Guys Named Joe. The house was packed and the talk was light and informative. The power-point show was choc-a-block with great photos and artwork. Many of them didn't appear in the book.
John has a way about these talks that just keep you interested and entertained. To get a good idea, he was on NPR's Leonard Lopate show that same day as his MOMA talk. You can listen to it here.
Meanwhile, there are two articles by John posted on the Print Magazine website. One about the Disney Family Museum and a second about the Irish Animation scene. Both are enormously informative reads. The Irish article includes several embedded videos.
________________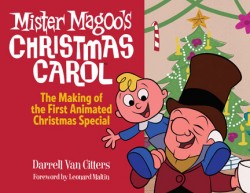 - Darrell Van Citters has started a new blog dedicated to Mr. Magoo's Christmas Carol. Take a look. He has pieces on some of the artists. An article about designer Bob Inman is particularly informative as is another about Phil Norman. This is fast becoming a must-view blog.
You'll remember that Darrell has written one of last year's best books, called The Making of Mr. Magoo's Christmas Carol. I've read the book three times already and suggest you all buy a copy.
________________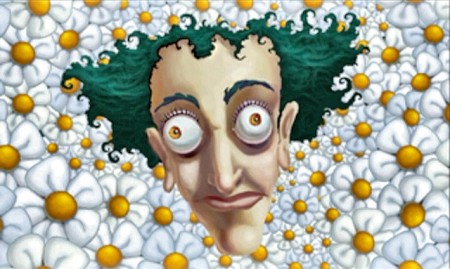 - While away on Vacation, I missed John Dilworth's talk at the 92nd Street Y (downtown). The ASIFA East blog covers this event well and I suggest you all turn there to read a report on the event. Sounds like it was fun, as I expected it might have been.
________________
- I'd been entertaining the idea of travelling down to Washington D.C. to attend the rally which John Stewart is gathering. It's sort of an anti-Glenn Beck rally. Arianna Huffington is supplying free buses from NY to D.C. and back. It makes it just too damn attractive. But I'll have just returned that week from a trip to Ottawa, and I'll be feeling my age if I do go down to Washington.
I'll have to miss it.
By the way, I believe the Festival in Ottawa has given me a hotel room where I'll have access to the Internet. This means I'll be able to add updates to my regular blog posts, even during the Festival. I did this the last time I was up there, and it worked out well.
________________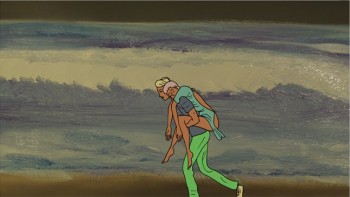 - I've gotten a lot of flack in NY recently for comments I've posted about the Dash Shaw trailer posted on Cartoon Brew. Too bad. I didn't like what I saw and I commented. We're accepting too much crap these days, and animation as a medium is taking a bad hit for it. Some of us have to start saying that the Emperor isn't wearing any clothes; oh, and he's also not an Emperor. It's just my opinion, and you, certainly, can think I'm wrong. He does have one of NY's greats working for him – Biljana Labovic. If anyone will make the film worth seeing, it will be she. Her work on Bill Plympton's films went unsung for too long, and she finally got a co-producer credit on Idiots and Angels. I think highly of her opinion, and she must like the work or she wouldn't be there. So maybe it's my age or my ego somehow out of whack, but I'll stick with my opinion until I see something that changes my mind.
However, for those who do like his work, Dash Shaw will lecture at SVA on Nov. 4th. Here's a press release for this event:
Thursday, November 4, 7pm
SVA Theatre
333 West 23 Street

The New York Times has called artist and SVA alumnus Dash Shaw (BFA 2005 Illustration) "a hard-core experimentalist" and "a hell of an artist, constructing vivid, uncanny compositions with a spectacular sense of color and space." With the publication of Bottomless Belly Button (Fantagraphics, 2008) and BodyWorld (Pantheon, 2010), Shaw has quickly established himself as a leader among today's graphic novelists. The animator and director of IFC's The Unclothed Man in the 35th Century A.D., Shaw is currently working on the animated feature The Ruined Cast. The event is free and open to the public and presented by the The Alumni Society of School of Visual Arts.
________________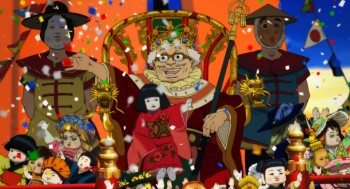 - I still roil over the young death of Japanese director, Satoshi Kon. He was a brilliant animation artist who deserved greater attention. International success seemed to be just starting to touch his films, when he died. I'm glad I had the opportunity of interviewing him several months before his death. (I wrote about it here.)
His film Paprika will play at the Gotham Screen International Film Festival, on Oct. 13th at the Tribeca Film Theater, 54 Varick Street (just off 6th Ave, south of Houston). Tickets are $8 – $10.
________________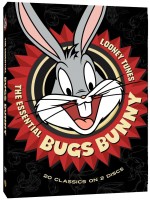 - Today's NYTimes reviews the new DVD release from WB: Essential Bugs Bunny Collection. It's a 2 disc set with one disc containing not very essential material or shorts. The reviewer for the Times ends with this paragraph:
Better that you explore the several volumes in the "Looney Tunes Golden Collection," also from Warner Home Video. Here you will find all these and more, including "What's Up, Doc?," a semi-autobiographical cartoon from 1950 that is not in this "essential" collection, yet is essential to any understanding of the artist. Among other insights, it includes an epiphany by Mr. Bunny that rings so true I just can't get it out of my head: "I was a rabbit in a human woild."
Daily post 01 Oct 2010 05:31 am
Here's a press release that came from the Museum of Modern Art re a show that John Canemaker will be hosting tonight in celebration of his recent book, Two Guys Named Joe: Master Animation Storytellers Joe Grant and Joe Ranft.
The Roy and Niuta Titus Theaters

Academy Award–winning animation filmmaker and author John Canemaker presents an illustrated lecture based on his new book Two Guys Named Joe (Disney Editions, 2010), an immensely entertaining and insightful portrait of the legendary animation storytellers Joe Grant (1908–2005) and Joe Ranft (1960–2005).

In his long career at Disney, Grant helped create such masterworks as Snow White and the Seven Dwarfs (1937), Pinocchio (1940), Fantasia (1940), Dumbo (1941), Make Mine Music (1946), and Lady and the Tramp (1955), as well as more recent hits like Beauty and the Beast (1991) and The Lion King (1994).

Joe Ranft, a Pixar creative cofounder and storyboard artist, is widely celebrated for his imaginative and irreverent contributions to such recent classics as The Brave Little Toaster (1987), Who Framed Roger Rabbit (1988), The Little Mermaid (1989), Tim Burton's The Nightmare Before Christmas (1993), Toy Story (1995), James and the Giant Peach (1996), Toy Story 2 (1999), Monsters, Inc. (2001), and Cars (2006).

Canemaker will sign copies of his book after the lecture on October 1. On October 2, MoMA pays tribute to these master animation storytellers with a selection of wonderful animated features and shorts—including Fun with Mr. Future (1982), which hasn't been screened in nearly thirty years, and a special screening of Dumbo (1941).

The MOMA's programs for Two Guys Named Joe is organized by Joshua Siegel, Associate Curator, Department of Film. Special thanks to Howard Green and Wendy Lefkon.
There will also be screenings attached to the book signing of some Disney and Pixar films:
Screening Schedule

John Canemaker's
Two Guys Named Joe: Master Animation Storytellers Joe Grant and Joe Ranft

October 1–2, 2010

Friday, October 1

7:00 John Canemaker's Two Guys Named Joe. Canemaker discusses the work of Joe Grant and Joe Ranft in a lecture extensively illustrated with film clips and still images. Program 75 min. Introduced by and followed by a book signing with Canemaker.

Saturday, October 2

2:00 Fun with Mr. Future. 1982. USA. Directed by Darrell Van Citters. Joe Ranft contributed gags to this zany short, which was cobbled together from animated bits of a shelved Epcot TV special and is hosted by a talking Animatronics head (with wires exposed) wearing a bowtie. Courtesy The Walt Disney Studios. 8 min.

Luxo Jr. 1986. USA. Written and directed by John Lasseter. The first film to be produced by Pixar Animation Studios after its establishment as an independent studio, and the first CGI film to be nominated for an Academy Award. 2 min.

Tin Toy. 1988. USA. Written and directed by John Lasseter. This Academy Award–winning short anticipates Toy Story in its use of anthropomorphic toys as characters. 5 min.

Toy Story. 1995. USA. Directed by John Lasseter. Story by Lasseter, Pete Docter, Joe Ranft, Andrew Stanton. 80 min. Program 95 min.

5:00 Mickey's Gala Premier. 1933. USA. Directed by Bert Gillette. Animation character designs by Joe Grant (uncredited). Grant's first film at Disney, for which he designed all the celebrity caricatures. 7 min.

Who Killed Cock Robin? 1935. USA. Directed by David Hand (uncredited). Story and animation by Joe Grant, William Cottrell (uncredited), and others. Grant and Cottrell devised the satiric story, and Grant designed the characters, including Jenny Wren, a caricature of Mae West. 8 min.

Lorenzo. 2004. USA. Directed by Mike Gabriel. Screenplay by Gabriel, Joe Grant. An Academy Award–nominated short about a blue cat whose tail has a mind of its own. Grant created the concept, story, and character for this, his last film at Disney. Courtesy The Walt Disney Studios. 5 min.

Dumbo. 1941. USA. Directed by Ben Sharpsteen. Screenplay by Joe Grant, Dick Huemer. Courtesy The Walt Disney Studios. 64 min. Program 85 min.
_______________________
- The school of Visual Arts is having an in-house exhibit of Art called:
"Ink Plots: The Tradition of the Graphic Novel at SVA. It's an exhibition of original drawings, books, prints and animation by over 100 artists.

Ink Plots traces the development of sequential art over four decades with selections from SVA faculty members and showcases
the work of SVA alumni who are pushing the boundaries of the graphic novel today."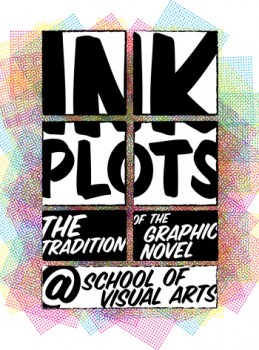 Here's the poster for it:

Ink Plots: The Tradition of the Graphic Novel at School of Visual Arts
is an exhibition of original drawings, books, prints and animations by over 100 artists. Ink Plots traces the development of sequential art over four decades with selections from SVA faculty members and showcases
the work of SVA alumni who are pushing the boundaries of the graphic novel today.

VISUAL ARTS GALLERY
601 West 26 Street, 15th floor, New York City
Gallery Hours: Monday – Saturday, 10 – 6pm

EXHIBITION:
October 8 – November 6, 2010

RECEPTION:
Thursday, October 14, 5:30 – 7pm
Free and open to the public.

Honoring past and present SVA illustration and cartooning faculty members including:

Sal Amendola_______Sue Coe
Harvey Kurtzman_______David Mazzucchelli
R.O. Blechman_______Will Eisner
Keith Mayerson_______Jerry Moriarty
Tom Gill ____Mark Newgarden
Edward Gorey_______Gary Panter
Burne Hogarth_______Jerry Robinson
Klaus Janson_______David Sandlin
Frances Jetter_______Walter Simonson
Ben Katchor_______Art Spiegelman
Peter Kuper_______
_____________
Benefit
Thursday, October 14, 2010, 7 – 10pm
MIDTOWN LOFT AND TERRACE
267 Fifth Avenue, 11th floor, New York City
Shuttle service from the reception to the cocktail party will be provided.
Individual tickets are priced at $250 with $100 tickets available to SVA alumni.
Proceeds from the benefit will be used to establish a scholarship fund for SVA illustration and cartooning students.
Tickets to the cocktail party may be purchased online at alumni.sva.edu/tickets or by calling 212.592.2302 or by
e-mailing serwin@sva.edu.
_____________
Other Ink Plots related Events
WILL EISNER,
MASTER TEACHER AT SVA Monday, October 18, 7pm
SVA Theatre, 333 West 23 Street
New York City
Free and open to the public.
INK PLOTS
PANEL DISCUSSION
Wednesday, October 20, 7pm
SVA Theatre, 333 West 23 Street
New York City
Free and open to the public.
DISTINGUISHED ALUMNUS
LECTURE WITH DASH SHAW
Thursday, November 4, 7pm
SVA Theatre, 333 West 23 Street
New York City
Free and open to the public.
Books &Commentary &Disney &Story & Storyboards 02 Aug 2010 10:08 pm
- Today is the day that John Canemaker's book, Two Guys Named Joe: Master Animation Storytellers Joe Grant and Joe Ranft officially hits the stores. I urge you to take a look and go for it. The book is great.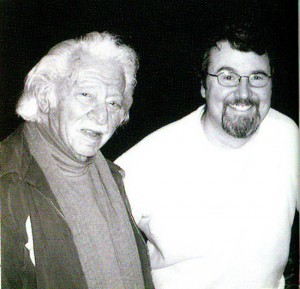 - It was about nine months ago that John Canemaker let me read the galleys of his new book, Two Guys Named Joe: Master Animation Storytellers Joe Grant and Joe Ranft. I'd been aware of the book for a couple of years now, and whenever I'd heard John talk about it I wondered how the two guys fit in together to make a book. When I was handed the galleys, I moved slowly ahead with some trepidition.
I basically knew who the two Joes were from my reading and my NY attempts to keep up with the Hollywood system. Joe Grant was an old timer who'd dominated the Disney modelling department (the only time there was a department exclusively for model sheets), and he'd come back to act as one of the wizened artists helping to shape the new "Renaissance" in the animation community. Joe Ranft was one of the key CalArts guys who'd gone through the Disney system on his way to Pixar where he helped to shape that studio. There's no doubt he was key to Toy Story, A Bugs Life and Monsters Inc.
What connection would John Canemaker have for tying these two together? Would that connection be enough to fill a book?
Of course, all such conjecture was stupid on my part. The book, as it turned out, is one of John Canemaker's finest, and that's saying a lot. John, after all, is one of the best of our animation historians. His material is well researched, his facts are accurate, and his information is always pertinent and absorbing. He is also a good writer. He tells a story and reveals his information as any good writer would. There's a solid construction to all of his books, and he lets you into the book in a comfortably relaxed way so that you're absorbing the story and facts all together, and you are pulled into the book. This is the greatness of Two Guys Named Joe.
As for the connection, John explains that well. Not only, of course, within the book, but he had this succinct statement to make in an interview with Amid Amidi: "I saw the possibility of an overview of the history of storytelling at Disney and Pixar through a very human story of two artists straddling the 20th and 21st centuries." And that's exactly what John uses the book to do. He wants to really upchuck the earth of the story departments of both Pixar and Disney, and he does a good job of it.
I've now read the book twice. Once in galley form, once in final book form. The book is a rich-looking item full of the finest artwork from storyboards, printed material and developmental art. It's a gorgeous book.
However, the real gold is in some of the writing and treasured bits that John has dug up to support his material. Here, for example is a small piece about Alice In Wonderland's story development:
A March 15, 1939, story conference transcript reveals Walt's frustration with the project:
WALT: (To Joe) Have you been through A//ce in Wonderland lately?
JOE: No. I've been through the script though. I think there are some pretty good situations in this.
WALT: Yes, and some, too, that are not so good.
JOE: I like the stuff on the disappearing cat—swell possibilities in that.
WALT: Yes. Let's see. What are the good situations?
JOE: The tea party stuff is good.
WALT: Yes, the tea party is to me the best. . . You
know, I think we're missing a hell of a lot in the stuff that is our medium. . . everything isn't dialogue. Talk, dialogue business that depends on dialogue, hinges on dialogue.

Disney then tore into an unfortunate writer named Dana Coty.

WALT: I'm saying that to you because I think maybe
you're the one that's responsible for a lot of silly business that has no basis on anything funny.
DANA: Well, in the duchess's house, I wrote that very loosely to begin with, Walt.
WALT: I don't give a damn how you wrote it. It's what we're driving at. If it hasn't got a basis for something funny, don't write it! There's no use writing the thing and then alibi-ing for it afterwards. It just throws us off the, track. Don't just write anything to fill up some pages. We had the same criticism, the last time we were together.
John uses this anecdote to not only say something about Disney, himself, but the way he communicated with Grant and the hostility he might display for others. He did not mince words or waste time where he thought it was wasted. They were trying to solve the problms they saw in Alice In Wonderland, but we learn that Grant, Huemer and others felt that Disney was the problem. They felt he didn't quite understand the Victorian humor of the original and tried to gag it all up. It's just one wonderful excerpt dug deep in the book.
Another gem of a sequence involves Joe Ranft. It's the point just when the Pixar artists are trying to sell Toy Story to the Execs at Disney. They're doing everything in their power to make the film story good while placating the Disney people, and they're having a hard time of it.
Disney insisted the production move to Los Angeles so the studio could oversee things. "And give us more notes," Ranft lamented.

Lasseter, whose "heart was broken," begged for a two-week reprieve to turn things around. After obtaining Disney's skeptical permission, Lasseter, Ranft, Docter, and Stanton resolved to "make the movie we want to make!"

. . .

The process included writing, gathering more material, constant meetings, weeding out, refocusing, and . . . more meetings. "Two or five heads are better than one," Ranft believed. "If you can work together without killing each other, you an accomplish a lot."

Going forward, Pixar gladly accepted notes from Disney and welcomed participating in brainstorming sessions with their artists. "But," Ranft said, "we'd go away and really think about [the notes]. A lot of times we'd go, 'No. Here's the real problem!' And it was even deeper than the notes. 'And here's how we're going to fix it.'"

Regarding the creative process, Ranft once said, "It's a challenge. The final product is the goal you're searching for. [Your little sequence is] gonna get smashed, trashed. It's gonna come apart for the good of the final film . . . it's a paradox. You've got to put yourself into it, and then you've got to take yourself out of it. Be objective and not be hurt."
And that's the point of the two guys. They understood the value of the story and the center of the films they worked on and over. Nothing mattered, including personal insult, as long as the story came out right. They were film artists and knew how to get what they needed to complete their goals.
My personal preference is to want to know more about the old timer and to learn more about the golden age. However, it's totally my bias, and the proof of this book's success is that I was completely absorbed by all that was written about both men.
This is more than a good book. Anyone in love with animation should own a copy and read it carefully. There's a lot there, and it's all good. It's stunningly designed with beautiful animation art treasures well displayed.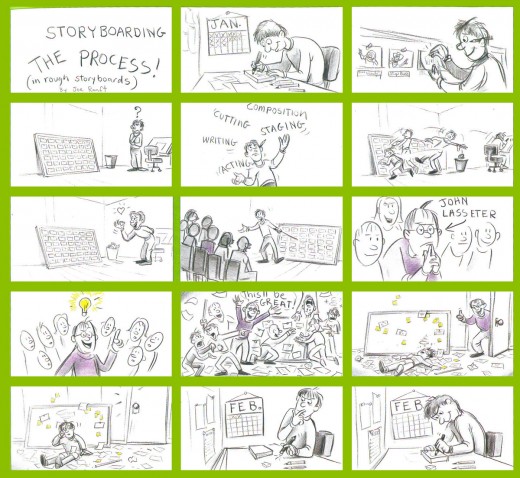 A telling board by Ranft.

________________
Amid Amidi offers an excellent interview with John Canemaker on the subjects of the book at his Cartoon Brew site. I recommend you all read it.
There's also a video promo you can catch on YouTube if you're more visually oriented.
Articles on Animation 30 Mar 2010 07:21 am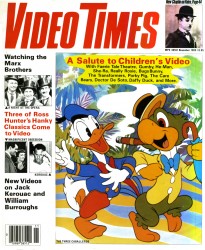 - The following interview with Mel Blanc appeared in the Nov, 1985 issue of Video Times Magazine. By this time, Mel Blanc was on automatic pilot. He'd answered these same questions hundreds of times, so there may not be much original information here. I think it's informative and entertaining just the same.
The Man of
A Thousand Voices
Mel Blank Croons a Looney Tune
Editor's Note: We could think of no better way to end our special report on children's video than to chat with the one man whose name has become synonymous with some of the most-beloved cartoon characters: Mel Blanc, better known as the voice of Bugs Bunny, Porky Pig, Daffy Duck, and many other zany cartoon characters. Gregory Cat-sos recently caught up with this 77-year-old Tasmanian devil (who is still working a full schedule) for a short conversation.
VIDEO TIMES.- Who is your favorite cartoon character?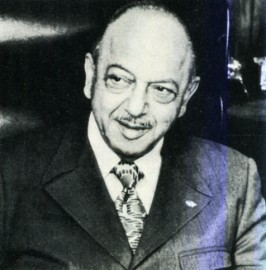 Mel Blanc: Bugs Bunny. Bugs is the closest to me. He's my favorite character because, without him, I don't know what might have happened. He's been more or less my main leading character. Not long ago, Warner Brothers conducted a poll among 10,000 children to determine what cartoon characters they liked best. Bugs Bunny came out number one. That made me realize how popular this "cwazy wittle wabbit" is. I hope it continues on that way.
VT: What character that you do is your real voice closest to?
MB: I'd say Sylvester, the cat, is the closest to my straight voice. I almost sound like him in real life.
VT: Each cartoon character you 've created is different from the other.
MB: I always tried to make each character different or unusual. These characters have their own peculiarities, their own unique personalities. Like Daffy Duck's crazy laugh, Bugs Bunny's style of talking, Porky Pig's stuttering, and the "spraying" sound of Sylvester when he talks.
VT: Warners has released a series of classic cartoons on videotape: Bugs Bunny's Wacky Adventures, Daffy Duck: The Nuttiness Continues, A Salute to Mel Blanc, and others. How do you feel about this?
MB: I'm happy about it. People with video machines can now collect some of their favorite cartoons. The Salute to Mel Blanc tape contains some of my personal favorites: "The Rabbit of Seville" (1950), "Robin Hood Daffy" (1958),
"Ballot Box Bunny" (1951), and "Bad O1* Putty Tat" (1949).
VT: How many cartoon voices have you provided these past 50 years?
MB: For Warner Brothers alone I did about 700 different voices. I can also do 400 more different voices and dialects. So when they call me, The Man of 1000 Voices, they're not kidding.
VT: Besides Warner's cartoons, who else have you worked for?
MB: I've done the voices of Barney Rubble and Dino the Dinosaur in The Flintstones. I'm doing voices again for The Jetsons, with Penny Singleton. I also provided the original voice of Woody Woodpecker in 1936. Walter Lantz had asked me to create a voice for his woodpecker character. 1 did a few cartoons for his studio. But I had to stop doing Woody's voice when I signed an exclusive contract with Warner Brothers. After that, a woman named Grace Stafford did the voice. I guess Walter Lantz didn't want to lose her, so he wound up marrying her (laugh).
VT: Are there any voices that you Haven't provided in the Warners' cartoons?
MB: I did practically everybody except Granny (in the Sylvester and Tweety Pie cartoons). And in the beginning, I didn't do Elmer Fudd. His voice was done for many years by Arthur Q. Bryan. After Bryan died in 1958, I began doing Elmer. But I didn't want to imitate Bryan's voice. 1 did my own interpretation of Elmer's voice. I don't like to imitate. I'm a creator of voices, not an impersonator.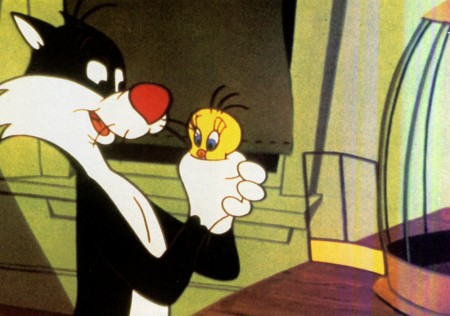 .
VT: When did you start doing cartoon voices?
MB: In 1936. I did a drunken bull character in a cartoon called "Picador Porky." Initially, I had some difficulty getting into the cartoon business. I tried many times to get an audition at Warner Brothers, but I was always told, "Sorry, but we have all the voices we need." I kept going back for over a year and a half, but the man in charge still said, "No." Finally, this man died. So I went over to Treg Brown, who was the head of the sound-effects department of animation, and asked for a job.
Treg listened to my audition and liked it. He even had me audition for some directors and producers at the studio. One director, Tex Avery, said to me, "Can you do a drunken bull?" I said, "I think so." And Tex asked, "What would he sound like to you?" So 1 did my impression of what I considered to be a loaded bull, hiccuping and slurring my speech. He said, "That's perfect! What are you doing next Tuesday?" Well, I wasn't doing a damn thing. But I said, nonchalantly, "Oh, I think I can make it" (laugh). That's how it all started.
VT: Did you also do Porky Pig's voice in "Picador Porky"?
MB: No, I didn't do Porky Pig at the time. The studio had a man there named Joe Dougherty, who actually stuttered in real life, who was then doing Porky. But this guy had problems coming in on cue and doing the dialogue properly. So the studio asked me if 1 could stutter on cue, to do Porky's dialogue with the right timing, I did my interpretation of Porky's voice for them, and they liked it.
VT: What was the first cartoon in which you did the voice of Porky Pig?
MB: 1 think I did Porky's voice for the first time in "Porky's Romance" in 1937.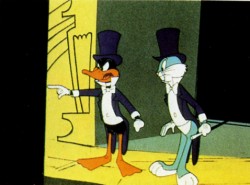 VT: Did you have scripts for the cartoons?
MB: Absolutely, but first the writers showed me the storyboard. Through a series of pictures, the storyboard showed what the cartoon was about and what the characters would say and do. Then I created the voices.
VT: How long did it take the animators to make one cartoon?
MB: It would take 125 people about 9 months to make one 6-1/2 minute cartoon. Of course, they all worked on more than one cartoon at a time. These animators were all specialists. One would draw Bugs Bunny; another would create Daffy Duck; another would do the backgrounds, and so on.
VT: How long did it usually take you to do the voices for one cartoon?
MB: About an hour per voice. Originally it would take me about a day and a half to do all the voices. The voice is done first, you know. From the voice the animator draws pictures to fit the mouth movements. The animator looks in the mirror and copies his own mouth movements on the character and captures the right facial expressions. My dialogue is also timed with the footage.
Eventually, I suggested to the directors, "Why don't you record each character individually? Let me do each voice first!" This way, I didn't have to jump back and forth anymore. So they recorded each character's lines individually. It saved a lot of time and money for the studio, and it was a lot easier for me this way.
VT: How much freedom did you have in contributing to the characters or the dialogue?
MB: I was given a lot of freedom with the cartoon characters, especially in contributing to their dialogue. I sat in on the story conferences and gave the writers and directors some of my own ideas. In many of the cartoons, I more or less ad-libbed a lot. My ad-lib was timed to the exact second. If I didn't feel that certain dialogue was appropriate for Bugs Bunny, I ad-libbed something better or more in character for him, or I suggested substituting another line. And 99 times out of 100, the director agreed that my ad-lib or change in dialogue was better than what was in the script. For example, they were originally going to have Bugs say, "Hey, what's cooking?" in all the cartoons. I said, "Instead of that corny expression, can't we use a funny expression that's been going around, What's up, Doc?" The writers agreed that sounded better, and we used that catchphrase instead. I also ad-libbed something in "Knighty Knight Bugs" (1958). King Arthur sent out Bugs Bunny, the court jester, to take away a singing sword from the Black Knight (Yosemite Sam). After recapturing the sword, Bugs was supposed to say, "So this is the singing sword? How do you like that?" But instead, I said, "So this is the singing sword? Big deal!" 1 ad-libbed, "big deal!" It sounded better than the original line, and Friz Freleng, the director, kept it in.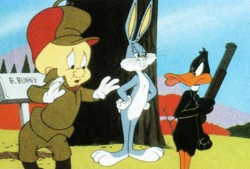 VT: When Bugs Bunny chews on a carrot and says, "What's up, Doc?" are you really chewing on a carrot?
MB: Yes, I actually chewed on a carrot. We had originally tried potatoes and celery but discovered the only-things that made the sound of a carrot was me chewing on a real one. But when 1 got a mouthful of carrot, I couldn't swallow it all in time and then talk like Bugs. So, we'd stop recording for a moment, and I'd spit the carrot out in the wastebasket. Then, I would go on with the rest of the dialogue. I used to fill a few waste-baskets a day in order to do a little dialogue.
VT: Why does Bugs Bunny kiss Elmer Fudd on the lips in many cartoons? What's that all about?
MB: The writers had put it in to get some more laughs in the cartoon. They thought this would be funny. At the time, we didn't think anything of it. It was just an unexpected thing for Bugs to do. Elmer Fudd is pointing his shotgun at Bugs. Instead of being afraid, Bugs grabs Elmer and kisses him! Now, a rabbit kissing a man, in itself, was ridiculous. It got a good laugh and they kept using the gag. Warners had some marvelous and inventive writers in those days. They experimented with a lot of gags for Bugs that would look absurd. This was one of them, When I talk at colleges, some students will ask, "How come you never know what Bugs is? He keeps kissing Elmer and the other guys." And 1 answer, "Bugs is not gay." It's just a gag that worked, and the writers used successful gags over and over. VT: What other gags were used a lot? MB: They had several running gags. Like the funny little signs Bugs or Daffy held up saying, "Funny isn't he?" In one Road Runner cartoon, "Gee Whiz-z" (1956), the coyote falls off a cliff and holds up a sign saying, "How about ending the cartoon before I hit?" Another gag is, Bugs opens a door and finds another door behind it, followed by another door, and so on. Or Elmer Fudd points his shotgun at Bugs. Then, Bugs bends the barrel of the shotgun back the other way, so now it's pointing at Elmer instead.
VT: When was Daffy Duck introduced?
MB: Daffy Duck was introduced in "Porky's Duck Hunt" (1937). The cartoon was very funny and ended with Daffy hopping up and down, laughing over the "That's all, folks" title card.
VT: When were Tweety and Sylvester introduced?
MB: In two separate cartoons. Tweety, the canary bird, was introduced in "Birdy and the Beast" (1944). Sylvester, the cat, made his debut in "Life with Feathers" (1945).
VT: How did they come up with Tweety Bird's expression, "I taw a puttytat"?
MB: I said that phrase at one of the meetings—one of our story conferences. The writers thought it was a catchy line, and we used it in the Tweety cartoons. The same thing happened for Sylvester's expression "suffering succotash." We developed all these kinds of lines at our meetings.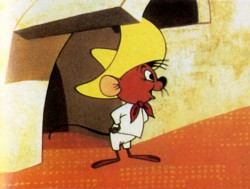 VT: How about Pepe le Pew, foghorn Leghorn, Yosemite Sam, and Speedy Gonzalez? When were they introduced? MB: Pepe le Pew made his first appear-ance in "Odor-able Kitty" in 1945, Foghorn Leghorn in "Walky Talky Hawky" in 1946, and Yosemite Sam in "Hare Trigger" in 1945. Speedy Gonzalez's first cartoon was "Cat Tails for Two" (1953). That shows you how long these characters have been around.
VT: How about the Road Runner and Wile E. Coyote?
MB: The Road Runner and the Coyote made their first appearance in "Fast and Furry-ous" (1949). This was the first time the Coyote chased the Road Runner in the desert. Chuck Jones was responsible for creating this series. I didn't do the voice in the first Road Runner cartoon. The studio used a Klaxon horn to make the beep sound. I started doing the cartoons after the first one was made. One day, the studio couldn't find their Klaxon and asked me to do the sound.
VT: What kind of director is Chuck Jones?
MB: Chuck Jones is a great director. When Chuck directed me he told me exactly what he wanted to convey in the cartoon. He'd also do some of the dialogue beforehand to demonstrate what he wanted me to do with the lines, the voice inflection, and the pauses between the lines. All of Chuck's cartoons are well structured. In his Bugs Bunny cartoons, Chuck usually showed a reason for Bug's mischievous behavior. Bugs Bunny is usually minding his own business in the rabbit hole. Then Elmer Fudd or somebody else comes along and bothers him. So Bugs says, "Of course, you know this means war!" and fights back. VT: What, in your opinion, are Chuck Jones' funniest cartoons? MB: I think many of his Road Runner cartoons are very funny, such as "Zoom and Bored" (1957) and "Hook, Line, and Stinker" (1958). Warner Brothers has released a videotape titled, A Salute to Chuck Jones. On it are some of his greatest cartoons: "Duck Dodgers in the 24′/2 Century" (1953), "For Scentiment-al Reasons" (1949), and "What's Opera, Doc?" (1957).
VT: Musical backgrounds are prominent in Warners cartoons, aren't they?
MB: Yes, music was an important ingredient. Carl Stalling—and later on, Milt Franklyn—musical directors, used many popular melodies to advance the plot of the cartoons. They tried to make the melodies fit the situations. For example, if there was a lady in a red dress, their orchestra played "The Lady in Red." If a character was leaving on a trip, you'd hear "California, Here I Come." Something about Hollywood or movie stars would be "You Oughta Be in Pictures" or "Hooray for Hollywood," and so on.
VT: Bugs Bunny and Daffy Duck do a lot of singing in the cartoons. Why?
MB: The studio knew I could sing pretty well and that I was also a musician. So the directors asked me to do some singing in the different voices I did. In Bugs and Daffy's voices I sang bits and pieces of songs like "Someone's Rocking My Dreamboat" or "Singing in the Bathtub." In the "Rabbit of Seville" (1950), 1 had Bugs sing "Figaro." In fact, Carl Stalling even wrote a special song for Bugs to sing called "I'm Glad I'm Bugs Bunny."
VT: Do you get residuals when your cartoons are shown on TV?
MB: Yes, I do. It's in my contract with Warner Brothers.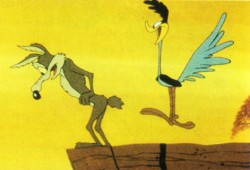 VT: For most of your career not many people knew it was Mel Blanc doing ait those cartoon voices. Did that bother you?
MB: Yes, 1 kind of felt bad because the cartoon characters themselves had become so popular. When I finally did the American Express commercial a few years ago, people became aware of who I was. But I used to go to restaurants and nobody recognized me. Now, 1 can't walk down the street or into a restaurant without somebody asking me, "Hey, have you got your American Express card with you?" And I answer, "Yes, I don't leave home without it!"
VT: What's next for Mel Blanc?
MB: All I can say is, "That's not all folks!"
— GREGORY J. M. CATSOS