Animation Artifacts &Articles on Animation &Independent Animation &Tissa David 22 Nov 2012 07:15 am
Happy Thanksgiving
_____________________________
- For the past few Thursdays, I've been posting a notebook that animator, Eugene Salandra compiled. These were notes he'd taken of classes taught by Tissa David in New York during the late 1990s. These notes and the notebook, itself, were completed with last Thursday's post.
However, Eugene did one better. He reviewed the notes, typed them into a presentable form and revised them for the sake of clarity. Looking at these encapsulated and abbrieviated version of the noteboo, I feel it'd be remiss not to post them as well as the rough version that we'd already posted. So, thanks to Eugene's generosity, here is a labor of love he put together. We'll all benefit from them.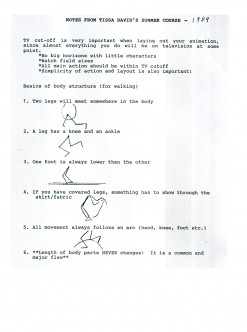 1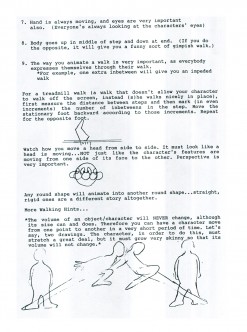 2
You can see the earlier parts by going to these links:
_______________part 1, part 2, part 3. part 4, and part 5, and finally, part 6.
6 Responses to "Tissa's Notes – recap"
Leave a Reply