Commentary 05 Dec 2012 07:00 am
- Yes, today is Walt Disney's birthday anniversary. He would have been 111 years old. It's also the anniversary of this Splog. It's seven years old today; my 2,552nd post. They've gotten a lot longer than the initial posts. They've also gotten more verbal rather than visual, though my attempt is always to keep it visual. I like putting up pictures, especially if the pictures are ones you see so infrequently.
Yesterday, was a first. I had prepared a review of the new McKimson book, I Say, I Say . . . Son!; I'd spent a hell of a lot of time putting it together. And I was supposed to post it yesterday morning. But I forgot. I never put it up. It'll be posted tomorrow, but I can't get over the fact that I'd forgotten to send it out there. Mark Mayerson caught it. This was the first time that I did that, and he checked in to make sure I was OK. Maybe I am, maybe not. Could be Alzheimer's, could be I just forgot it. I have had some time with that review, and a lot of stuff has gotten in the way with it. I'll be curious to hear any of your comments on it.
Over those past seven years, there are some posts that I've been particularly proud of having run and others that were just filler. It's interesting how I get pleasure from some posts that you might not expect.
I certainly like posting things that one rarely sees on the internet and enjoy putting out material that every animator should own.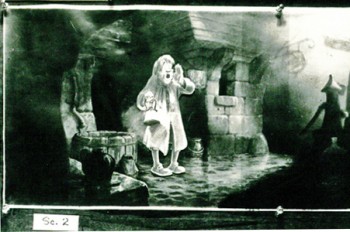 For example, I like putting up storyboard images such as these from Pinocchio: this was composed of photos from animation pencil tests from Pinocchio. Bill Peckmann and John Canemaker contributed.
Some of the actual board was here. The coachman's ride.
I also enjoyed posting the board from Mr. Toad's Ride, excerpted from The Wind in the Willows.
Or there was Dumbo takes a bath here.
There was also all the material from The Sword in the Stone as I posted not only the board from mad Madame Mim's section of that feature, but I included some great artwork by Bill Peet from that film.
I also liked the walk cycles from 101 Dalmatians, here.
I've written often enough about his work for you to know that I'm quite a fan of Yurij Norshtein.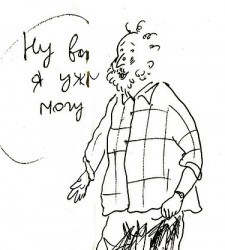 There were the chapters from that wonderful little book about Yurij Norshtein:
Norshtein Comics – 1
Norshtein Comics – 2
Norshtein Comics – 3
Norshtein Comics – 4
Norshtein Comics – 5
Norshtein Comics – 6
As a matter of fact, there were a whole string of posts I did about Norshtein when I was reading Claire Kitson's brilliant book Yurij Norstein and Tale of Tales: An Animator's Journey.
for example there was this post on Norshtein's Battle of Kerzhenets.
Or there was this post about a breakfast I had arranged in my studio for Norshtein and Feodor Khitruk. It was a wonderful morning for me, and I enjoyed sharing it on my blog. (It was sad to note that Feodor Khitruk died this week, December 3rd. I'll try to put together a proper post to note his life's work.)
I have been enormously influenced by Norshein, the Hubleys and other animators, such as Tissa David or Jiri Trnka or Bill Tytla. It gives me pleasure to talk about such influences. You can just go to the blue names to the right of the blog to click on those names that are well represented.
Some of these stories really stand out for me. For example, there was this story about Finian's Rainbow, a Print Magazine article by John Canemaker. I can't tell you haw many times I've gone back there, myself, to look at the material again.
I also enjoy continuing a dialogue I see on the internet. If it gives me a chance to expound on animation, film or acting it often brings me pleasure. There was this post and others about it, thanks to a series by Mark Mayerson, that gave me time to think aloud on this blog.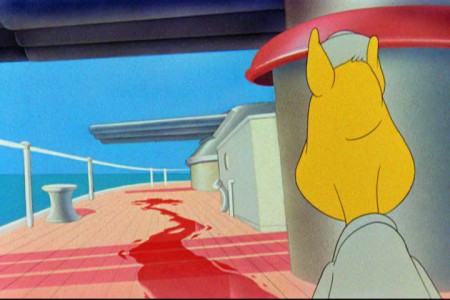 I have a strong love of design in animation, and I can't help but call attention to it. George Cannata is a brilliant artist and deserves all the attention he can get. See here and here.
Or T. Hee was brilliant. See here or here.
I also have a wealth of artwork and plenty of information on Rowland B. Wilson. Start here or here or here.

__________________________
You know, there's just a lot of material here.
I haven't even gotten into the wealth of material on loan from Bill Peckmann with his stunning collection of illustration and comic art. It's just magnificent, and I am so proud to be able to post whatever he sends me whether it's Rowland Wilson or Harvey Kurtzman, Gahan WIlson or Dick Moores. There's just a bounty of artwork, and it all demands viewing. What a treasure is there. What a pleasure to post it.
All I can say is that I intend to keep it up. There's so much more to post, so much more to enjoy,
9 Responses to "December 5th"
Leave a Reply