Animation &Books &Commentary &Puppet Animation &Trnka 20 Aug 2013 02:32 pm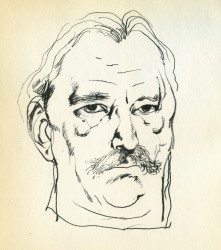 – Early in the history of this blog, I wrote quite a bit about Jiri Trnka. This man's artwork has long been a source of great inspiration to me. His illustrations for the fairy tales of Grimm and Andersen are stunning and the two books are of inestimable value to me. His puppet films are so brilliantly strong and lyrically beautiful that I was overwhelmed when I first saw them, even though his reputation preceded them. I'd read enough about him and owned a magnificent biographical account of his work, that I was confident I would be a bit disappointed when I finally saw the films. I wasn't.
The Hand was magnificent and remains one of my favorite films, to this day.
The Archangel Gabriel and Mother Goose is a beautiful animated puppet film about Venice during the late Middle Ages.
The Midsummer Night's Dream is a feature-length masterwork that has to be seen for any lover of animation – nevermind puppet animation.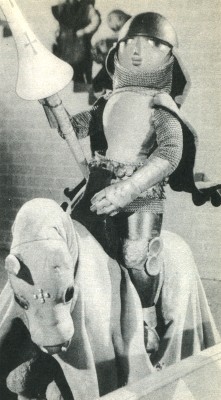 The film, Bayaya was a mystery to me for many years. It was not an easy film to view. Back in the 70s, there was no video, and seeing Trnka's films meant trips to the NYPublic Library in NY to visit their collection of 16mm films. There you could watch any of the collection or borrow them to watch at home. These films were often littered with many bad splices where the films had broken. The quality of the colors deteriorated over the years. It made for tough viewing, but it also made it possible to see some of the Trnka canon.
Bayaya was not part of this collection. In fact, I've only seen part of the film once. John Gati, a NY puppet animator who was a good friend, located a copy of a 20 min excerpt (in Czechoslovakian) for an ASIFA-East screening and showed it to a small audience in a classroom at NYU. The print was black and white, but since I'd only seen B&W illustrations, this made sense.
This film represented a strong change for Trnka. He had previously done a number of cel animated films. These shorts were remarkable in that they were a strong step away from the Disney mold. This was a bold step to take in the animation community in Europe circa 1947.
The film was purely lyrical, and the story accented the folk tales quality of these legends of Prince Bayaya and The Magic Sword. Consolidating the two, he named the film after the hero and made him the embodiment of courage, morality and honor.
Trnka considered Bayaya a turning point in his career. He realized that the puppet film had taken on new strength and he had to follow through with every film thereafter.
Here are a couple of scenes from the Trnka book I treasure, Jiri Trnka: Artist & Puppet Master.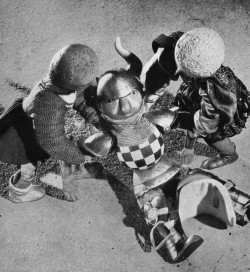 (Click any image to enlarge.)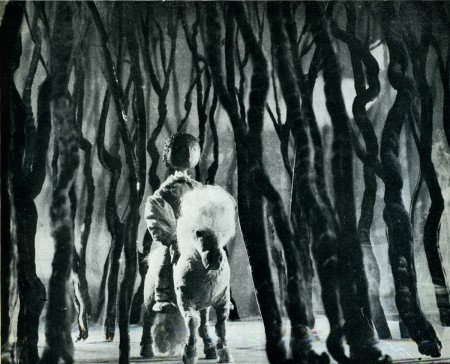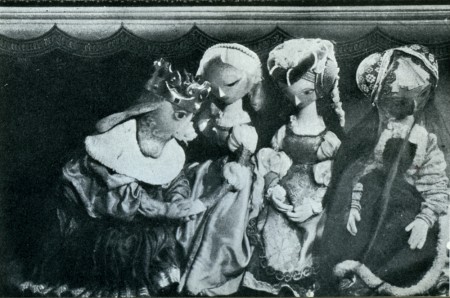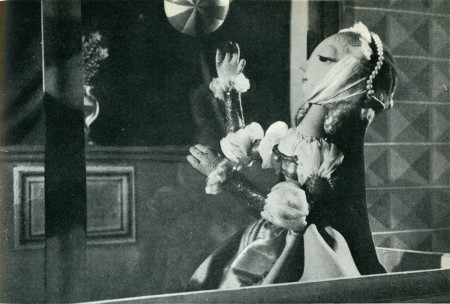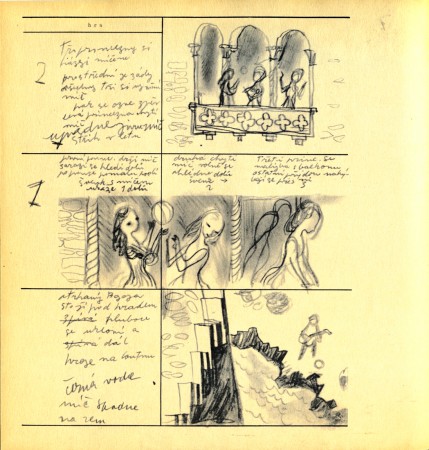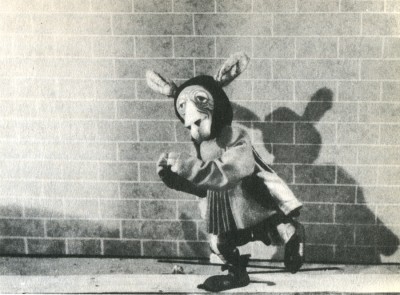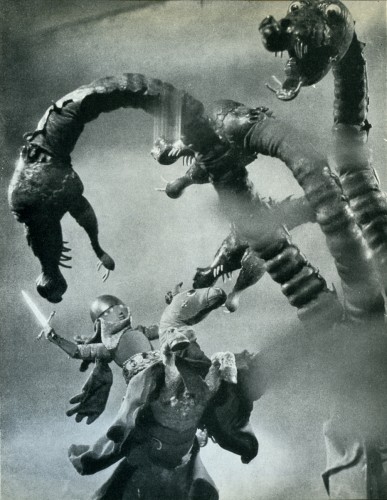 There are two parts of a documentary on Trnka available via YouTube. They're worth the watch. Part 1, Part 2.
Books &Errol Le Cain &Illustration 16 Aug 2013 07:08 am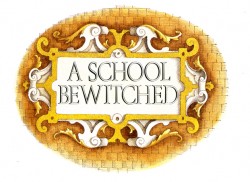 - As you know, I am an enormous fan of Errol Le Cain's work. I've been posting quite a few of his illustrations for children's books. (You can see the past posts, if you're interested, here.)
Today, I'm showcasing a book written by Naomi Lewis from a story by E. Nesbit.
The book was adapted to a film on the BBC, narrated by Nigel Havers. She also adapted The Snow Queen which Le Cain illustrated.
The book contains 30 pages, and every page includes an illustration. I've decided to break this into two parts since I don't want to post tiny thumbnails of the pictures.
I'm not highlighting the text; you'll have to buy the book for that. I am posting all the great illustrations and hope you enjoy them as much as I do.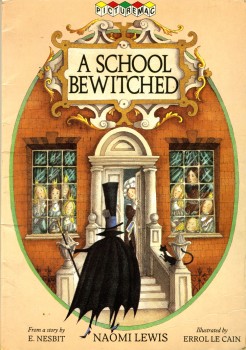 __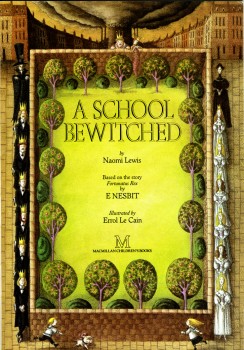 1
(Click any image to enlarge.)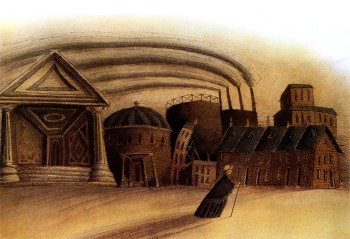 14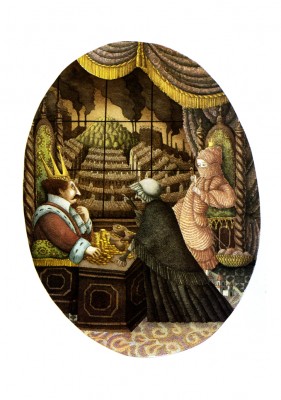 15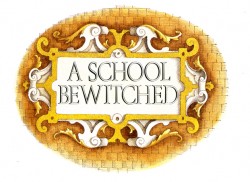 -

A School Bewitched is a small picture book with a full page illustration on every other page. The remainder have spots which decorate around the type.

We started showing off the illustrations yesterdayl here are more. I'm not concerned with telling the story. I'd urge you to buy the book if you're interested in that.

______(Click any image to enlarge.)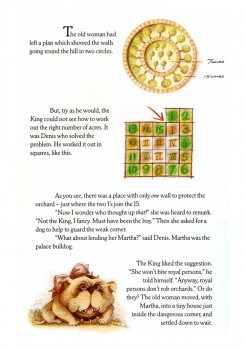 16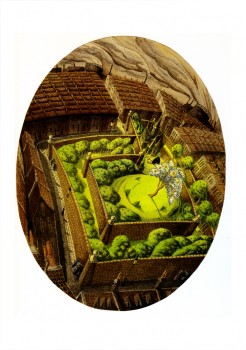 17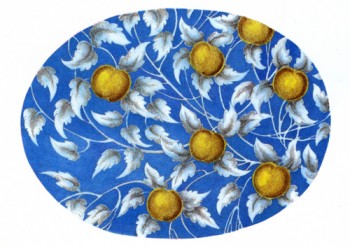 20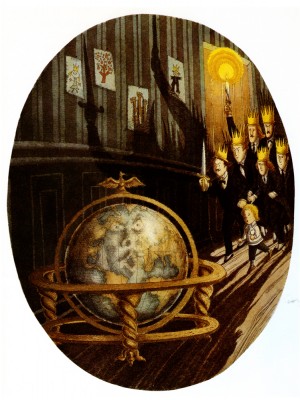 21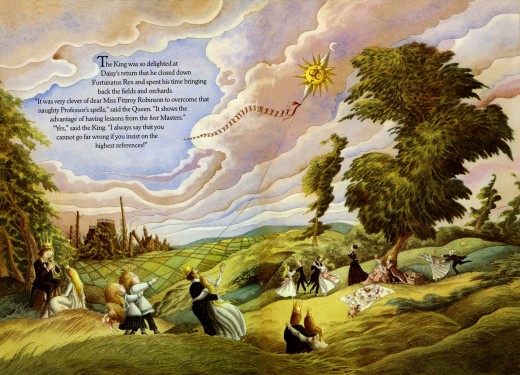 28
Back Cover
Books &repeated posts &Story & Storyboards 24 Jul 2013 08:54 am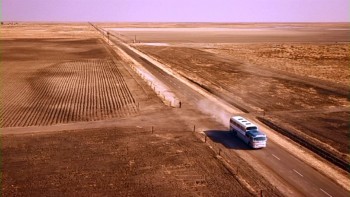 - Thanks to the site 1000 Frames of Hitchcock (and thanks to Mark Mayerson for leading us there) we can view a frame by frame analysis of Hitchcock's works. This is essential for any film lover or storyboard designer. These films are the masterworks and our foundation.
North By Northwest features one of the most studied film sequences of all time. By going to the photo-site, you can truly look at how the scenes break down into their montage.
This encouraged me to put up the boards I have from a book entitled Hitchcock's Notebooks by Dan Auiler. Auiler says that once Alfred Hitchcock completed the script with Ernest Lehman, they handed this sequence to storyboard artist Mentor Huebner and gave him free reign to do as he thought fit. If you study the photos from the film, on the new site, you'll see that one doesn't exactly duplicate the other. I caught a mispublication in that some of the drawings were printed out of order in the book. Regardless, certainly the mood of the sequence is here, and the cutting style is established.
This is Huebner's board: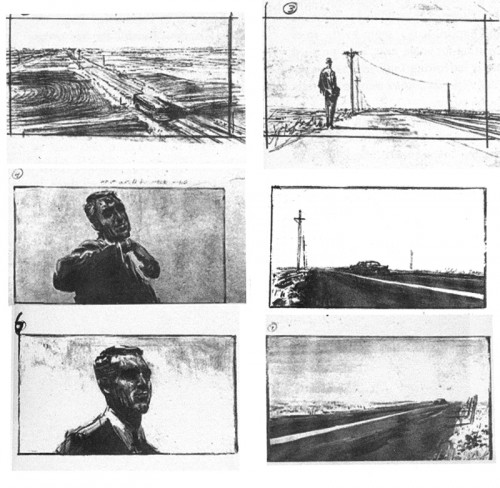 1
____(Click any image to enlarge.)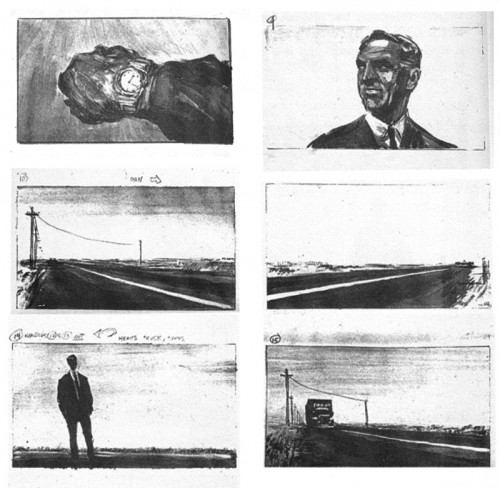 2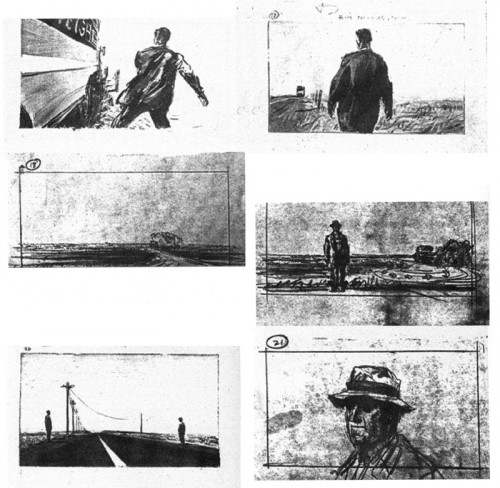 3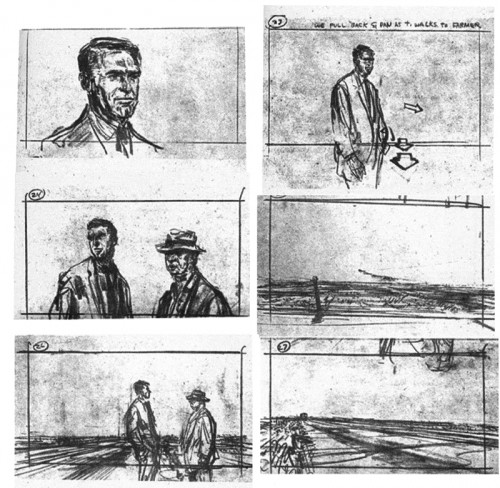 4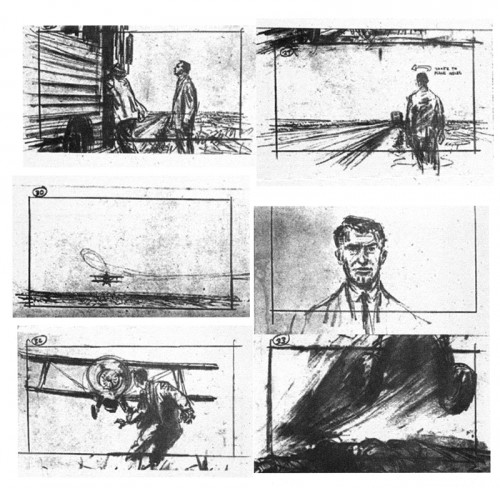 5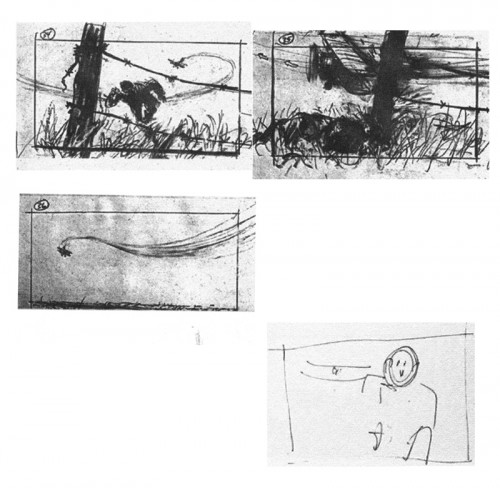 6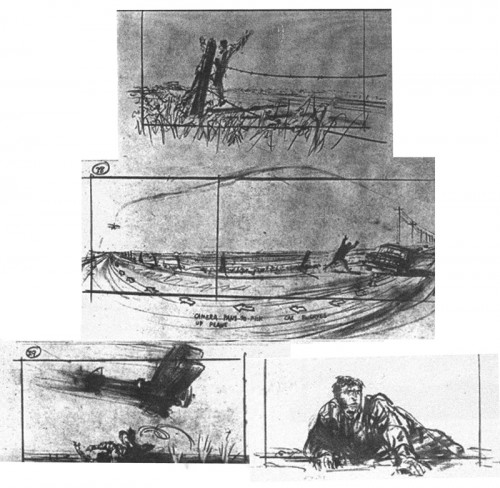 7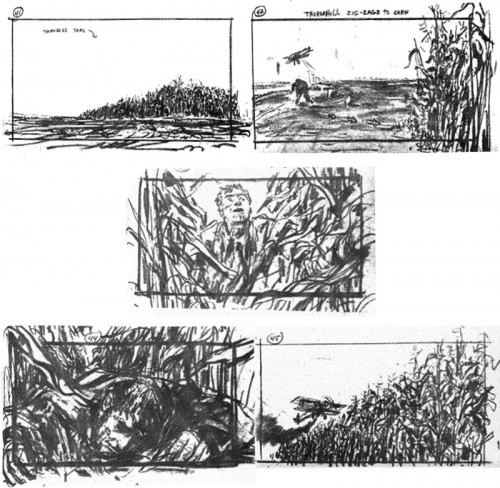 8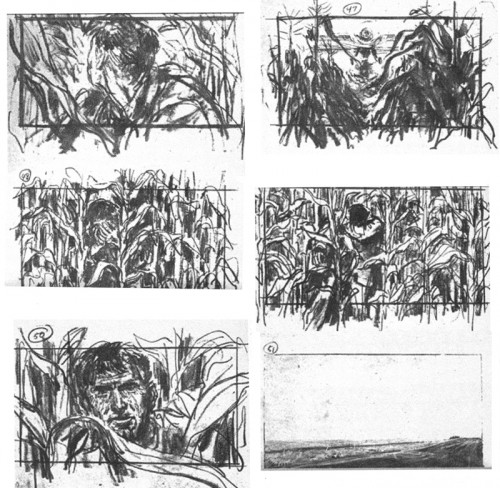 9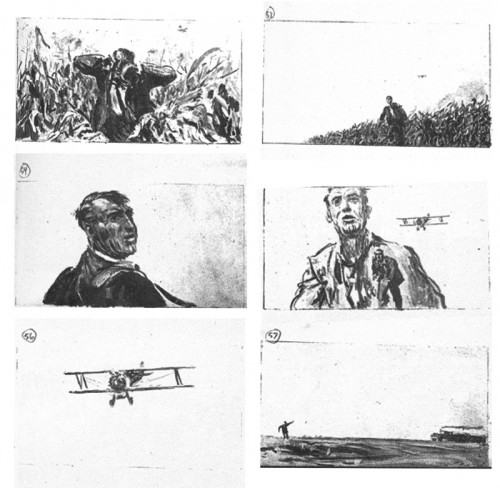 10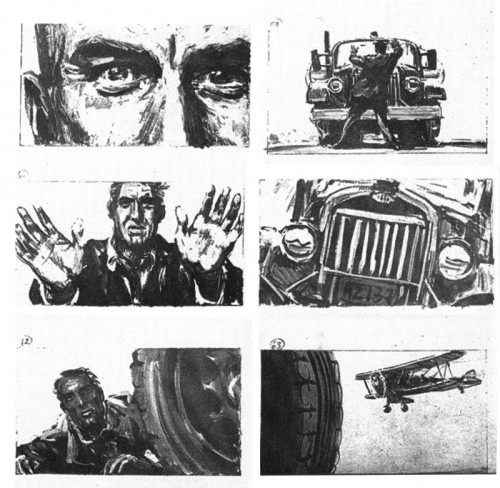 11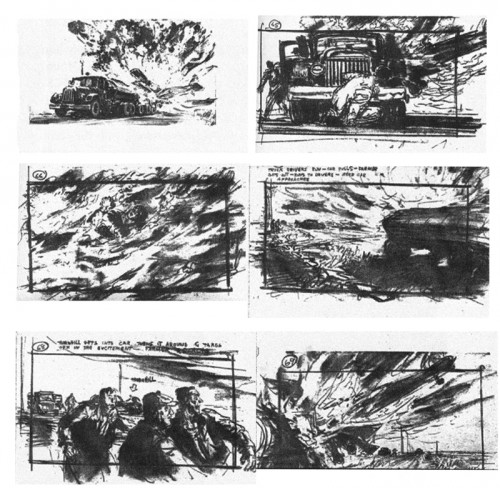 12
Bill Peckmann &Books &Comic Art 19 Jul 2013 07:28 am
Let's focus on some of the early and brilliant art of Walt Kelly.
- Bill Peckmann had forwarded some of the covers from Walt Kelly's Dell comic books, the "Our Gang" series, dated 1946 & 1947. Also included in this stash are a couple of the interior stories.
Bill writes:
I certainly wish I had more than these 7 issues of Walt Kelly's "Our Gang" comic books published by Dell, but looking at these covers, they will give you a sense of what Kelly was up to.
Each issue contained a 14 to 16 page "Our Gang" story done by Kelly, a "Tom and Jerry" story, a "Flip and Dip", a Carl Barks "Barney Bear and Benny Burro" piece and ended with an appearance by "Wuff the Prairie Dog".
I'll include one "Our Gang" story and one "Barney Bear" to round out the post and save the "Pogo" comics for a post by themselves.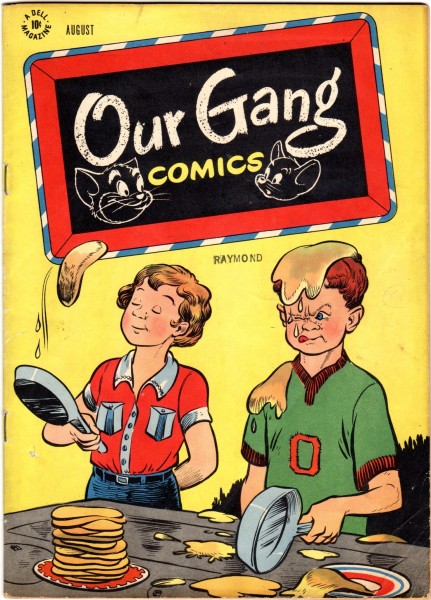 1
August 1946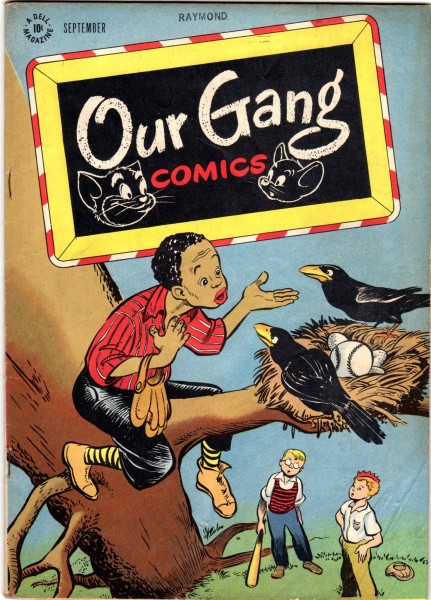 2
September 1946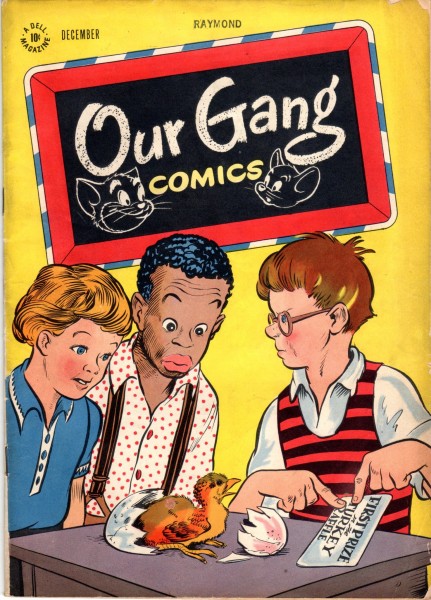 3
December 1946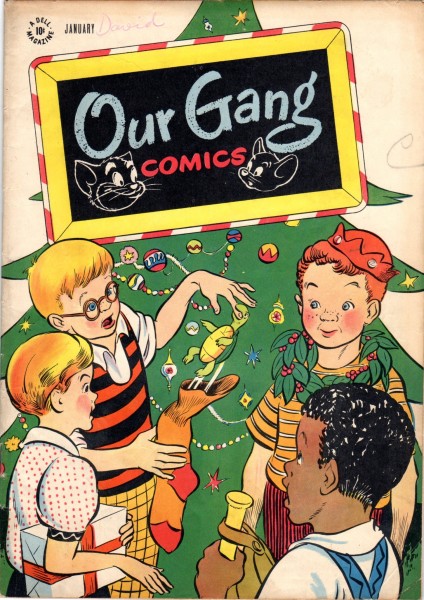 4
January 1947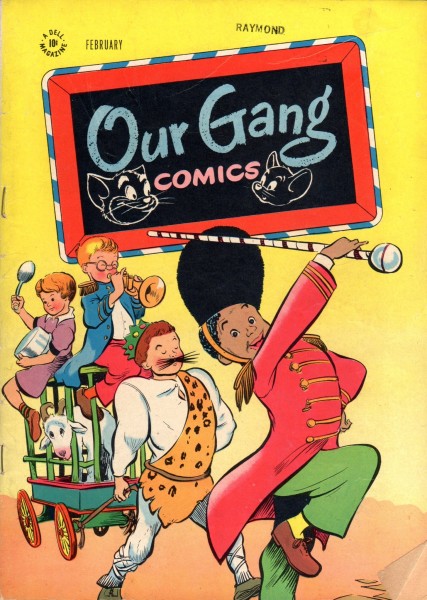 5
February 1947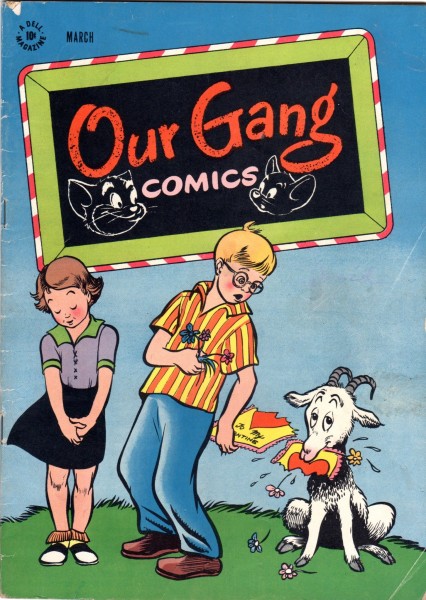 6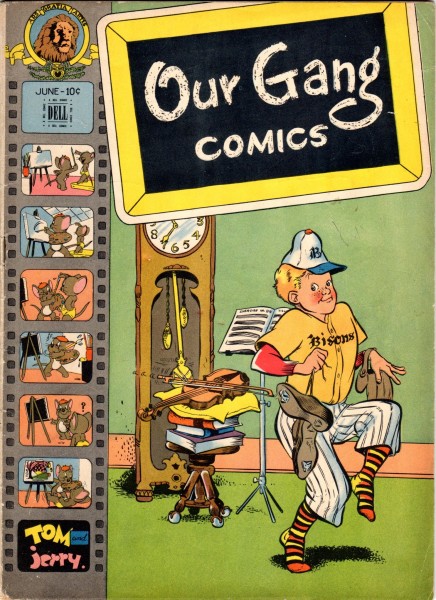 7
June 1947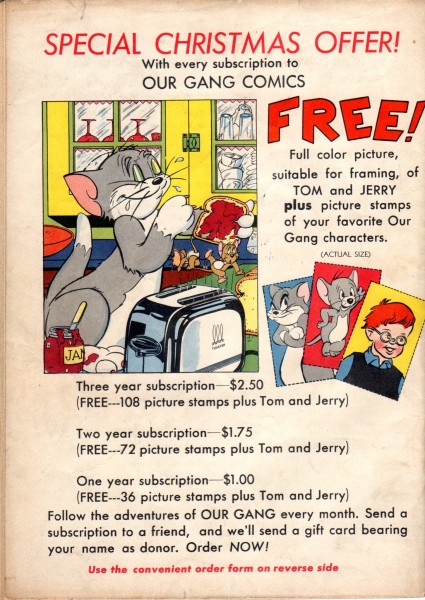 8
back cover
All the back covers have basically the same subscription ad,
but I thought I'd send one along for the "currency" shock of it.
What happens when you pour deceptively simple and totally charming into a bottle and shake 'em up? Why out pours Walt Kelly's "Our Gang" comics of course! What a touch he had for combining "cartoony" and "straight" in those stories, not an easy thing to pull off, he and Roy Crane were masters of it! Norman Maurer of "Boy" and "Daredevil" comics also had that wonderful ability.
This story is from the September 1946 issue.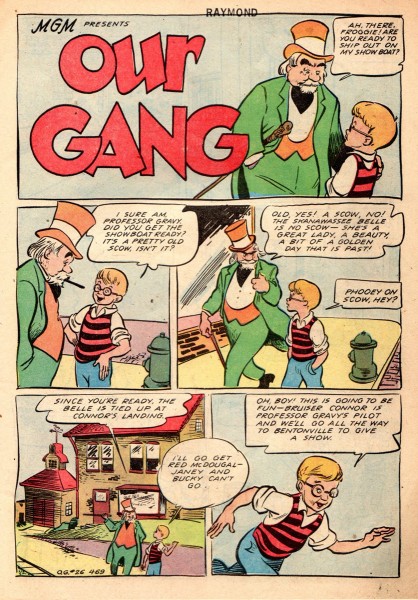 1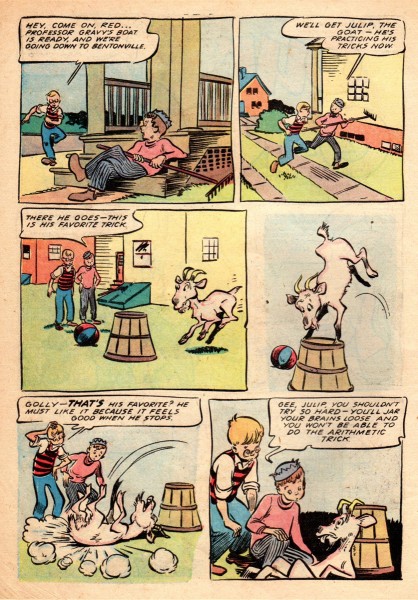 2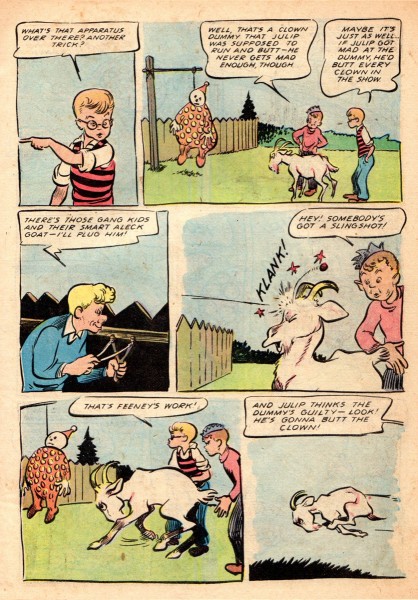 3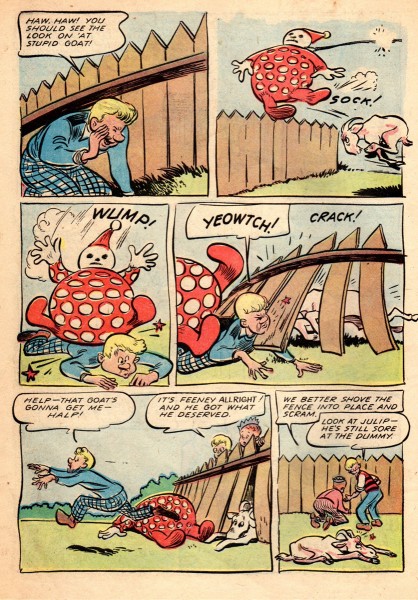 4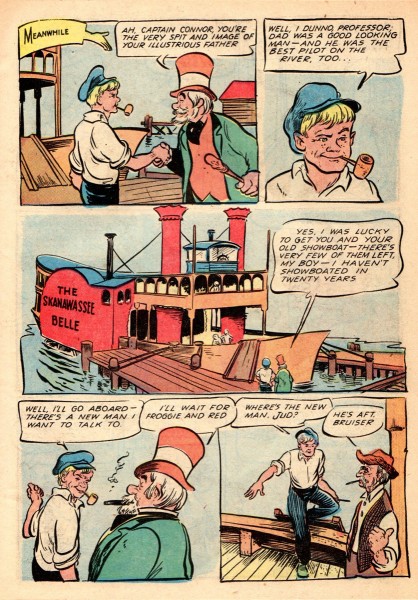 5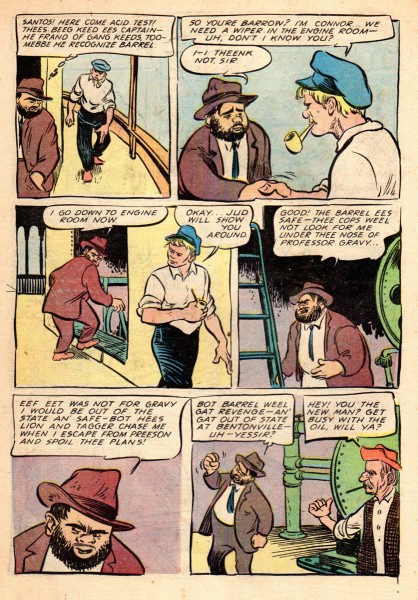 6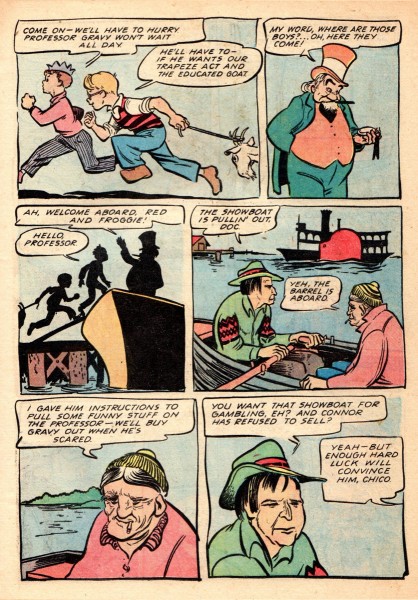 7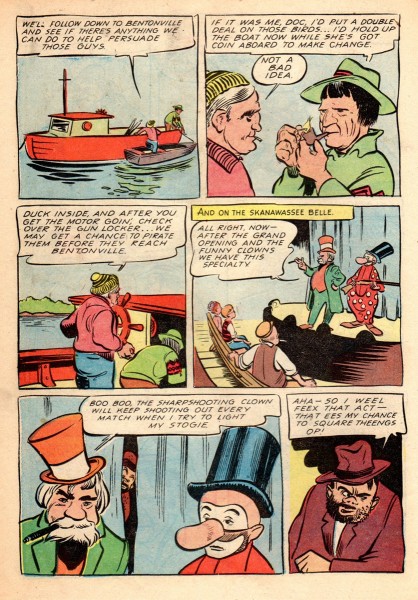 8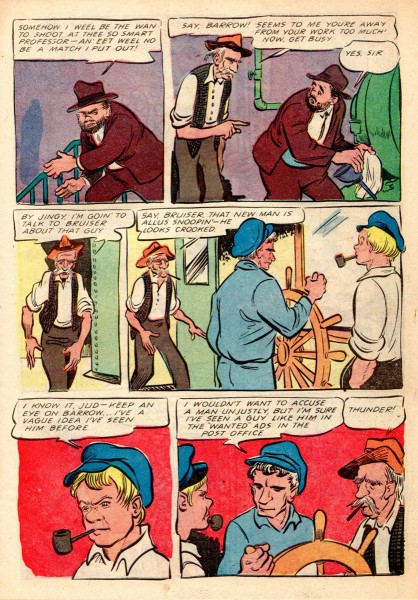 9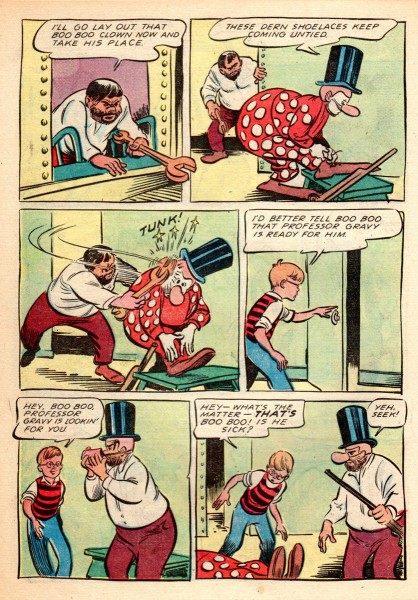 10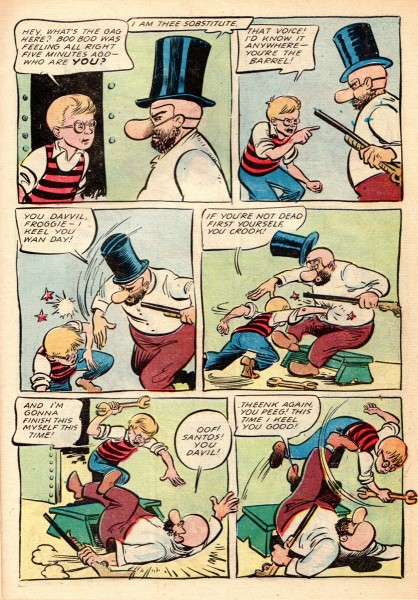 11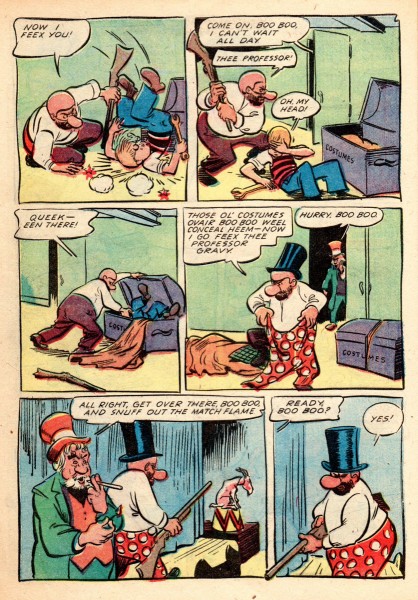 12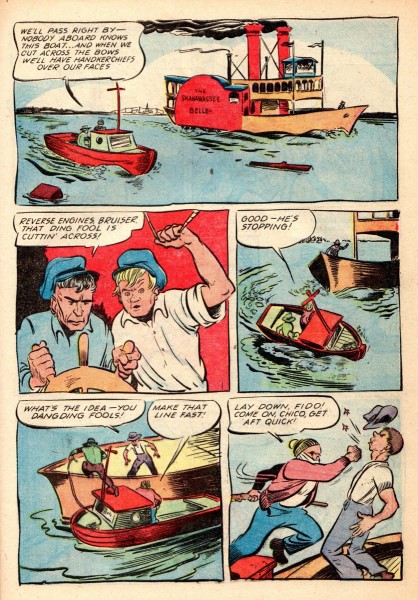 13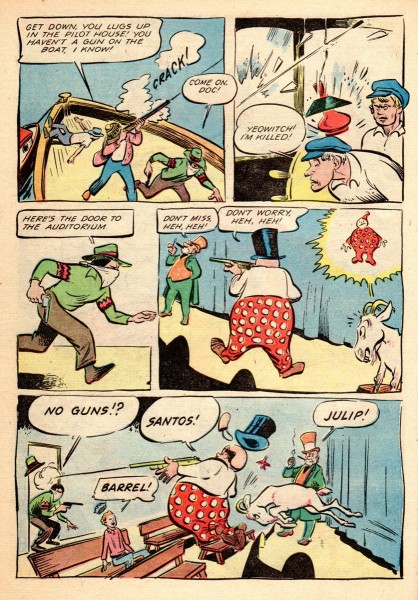 14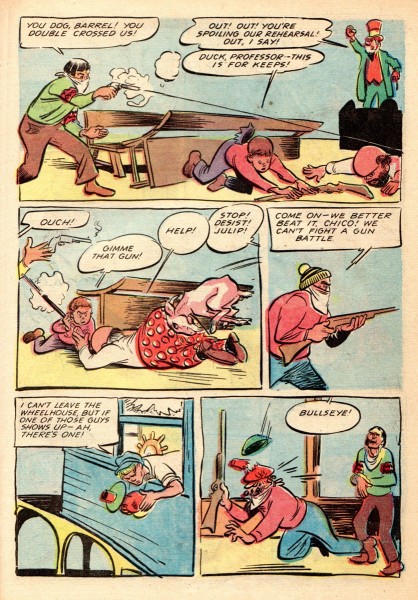 15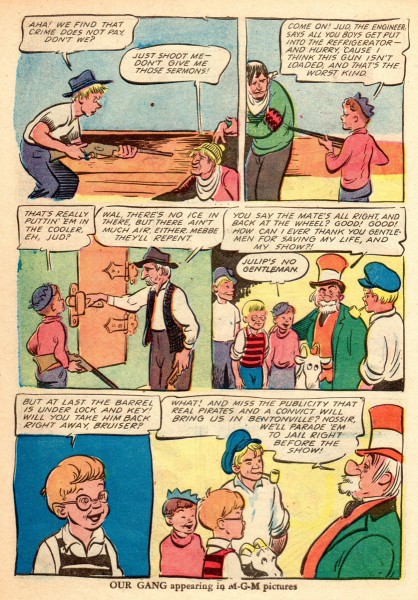 16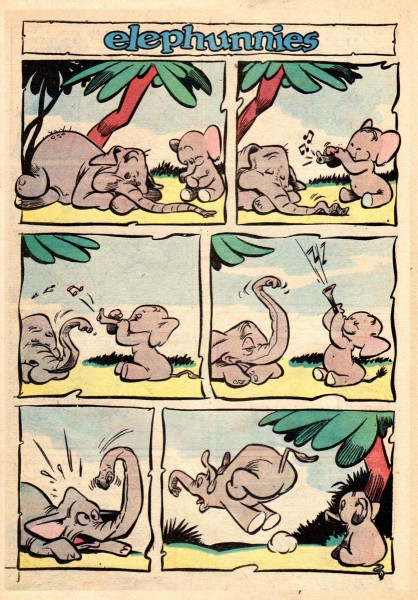 1
Here are two Walt Kelly single page gags from the same issue.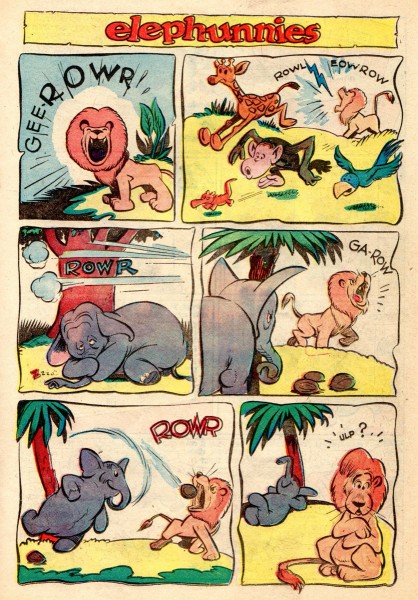 2
Bill Peckmann &Books &Illustration 17 Jul 2013 02:53 am
I enjoyed posting Sasek's illustrated book to Rome last week, and Bill Peckmann followed the cue of his sending me scans of "This is D.C.", the artist's follow-up to the U.S. Capital. I hope you enjoy, because I have "This is NY" developing sitting in the wings. look forward to it.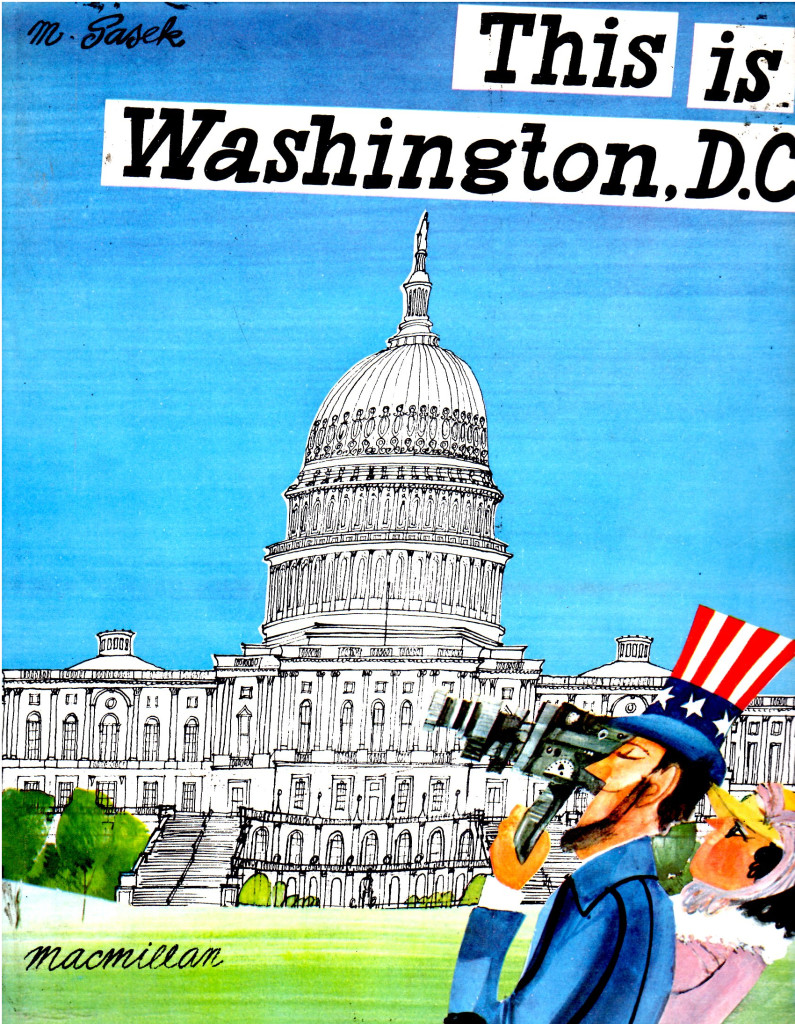 The book's cover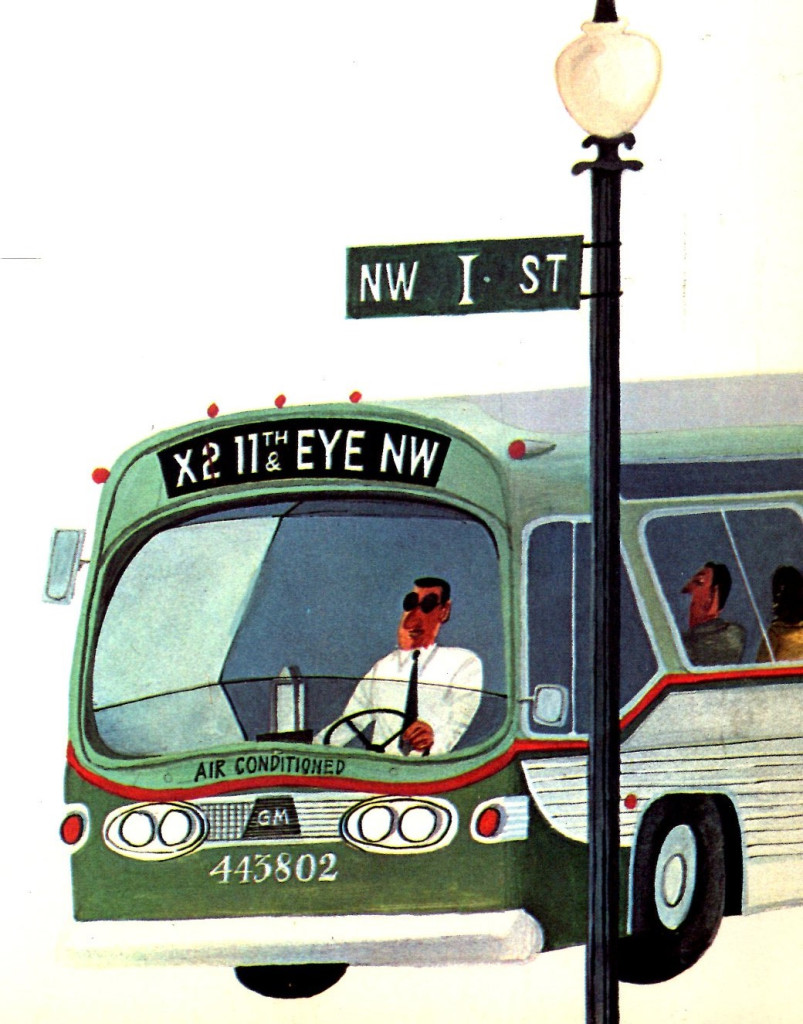 1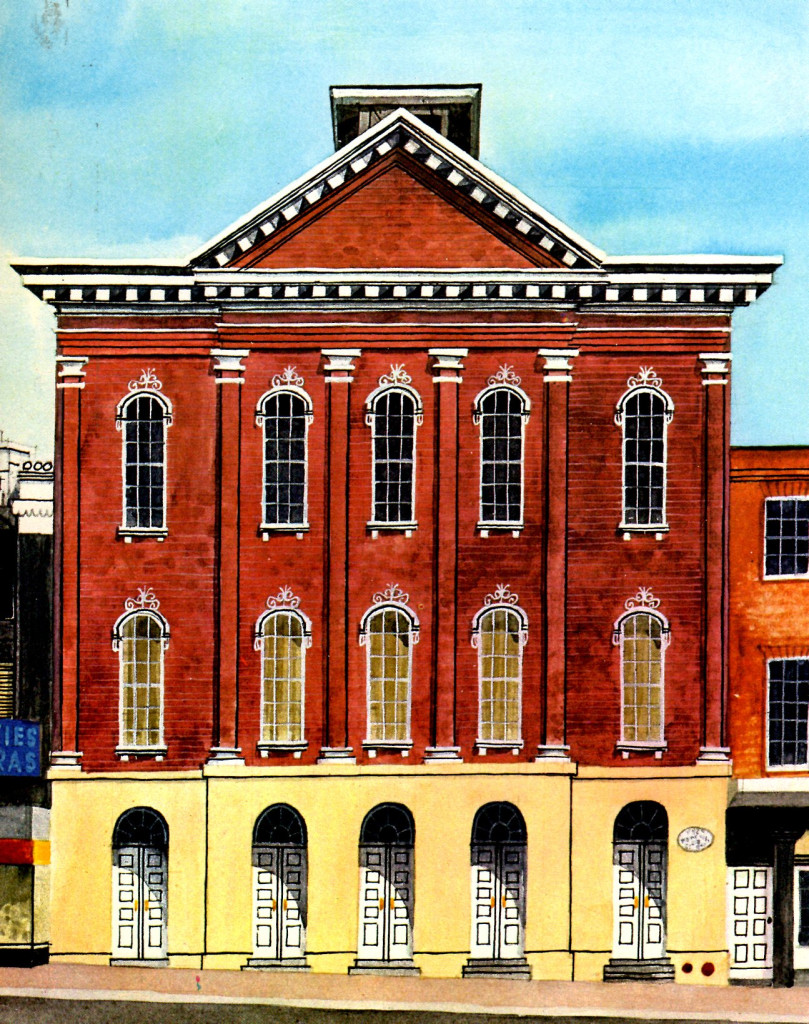 2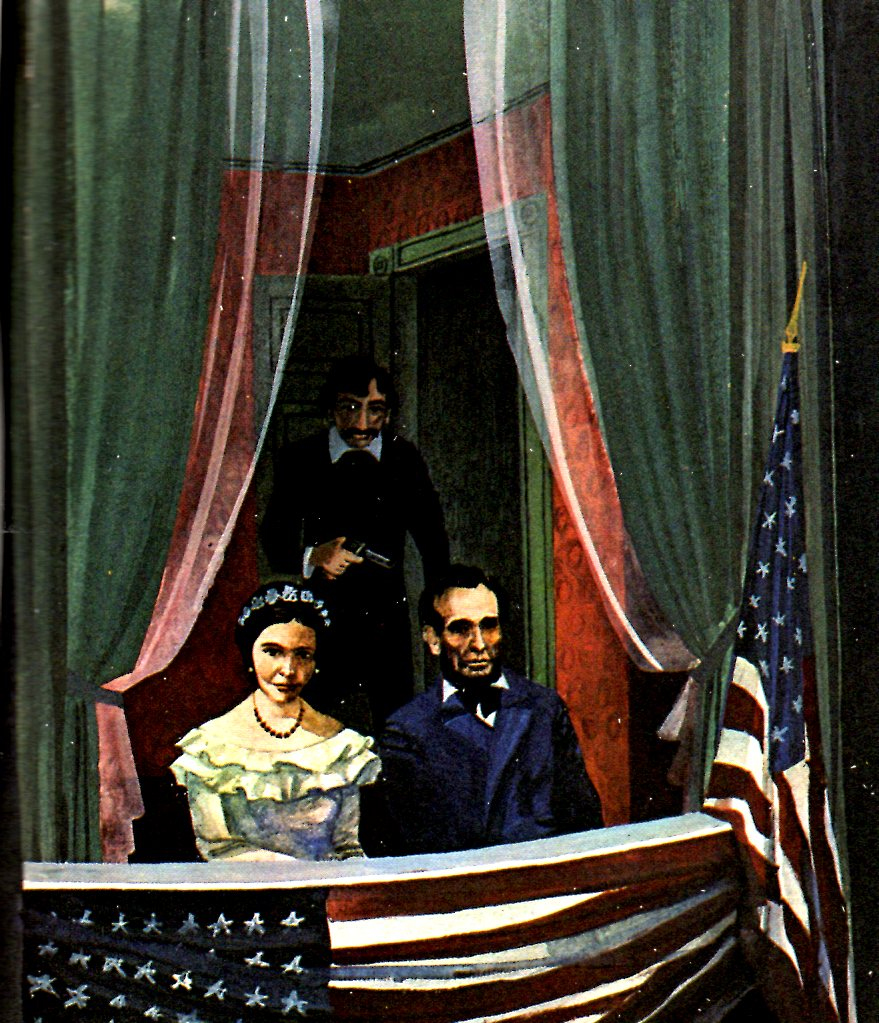 3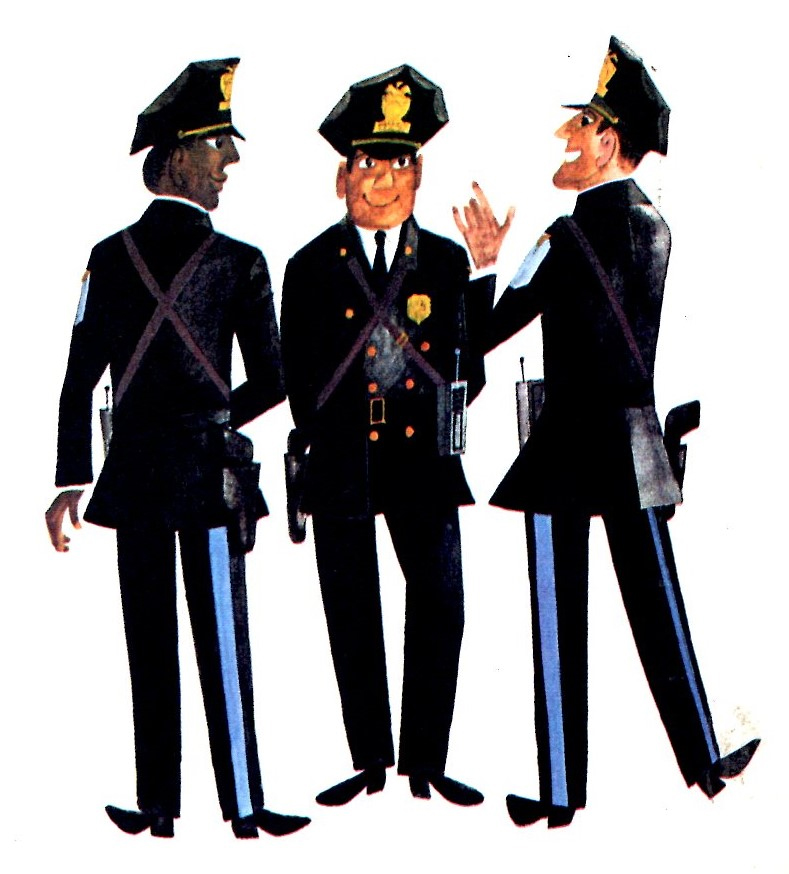 4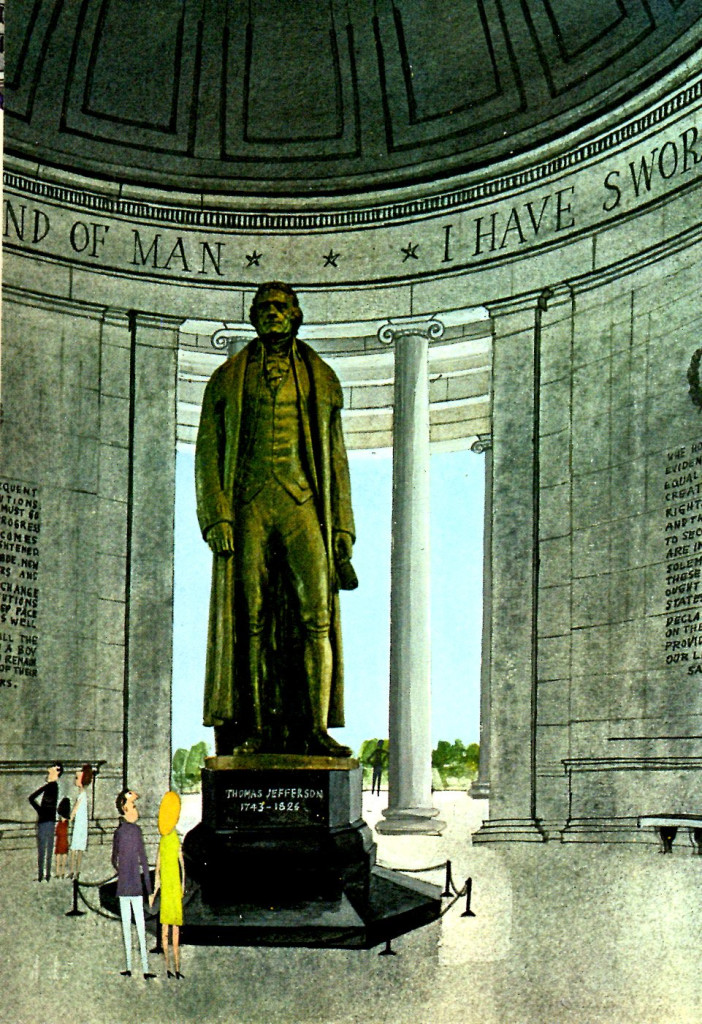 5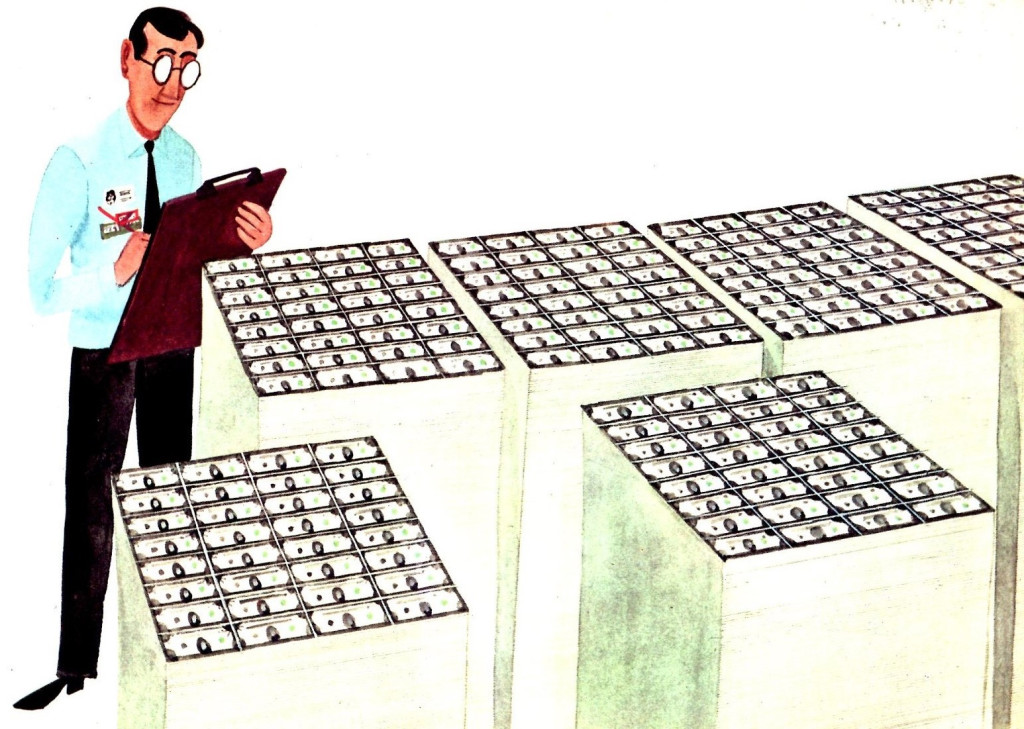 6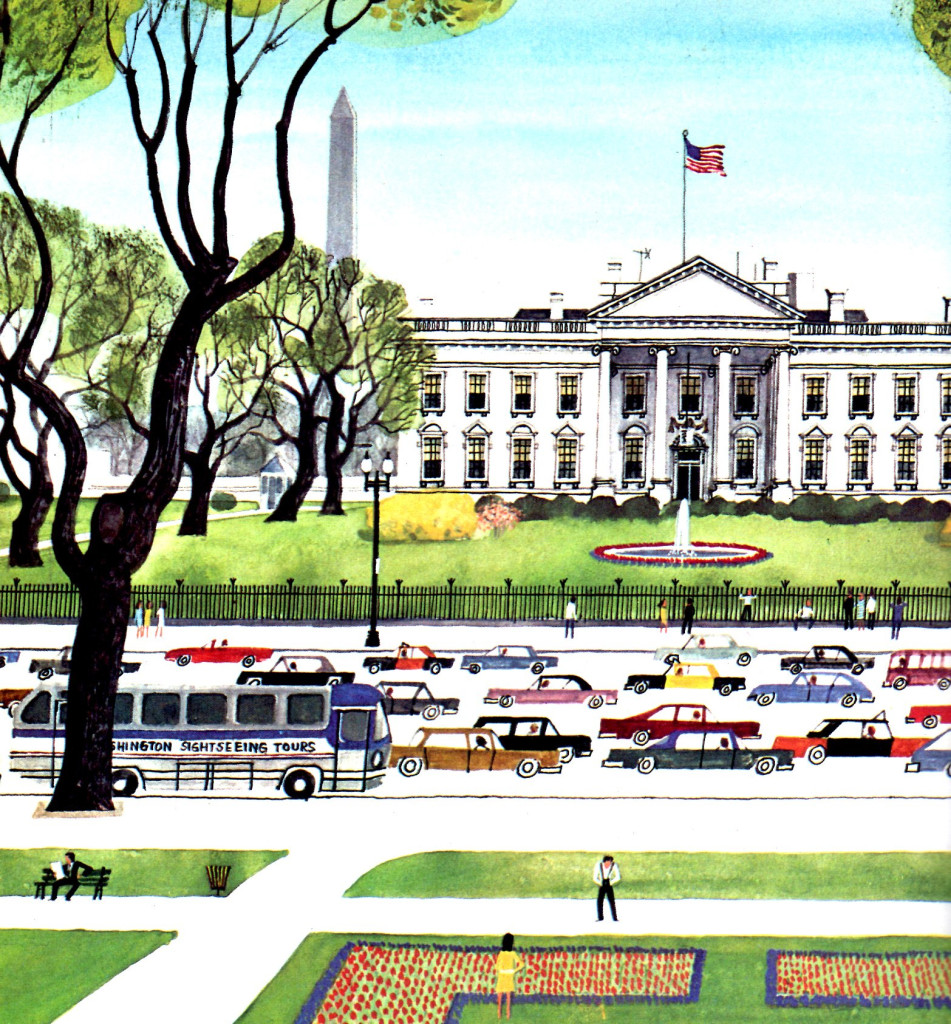 7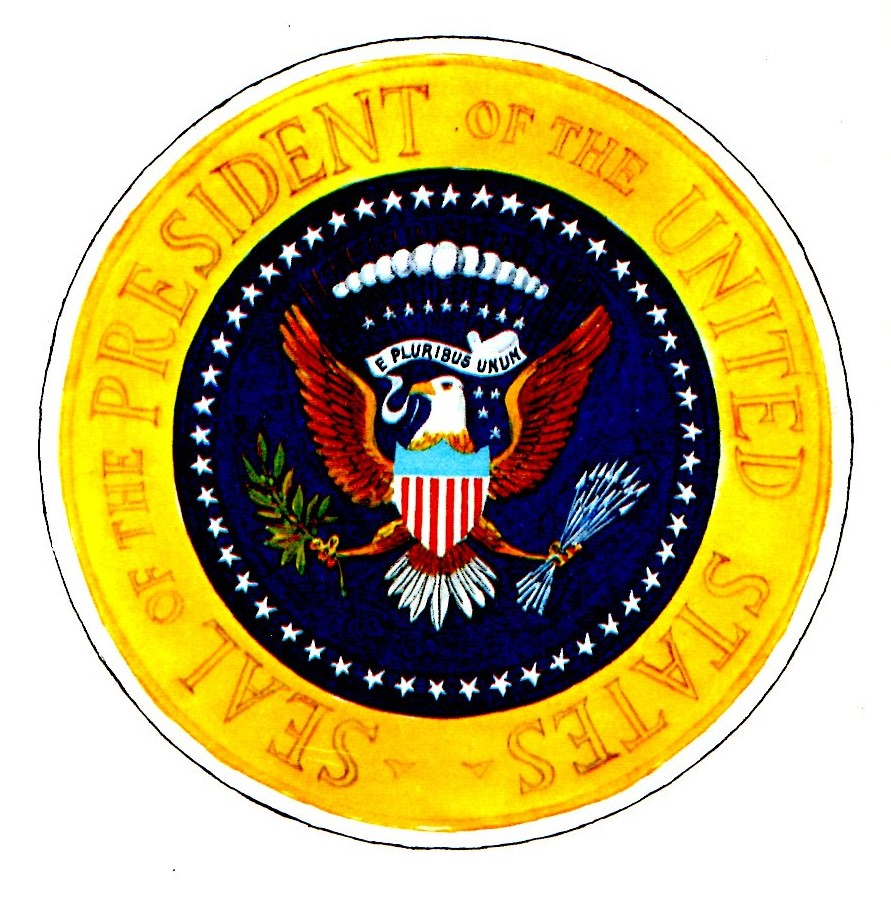 8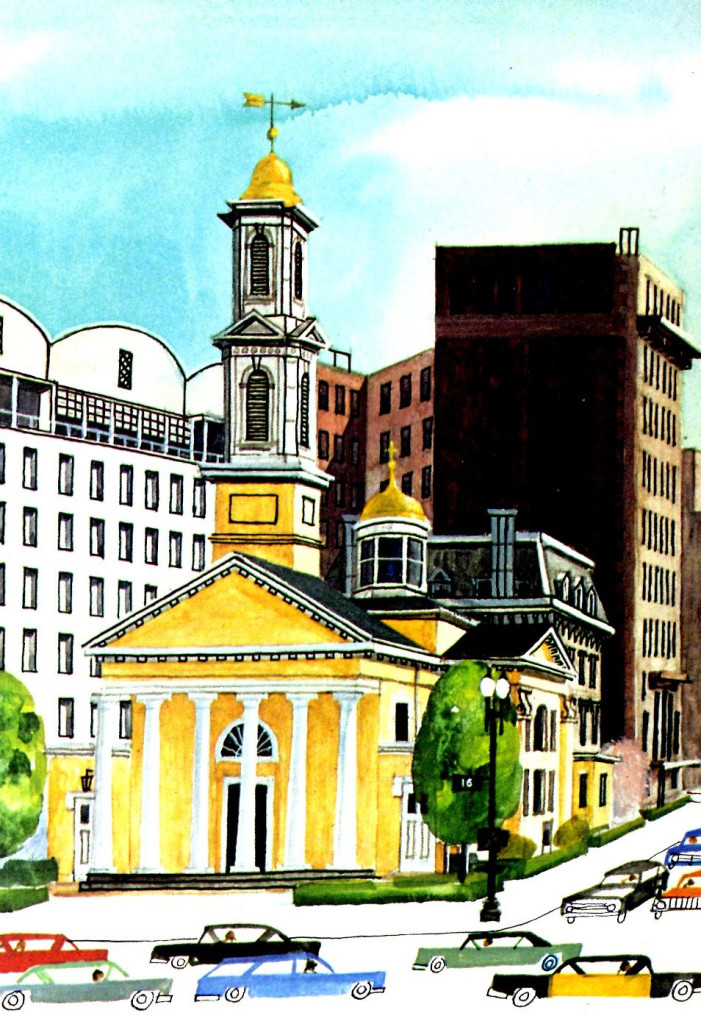 9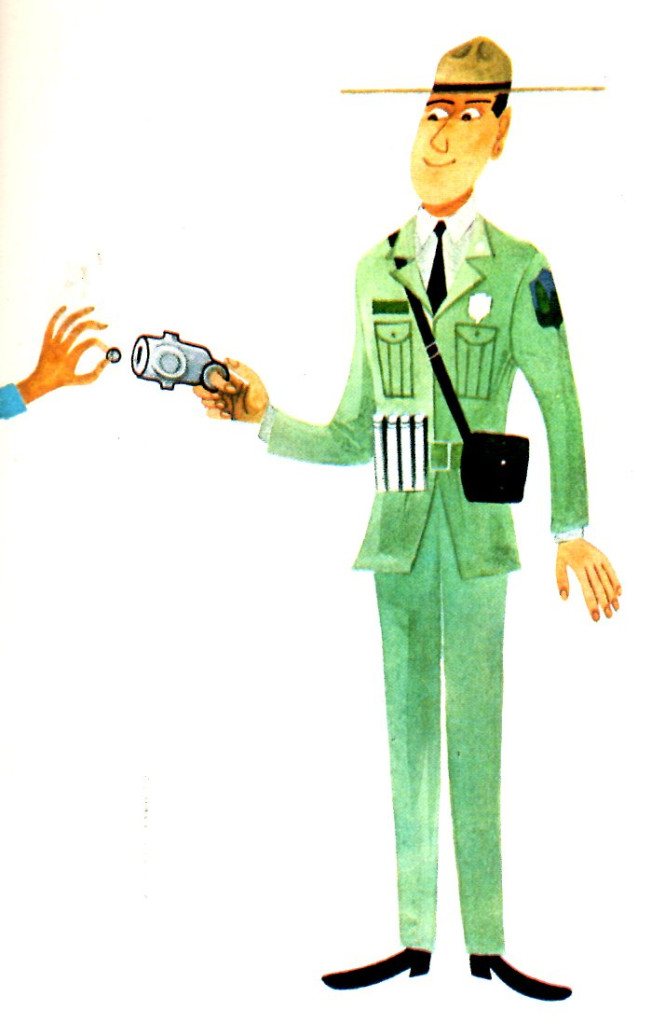 10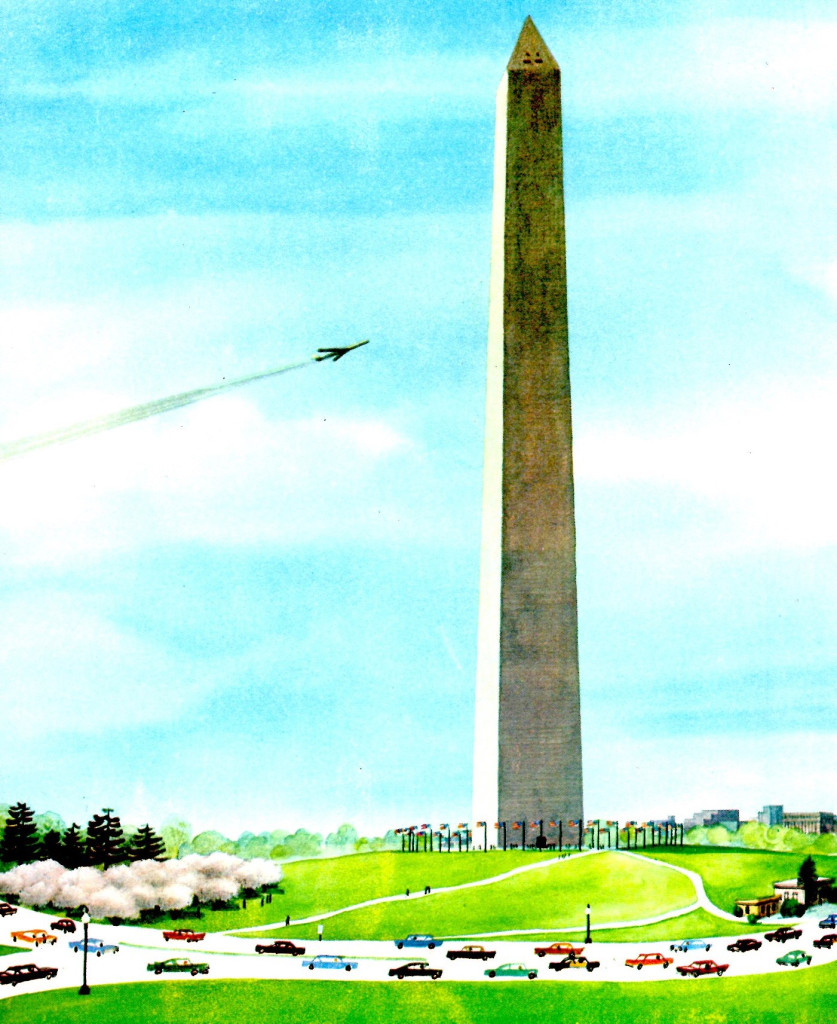 11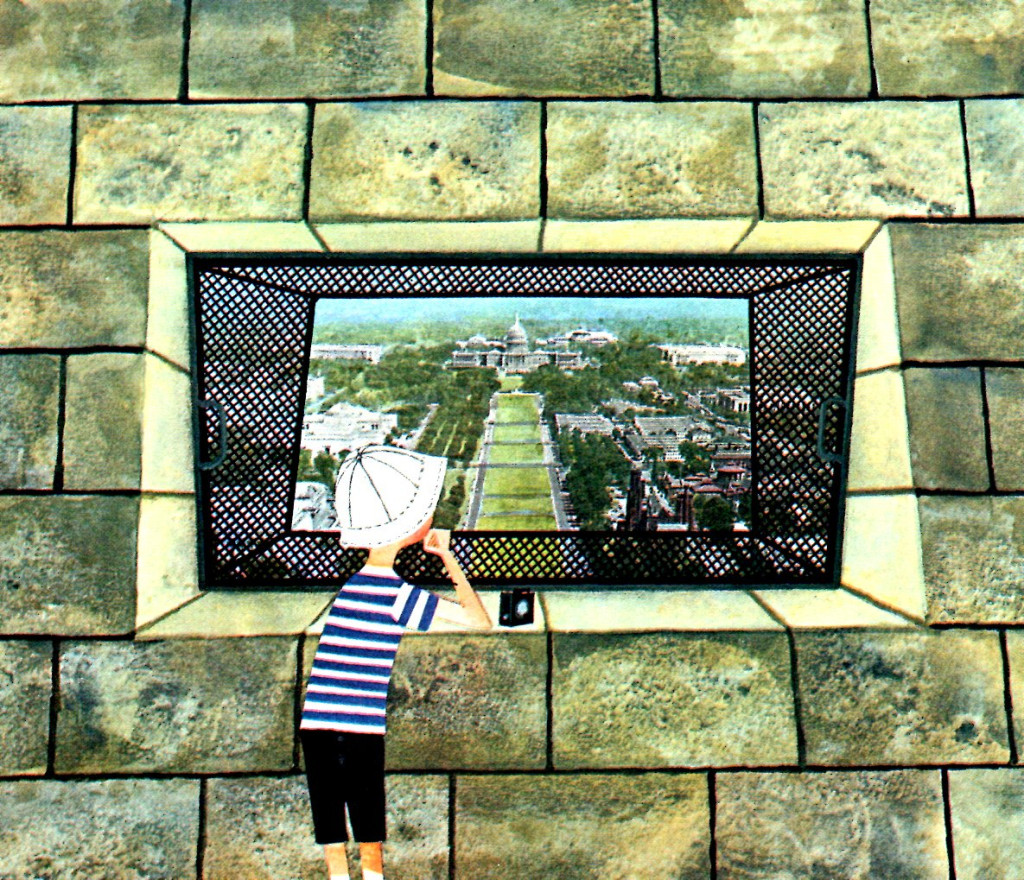 12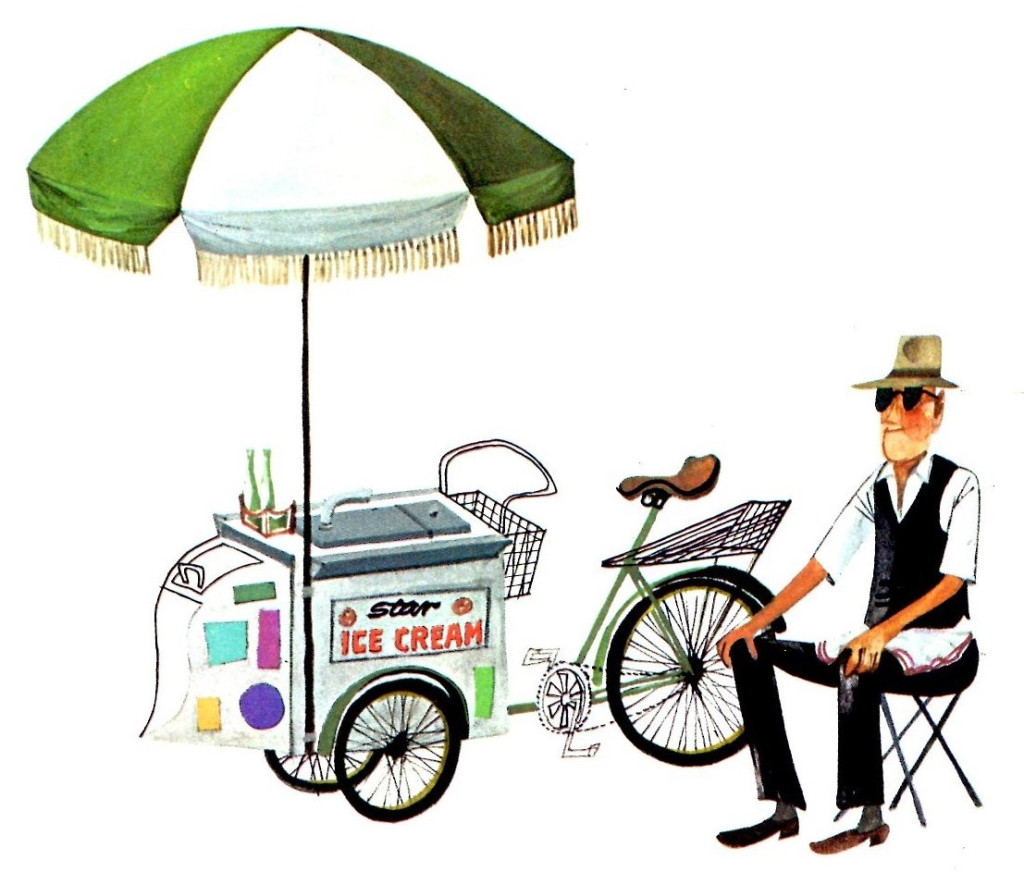 13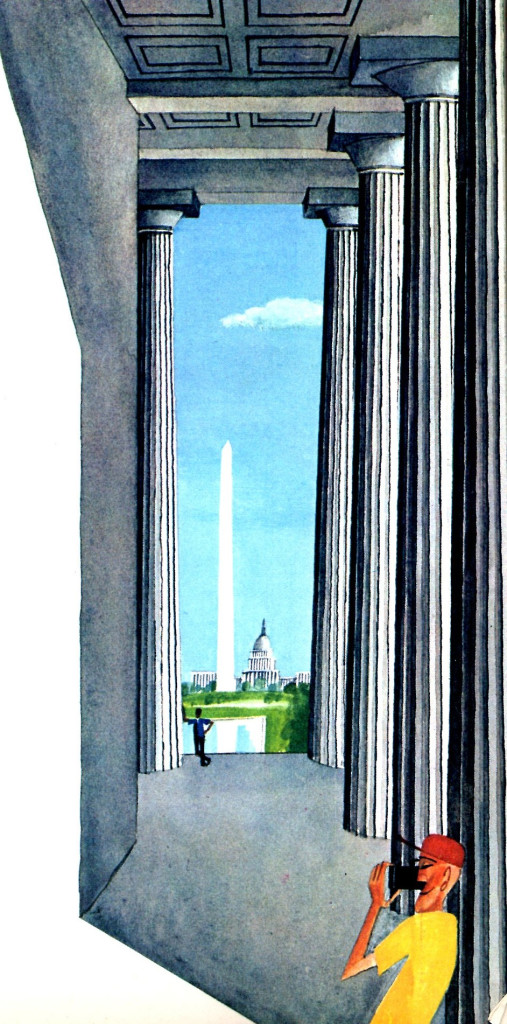 14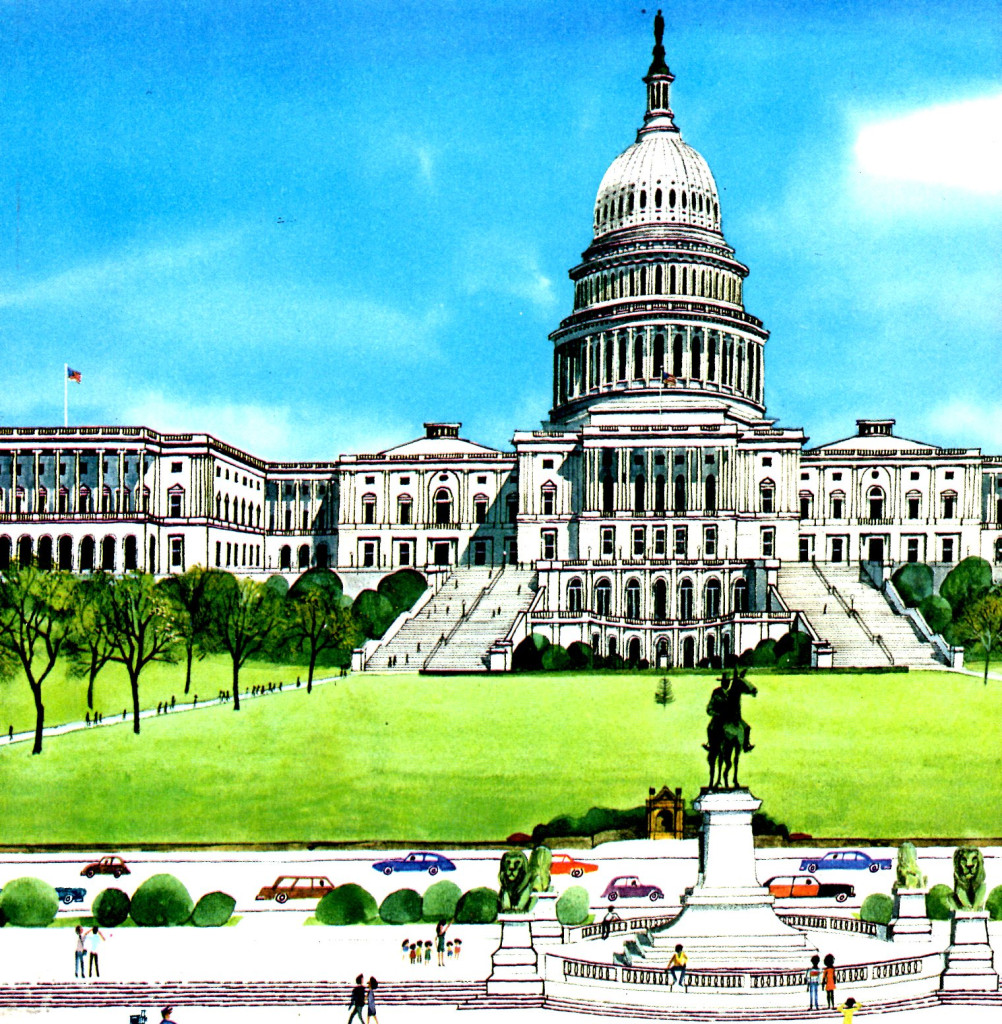 15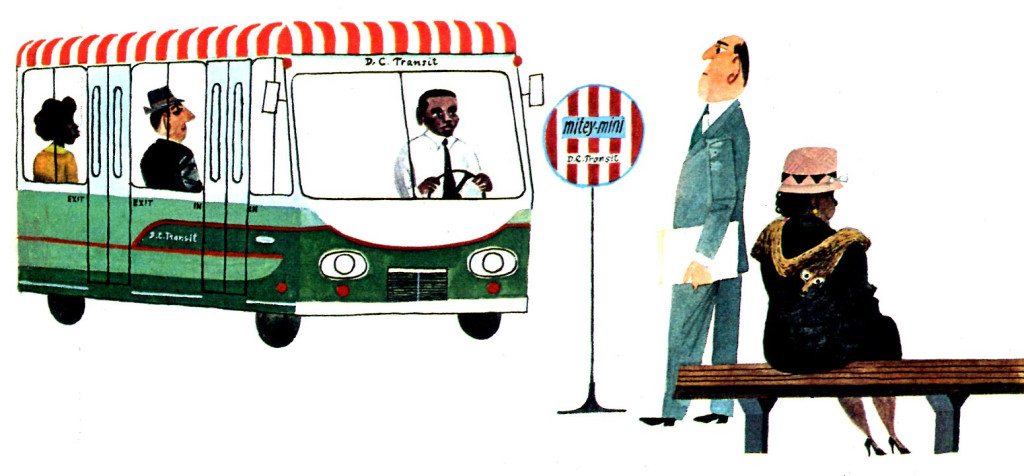 16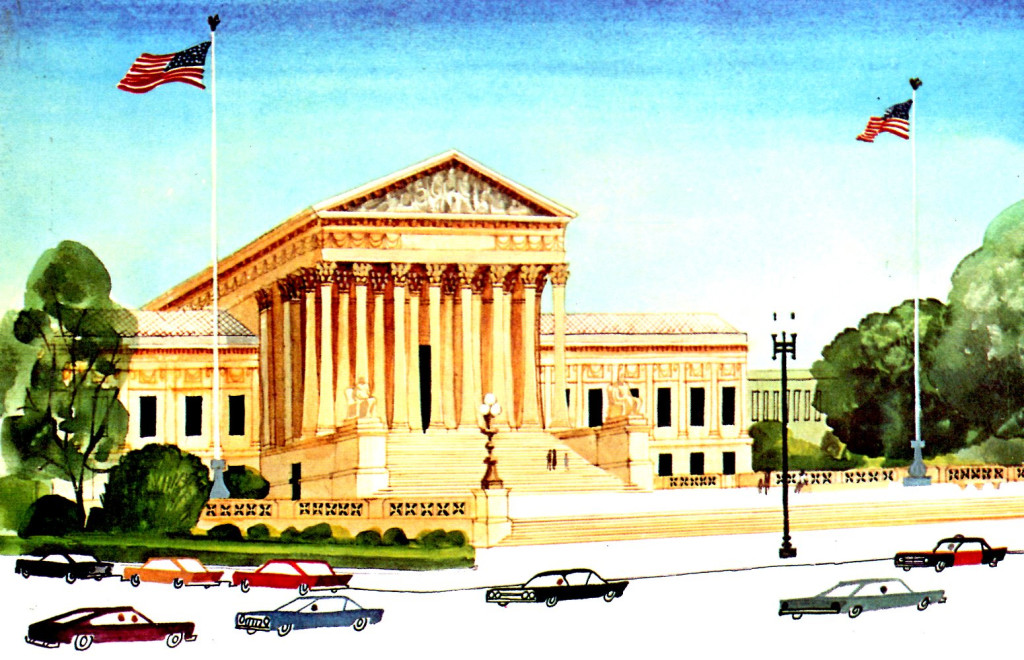 17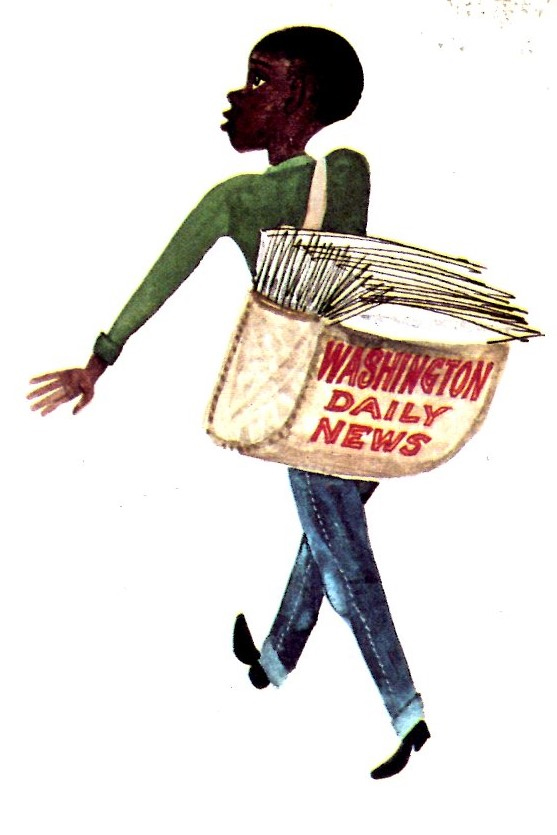 18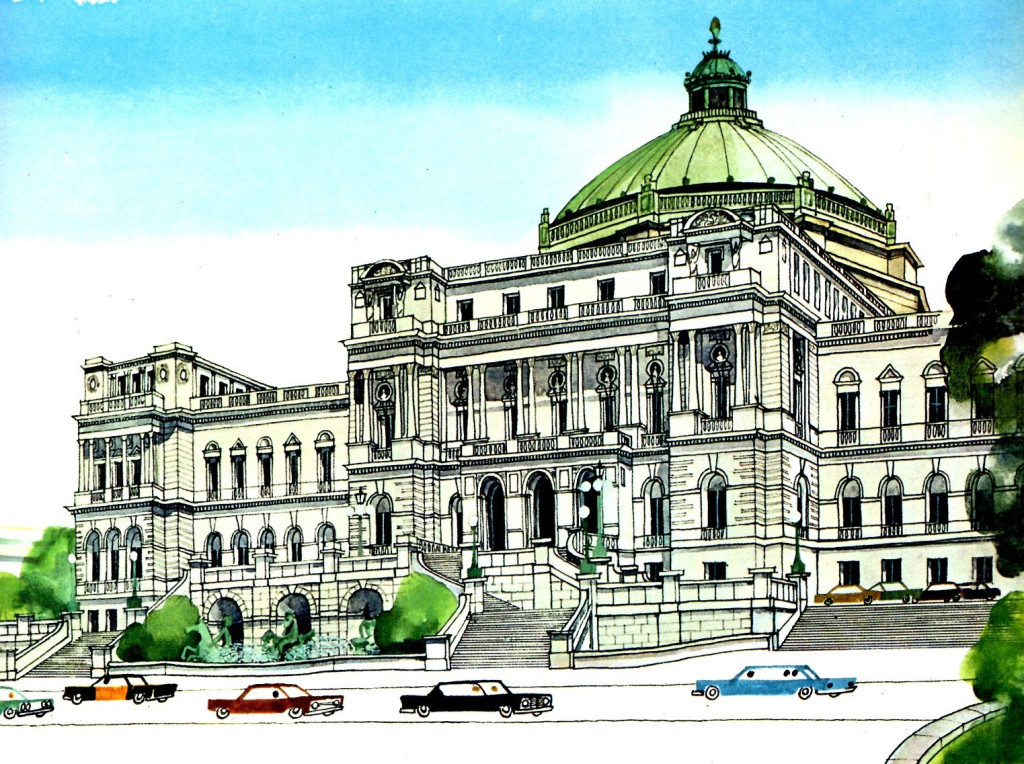 19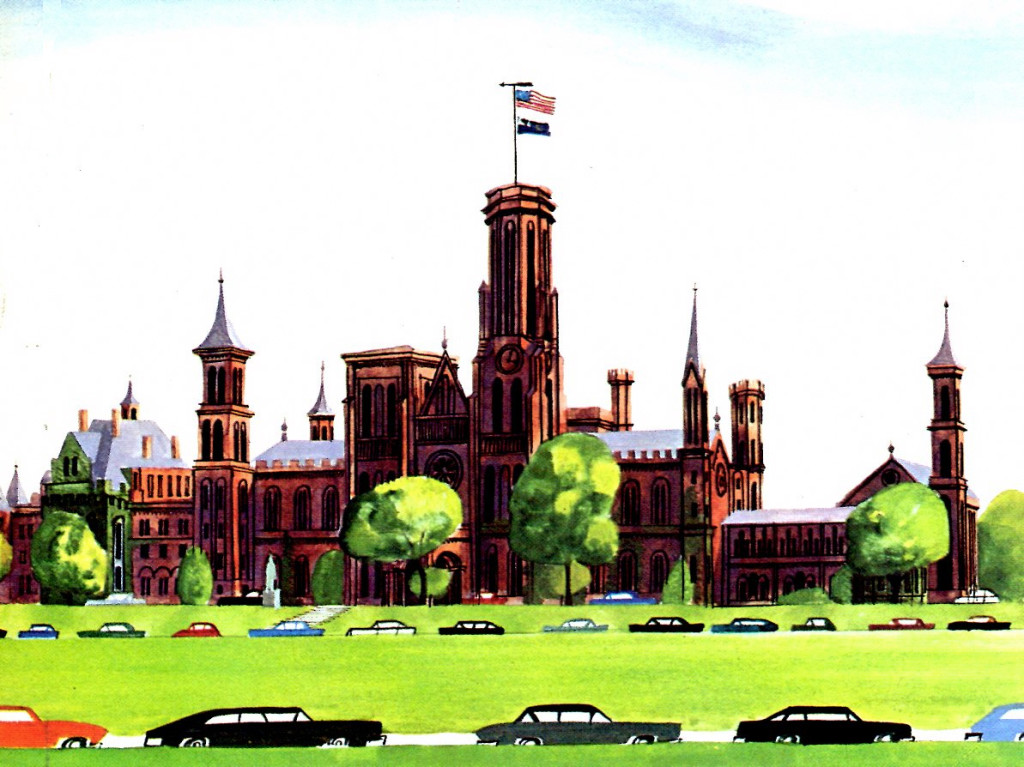 20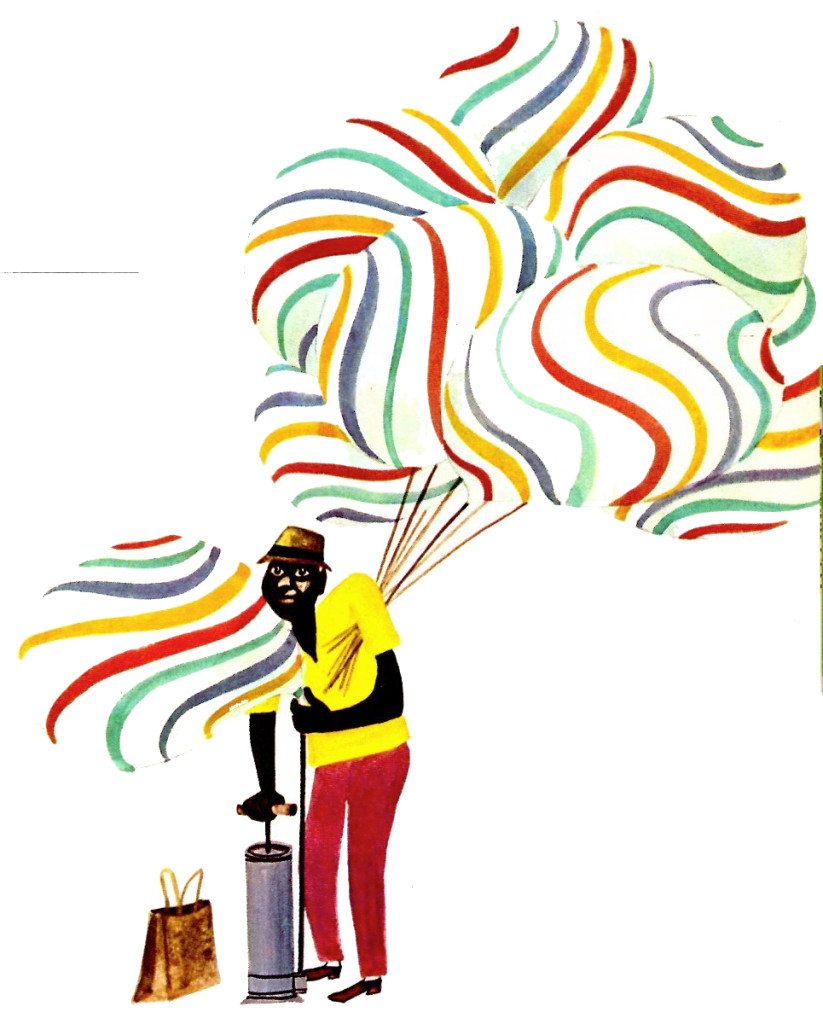 21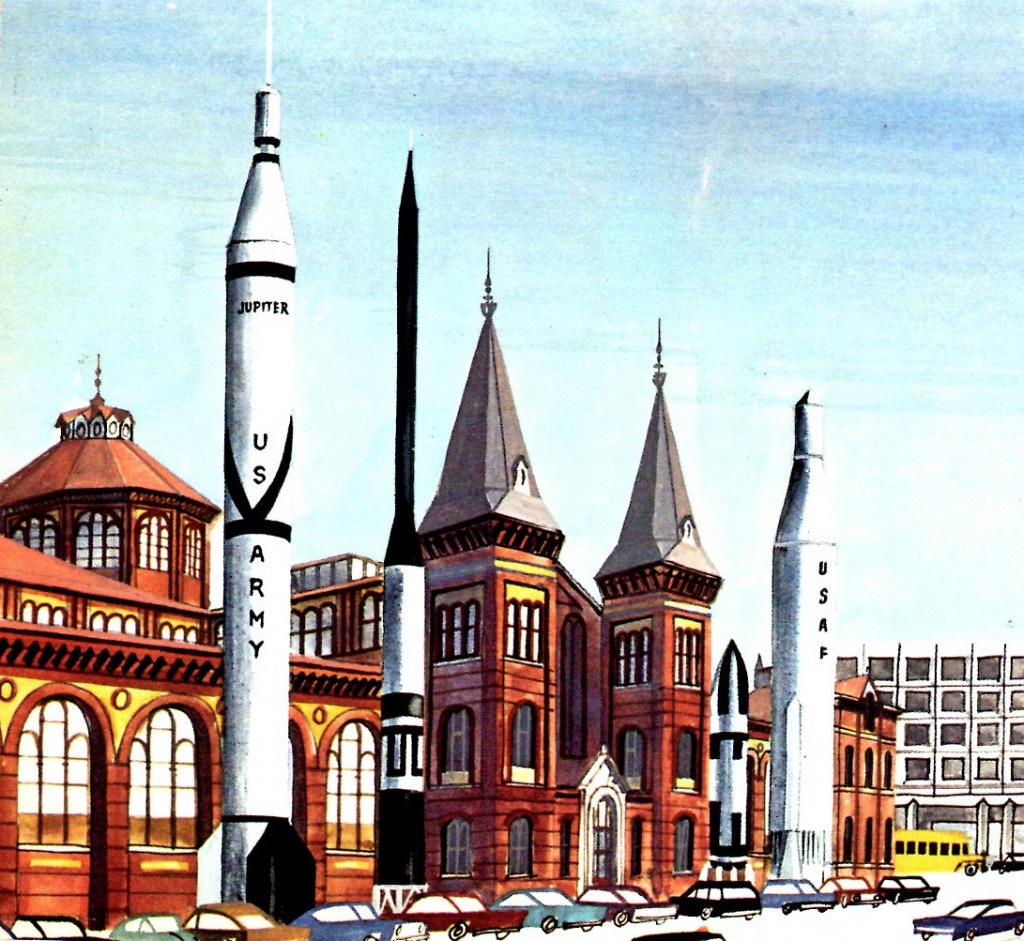 22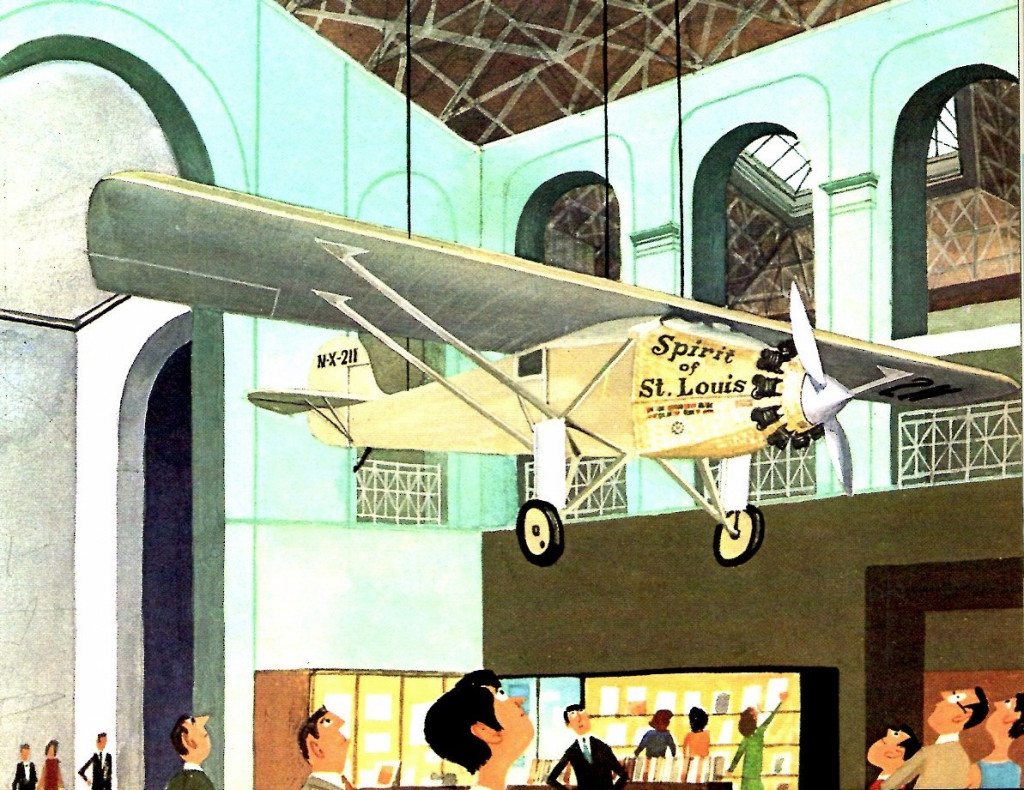 23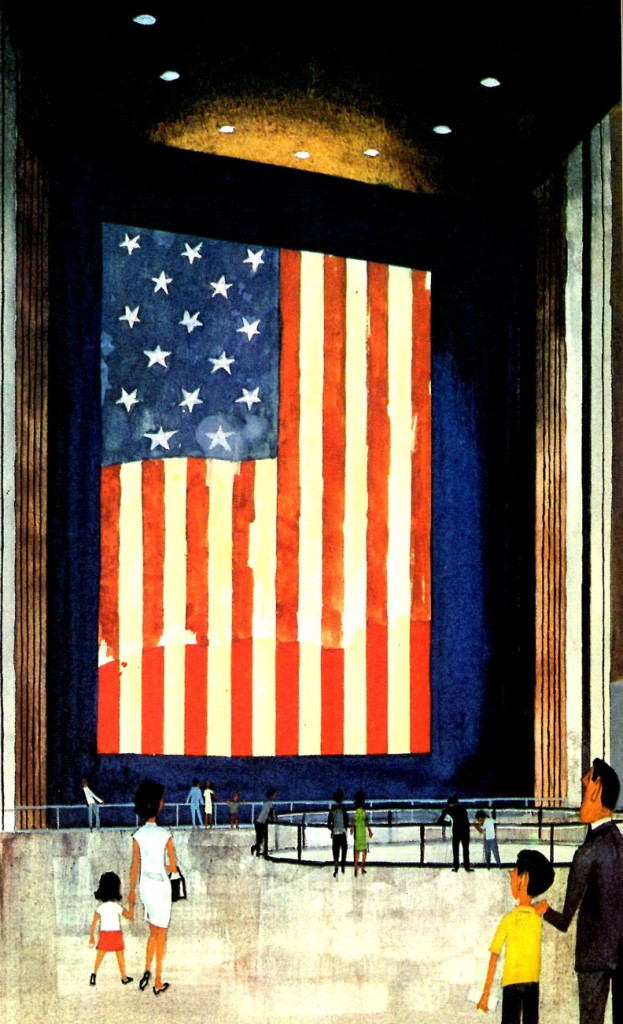 24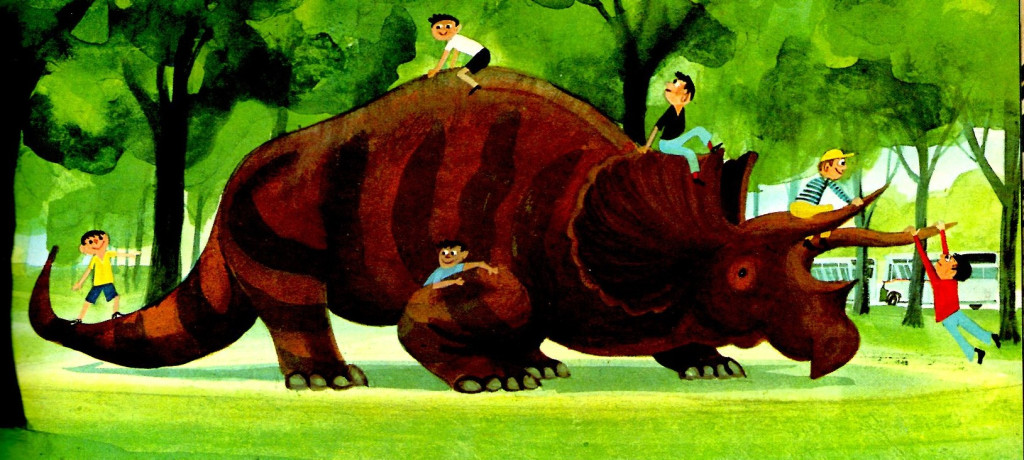 25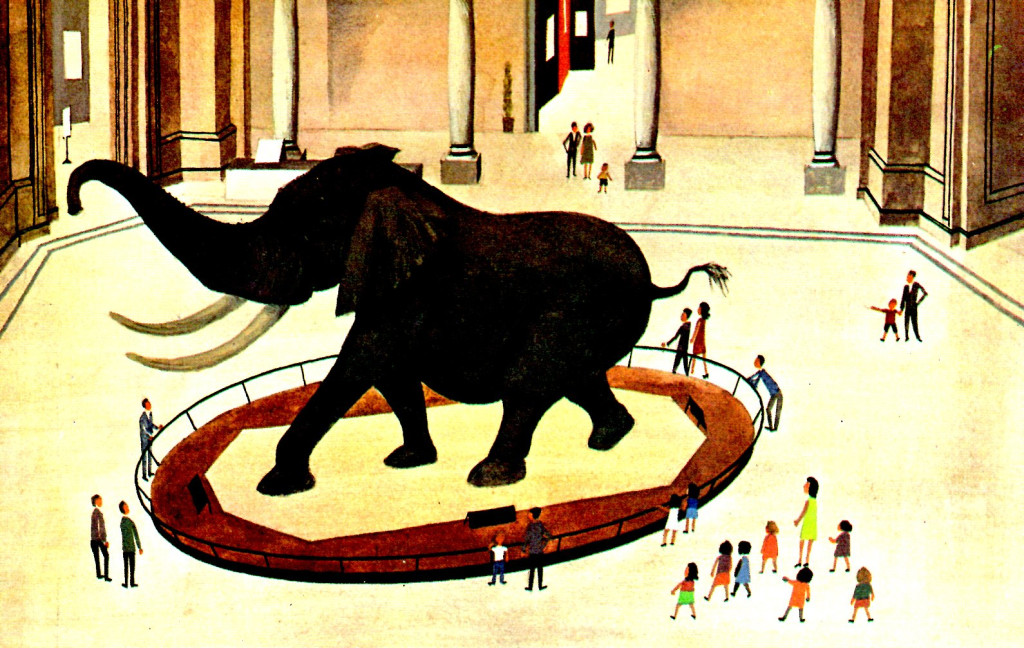 26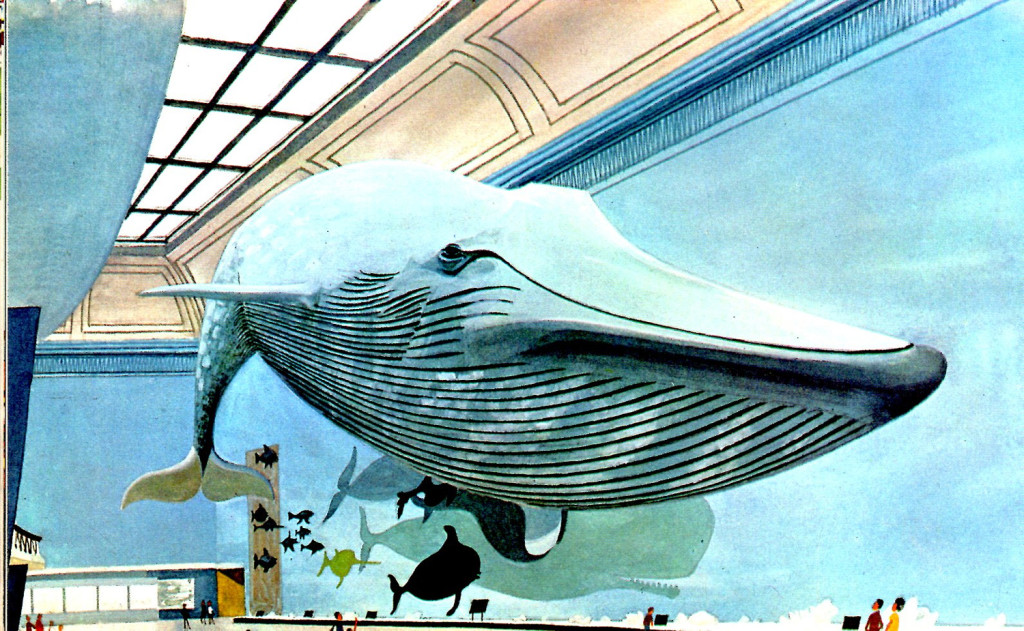 27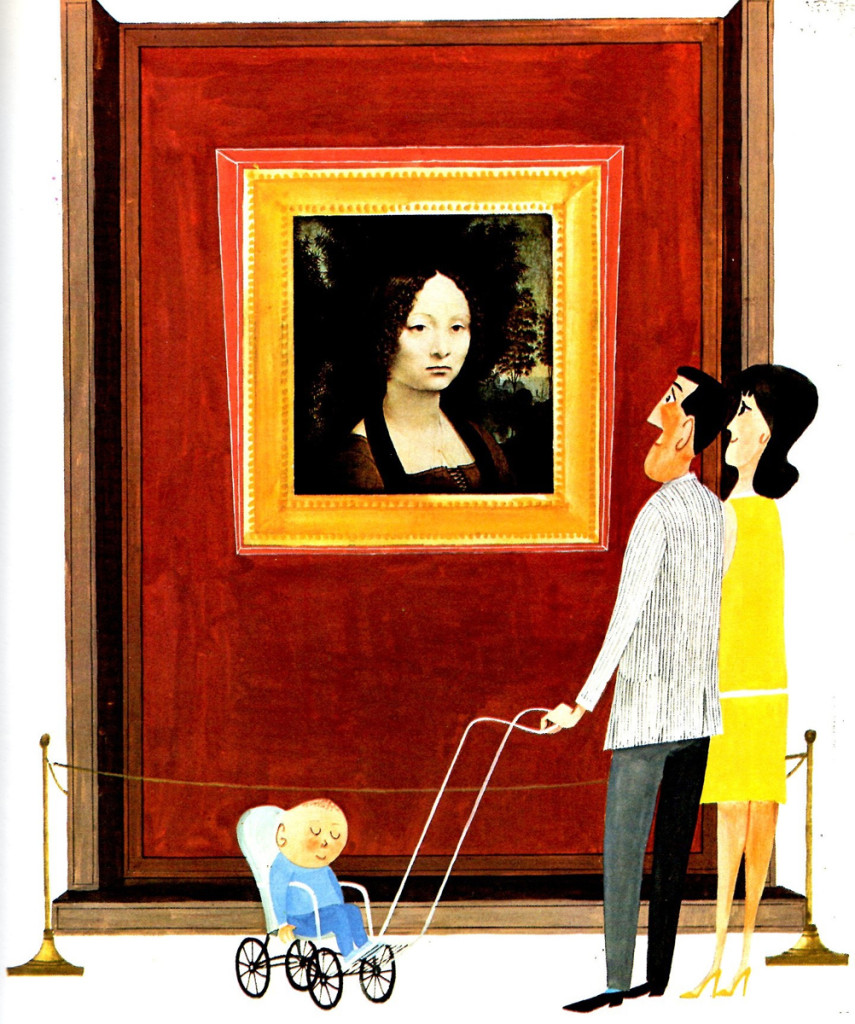 28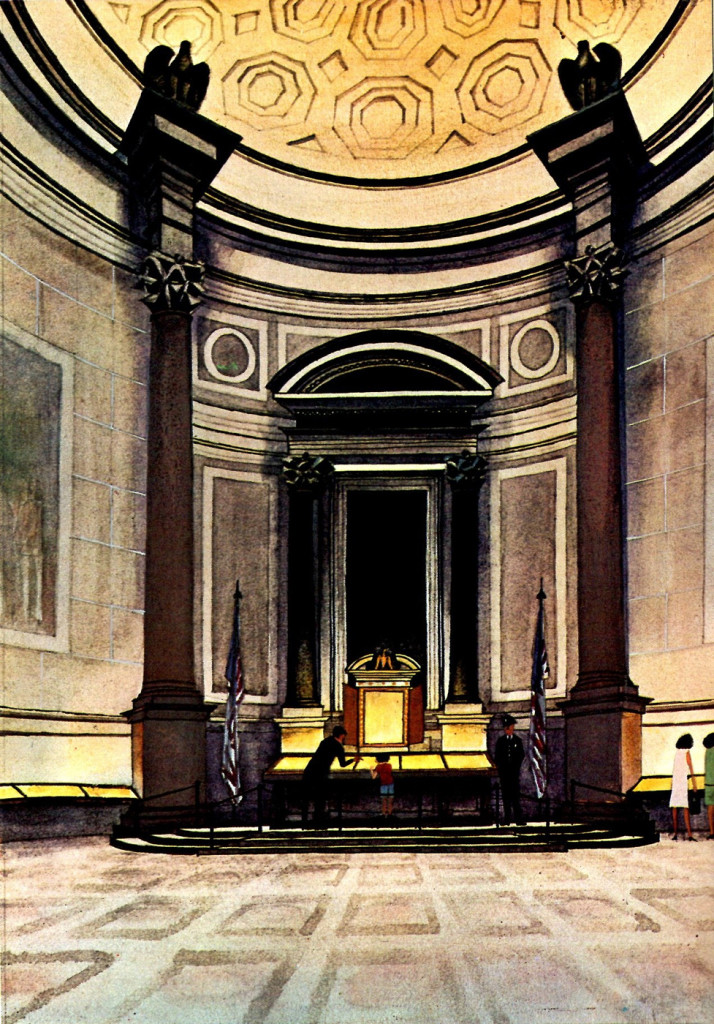 29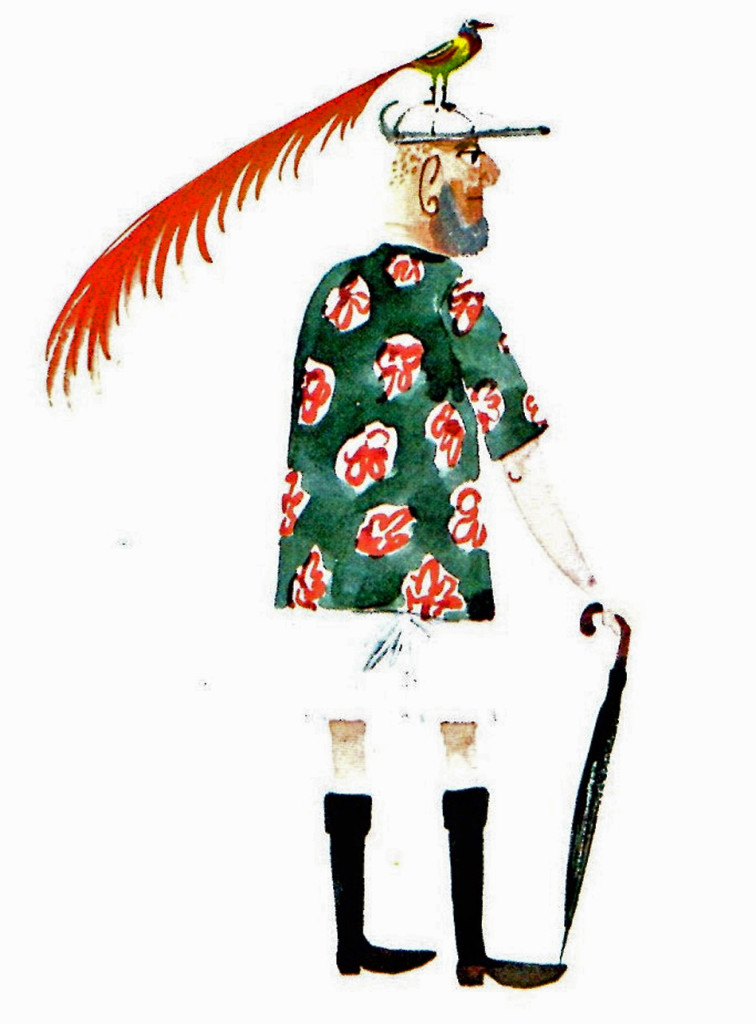 30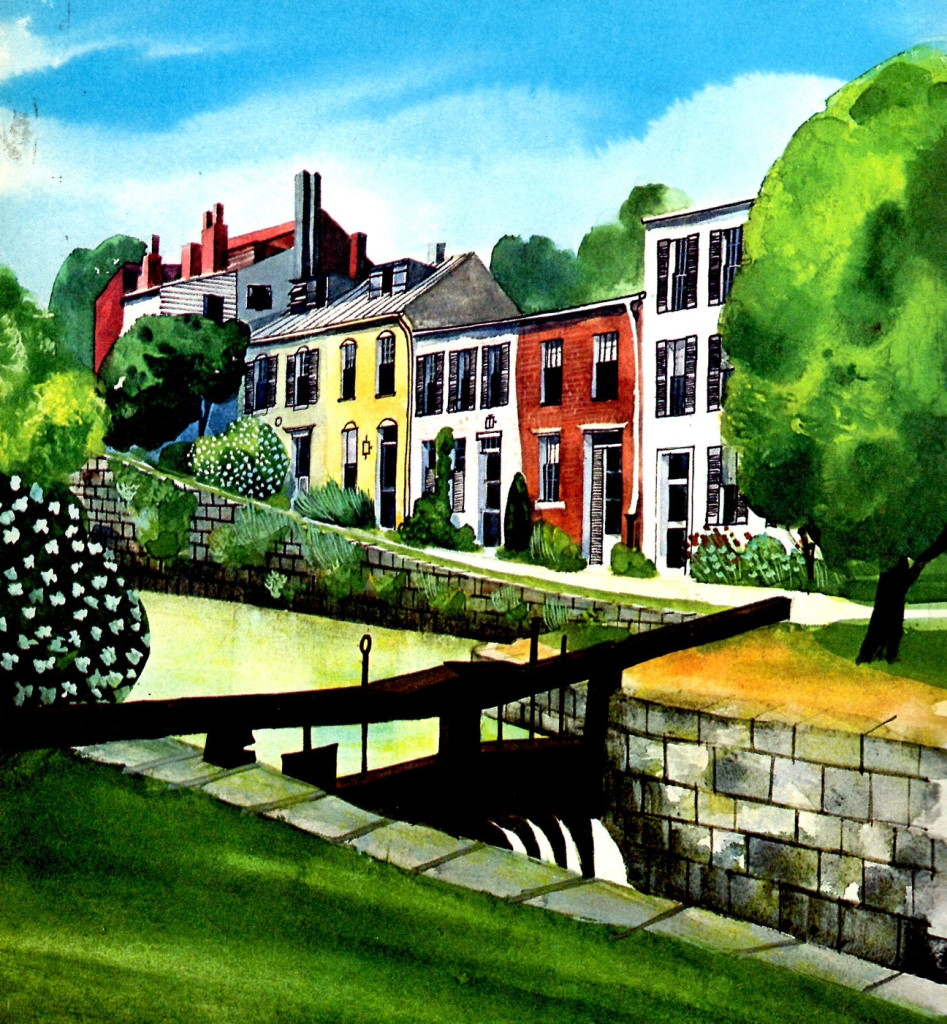 31
Books &Illustration &Models 16 Jul 2013 05:15 am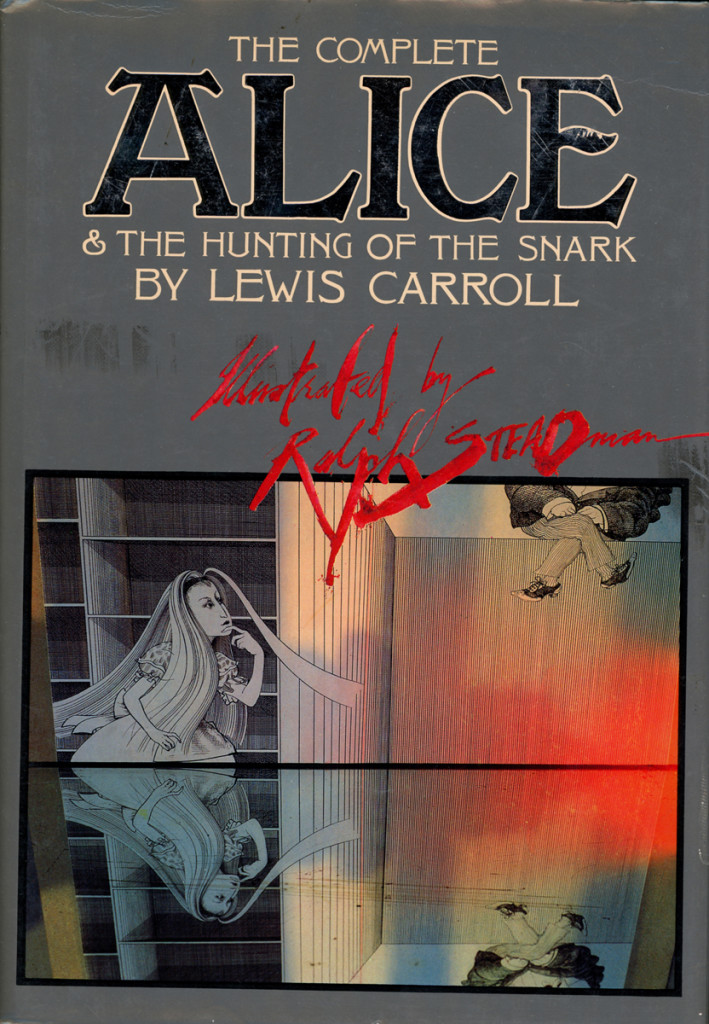 The book's cover
As I've pointed out in this series, Alice in Wonderland is my favorite children's book. and Ralph Steadman one of my favorite illustrators. His work is so intelligent; his art so British and sophisticated, these two were the perfect pair. I think Charles Dodgson would have selected Steadman, himself, had his art been discovered back then.
Here then is part 2 of some illustrations taken from Steadman's book: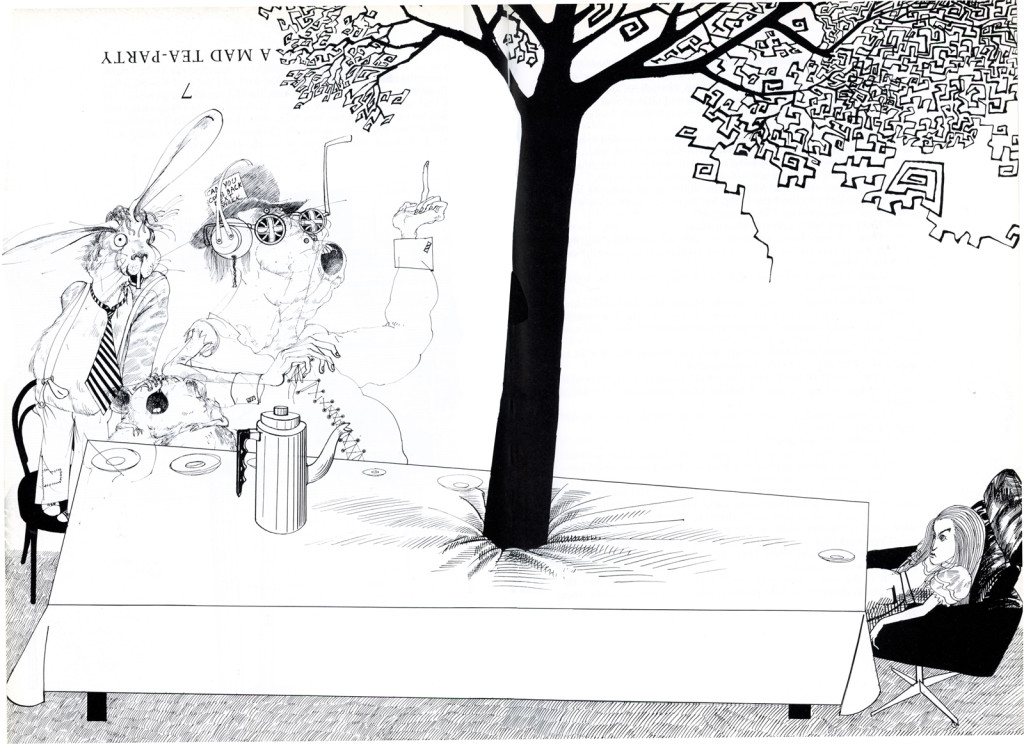 1 ___________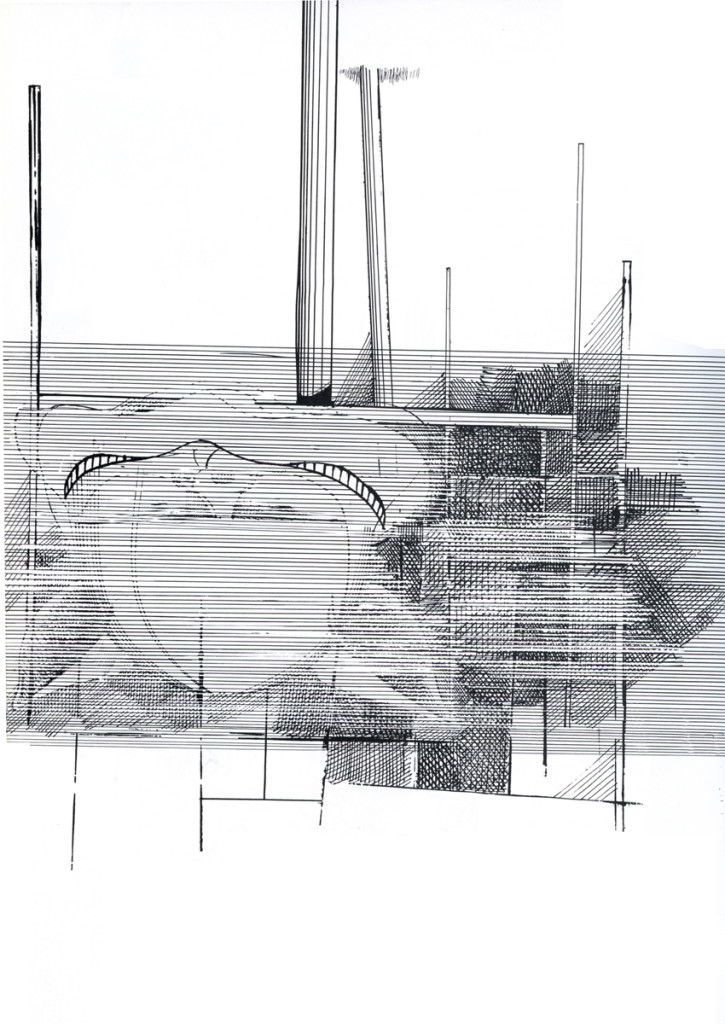 2 ___________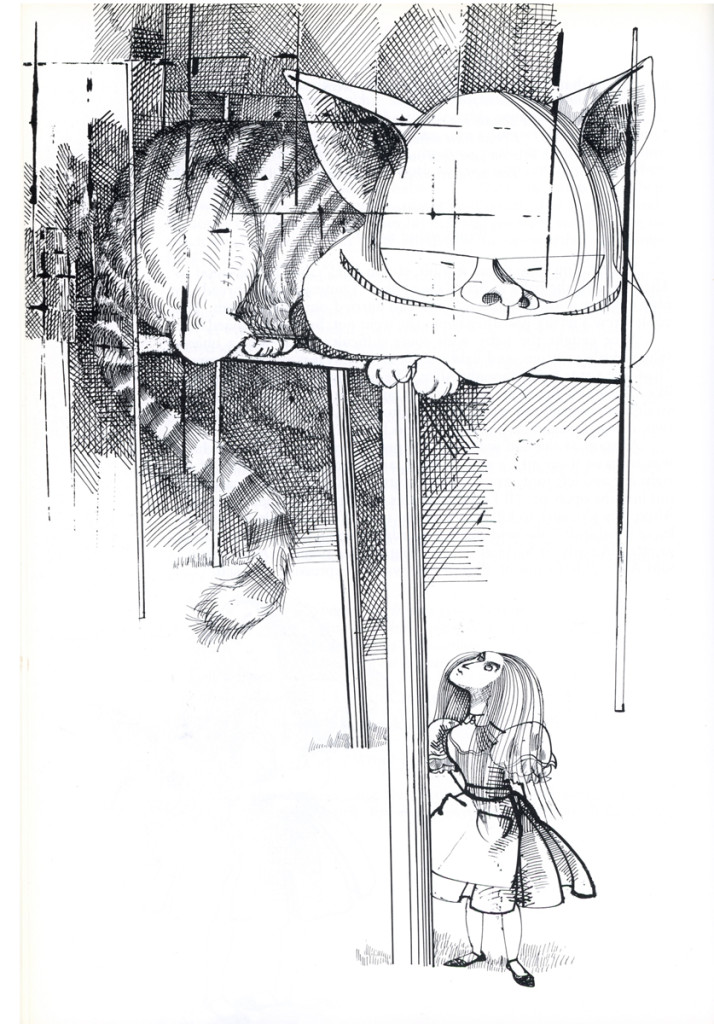 3 ___________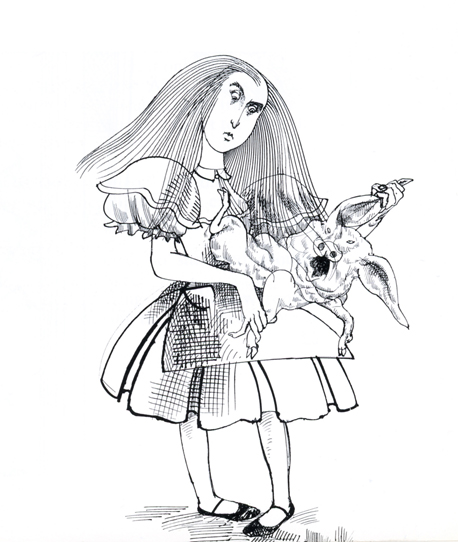 4 ___________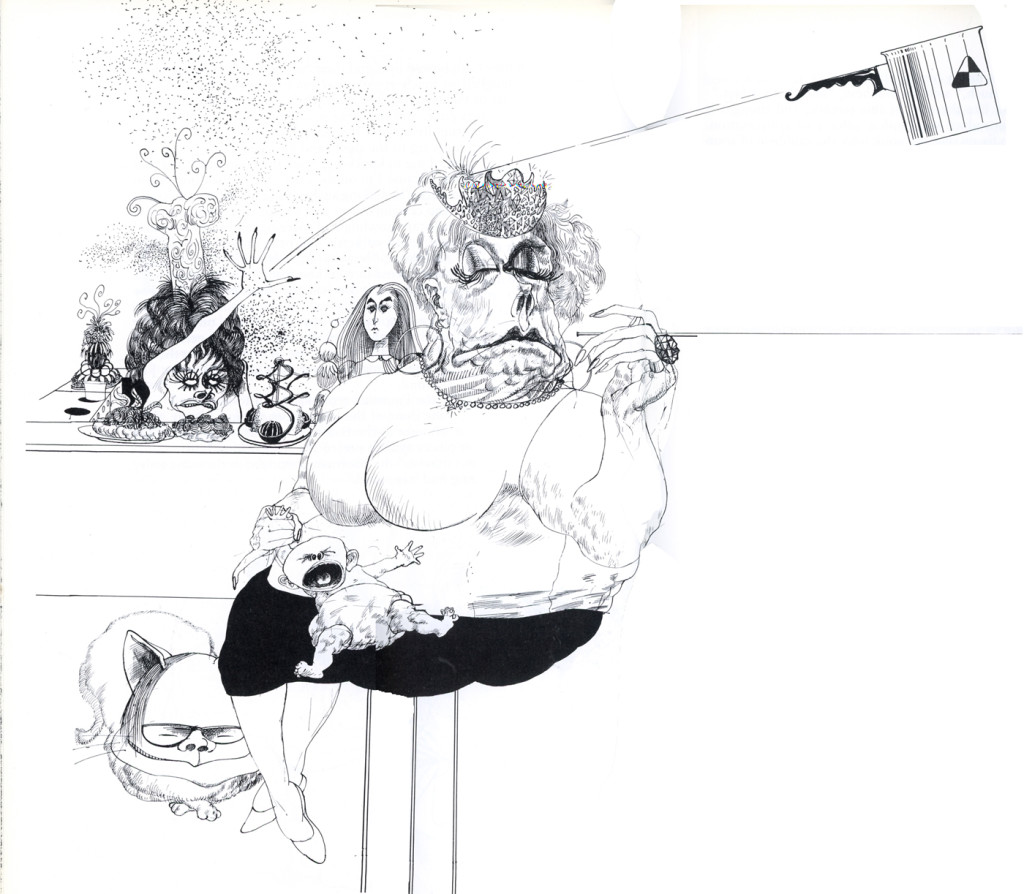 5 ___________



6 ___________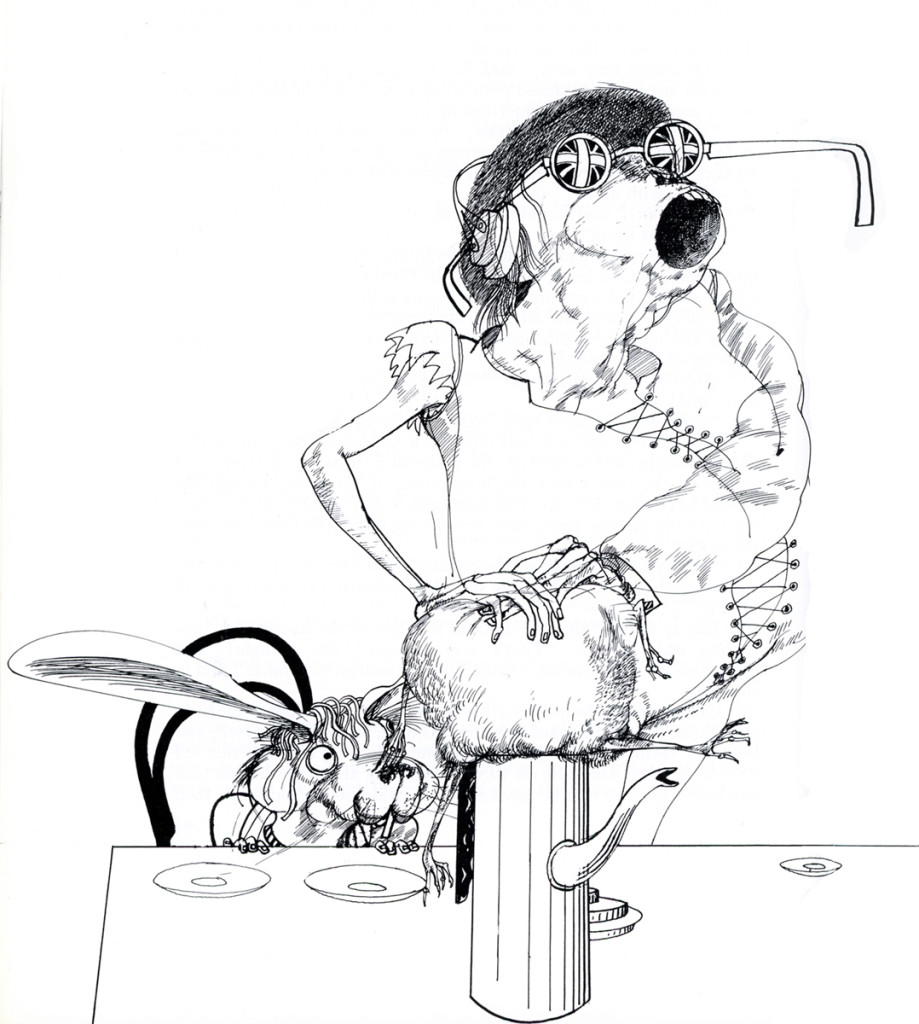 7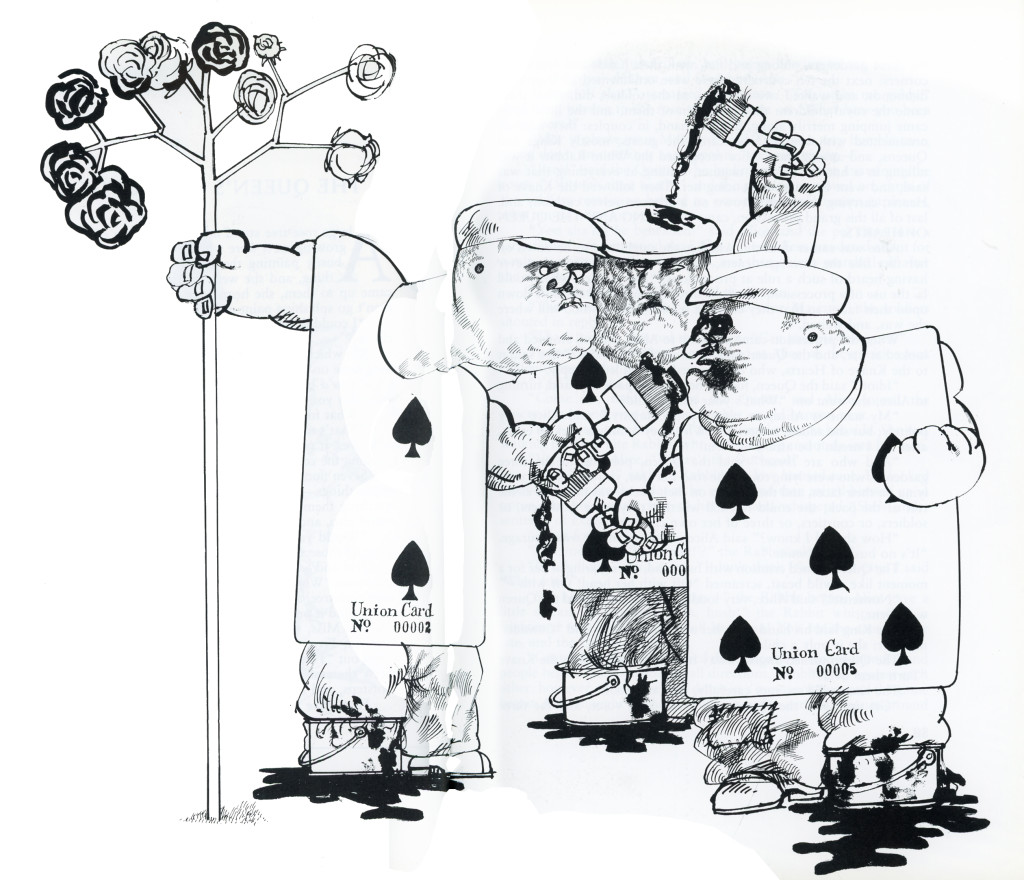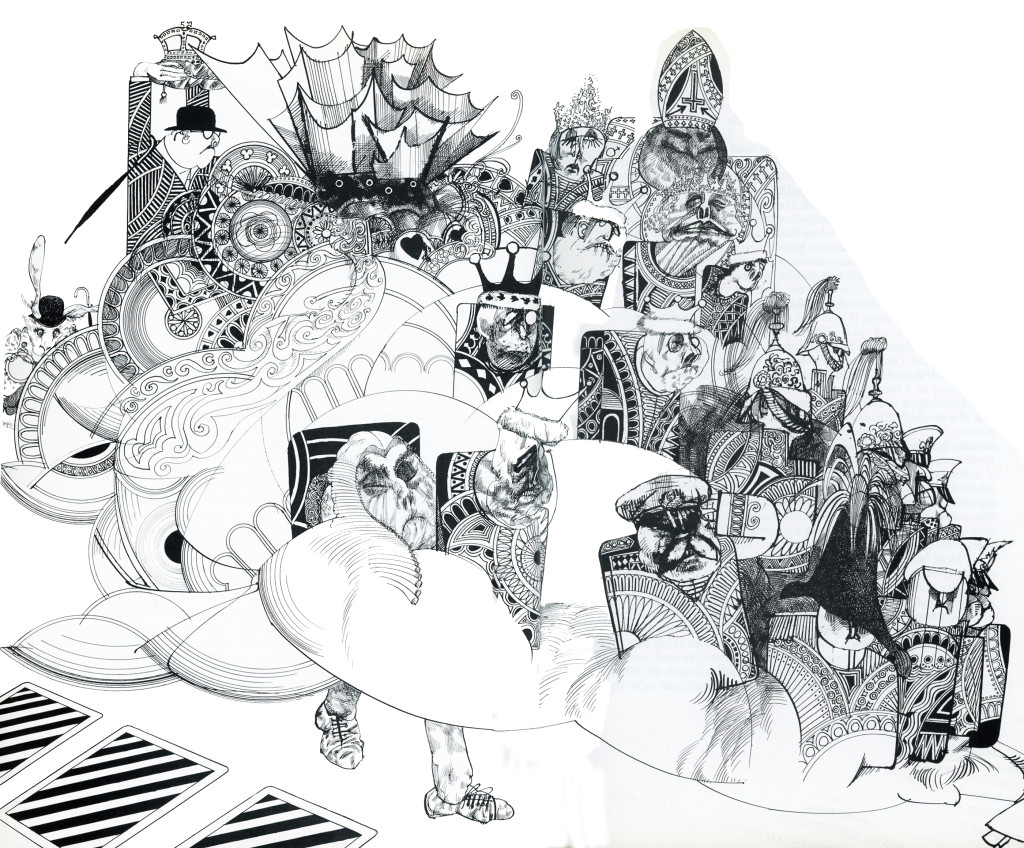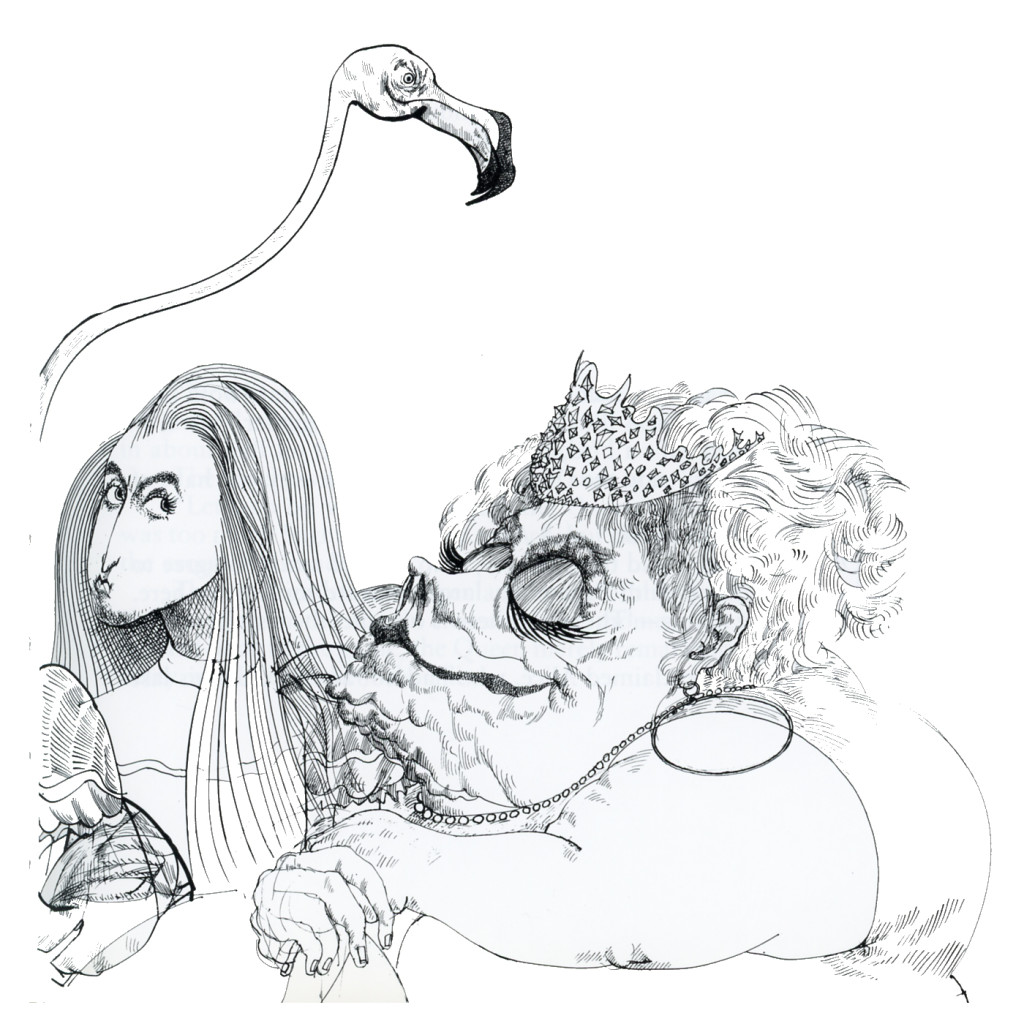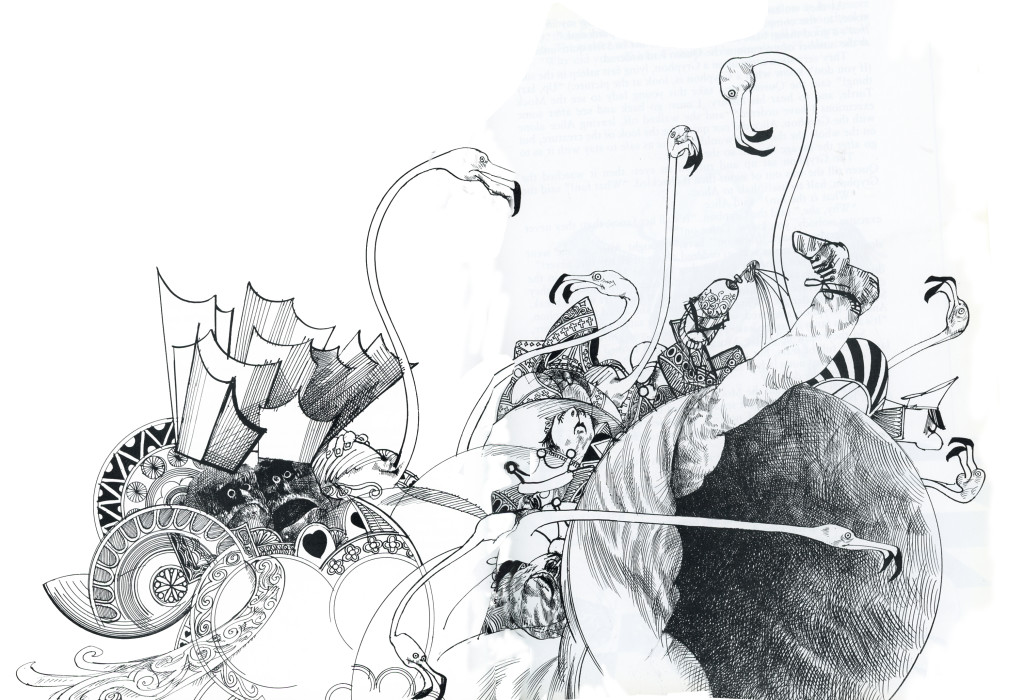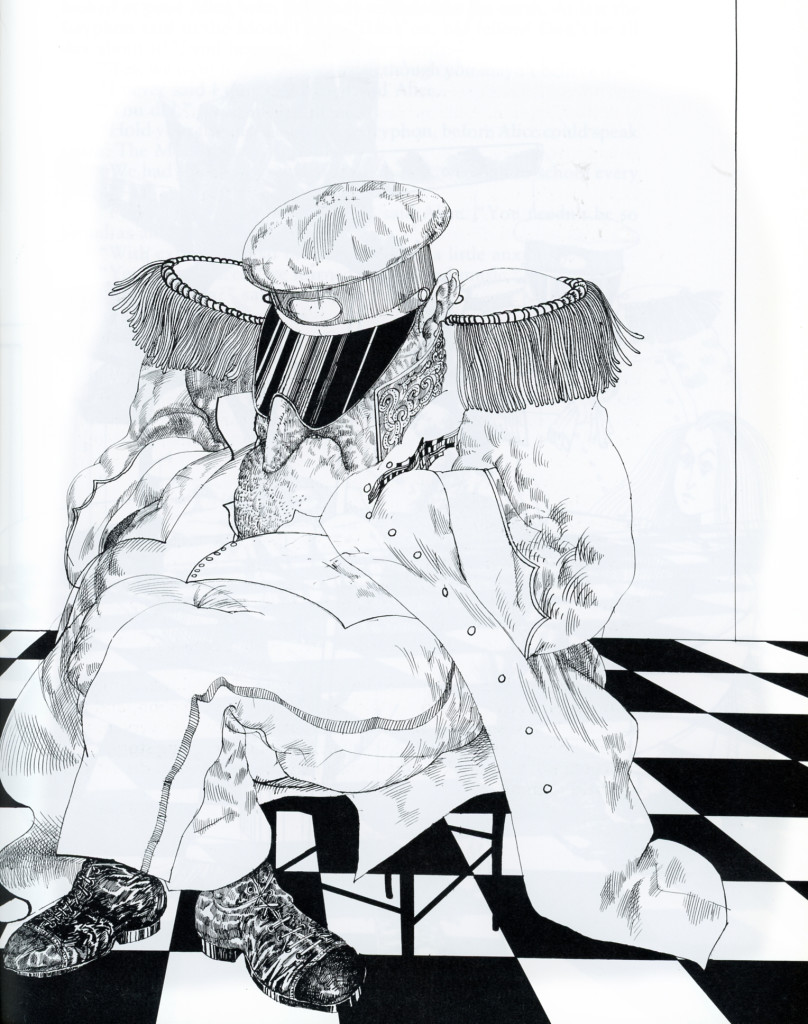 Bill Peckmann &Books &Comic Art &commercial animation &Disney &Illustration 12 Jul 2013 07:12 am
Ken Hultgren was an animator who worked for Disney during the height of the animal artistry that went on in the studio through the making of Bambi. Ken was a brilliant draftsman whose work was turned into a couple of beautiful drawing books after the finish of Bambi. It's certaily worth pursuing the couple of books he produced. They all vary enormously and show off his flagrant abilities as an anmal artist.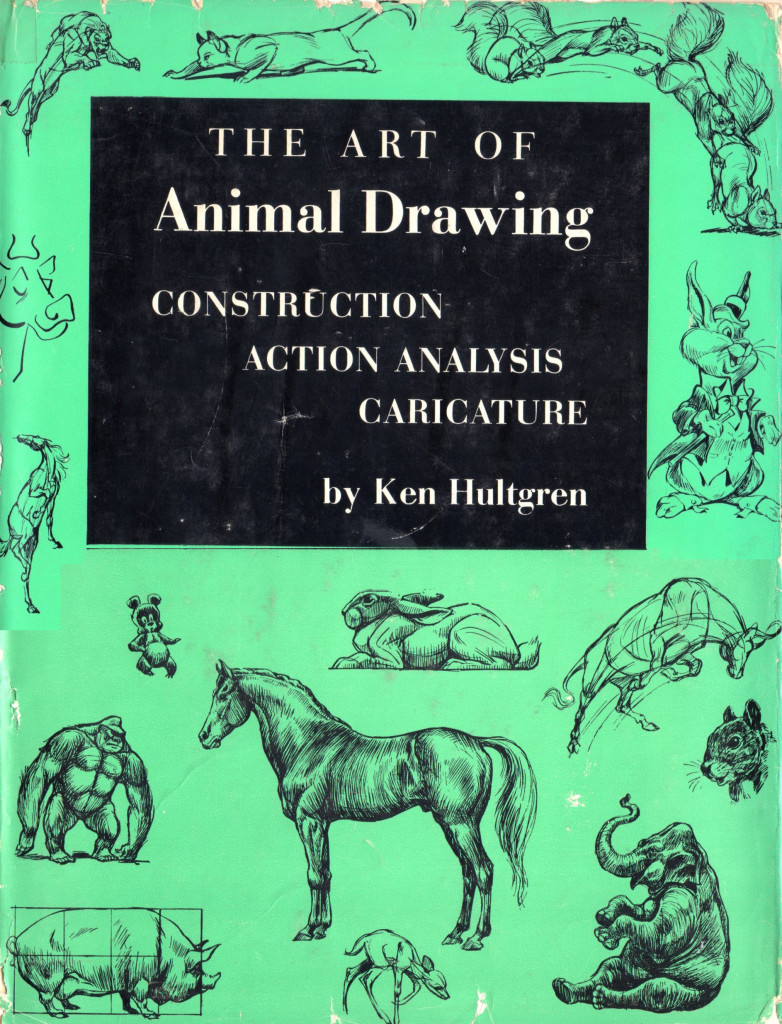 > 1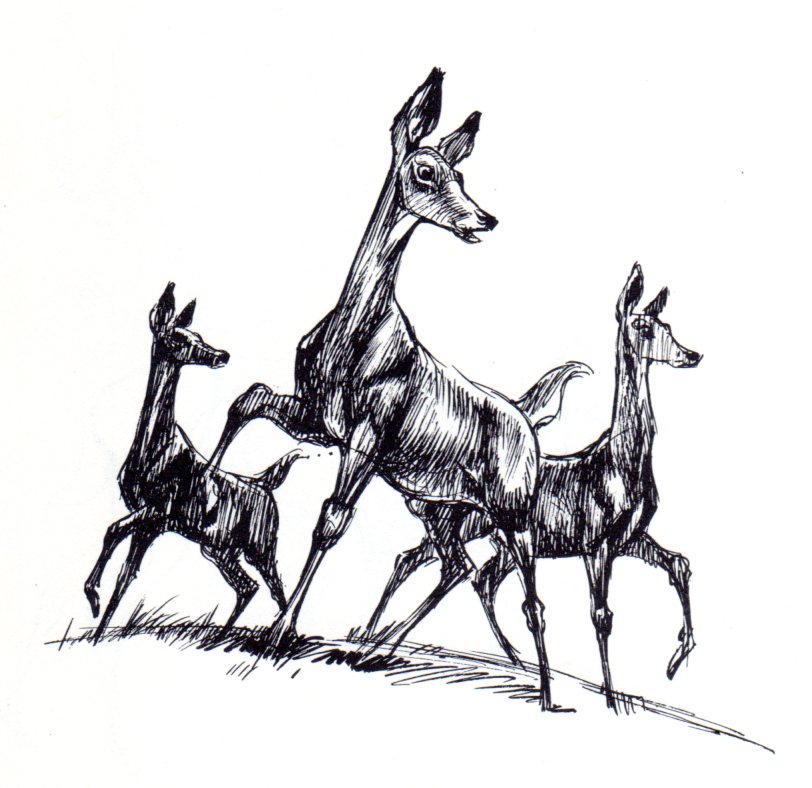 2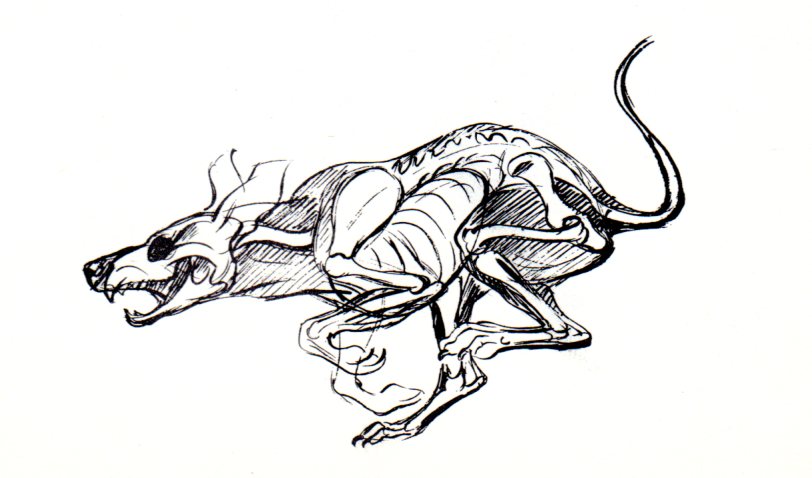 3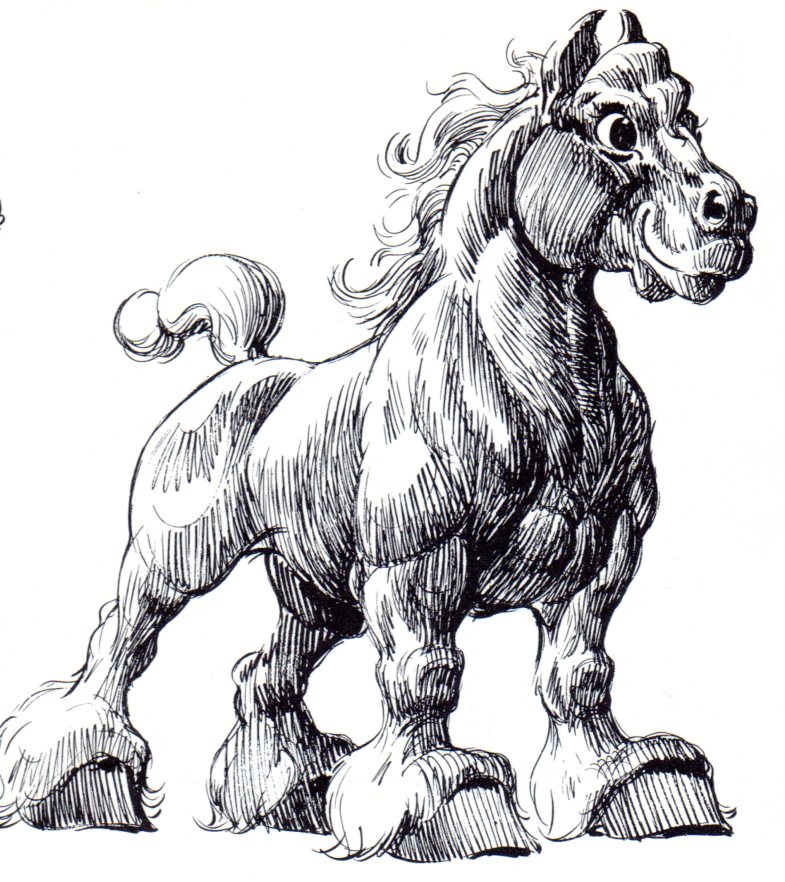 4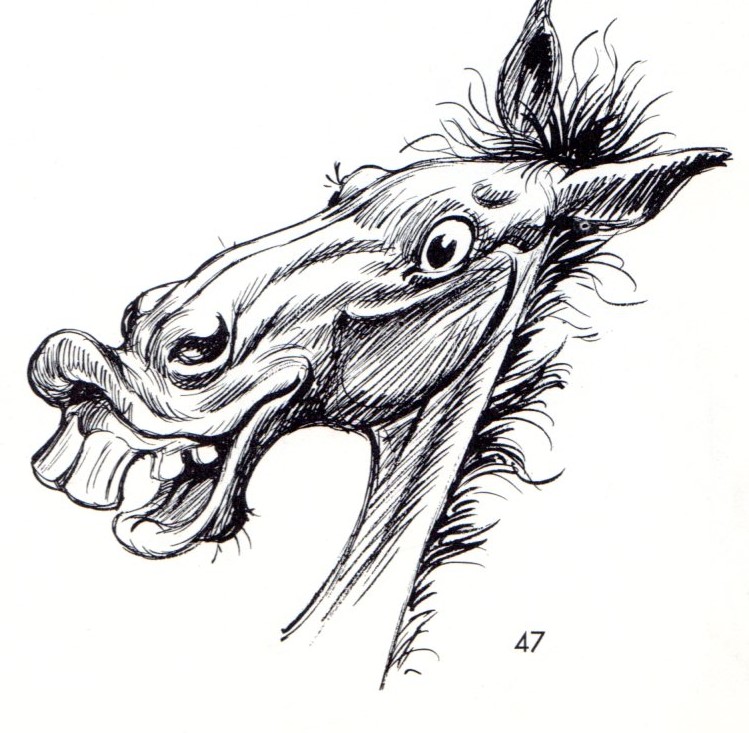 5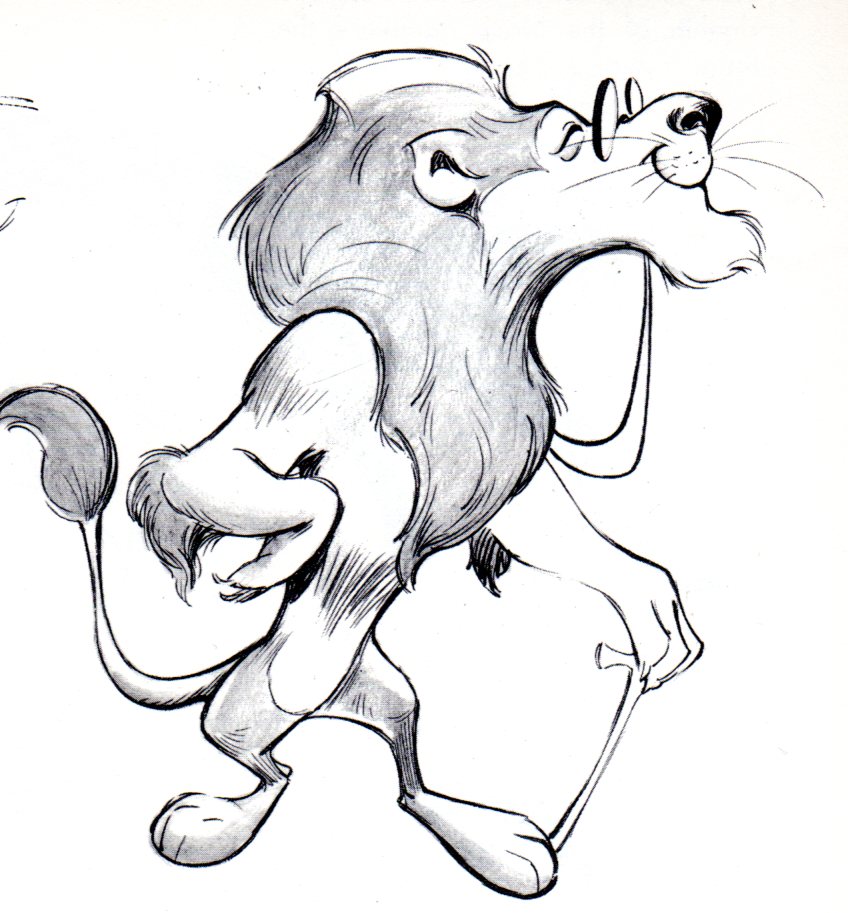 6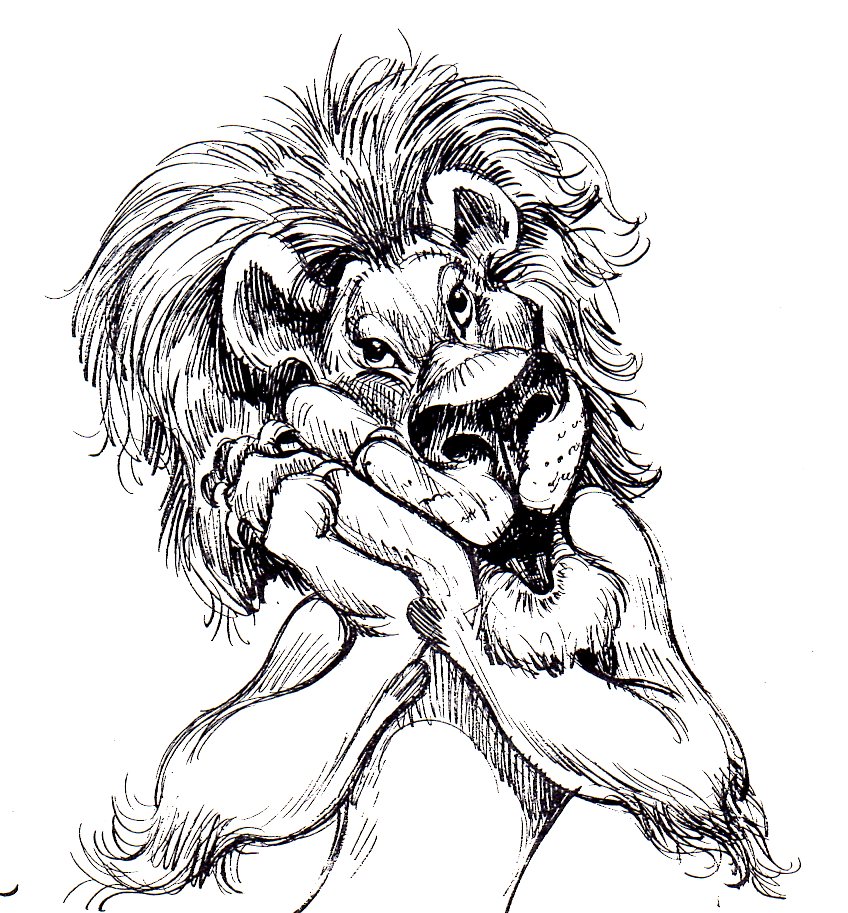 7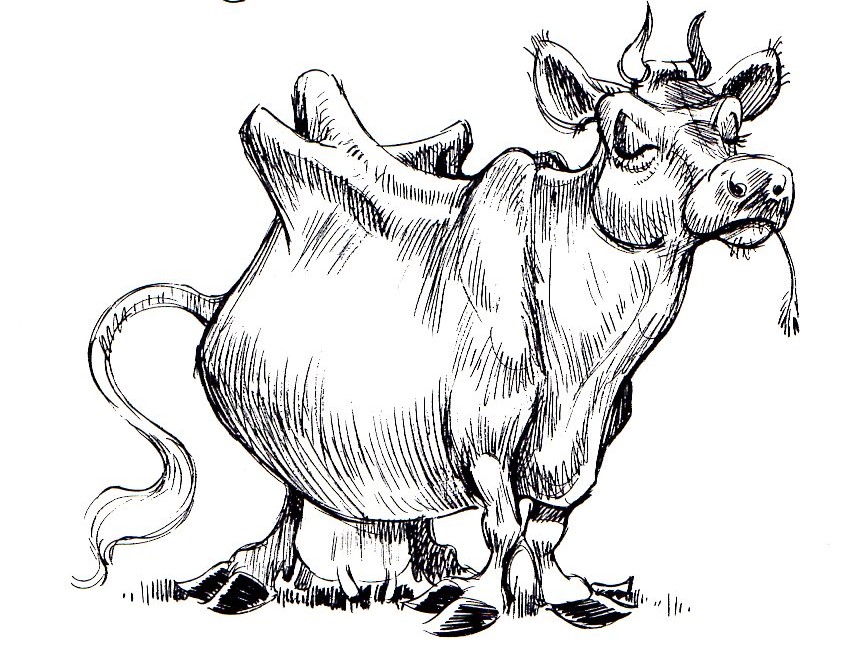 8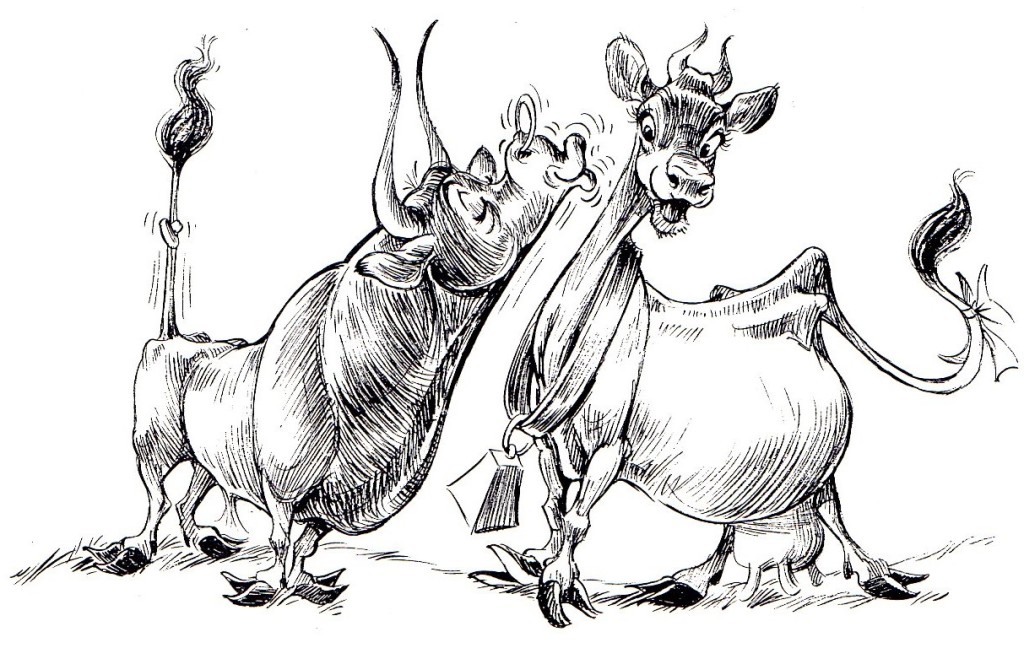 9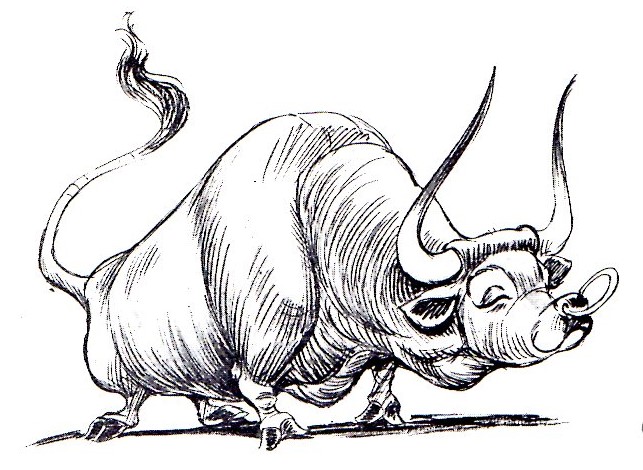 10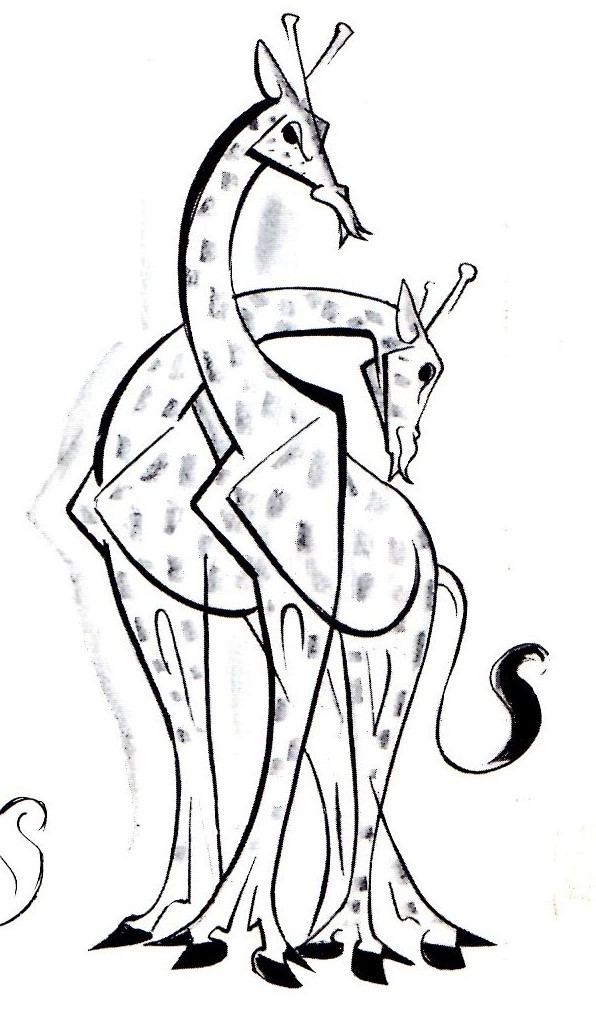 11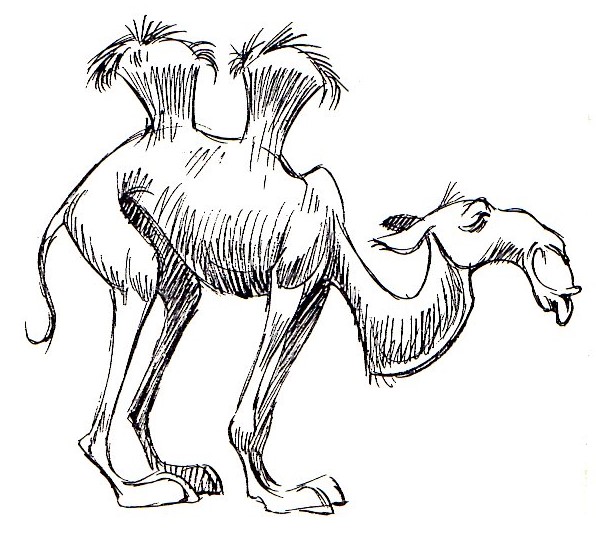 12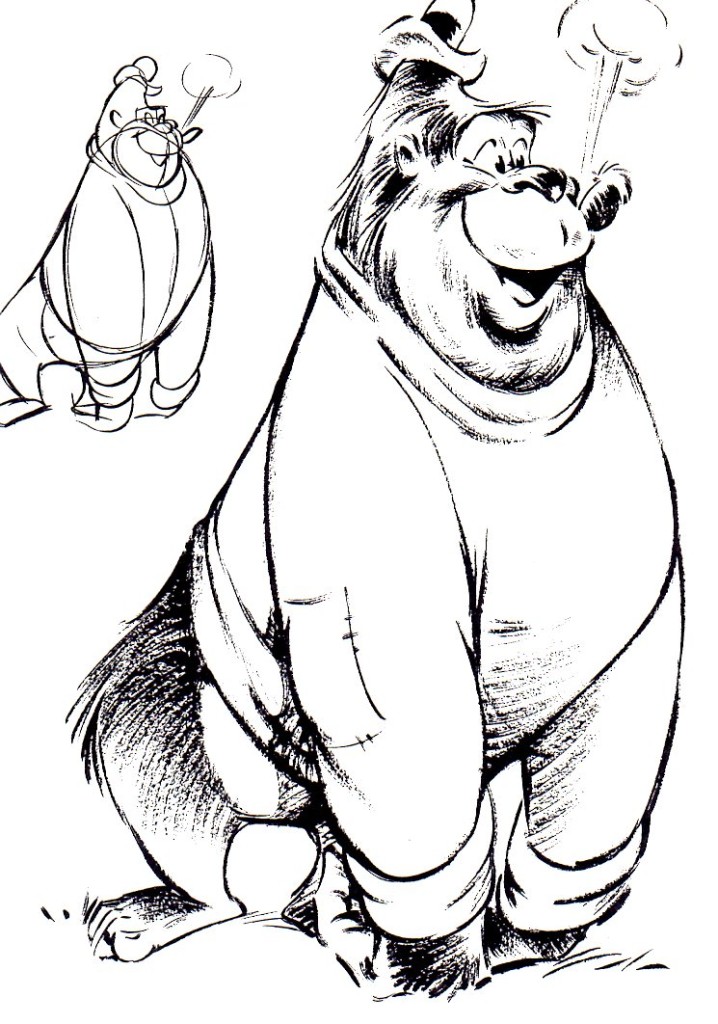 13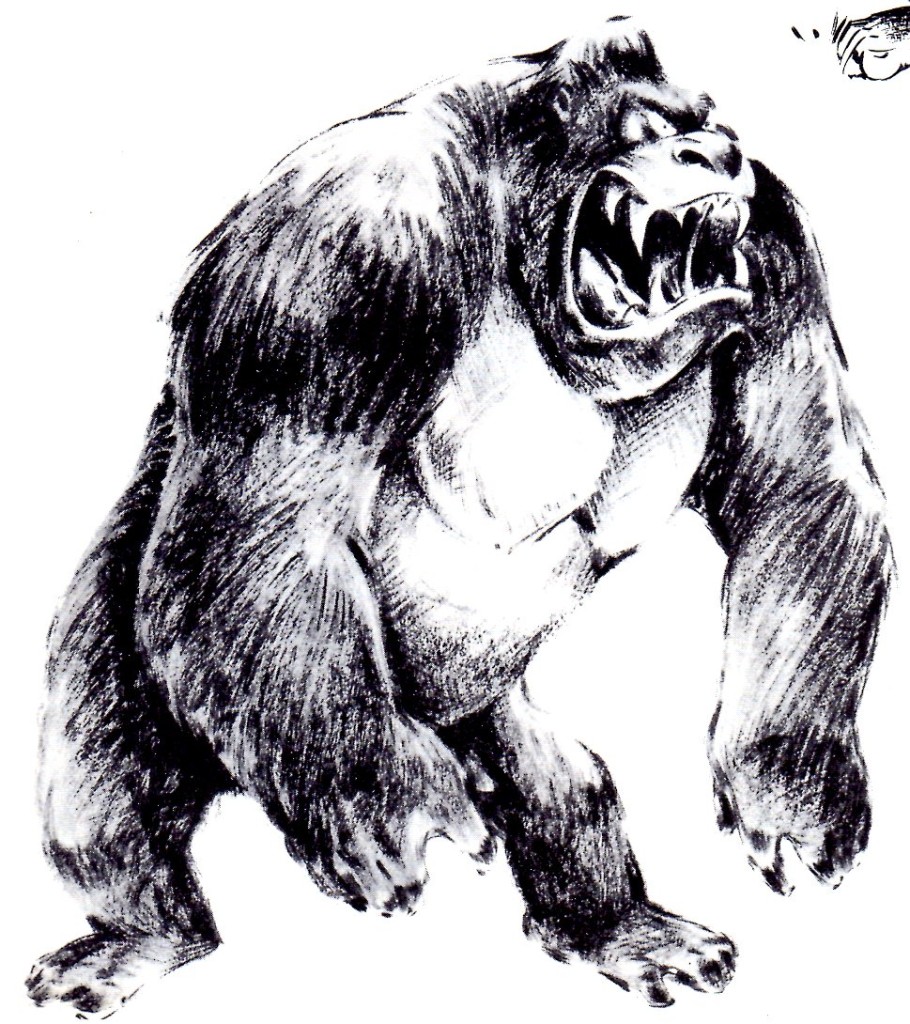 14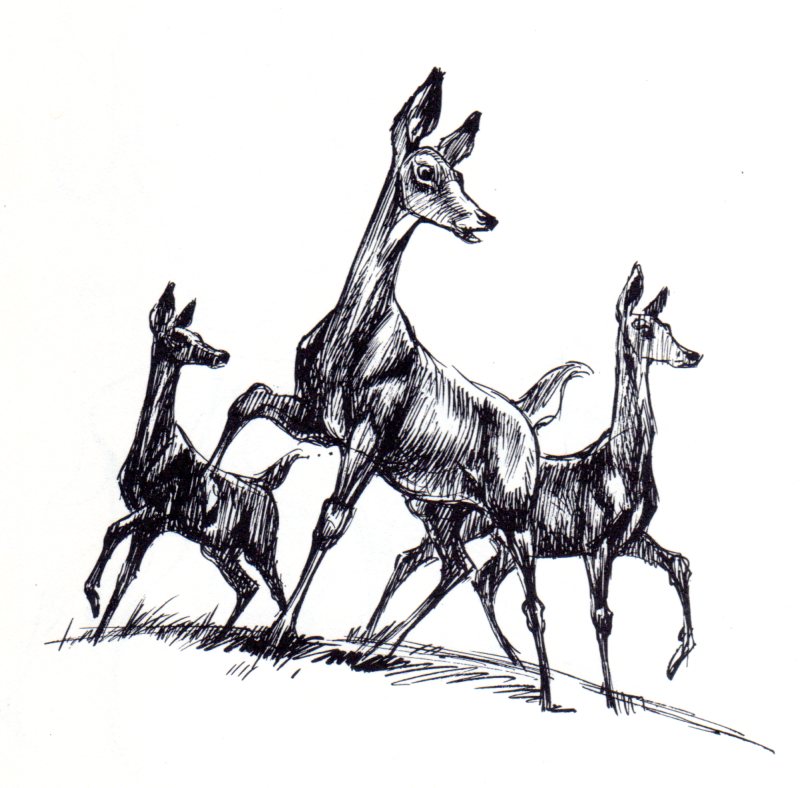 15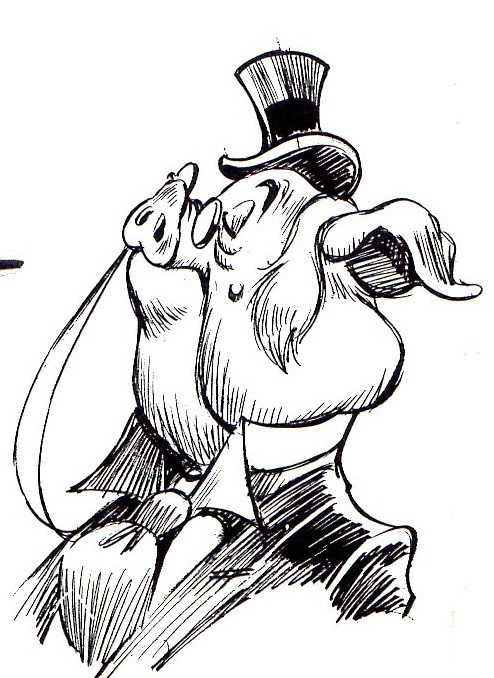 16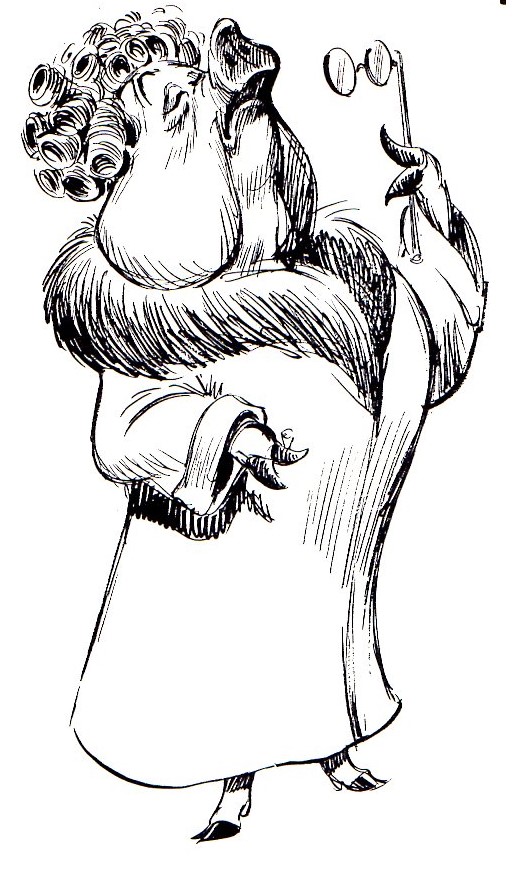 17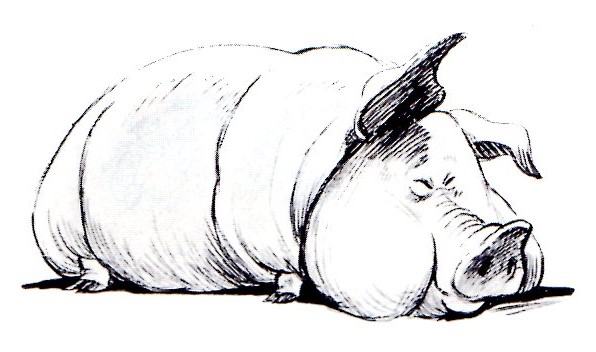 18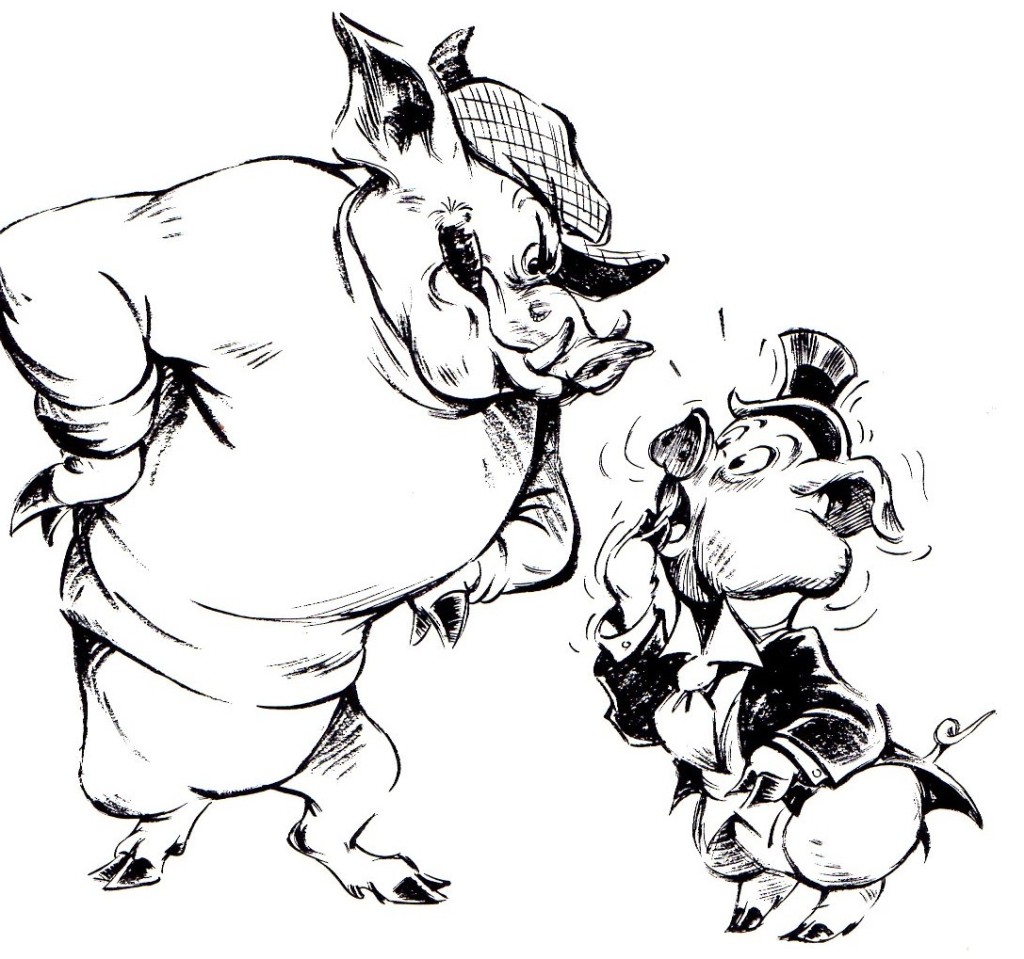 19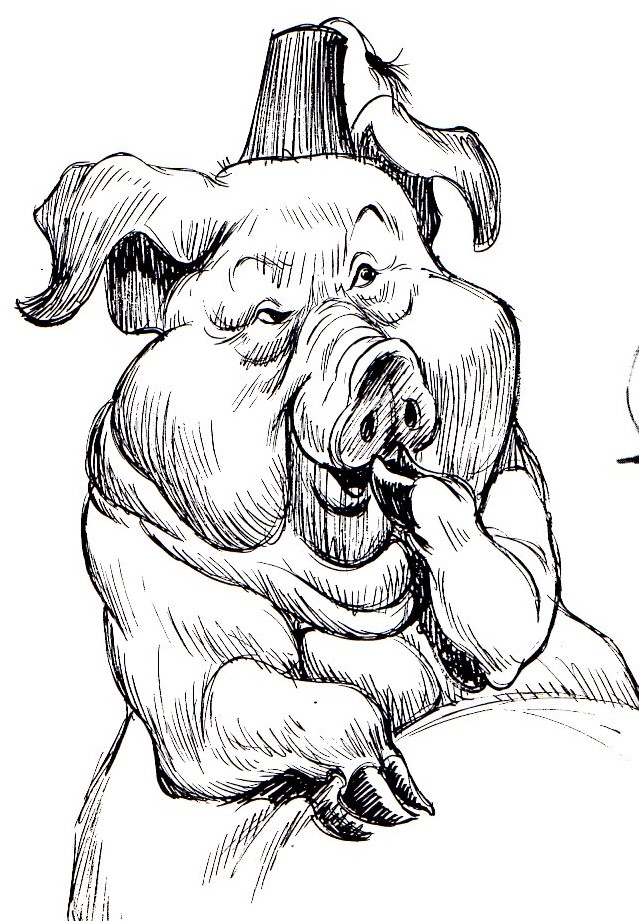 20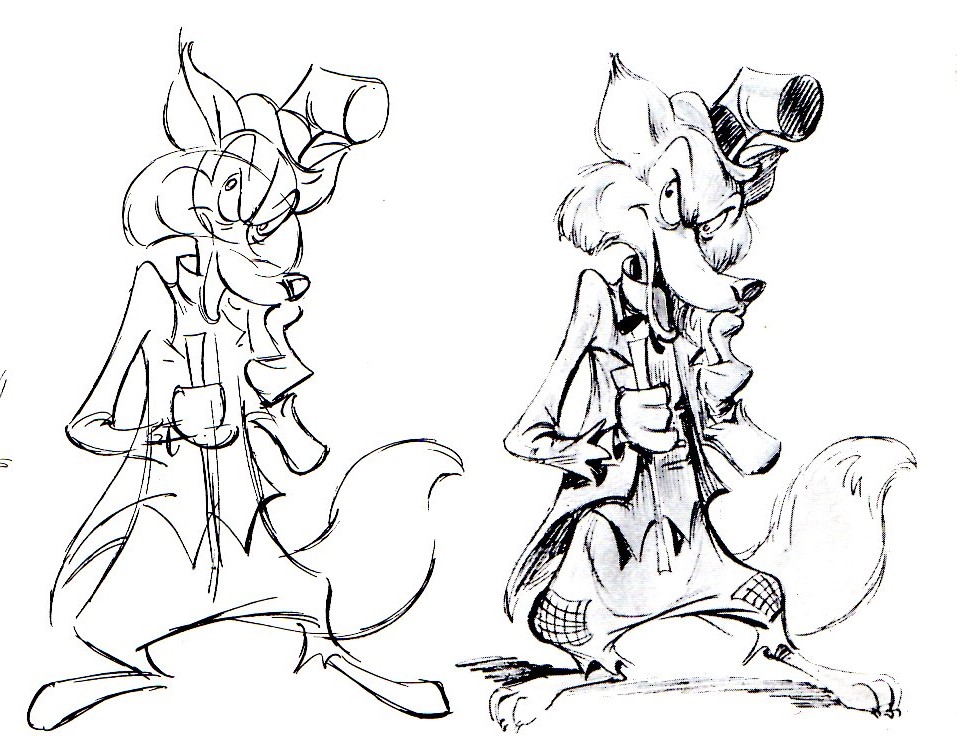 21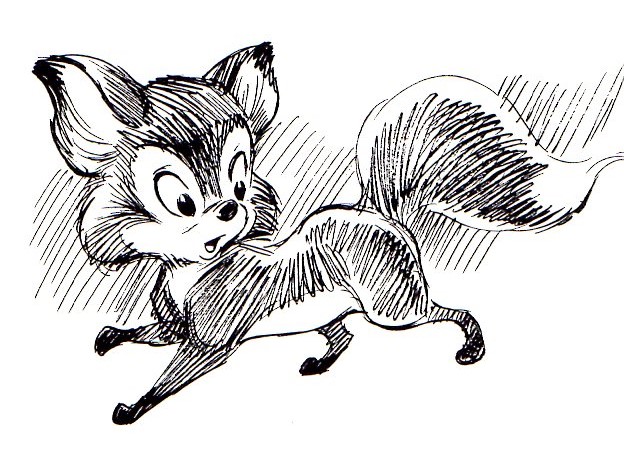 22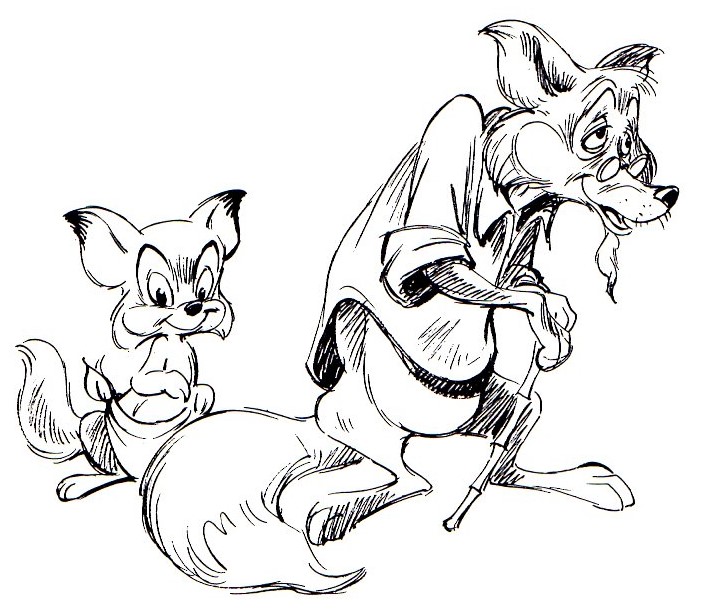 23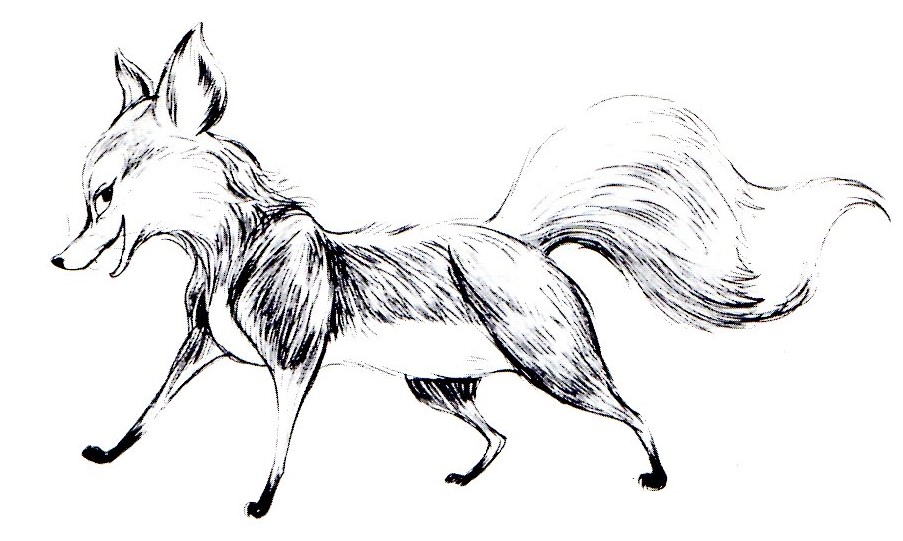 24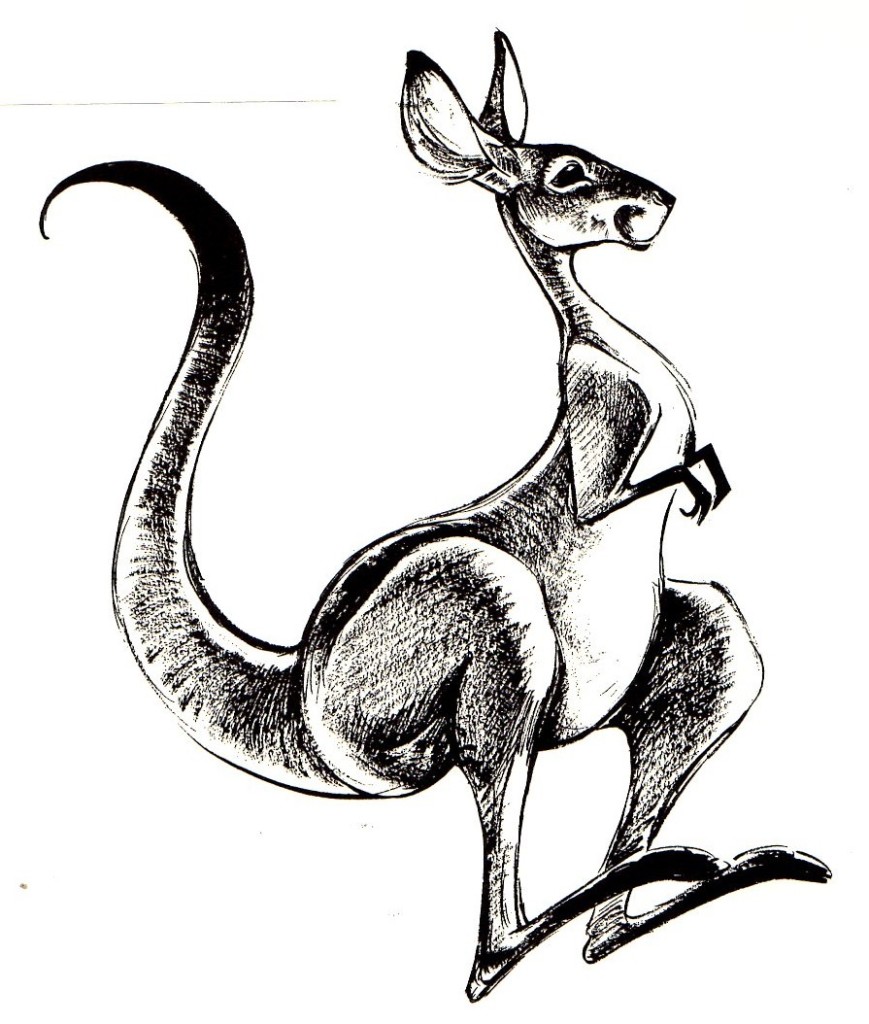 25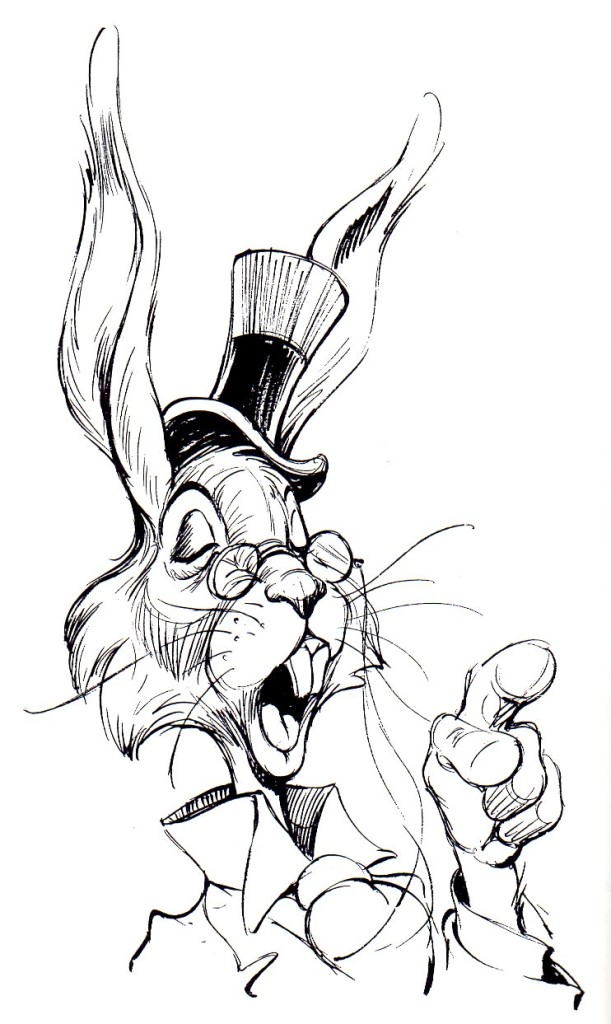 26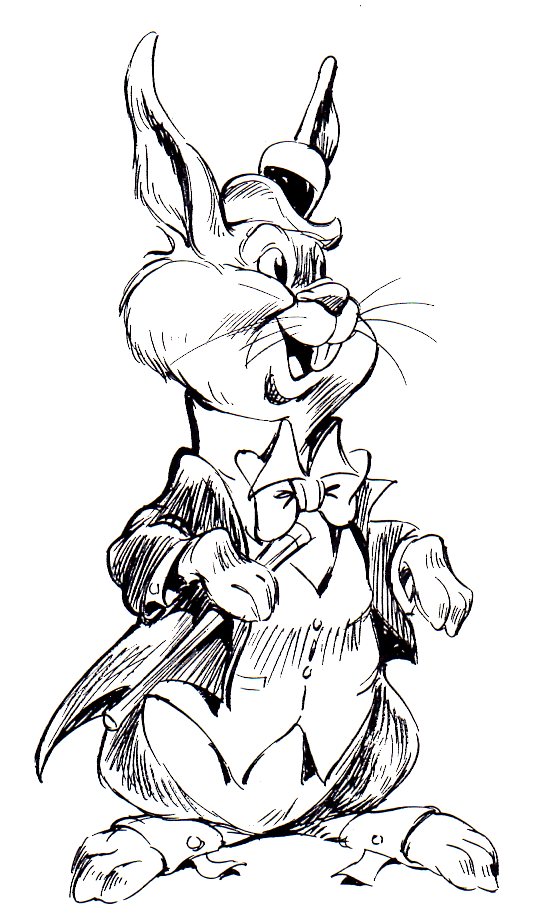 27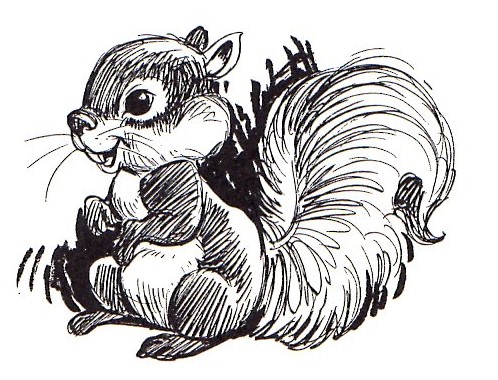 29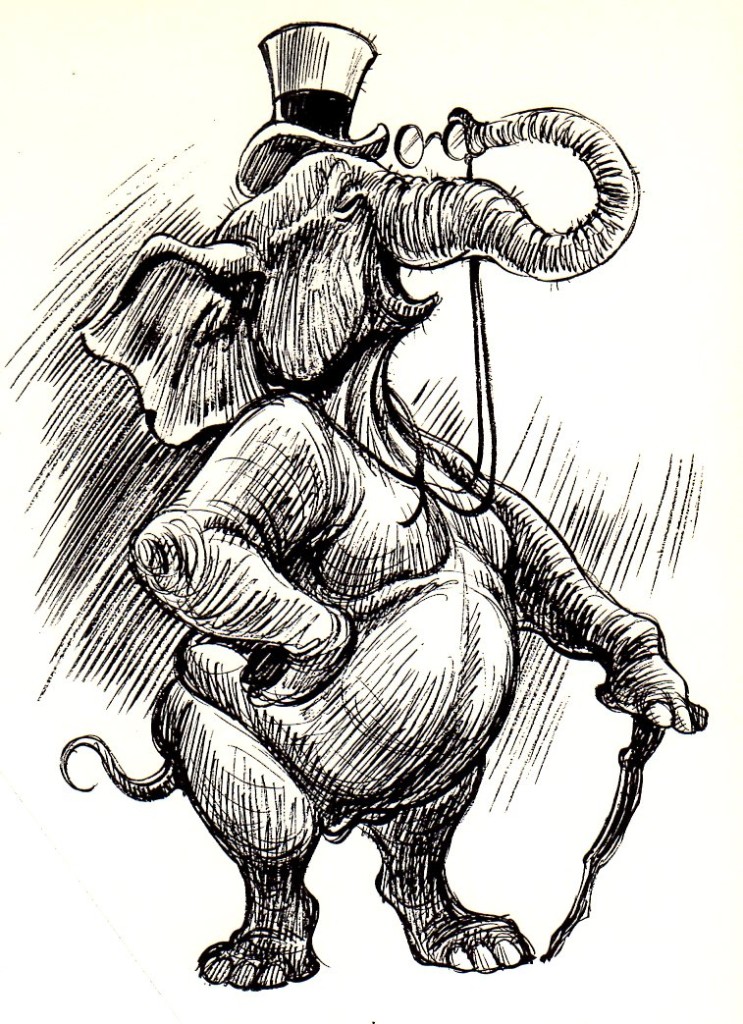 29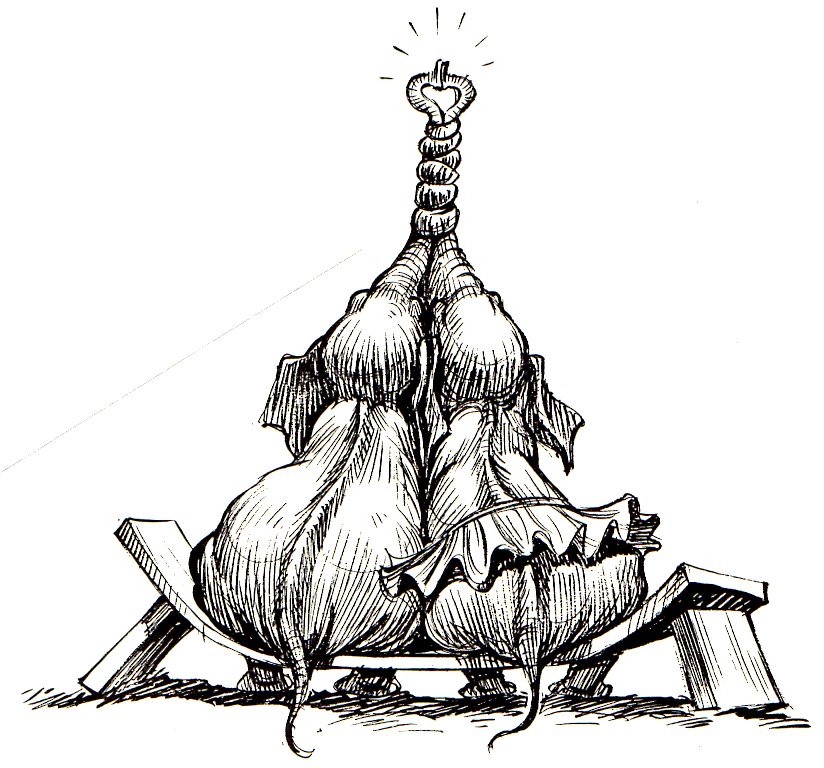 30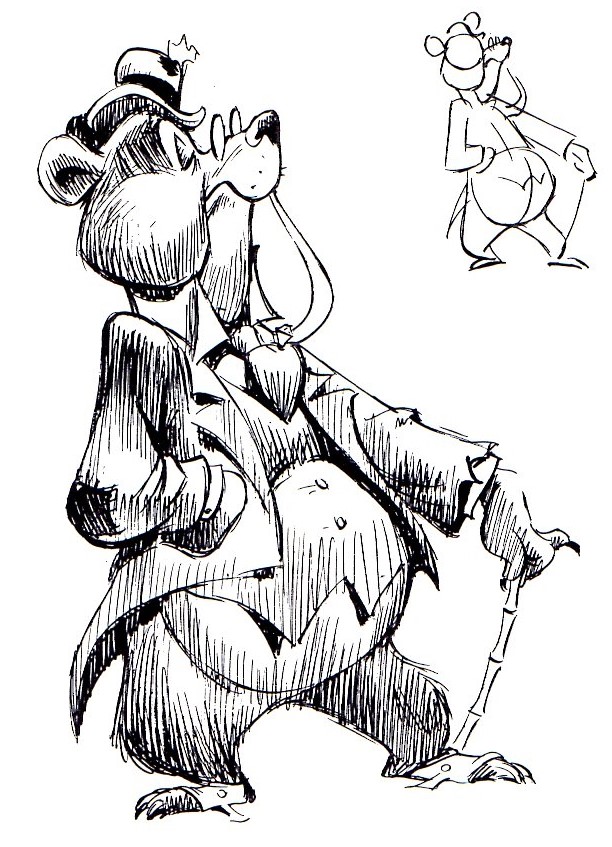 31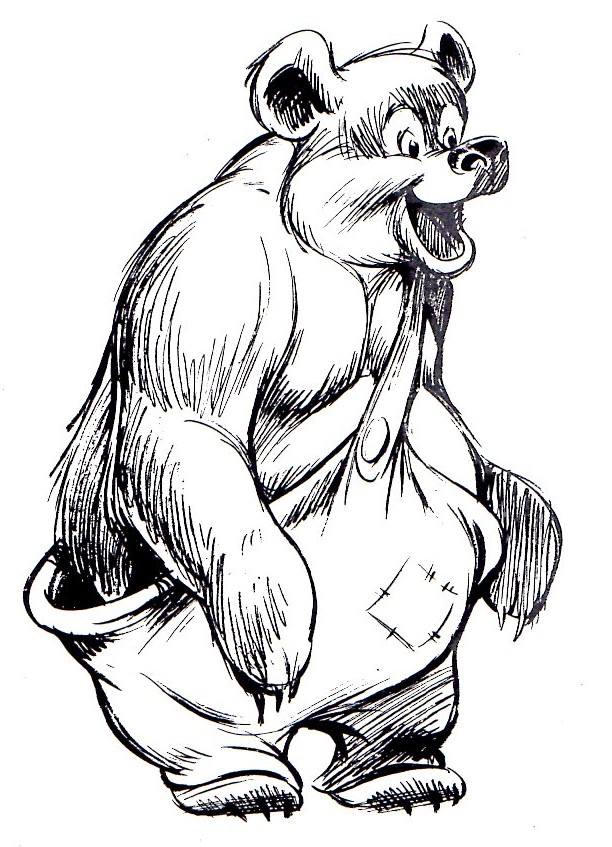 32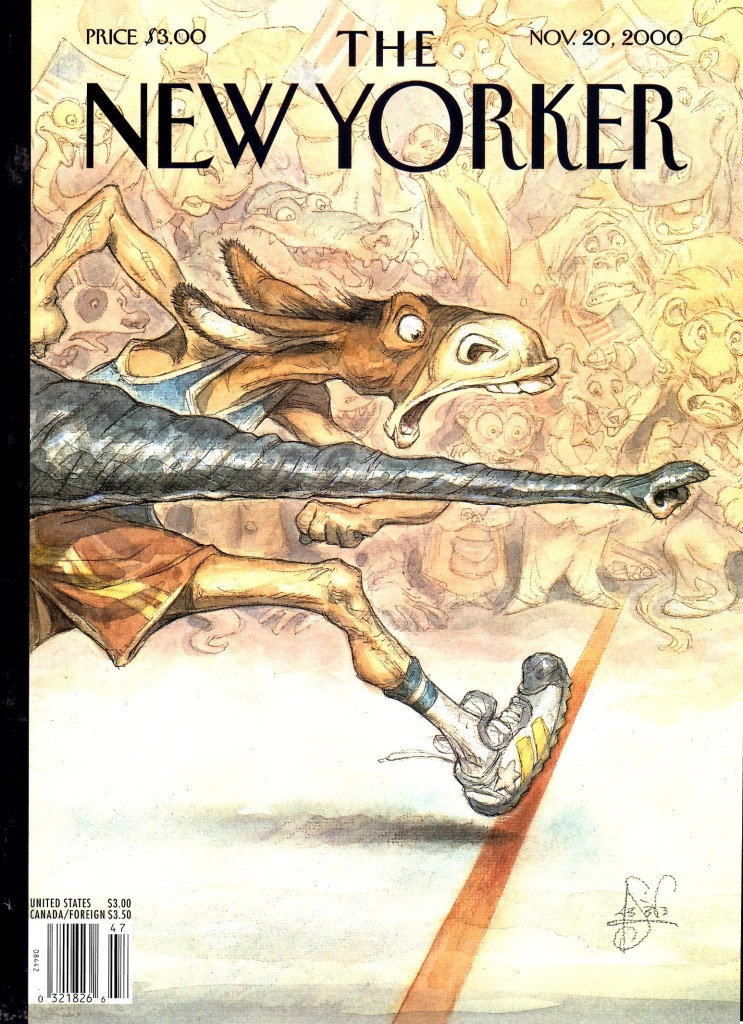 33
Art Art &Books &Commentary &Illustration &Layout & Design &Theater 02 Jul 2013 05:05 am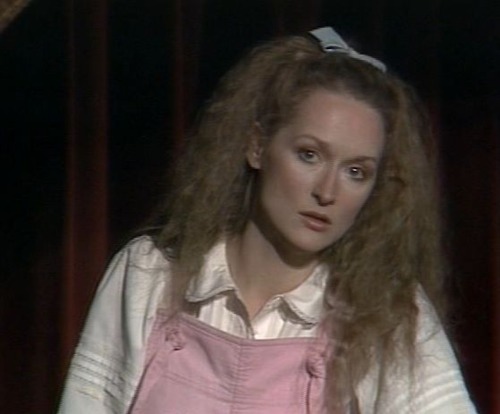 I am one of those insane people who is in love with Carroll's Alice in Wonderland. I also am devoted to Ralph Steadman as probably my favorite illustrator. Steadman has published a glorious version of Alice, and I need no more than show some of the illustrations. Here's the first in a series of posts of Alice by way of this original artist. Truly different from anyone else's version.
The rumor was that Steadman had seen Meryl Streep performing as the lead on stage in New York, as part of the Joe Papp's NY Shakespeare Festival, and he'd never been able to get that image out of his head.
I can quite understand since I also saw that very odd and interesting production and still remember it well.
I hope you enjoy this art as much I enjoyed working these images. There's a lot more, and it will come in parts.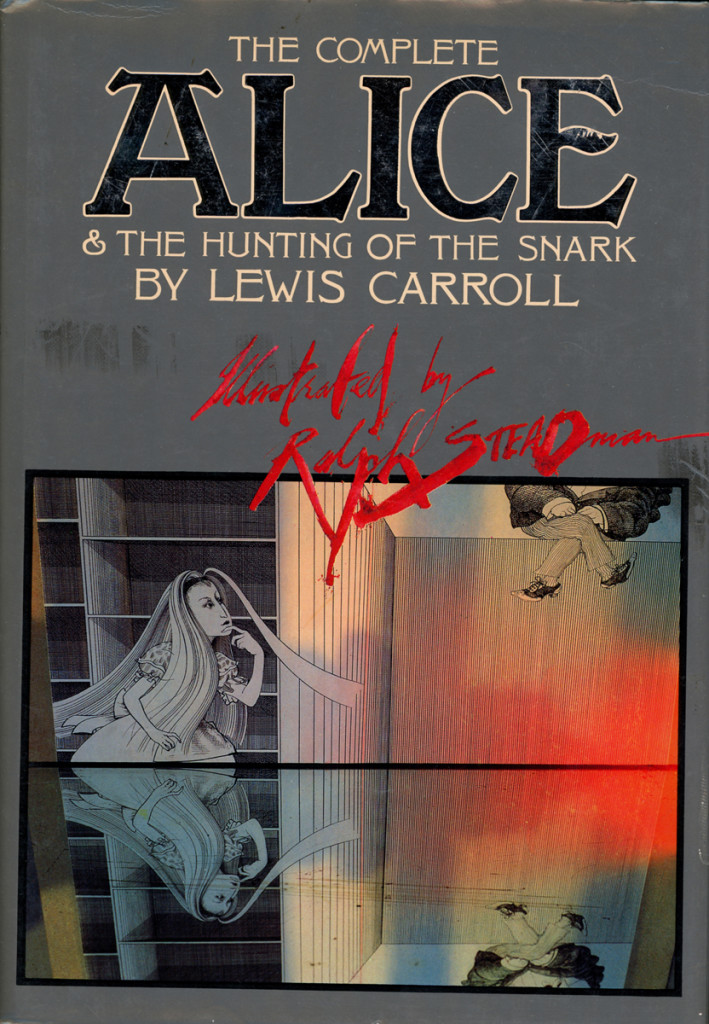 The book's cover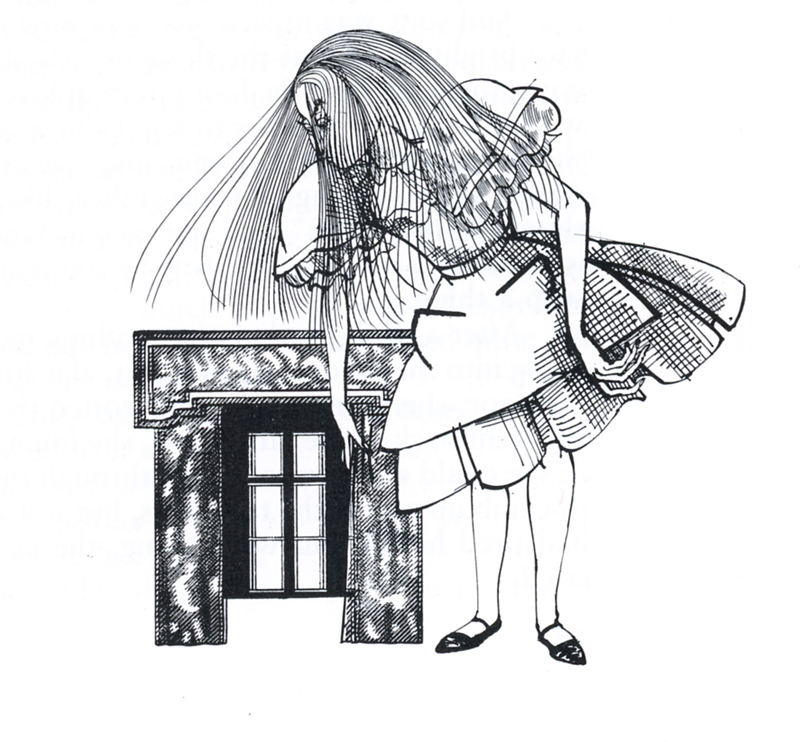 3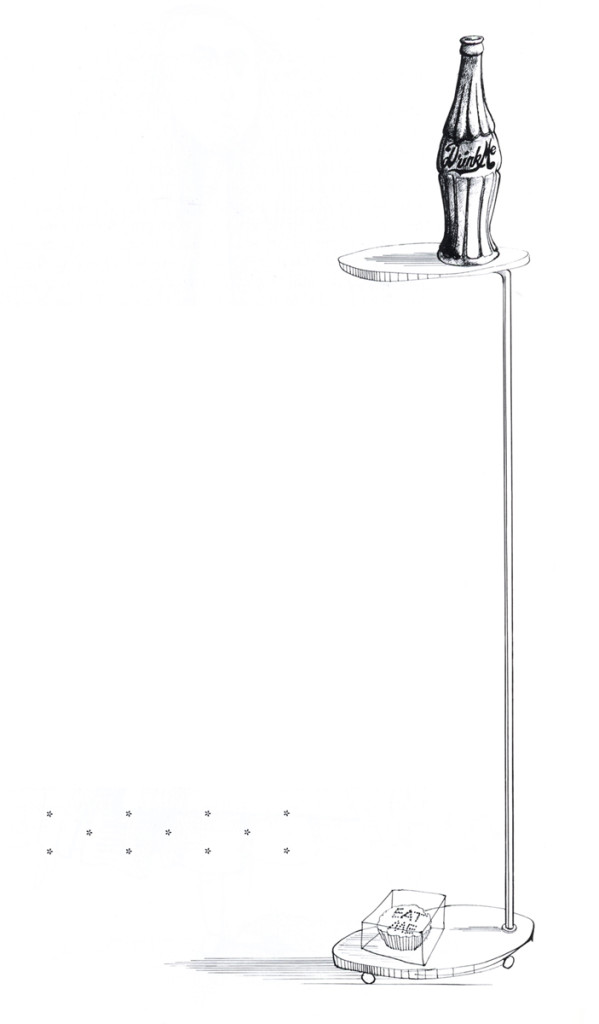 4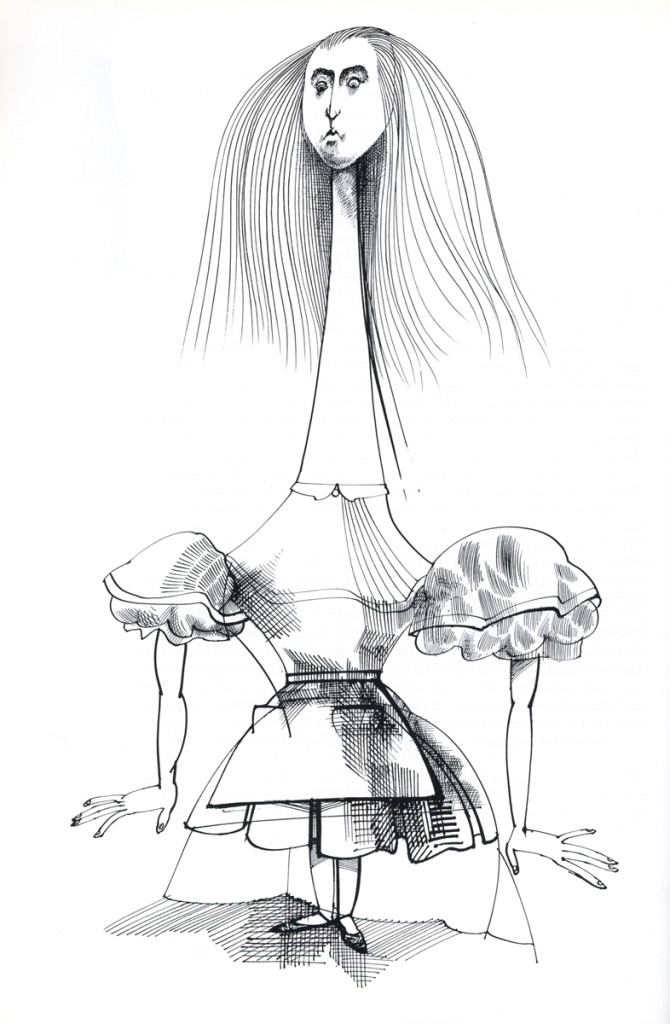 5

.

6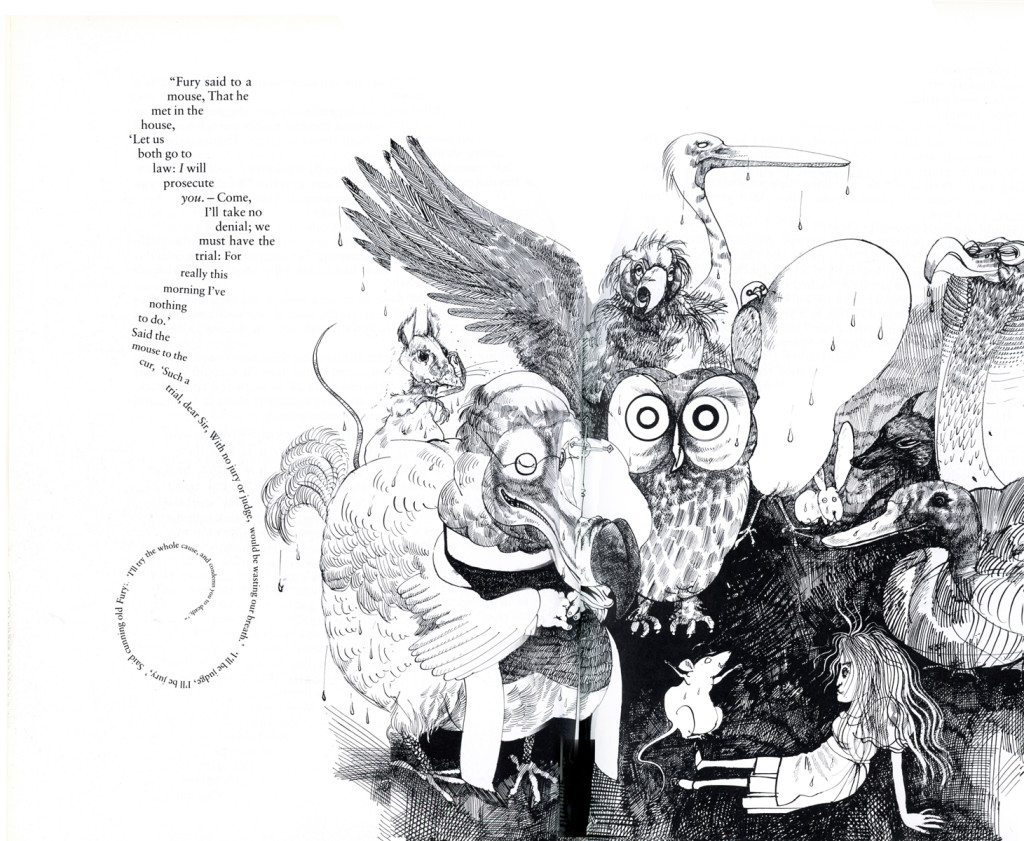 7

.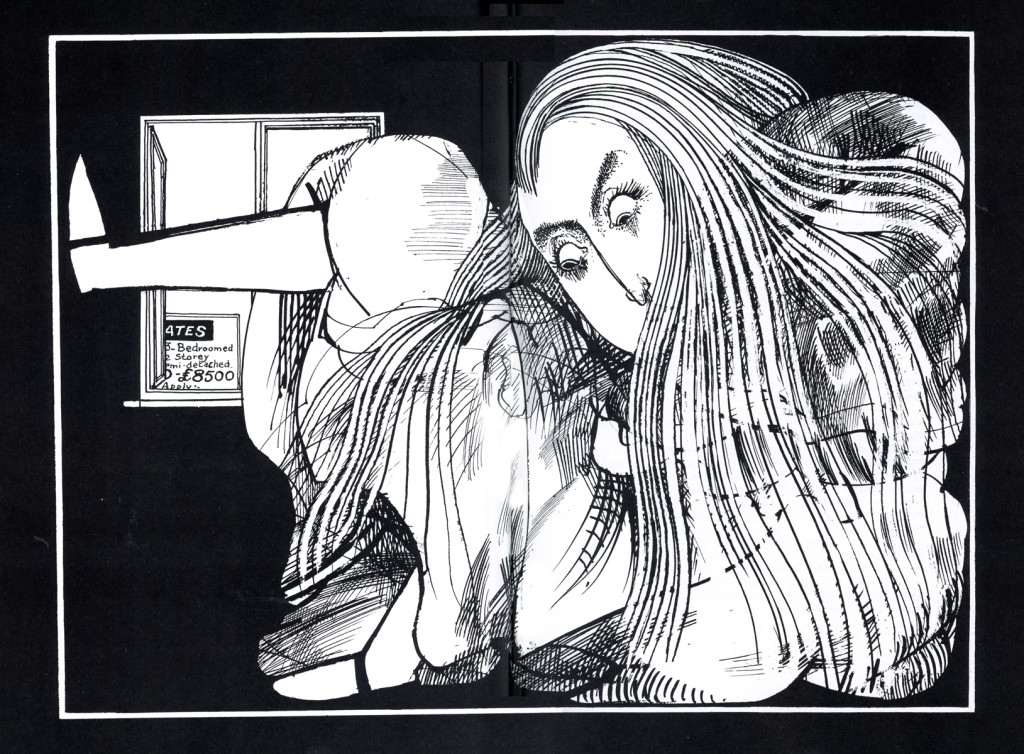 8

.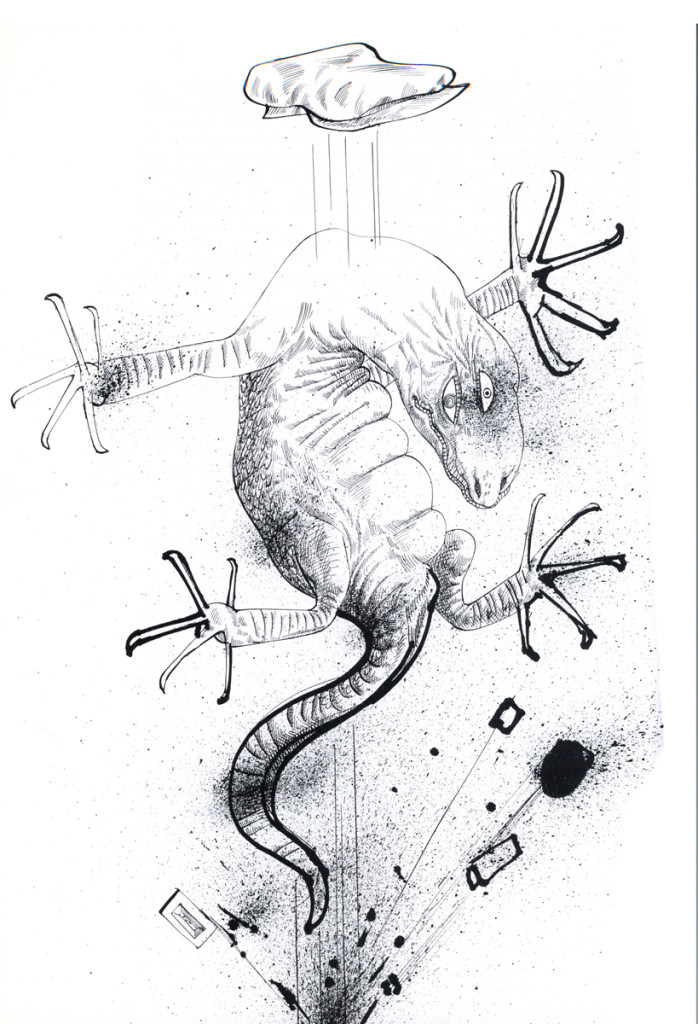 9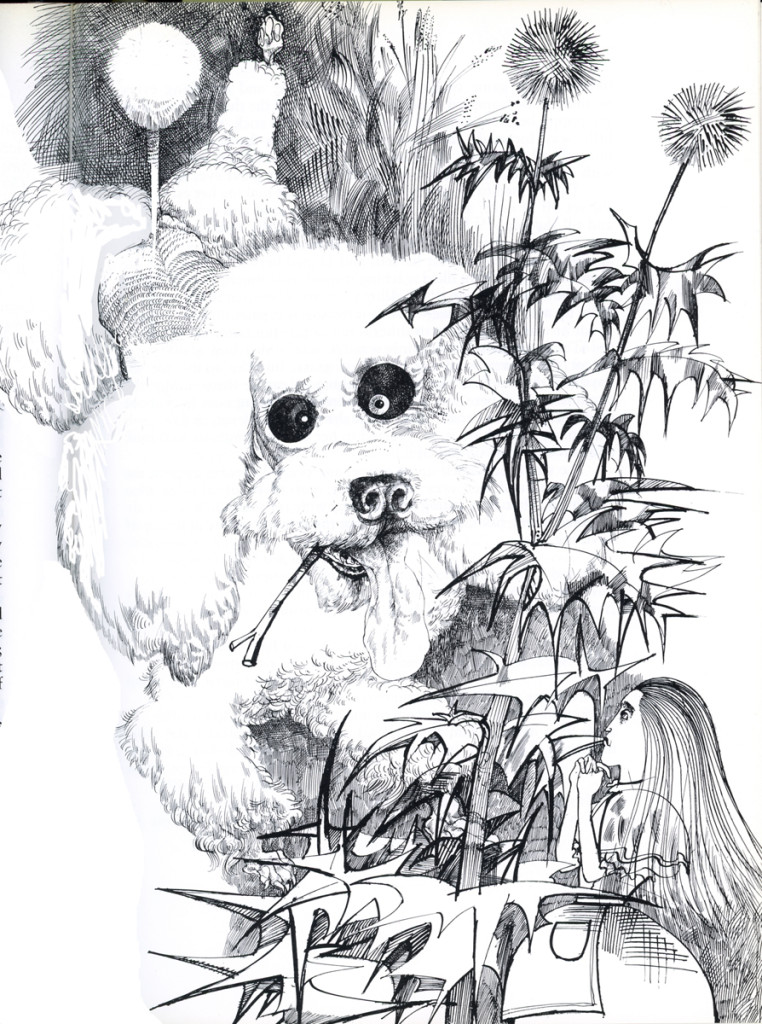 10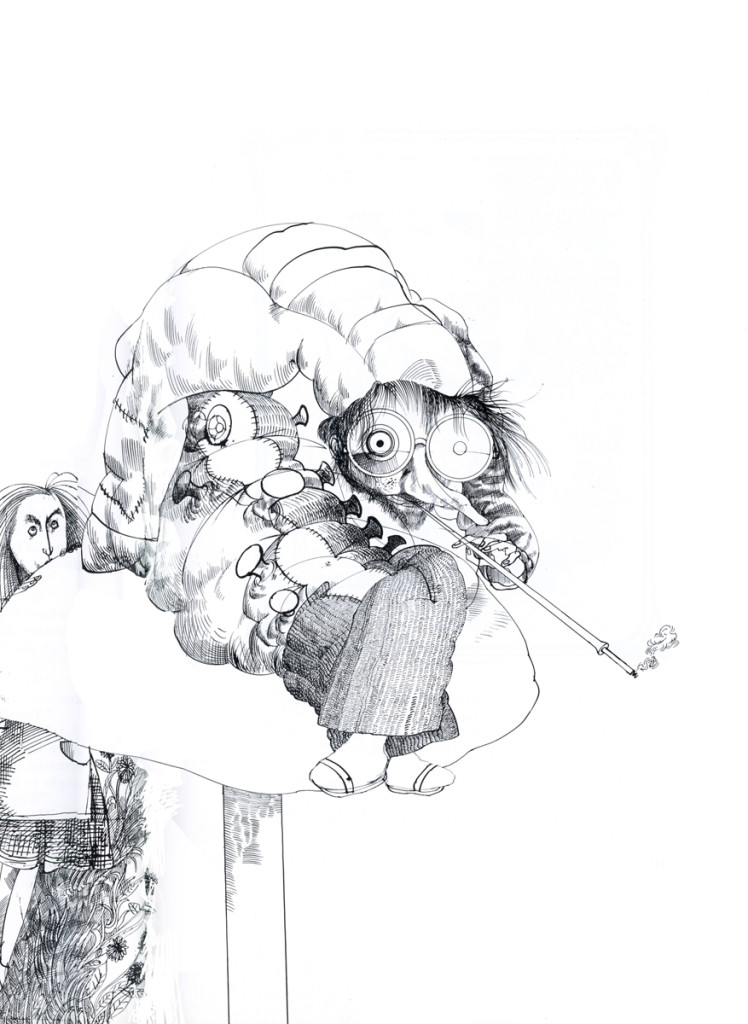 11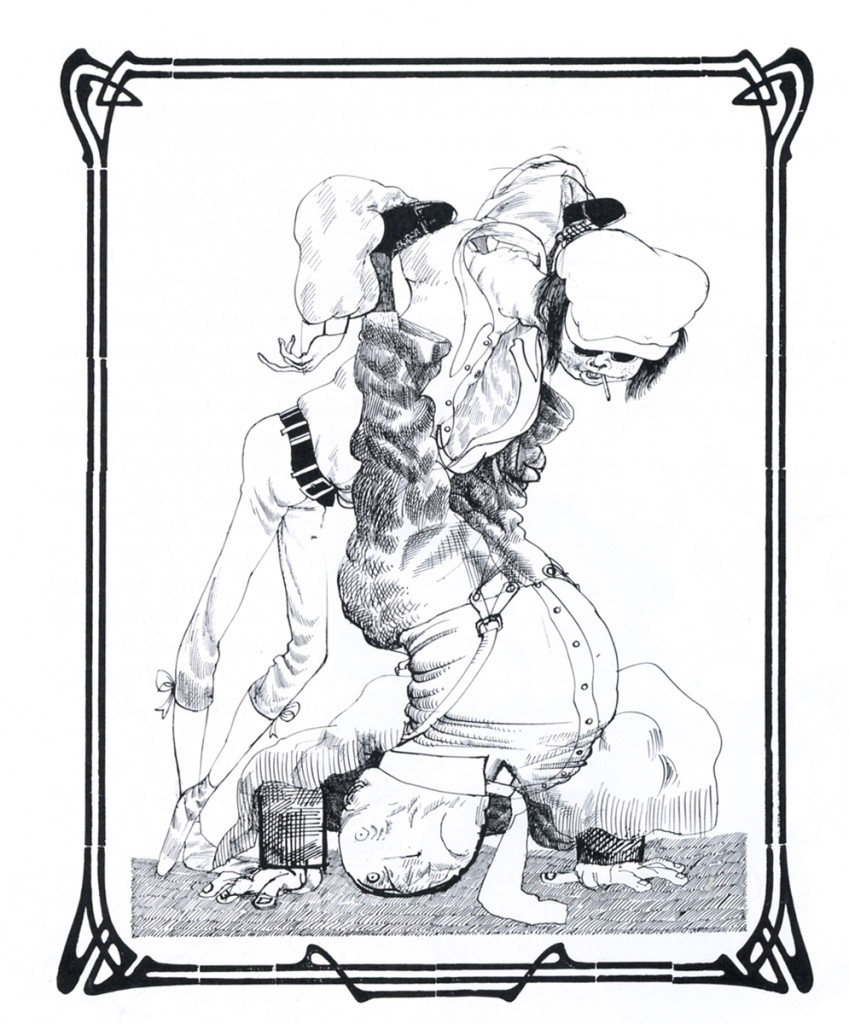 12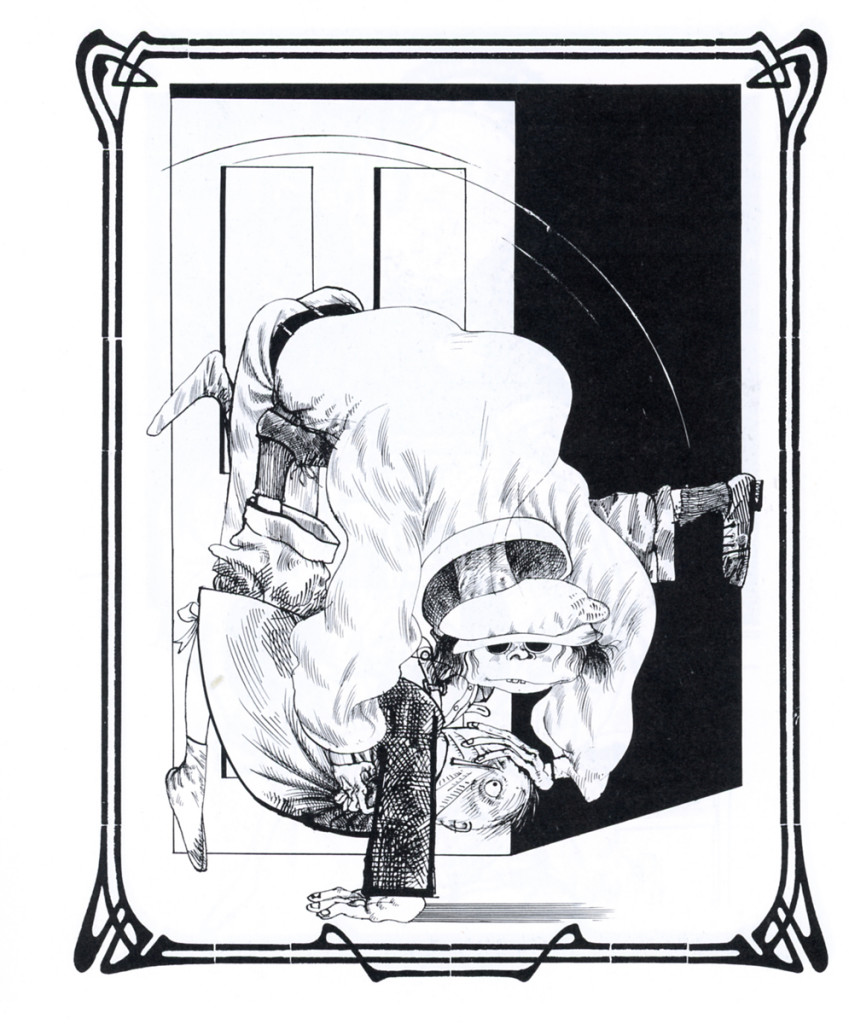 13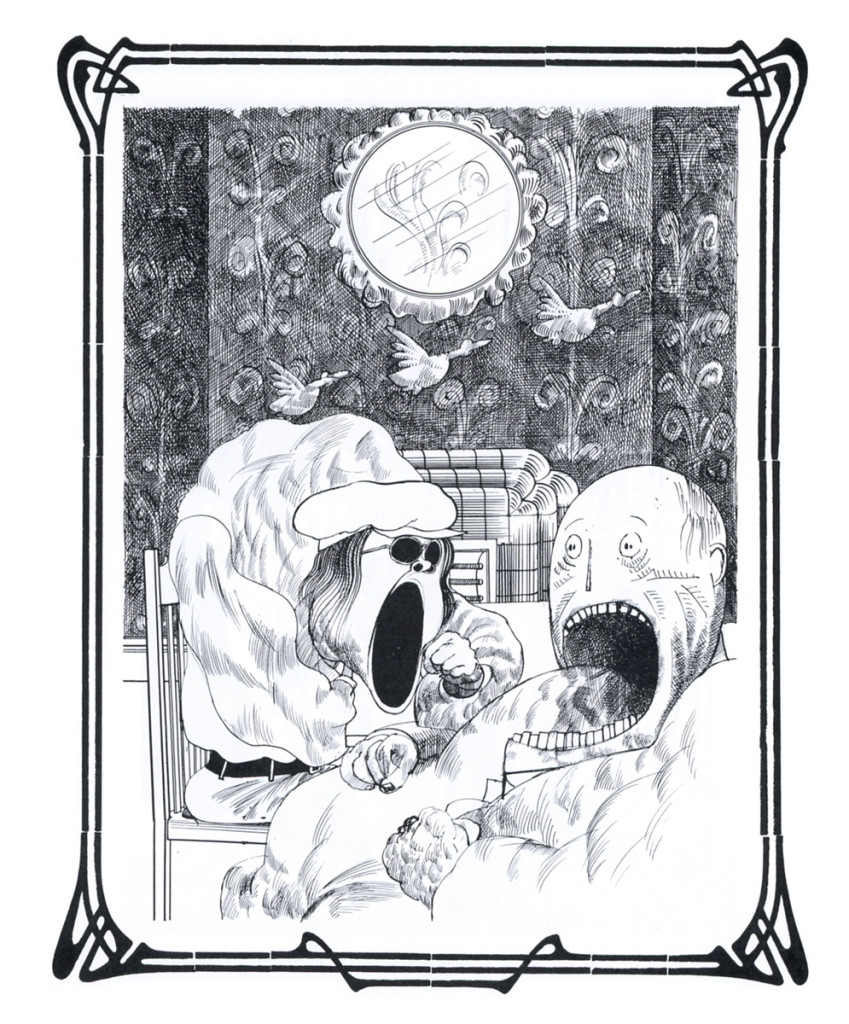 14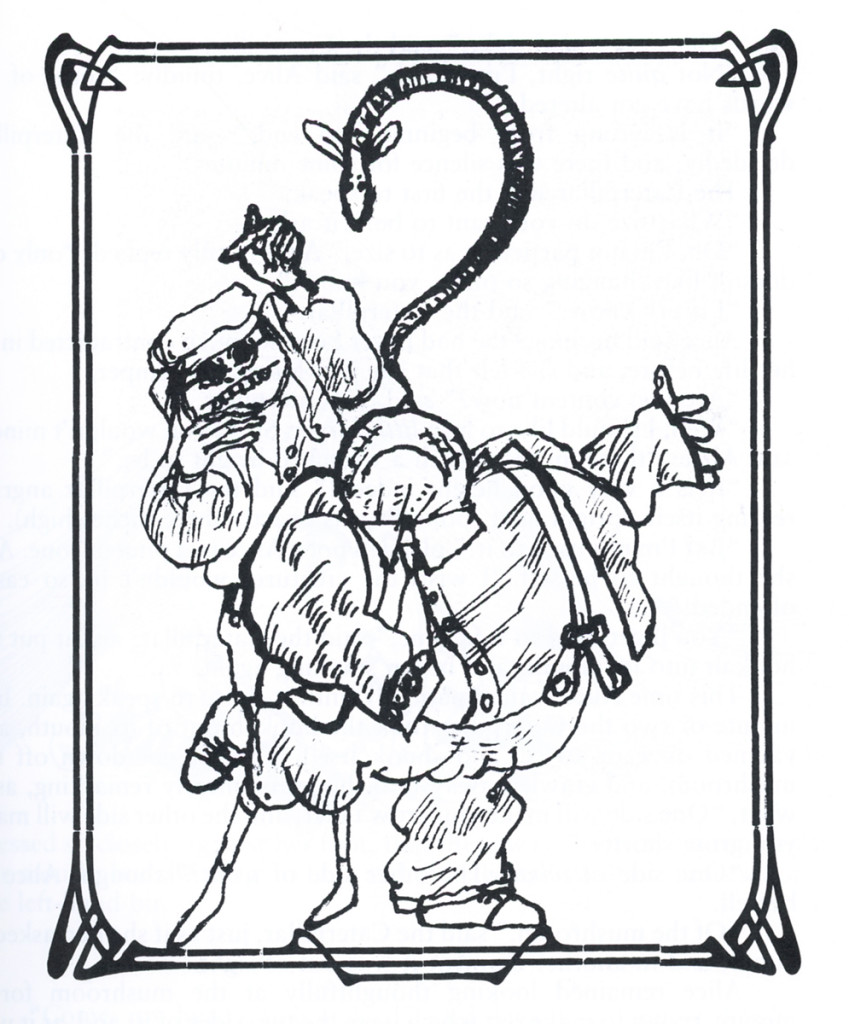 15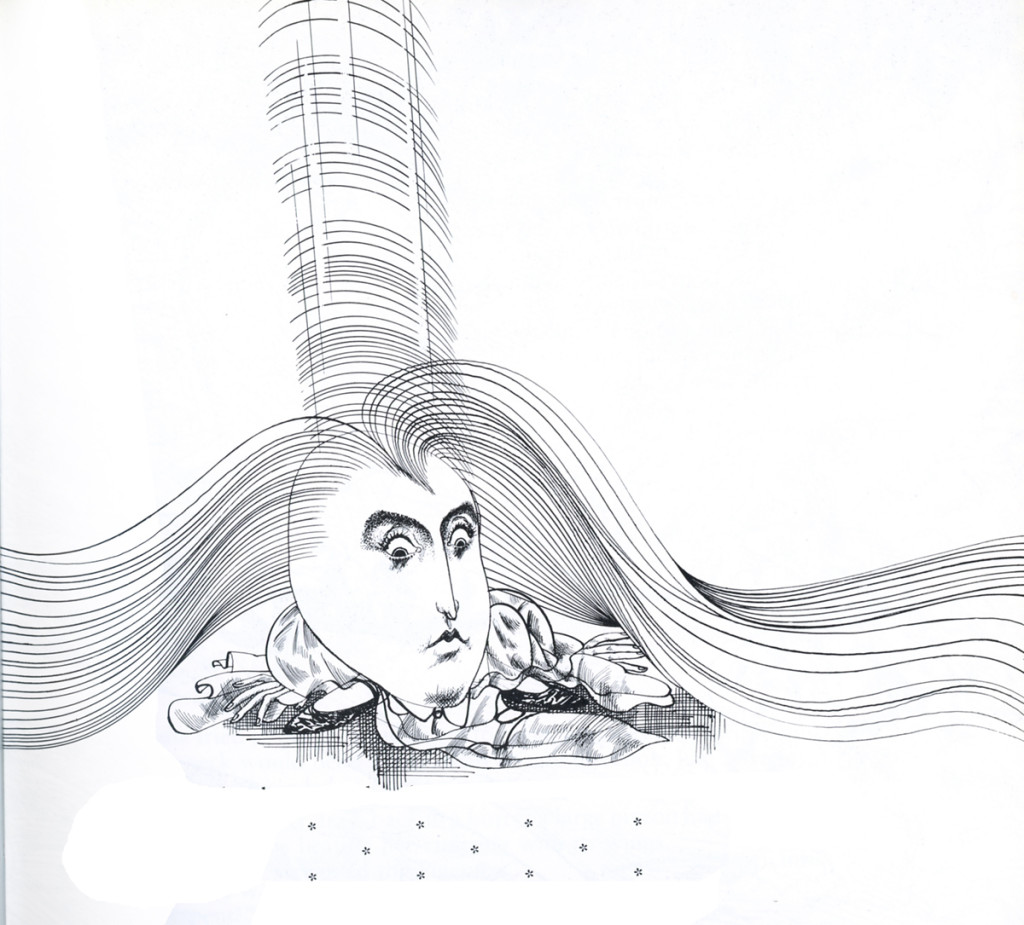 16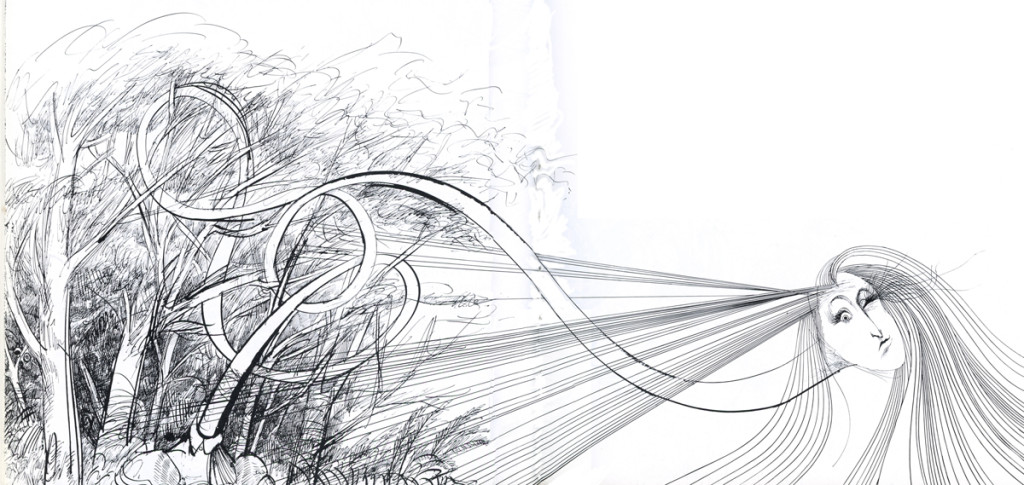 17

18

Articles on Animation &Books &Commentary &Disney &Illustration &John Canemaker &Layout & Design &Story & Storyboards 01 Jul 2013 07:29 am
John Canemaker's book Paper Dreams: The Art & Artists of Disney Storyboards, is a brilliant work. As an example, take a look at this short piece for Alice In Wonderland.
The animated feature went through a long, slow birth.
The first board, for this sequence, was by David Hall and was done in 1939, the late Thirties. Hall was originally a production artist for Cecil B. DeMille at Paramount Pictures; he worked as an illustrator who was called in to make many delicate watercolors. There was one sequence from the Carroll original which was kept for the final film. In it, Alice gets trapped within a house when, having bitten into a cracker, she suddenly starts getting larger and larger until she fills the white rabbit's home with her head and overgrown body parts. Many a creature try to pull her from the house.
Here are some of the Hall watercolor images: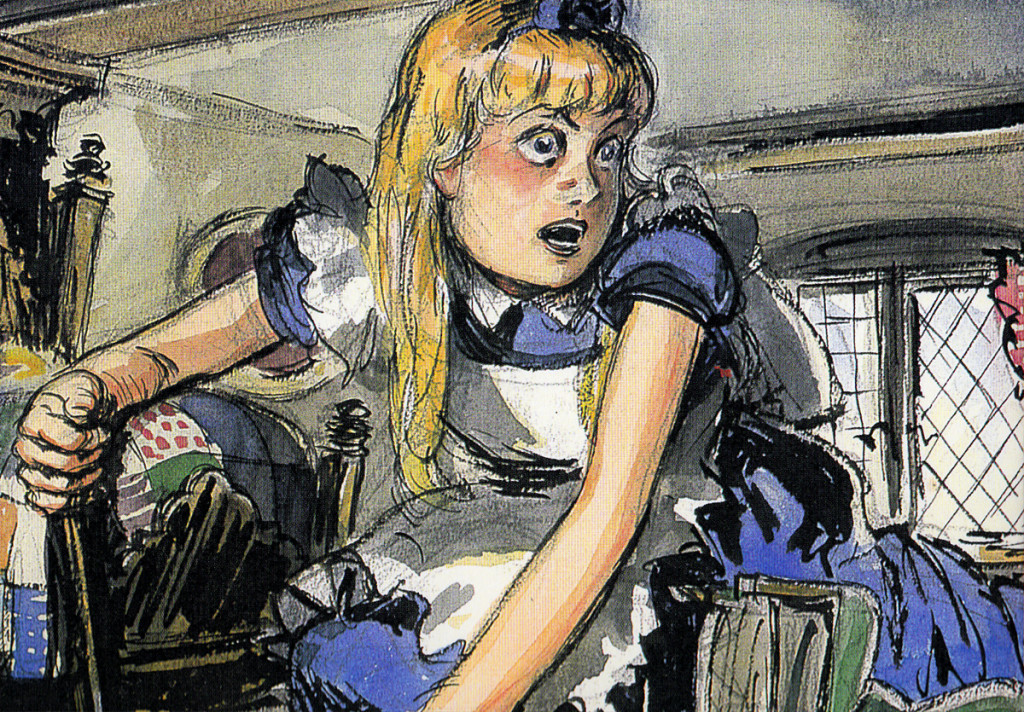 1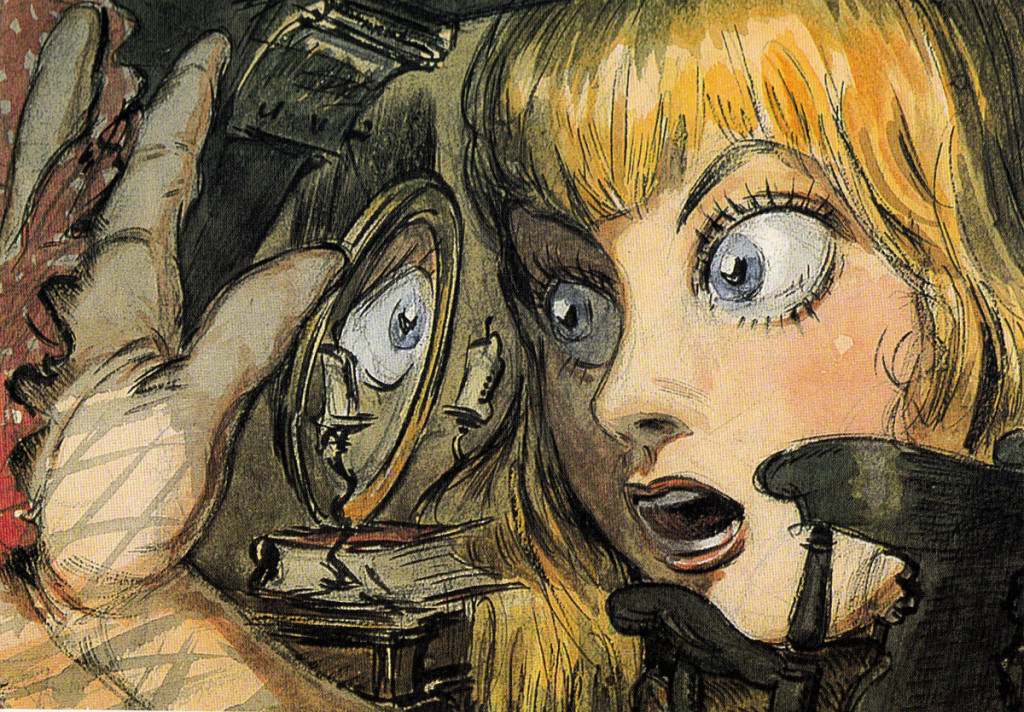 2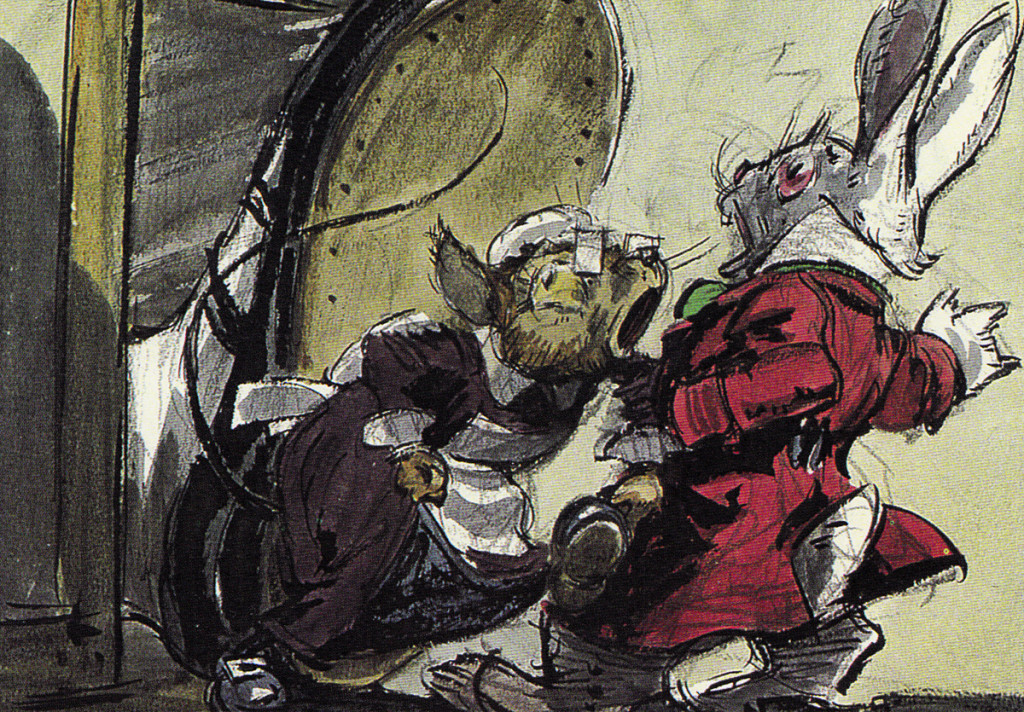 3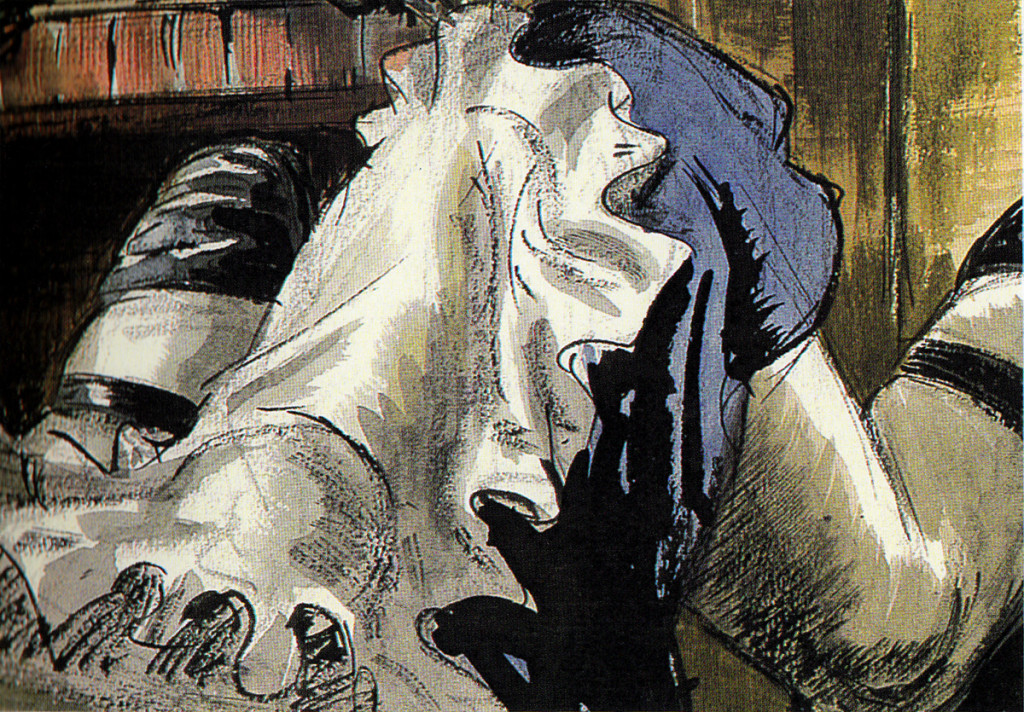 4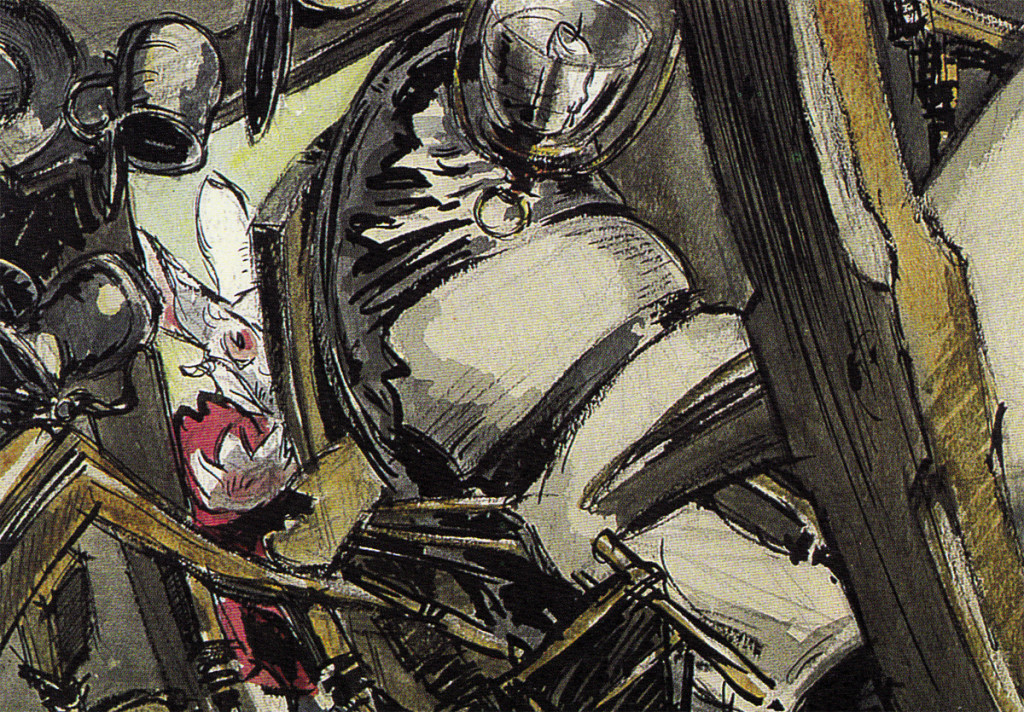 5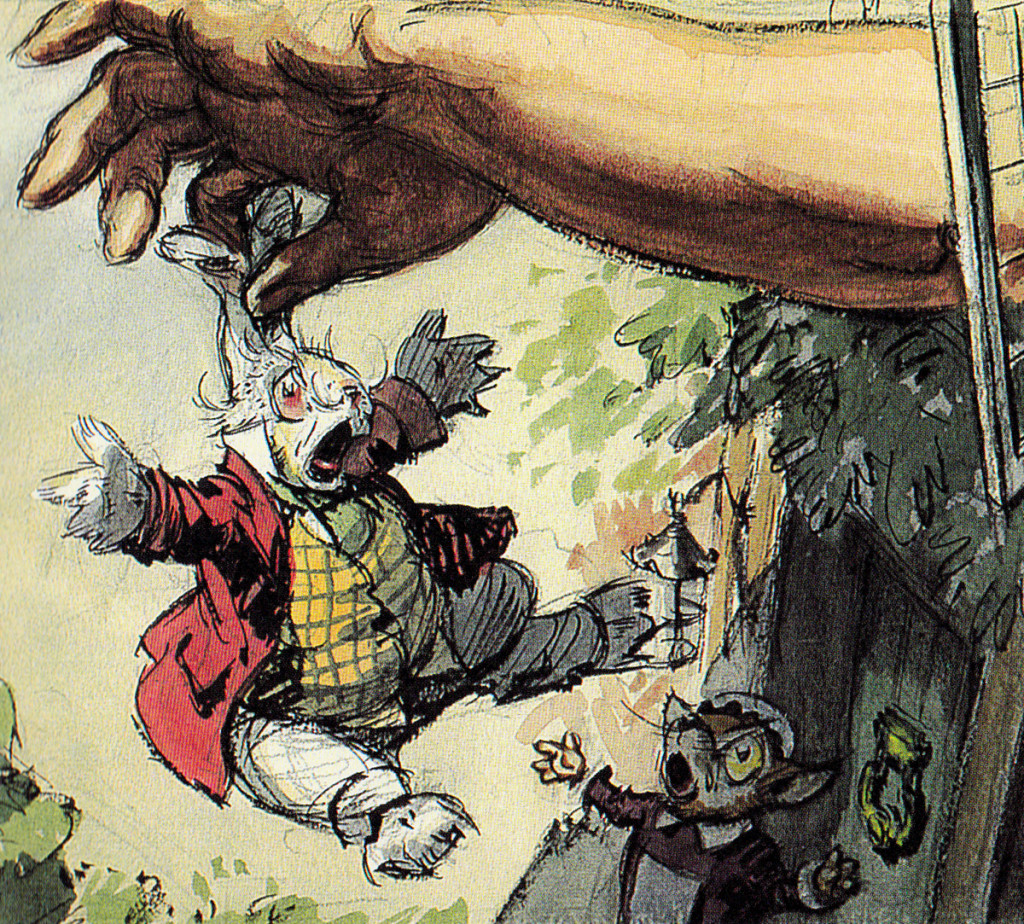 6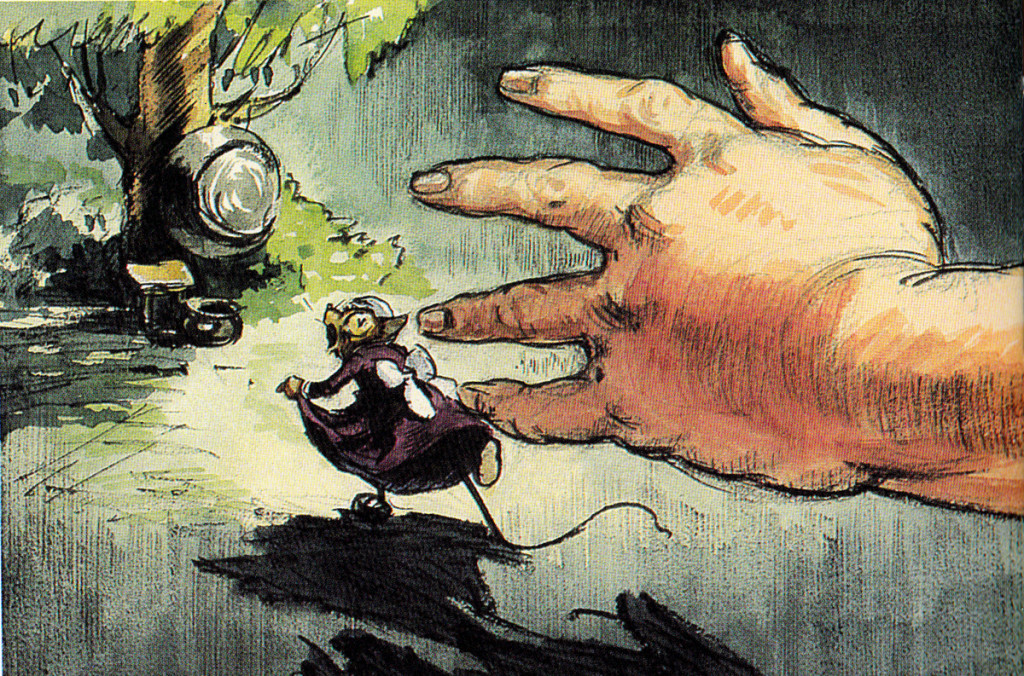 7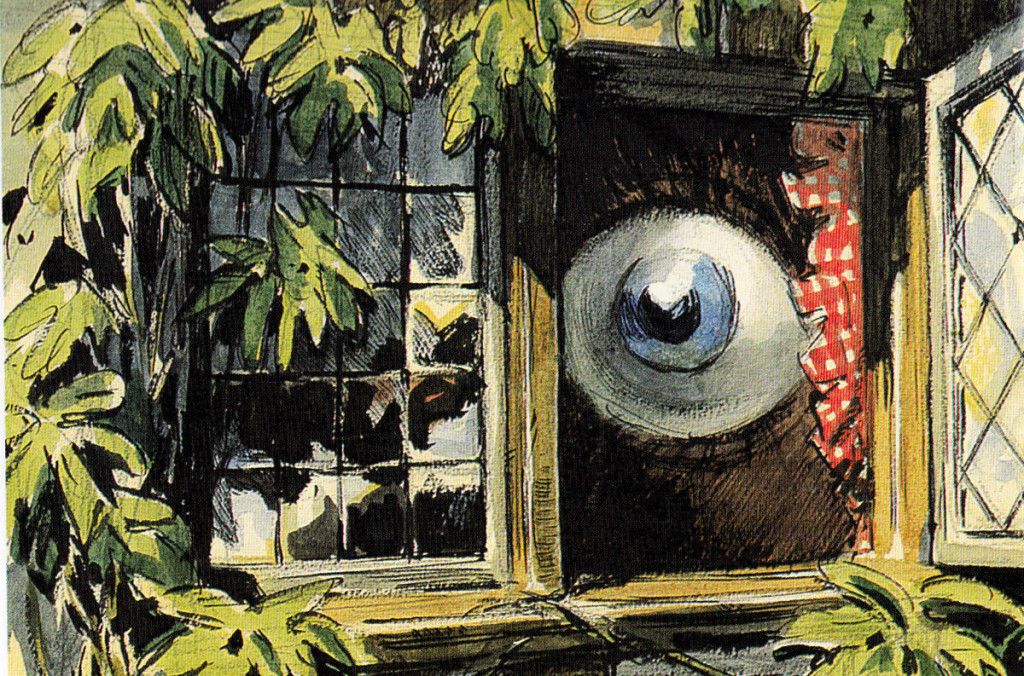 8
Following his version, there was an attempt at a script by novelist Aldous Huxley. Done in 1945, this was ultimately abandoned when storyboard continuity artist,
Joe RInaldi
, came in to make some more cohesive and funny drawings in 1950.
Here's the full sequence, Rinaldi's version.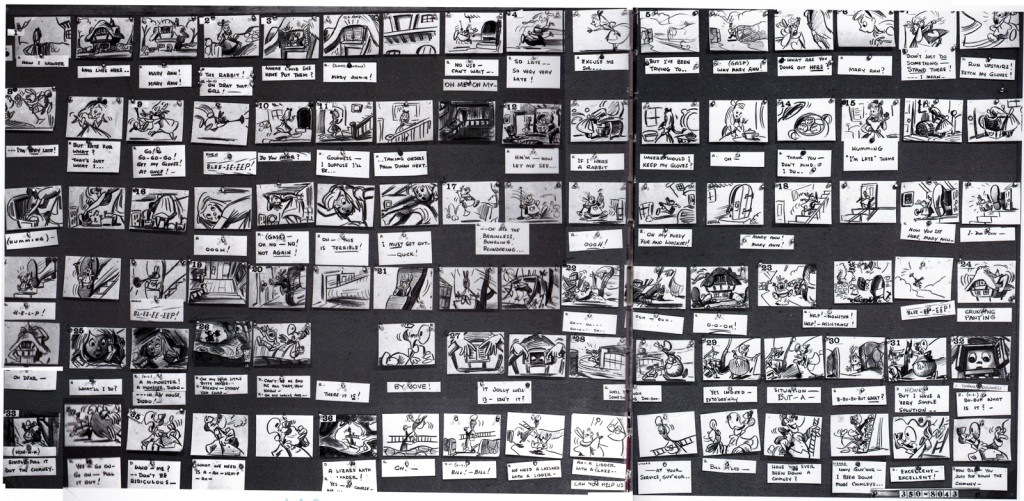 The following is Rinaldi's board enlarged for the sake of legibility:


1

2

3

4

5

6

7

8

9

10

11

12

13

14

15

16

17

18

19

20

21

22

23

24

25

I have to give John Canemaker many thanks for allowing me to post these images. His book is a treasure. to those who appreciate the storyboard.