Books &Errol Le Cain 01 Nov 2007 08:13 am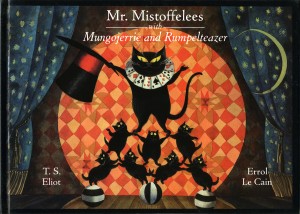 – Recently, I posted artwork from the first half of Errol LeCain's book illustrations for Mr. Mistoffelees with Mungojerrie and Rumpeltealzer. These are two of the poems by T.S. Eliot from his Old Possum's Book of Practical Cats .
Of course, these poems became the source for the Andrew Lloyd Webber musical, CATS. The poems were turned into songs by Lloyd Webber and director, Trevor Nunn.
(Sadly, Universal and Spielberg have tied up the rights to this project which seems to be dead. It was once on the road to becoming an animated feature with a script by esteemed playwright, Tom Stoppard. Lloyd Webber would like to go forward with the film, but it's held up by the new rights holders.
(Once again, let me point you to some of the preliminary art from that aborted film on Hans Bacher's older, yet brilliant Animation Treasure I site. More here.)
Here are the illustrations for Mungojerry and Rumpleteazer by the brilliant Errol Le Cain.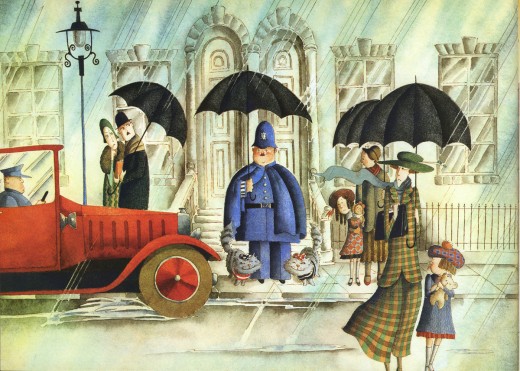 (Click any image to enlarge.)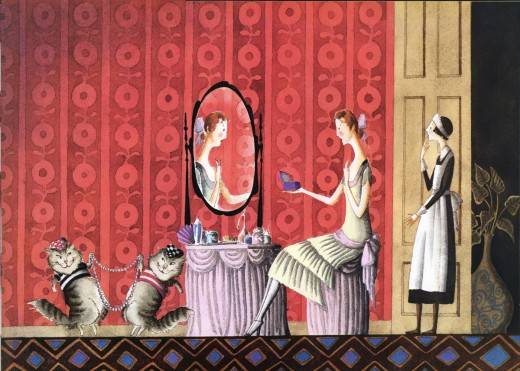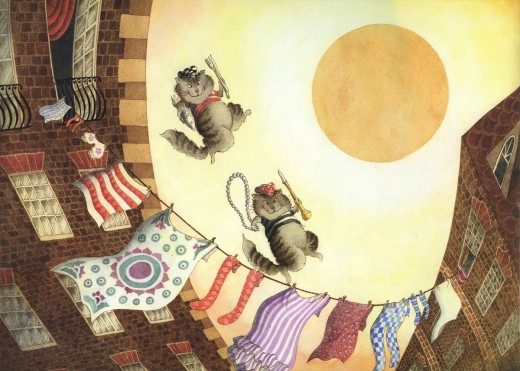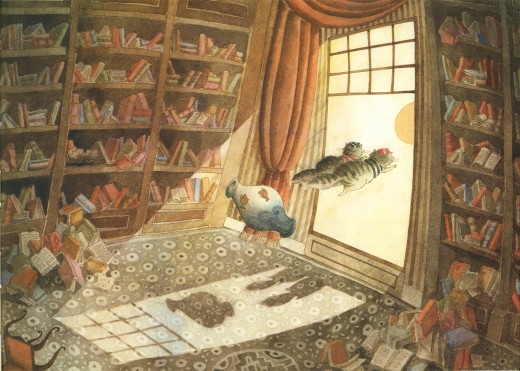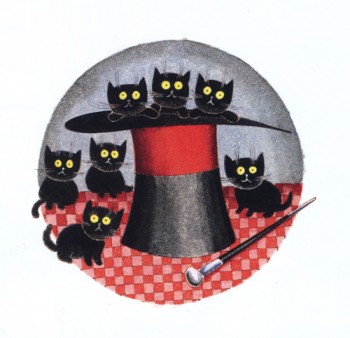 This is the end page which covers both
Mungojerry and Rumpelteazer
as well as
Mr. Mistoffelees
.
Other posts I've made featuring Le Cain's artwork:
Go to Mr. Mistoffelees
____Puffin Books
____Funny Thing Happened on the Way to the Forum
____The Snow Queen_______________-____Aladdin
____Growltiger_________________________Thorn Rose
____Pied Piper of Hamelin_______________12 Dancing Princesses
____Have You Seen My Sister____________Hiawatha's Childhood
One Response to "Le Cain's Mungojerrie and Rumpelteazer"
on 04 Aug 2012 at 12:32 am 1.Patrick Ho said …

Hi…I am Patrick Ho. Errol and I were classmates for a few years. We werte very close friends when we were in primary school SJI (ST.Joseph's Institution) in Singapopre. I have fond memories of our school days. Would like to share these memories if you could contact me.
Regards.
Leave a Reply